Stromthusiast!
Join Date: May 2010
Location: Flushing, NY
Posts: 339
replacing / upgrading OEM tires on the Glee
---
[I looked for a few pages of threads and didn't see one on tires, which surprised me. If there's another thread I should be referring to just redirect me please, and close this one.]

Well as the subject indicates, I'm approaching 9,000 miles on my Glee, which is about as long as I've ever kept tires for on previous bikes. For some reason I have it in my head that a rule of thumb is about 10,000 miles for my kind of riding (mostly in-city commute, with a few long trips a year). In my search I've read posts of other people reporting wearing out their 2012 DL650 stock tires (particularly the rear) well earlier than that, too.

1 - What should I look for in terms of signs that I should / must replace my tires?

2 - What are some common or popular options for replacing the tires other than using a new set of OEM ones and why?
---
"Blindness is contagious, see for yourself." - SthrnRomr 2012
Stromthusiast!
Join Date: May 2010
Location: Flushing, NY
Posts: 339
Ah, I should have thought to check for a mama "Supra-Wee" thread. Much time soon to be wasted, as it notes. Thanks.
FORUM GODFATHER.....R.I.P. PAT
Join Date: Jan 2006
Location: Evanston IL USA
Posts: 38,049
You've learned tires are not Glee specific. All Stroms use the same sizes. Thread moved to suspension and tire tech.
I like the OEM tires, for slightly better mileage Tourance is a popular choice. I've tried a bunch of others, keep coming back to these two choices. What works best for you depends on what kind of riding you do. Anakees, PR3's, and TKC's are also popular.
---
-Tom (DL650AL2) (KA1TOX) (E-I-E-I-O)
This message and images are licensed under the Creative Commons Attribution-NonCommercial-ShareAlike 3.0 Unported License.
http://creativecommons.org
What are the worst riding conditions you'll encounter? Buy tires suitable for the worst.

For pure street tires, Michelin Pilot Road 3 and Bridgestone BT-023 are working great, with maybe a wet road edge to the PR3.

For the type of dual sport that came on the bike, Michelin Anakee 2 is my favorite, and the Shinko 705 and Full Bore Adv. Touring are also an open tread, cheap but short lived rears.

For rougher stuff, the Heidenkau K60 Scout and the (available in Canada) Mitas are good choices. For full knobbies, TKC80, KAROO, or Kenda Big Block are good.
---
"Older people who are reasonable, good-tempered, and gracious will bear aging well. Those who are mean-spirited and irritable will be unhappy at every period of their lives.

"Let each of use properly whatever strengths he has and strive to use them well. If he does this, he will never find himself lacking."

Marcus Tullius Cicero
44 B.C.
Adventure Traveler
Join Date: Jul 2012
Location: Missouri, south of Kansas City
Posts: 293
I also like the OEM tires... I have just about 10K on mine since August (the front looks like it'll last another 3-4K, the rear another 1-2K). I'm considering staying with the same tires when it is time for new ones.
---
Joe

2012 DL650-ADV (Black), 2013 DL650-EXP (White), 2013 Honda CRF250L, 2008 Yamaha TW200
IBA #55242, SS1000 x2, BB1500, SS2000, 50CC, National Parks Tour x5 w/ Silver & Gold, 4 Corners & Alaska, 48 plus one, Great Lakes.

Ad-ven-ture: 1. an undertaking involving risk, unforeseeable danger, or unexpected excitement. 2. an exciting or remarkable experience. Trav-ell-er: 1. one who seeks to experience their world. 2. one who seeks to be immersed in other cultures.
Stromthusiast!
Join Date: May 2010
Location: Flushing, NY
Posts: 339
I'm pretty much doing all street riding. I've gone off-road a few times when encountering dirt roads or really badly paved roads but only very briefly.

I have no complaints about the OEM tires except I'm not sure what they are (TrailWings?). I'm also not sure how to check the tread left on them, they "look fine" to me but 10,000 miles is some kind of magical boundary number in my head (whether real or not).

If there's anything I'd look for an improvement on it'd be "traction in the rain". Not because I've felt squidgy on the OEM tires, but just because if people are fairly uniform about saying (say) Michelin Pilots or Metzeler Tourances are clear upgrades over stock, I'd give them a shot.
Stromthusiast!
Join Date: May 2010
Location: Flushing, NY
Posts: 339
Quote:
What tires do you suggest for the ride that led to this?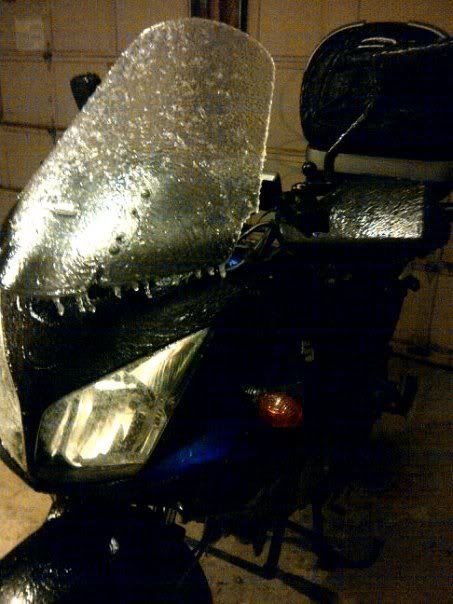 (November 2011)
..Tom
Wow, freezing rain, the Great Enemy of All. I think this beats my "I can't believe I rode home in that weather" pic:
BTW I think I'll try at the Michelin Pilots. I've liked them on previous street
bikes (with earlier generations of the Pilots), and that's basically what I still do on the Glee. I'd rather have 5% better traction on wet paved roads than traction for the 1% of the riding mileage I'd have on unpaved roads.
If only I could last to June on my stock tires, but that's like another 3,000 miles. Maybe. I see some folks have made it to 12-15,000 miles or more on their OEM tires?