Intiminator - Summary of mods to make it work great
---
Hi All,
As requested and to save reading pages of pages of why and how i arrive to the conclusion after 3years- here are a summary of lists of things one would consider doing to tune it perfect for you:
----------------------->>>>> updated Jul 2012
First thing first - get your Fork Spring correct
While intiminator is being marketed as a drop in fix all solution - i disagree - the fundamental needs to be in the ball part before getting intiminator. Intiminator fixes ONLY compression damping compromises in the damper rod design. It does not change your spring nor rebound damping.
Forks K7 to K11 (not sure about L2) stock fork spring is ok only for people weighing less than 80kg or 175lbs - Sonic Spring Site and Race-Tech (RT tends to be a bit more on the sporty side) site gives you a starting point to get your spring sorted -
For data point: My naked 95kg is good with both 0.90kg or 0.95kg, but i prefer more compliance over sportiness, so i picked 0.90kg spring.

Fork Oil & the Rebound Hole Mod (get your rebound sorted):
Ricor says no need to mod the damper rod just change to lighter oil for Intiminator to work.
Lighter fork oil is regardless necessary for the shims to work well; With light fork oil -rebound damping on stock damper rod is reduced - intiminator does NOT work on rebounds, therefore for rebound damping to be adequate - a smaller rebound hole needs to be machined. While damper rod is out, i would also enlarge the 2 existing damper rod compression hole to 10mm as well to ensure all compression damping is directed towards the intiminator.
Contrary to a lot beliefs about damping - correct rebound damping & spring will give u 90% of your feel on the road. Think about it - springs control mostly your compression motion and rebound ensures that it doesnt spring up and down out of control - rebound damping is the the opposite of spring. You can ride with correct spring and rebound damping only, but u cant ride without rebound any damping - i tried that before
For data point i find my 95kg naked body works well with 0.90kg spring and 1.5m (d) rebound hole provide soft but sufficient rebound. ( i am on Sikolene Pro RSF 2.5w & 5.0w mix giving a viscosity rating of approx [email protected])

Shim Mod (finally - this affects mostly your chassis movement)

Shim stack affects mostly low velocity fork movement (chassis
movement), but also affect high velocity fork movements (bump absorption movement) as the shim stack provides the baseline damping - The by-pass mechanism in intiminator effectively "bleeds" the excessive damping from a hi-velocity movement only above a predetermined movement force.
Original shim stack for intiminator in 2009 is way to stiff for vstrom, way more than the YMMV variation. Subsequent shim stack shipped by Ricor is progressively getting softer.
Get some 0.010 & 0.012 shims when u order your intiminator - i dont think anyone will require additional 0.015 shim other than the 6 that now comes with the stock intiminators unless weighing over 110kg or 240lbs.
To calculate the damping factor for different shim combo: raise the diameter to the power of 3
Eg: 4 shims of 0.012 and one shim of 0.010 diameter will give is 0.000007912 which is about 8% less damping than 0.012 x 5 shims
My current setting with the 0.90kg spring is 0.012 x 4 + 0.010 x 1 on my body weight and spring combo
Drill a by-pass hole for the intiminator (this allow small bumps and road imperfection to be delt effectively)
If after all mods you feel the intiminator does not deal with tiny bumps or road imperfection effectively (ie jarring over them) this will solve your problem - posted by Ranger Ron and on advice from Ricor (now only Ricor suggested that from the beginning ) - I am amazed how effective this solution is. I am guessing the reason this mod works so well is that a certain amount of fluid pressure is needed to push pass those shim stack - the by-pass hole provide some relief before the shim stack is pushed up - a bit like the by-pass orifices of RT emulator. giving a more complaint ride on minor stuff. I find 1mm (d) sufficient for my purpose
----
By-pass circuit mod on intiminator (maybe small additional benefit)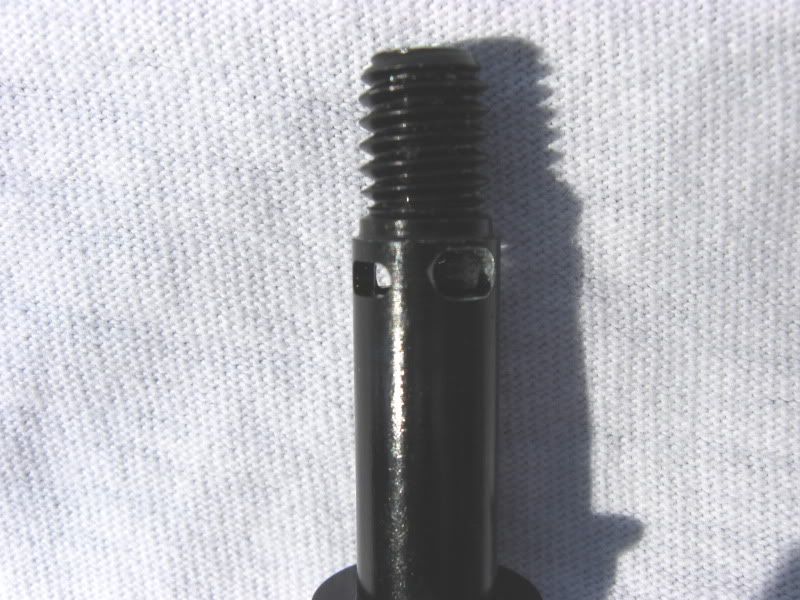 see LADDER106's post 17
Intiminator Compared and modified - Page 2 - ADVrider
for the correct way of doing it - essentially no need to enlarge more than the internal area of the hollow shaft - the stock oblong orifices is already quite close - this step can be skipped if you have no desire to mod the intiminator even more
---------
More orifices on 'intiminator body' to allow more oil flow to shim stack mod.
i cant mathematically calculate the benefits of this mod but it is in the same principles used by RT with their gold valve mods to shocks and cartridge forks. Essentially drill 4 additional orifices to the bottom of the intiminator body to allow more oil to follow towards the shim stack - you have to be careful not to drill into the rebound valve springs around the inner outside of the intiminator body.
Sealing Ring mod (reduce friction)
The sealing ring can be trimmed slightly to reduce friction between it and the internal wall of the fork -
Other items to ensure your forks is working effectively
Ensure your forks are assembly of equal height - your axle should be easily tighten with just your finger - tool should only be used to do final tightening - hard to tighten maybe unequal height and therefore greater friction; A fork brace is also recommended; ensure correct procedure followed to tighten axle pinch bolt;
---
L2 Glee;

K8 Wee ABS(SOLD);

SOLD: 06 FZ1; 04 Fireblade; 02 Fireblade; 97 CBR 600
---
Last edited by AceRider; 07-02-2012 at

01:43 AM

.
Thanks AceRider for taking the time to post your summary of improvements.
I have just fitted intiminators in my 07 wee and can't believe the differance they make to the bike. I also fitted an Elka three way shock (a few weeks earlier) and that made a huge differance too. I weigh about the same as you and also used the .9 sonic spring, but didn't do any other mods (already had fork brace on).
I was wondering why you mixed 5wt oil and at what proportion.
Fantastic summary, will let you kNow how I do with the '12.
---
-Tom (DL650AL2) (KA1TOX) (E-I-E-I-O)
This message and images are licensed under the Creative Commons Attribution-NonCommercial-ShareAlike 3.0 Unported License.
http://creativecommons.org
---
Last edited by tmcgee; 07-02-2012 at

03:46 PM

. Reason: Fixed the dam autocorrect.
Quote:
.....
I was wondering why you mixed 5wt oil and at what proportion.
The mixing of 2.5wt &5wt silkolene was purely to fine tune my rebound damping after everything has been reassembled. Of course that changed compression damping too. From memory it was about 10% 5wt silkolene pro rsf. Basically I sucked out 50ml of 2.5wt and put 5.0wt in. Please don't take the figure as gospel, check manufacturer's data. I am writing from memory now
---
L2 Glee;

K8 Wee ABS(SOLD);

SOLD: 06 FZ1; 04 Fireblade; 02 Fireblade; 97 CBR 600
Very nice write up!
The crucial thing you did right was to address things in the correct order, springs and rebound first, and only then compression.
---
Rich Desmond
'07 DL650, '01 DR-Z400S, '99 SV650 (race bike), '80 GS1000S, '85 RZ350, '08 Ducati 848
Quote:
......

The crucial thing you did right was to address things in the correct order, springs and rebound first, and only then compression.
hasnt always been the case - aside from spring, the importance of getting rebound damping right before playing with compression did not become clear to me until later in my experimentations.
---
L2 Glee;

K8 Wee ABS(SOLD);

SOLD: 06 FZ1; 04 Fireblade; 02 Fireblade; 97 CBR 600
Stromthusiast!
Join Date: Apr 2012
Location: Peterborough, Ontario, Canada
Posts: 39
Will it help handling.
---
AceRider
Thanks for the write up.
In the fall, I bought a K6 Wee that I'm wholly unimpressed with.
To the point where I'm considering selling it. The cornering is... ...well... ...scary. When it drops into a corner it just falls over with little feel or feedback.
So, will an upgrade to the suspension help out?
Thanks,
depends on your weight, budget and expectation. For the rear, A re valved re spring shock cost US$450 -$650, a custom ELKA shock starts at $900.
For the front, spring and intiminator/emulator pack cost $300, plus oil and experimentation time.

So for a cost of between $900 to $1500, and some tuning time, the bike will handle at least as good as most stock sports bike.

i rider faster thru tight, technical corners than when i was on sports bike fireblades and FZ1, granted my skills have improved over the years as well...
---
L2 Glee;

K8 Wee ABS(SOLD);

SOLD: 06 FZ1; 04 Fireblade; 02 Fireblade; 97 CBR 600
My Experience w/an '06 Wee suspension
---
I too was frustrated with the vague suspension feeling of my Strom and the fork dive in particular. I'm a very competent rider of over 30 yrs, a long-time rider coach and have quite a few hours of track experience. I weigh under 170 lbs. I wanted tune my suspension w/a minimum amount of cash and hassle. So I:

Installed Sonic springs a 90kg if I recall correctly.

10 or 15 wt oil don't remember off the top of my head

Murphs Fork Brace

Elka 2-way rear shock

I've run all sorts of DS tires and presently using the Shinko 705 radials.

The bike is extremely competent in all riding situations. It's hard to believe the compression damping is so spot on with such a simple set-up. It handles as competently, as predictably and as comfortably as my old KTM Adv, and VFR did and is equally as nice as my Ohlins equipped GS. In fact I can't seem to dial the GS's compression damping feel to be as nice as the Stroms.

It's not necessary in my opinion to add expensive valving to these bikes to tune the suspensions to your liking - get them right. I suppose however if you're a heavy weight, this might not be the case. But I like to adhere to the simple is often better philosophy.
---
suspend reality as often as possible
Stromthusiast!
Join Date: Apr 2012
Location: Peterborough, Ontario, Canada
Posts: 39
---
Thanks guys.
I can whole heartedly agree with the dive issue too. When I've had to jump on the brakes, it was certainly nerve wracking.

Not sure I want to go $1500 though.

So, heres's my numbers:
- K6 Wee with lots of stuff, skid plate, centre stand, crash bars, givi racks + topbox, plus smaller stuff. Got paniers too but only use them when tripping. Typically ride solo.
- I weigh 97kg bare.

What are your thoughts on spring weight? Any list deals on emulators/iminators (?)?

I do like a ride that's not to harsh. Living in Canukistan the roads are frost cracked, pot holed, repaired, tar snaked, etc. Locally, the township tars and chips the roads instead of paving. There's also lots of gravel roads locally that gets washboarded in the summer.
Also, I recently took Lee Parks Advance Rider Control clinic which has resulted in more aggressive cornering. The Wee can't keep up which is what's scaring the hell out of me.

I want to tour up to Alaska in the next couple years. Not sure how that would factor into the suspension set up.

Thanks again for the help and expertice. Let me know what other infor you may need.
---
Last edited by DSlag; 07-28-2012 at

09:24 PM

.