Tire Delamination Symptoms
---
Have only 40,000 km riding experience so looking for some experienced opinions on what tire degradation might feel like. I have 18,000 km on a Mitas E07 on the front, it has had a slow leak for a while, but the bike just developed some new issues and I wanted to see if these are tire-related. Started to hear a rhythmic noise on revolution and a low-speed wobble, then on a 150 km highway ride some pronounced vibration on the left hand mirror and footpeg. Got home and upon inspecting the tire, it is visually intact but when pressing on the tread, it feels like there is a void or air bubble in sections around the circumference of the tire. Ordered a replacement off MX-1 (they still appear to have stock of the front Mitas E07 but none of the regular rear as was mentioned in a post recently they appear to have been discontinued) so am changing it out, but am questioning whether the tire is safe to ride on until I receive it and are those symptoms I mention indicative of issues with the tire?
---
Brad
12 DL 650
00 KLR 650C
Stromthusiast!
Join Date: Mar 2011
Location: Pasadna area
Posts: 13,571
I've only had one tire rip itself apart on a trip. A brand new Avon SMII on the front my BMW side car rig chunked all to pieces going over the Grapevine to Bakersfield. I should have saved it for a refund but I was on a trip so I just got a new tire in Bakersfield and went on my way.
That's not bad out of the hundreds of tires I've worn out over the years.
I would not ride on that tire at any speed. Corner store maybe but you've got a serious internal issue IMNSHO
---
Ontario Canada rider staying in Cairns Australian Feb to May & Aug-Oct each year
Canada
2018 CB500x
>
2009 CBF1000 sold
• 10 Wee ABS sold • 09 Burgman Exec sold • 10 NT700v sold
Australia> 04 KLR650
• 93 ST1100 sold •
Travel photos
>
https://500px.com/macdoc/galleries
Oz riding >
https://tinyurl.com/y4c7lm87
Quote:
I would not ride on that tire at any speed. Corner store maybe but you've got a serious internal issue IMNSHO
On MX-1's product page for the E07, this is their projected mileage for the tire:
Over 20,000 km (12,427 miles) is not unheard of on this tire, with the average service life probably around 15,000 km (9320 miles).

Heard others on here getting much better than that, but perhaps as most of my mileage is gravel, that would likely contribute to the shorter life. Thanks for the thoughts and I will either wait for the replacement or mount up a new Tourance that I was going to sell (but am just hoarding at this point).
---
Brad
12 DL 650
00 KLR 650C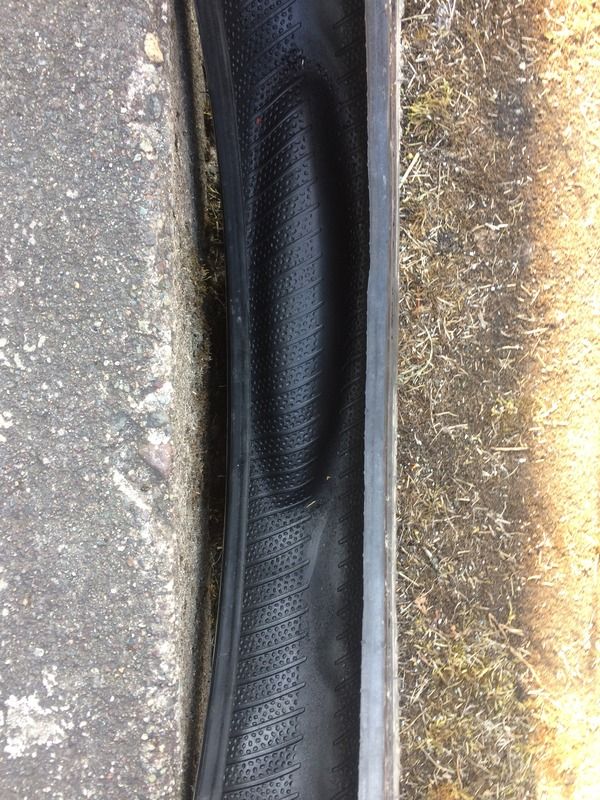 A learning experience for me in that I had just been taking a cursory glance at the tires, but I need to occasionally physically examine the tread (especially later in their life) as I missed this forming. The top picture is subtle as there was quite a pronounced hump that really seemed to affect the bike's vibrations when I last rode it.
---
Brad
12 DL 650
00 KLR 650C
Super Moderator
Join Date: Jul 2013
Location: Gatton, Queensland, Australia
Posts: 4,555
Internal failure. You should buy a lottery ticket.
---
2010 Weestrom; 2017 Kawasaki Versys-X300; 1988 Suzuki GSXR1100
I've had both front and rear tire issues over the years, and at least for me, a front going out is more dangerous but a rear on a fully packed / two-up situation can't be fun either.

Generally, I start to feel the front tire develop harmonics, wobbles as I slow down for a stop, and/or see abnormal tread wear as the miles add up. Rears just square off and show their chords. The rear tire seems to run a lot hotter than the front too.