Stromthusiast!
Join Date: Dec 2015
Posts: 21
Battlax A40
---
Went to get a new front tire for my dl650. I had a battle wing on the back due to a blowout (not cool) on the trail wing around 4,000 miles. I wanted a battle wing on the front, but they couldn't get one in time. They did however have a (new I think?) Bridgestone battlax A40. Bridgestone's evolution of the battle wing.
Has anyone had any experience with this tire? I like it so far though I don't have a whole lot to compare it to. I believe it's a good deal smoother than the trail wing prior.
Stromthusiast!
Join Date: Jan 2015
Location: Edison, NJ
Posts: 1,990
Battlax A40
---
I bought a set for my 650XT which I no longer have, but did put almost a thousand miles on them before I sold it. They worked just fine. Smoother ride as they're street tires and not dual sport tires.
---
-John
The A40 is an update & improvement over the Battlewing.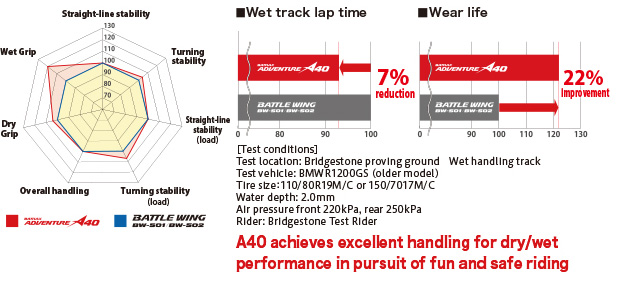 It is interesting to note the pressure they tested the tires at on the R1200GS...32 psi front & 35 psi rear. If anyone has a 1200GS handy, what are the owner's manual inflation pressures? Likely higher than these. Of course, this is probably a 140# Japanese test rider and no luggage.
---
"Older people who are reasonable, good-tempered, and gracious will bear aging well. Those who are mean-spirited and irritable will be unhappy at every period of their lives.

"Let each of use properly whatever strengths he has and strive to use them well. If he does this, he will never find himself lacking."

Marcus Tullius Cicero
44 B.C.
---
Last edited by PTRider; 07-14-2016 at

11:31 PM

.
A40 both ends
---
I got new A40 front and read tyres fitted nearly 3 weeks ago, rode 40 kilometres home from tyre shop on very wet roads, they felt safer than the previos 6000km old trail wings. I have put 350 km on them now and they feel great, neutral steering with good grip, just waiting to get a decent chance for a good ride on my favourite twisty road. Will update my impressions as I get more kilometres on them
Stromthusiast!
Join Date: Feb 2016
Location: California
Posts: 31
Got both on my dl1000. Damn fine tire. The Metzler Tourance tires hated over 120 and would shake like made come down from it. These are solid for 120 and over when I pull that high.

Sent from my SAMSUNG-SM-G935A using Tapatalk
---
-JM

Newbie to VStroms, and their 2 cylinders.
But having fun learning all the new things!
Stromthusiast!
Join Date: Dec 2008
Location: Nashua, NH
Posts: 1,057
I assume the new A40 will replace the Battlewing, is this true?? I just checked the Bridgestone website and the BW is still list along side the A40.
---
2009 Wee Strom ABS (current)
1987 Harley Low Rider Sport (current - with 205K miles)
2009 Aprilia Mana 850, 2006 SV650, 1984 Yamaha Virago 1000 (all sold)
Silver Strom Club Member #11

Wee Farkles: Russell Day Long Seat, Madstad with Moose Adventure Shield +4'', SWMotech Centerstand, 1'' up & back bar risers, Givi XS308 Tankbag, Aprilia mirrors, Framesliders, Fenda Extenda, Elka Shock.