Stromthusiast!
Join Date: Jun 2014
Location: Sanford, NC
Posts: 26
Stock Trail Wing Durability
---
I just got the original Trail Wing swapped out for a new Battle Wing. This tire has 16,000 miles on it. I'd say I got pretty good usage out of it. It could probably go a bit further, but it is starting to wear really unevenly. So, it looks like Trail Wings are a good buy for this bike. I'm going with Battle Wings for something a bit more street oriented, but if I get way fewer miles, I'll go back to a Trail Wing.
Thats a front tyre, correct? I got 12000km out of each of the first two rears on my wee, 24000km on the front. Just changed them both last weekend and im trying out Battlewings too!
Stromthusiast!
Join Date: Jun 2014
Location: Sanford, NC
Posts: 26
That is a front tire, yes. I got 9800 miles out of my rear Trail Wing and I'm currently riding a Continental ContiMotion on the rear with which I am pleased thus far.
Stromthusiast!
Join Date: Jun 2012
Location: Seattle
Posts: 1,060
19,112 miles on rear stock because I thought there was a "thou shall not pass" steel ply in the center.
Tire life has many factors--the tire maker's trade-off of traction vs. tread life, inflation pressure, how hard you twist that throttle, how hard you corner, how much weight you carry, how hot your pavement is in summer, even how abrasive the gravel in the pavement is in your region.
Bridgestone has a new tire that supersedes the Trail Wing and Battle wing, the A40 said to proved longer life and better wet grip.
BATTLAX ADVENTURE A40 | Products | Motorcycle Tires | Bridgestone Corporation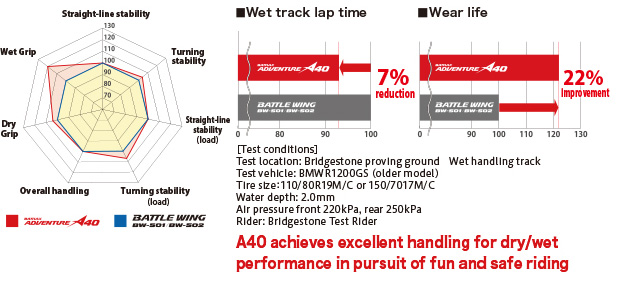 ---
"Older people who are reasonable, good-tempered, and gracious will bear aging well. Those who are mean-spirited and irritable will be unhappy at every period of their lives.

"Let each of use properly whatever strengths he has and strive to use them well. If he does this, he will never find himself lacking."

Marcus Tullius Cicero
44 B.C.
Stromthusiast!
Junior Trooper
Join Date: Sep 2015
Location: Miami
Posts: 1
I read Contis take a long time to warmup and they are not so great on wet ? Aren't ?
Thanks
Carlos
Stromthusiast!
Join Date: Feb 2012
Location: western NC
Posts: 449
You guys are getting amazing miles out of your rear tires. It doesn't matter what bike or what tire but usually get 3,000 out of a rear. MyV2 is on its 3rd rear at 8000 miles. The stock from tdoes still have a bit of life left in it though. I guess its a factor of riding style and road surfaces.
---
2014 khaki V2
01 KTM LC4 640 Enduro