Nail In Tire Question
---
I just installed the SW Motech center stand and took the opportunity to inspect the rear tire. I found a roofing nail in the middle and did a fix with a Stop n Go tire repair (the mushroom shaped plugs). Holding air just fine. Do I need to get this permanently repaired now as the instructions suggest? On the car I just call it a day but being a two-wheeler makes me nervous. I know this is a controversial topic but just seeking opinions. The bike and tire is 6 weeks old with 1700 miles.
---
2014 Suzuki V-Strom 1000 ABS (Candy Daring Red)
2017 Kawasaki Versys-X 300 ABS (Graphite Grey)
2013 Suzuki V-Strom 650 ABS Adventure (sold)
Success!
---
I have had two tires plugged, and they worked just fine.

On a national holiday, I detected a screw in my front tire,
while touring Newfoundland. I sought assistance and got lucky.
A fellow led me to a group of people working on vehicles of all sorts,
and half a dozen guys volunteered to plug my tire. One of them won.

The only difficulty was persuading my benefactor to accept a tip.
I prevailed by pretending I was superstitious and wouldn't trust the
fix unless I compensated the fixer. That tire carried me several thousand
miles before it was discarded.

A couple of years later, I found my own nail, and plugged the tire myself.
Again the fix lasted as long as the tire. I never gave it a thought.

I understand that if a plug fails, the leak is generally slow, and you
can often try again with more glue or a bigger plug or both.

Your Mileage May Vary, as we say in these situations,
but I have learned to be confident of my next plug.

Keith
---
A lot of the success of the plug fix is where the hole is located. If near the center of the tread, then it should hold well. If the puncture is near the sidewall, all bets are off.
Back when I had my Gold Wing, I caught a nail in the center tread of my fairly new rear tire. I plugged it and rode it for the life of the tread. I never had a problem.
---
Previous bikes: Kawasaki 100, Honda CB360, Kawaski 440 LTD, Honda Pacific Coast, Honda GL1800 Gold Wing and now 2013 DL650A
Halfway to my first service, I picked up a 4" bolt (seriously - I should have taken a picture) at the very edge of the tread on the rear tire. Ripped it out, plugged it, and 8500 miles later, all is still well.
Stromthusiast!
Join Date: Mar 2011
Location: Pasadna area
Posts: 13,762
I had a stop'ngo plug fail after a couple hundred miles. The worms didn't stop the leak either. New tire time.
Sometimes the repair works fine, others not. Phooey, eh?
Stromthusiast!
Join Date: May 2015
Location: South Jersey
Posts: 68
I'm glad all had success with plugs. I guess being I only have 2 wheels instead of 4, I rather not plug a tire on the bike. Fear of something happening at high speed if plug fails.
Stromthusiast!
Join Date: Apr 2015
Location: SC/NC
Posts: 288
I much prefer the patch/plug combo for once I get home. On the road a plug in a pinch but I'm not going to depend on that long term on a bike tire, or really
ANY
tire..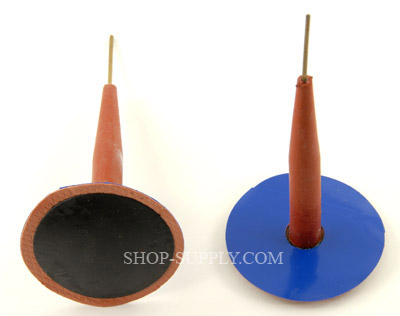 ---
2004 DL1000
1998 XR400
2000 KDX200
2013 DR650
---
Last edited by AlH; 05-18-2015 at

05:45 AM

. Reason: Added image
The hole was in a "good" spot so I will watch it closely. Of course it is a good excuse to get a different tire I might want on the rear.
---
2014 Suzuki V-Strom 1000 ABS (Candy Daring Red)
2017 Kawasaki Versys-X 300 ABS (Graphite Grey)
2013 Suzuki V-Strom 650 ABS Adventure (sold)
Stromthusiast!
Join Date: Dec 2005
Location: Gold Coast, Australia
Posts: 3,715
I've had several patches in tires last the life of the tire.

When I've had a look at them after they were removed the patch wasn't going anywhere, even trying to tear one out with pliers didn't work that well (The plug broke off leaving the patch still in the carcase).


Pete