Anekee II noise and "line"
---
I am getting an odd noise that I didn't notice before from my front end. When riding in a straight line its not there but at a few degrees of lean a slight hum begins. it disappears when I right the bike. Front and rear tires have about 7-8k on them and were replaced at the same time. Both still have a nice round profile but both have a "line" along the center of the tread. When I bought the bike I noticed this on the rear and thought maybe the PO had dont some kind of mini burn out and turned it on a rock. after about 5 k miles it still was there, and now the front exhibits this same line. I know no one has done a burnout on the bike in the last 6-7K miles.
Anyone seen these lines or had this hum? I am thinking the hum may be bearings? but the bike only has 16K on it and has only been off road a few times.
Thanks Stromtroopers.
Front:
Rear: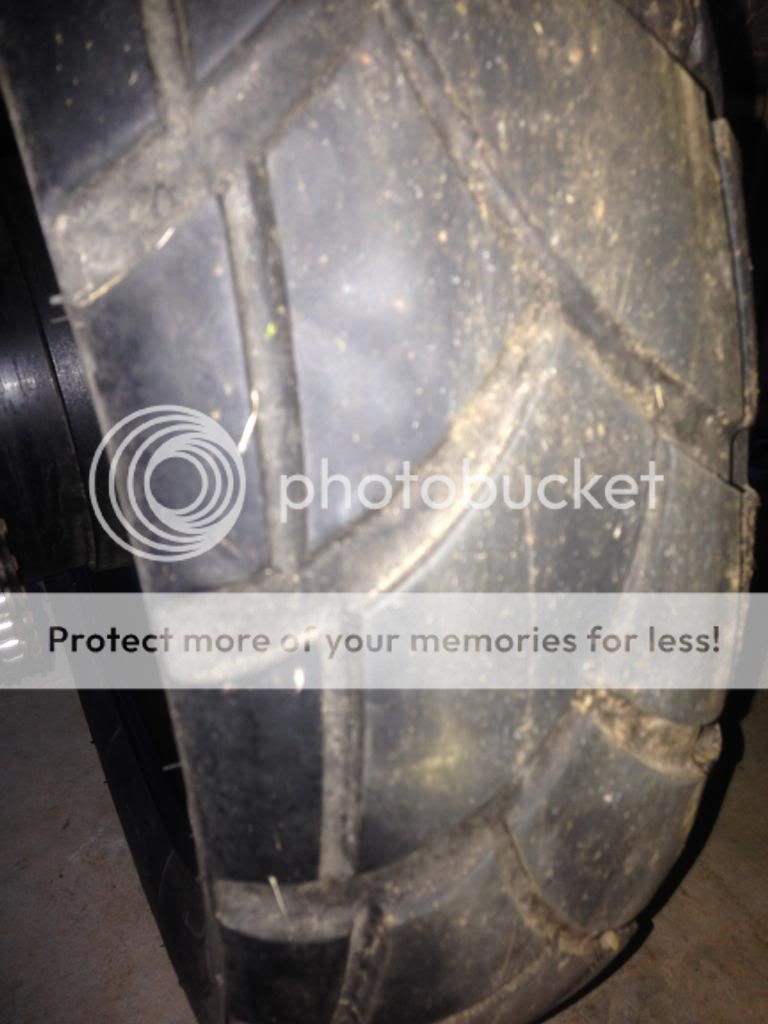 ---
'09 Wee, Orange. Uh, Er...White, No, Wait, ORANGE!


" I like my Motorcycle's Loud and my Firearms Quiet." -Me
---
Last edited by Rogue Reaper; 03-04-2014 at

10:01 AM

. Reason: Added photos.
Stromthusiast!
Join Date: Jun 2013
Location: Portland OR
Posts: 659
Normal Michelin
---
I can say that line is normal. I've been through three Pilot Power on my sport bike. They all had that line. Sorry I can't explain it, something to do with the manufacturing process. I quit worrying after the first tire wore down.
As far as your noise issue, can't help you there. If the tread blocks are getting feathered, that could cause some noise. Technically speaking, feathering is what happens when each block wears on one side. Cupping is when several blocks in the same area wear. Cupping is caused by very worn shocks. I haven't seen this on bikes, just cars. But everyone has taken to use the word cupping to describe feathering. (Sorry, had to get that off my chest)
---
2007 DL 650 with assorted upgrades
There's a little blurb in one of this month's moto-mags (forget which) explaining that the line is called "antenna" tread or an antenna line.

The purpose is to give the tire a way to electrically ground itself so you don't get zapped by static electricity buildup. High-silica tread compounds can build up quite a bit of static as they roll, and one thin line of "regular" non-silica rubber in the middle of the tread is all it takes to prevent a problem.

Sometimes the line is visible, sometimes it's not. But it's not a concern at all.


And yes, tires with voids in the tread, such as most available for dual-sport bikes, make noise. And they tend to make more noise as they wear.

I recommend ear plugs. :mrgreen: The noise is entirely irrelevant to anything.
---
2002 Suzuki DL1000 V-Strom, Dark Metallic Space Blue
1983 Suzuki GS850G, Cosmic Blue
2005 KLR685, Aztec Red - Turd II.2, the ReReTurdening
---
Last edited by bwringer; 03-04-2014 at

07:29 PM

.