Stromthusiast!
Junior Trooper
Join Date: Jun 2008
Location: Tellico Plains, TN
Posts: 2
Tellico Plains, TN enduro ride Sunday June 29th
---
Hi! Time for another shop enduro ride. We're going to be going up Rafter Rd and exploring the Northern part of the Cherokee National Forest.
Sunday 9:00am meet in front of the shop, ride out 9:30am
- please have a full tank of gas.
Two groups, I'm leading one & Tom's leading the second group. One a little faster than the other. As always, we'll stop at every change of direction before moving on. Go at your own pace & ride stress free.
This is about 50% pavement & 50% forest service roads. If you haven't been on Rafter Rd, it's like a mini-Dragon. Large GS's, DL's, and Adventure's shouldn't have any problems making this ride.
Any questions you can reach me at the shop 423-253-2088.
Minimike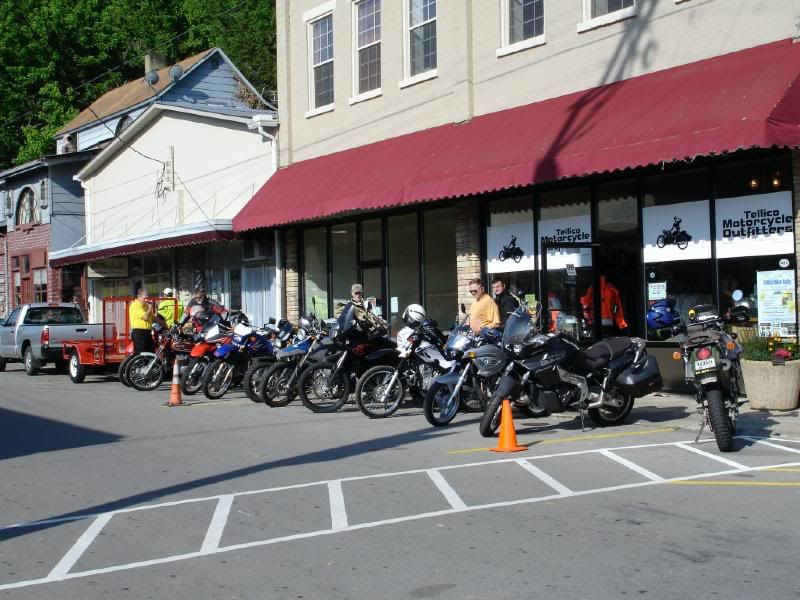 Thanks
minimike
---
Tellico Motorcycle Outfitters
106A Scott ST
Tellico Plains, TN 37385
423-253-2088

An Adventure Bike Style Shop

Monthly Adventure Shop Rides into the Cherokee National Forest
$tromtrooper
Join Date: Feb 2008
Location: Kingston, Ontario
Posts: 1,609
Tellico Plains
---
Make me jealous or what!!!

I was there in May but it's tooooooo far from Ontario, just for a Sunday ride.

But thanks for the invitation ...eh.
Wish I could come, but y'all are just a hair too far away for me to get there by 9:00 am. Have fun!
---
[I]If you're not moving forward, you're probably in somebody's way![/I]

Current ride:
2006 Yamaha FJR1300AE, Cerulean Silver
2005 Suzuki DL1000, blue - sold
Its after the 29th!
---
Where's the pictures? You can't describe a beautiful ride like that with a thousand words! Post Pics!