Touching your pegs
---
Without a lot of experience, do you think the DL650 with stock tires, warm summer day with sunshine, riding a somewhat correct line in a corner that the bike will not slip until the pegs touch? I don't know what angle that is on that bike but I always think the tires will slip. Am I worried too much?
Stromthusiast!
Join Date: Feb 2015
Location: Melbourne
Posts: 149
Yep! Don't stress about how far you can lean. The bike has as much grip as you need. But don't go looking for lean angles, they will come.

The only time you run out of grip is when you aren't being smooth. Not being smooth comes from trying to go too fast into corners, hitting brakes in a turn, or chopping the throttle is not hoe you go around a corner fast.

People say they ride corners at 80%. I prefer to say I ride at speeds I can tighten my line if needed and not stress myself doing so.
---
Last edited by Hombre; 12-01-2015 at

09:07 AM

.
DL 650's with tires meant more for light off riding will touch the pegs with confidence! Shinko 705's seem to have plenty left at that lean angle. The tires that come stock would give more traction than the Shinko's. I have run Michelin Pilot Roads, BT 023 Bridgestones and have "touched the pegs" with all of them.

Don't put too much into "touching the pegs" as it is easy to do if you are using poor riding technique. Cold tires/road surface can limit traction as well as sand/dirt/gravel. So know the road and leave plenty of reserve in case you need it. Save the knee dragging for the track.

I think finding an empty parking lot and doing figure eights is a good way to experience some steep lean angles at safe speeds. Gives you a good feel of the bike in case you need to do an emergency manuever. Which leads me to what I think is VERY important......practice braking as hard as you can!
---
'12 DL 650 '14 BMW R 1200 RT
WERKS
modified clutch baskets
for DL and SV 1000's.
The BEST in chudder control, noise control, and lasting durability! AVAILABLE HERE:
www.werksparts.com
Have questions about the clutch in your DL or SV 1000?
E-mail Terry
[email protected]
$tromtrooper
Join Date: Feb 2008
Location: Kingston, Ontario
Posts: 1,609
slipping tires
---
I'm not an aggressively fast rider but I do have lots of experience on a variety of road surfaces. I don't ever think that my tires will slip in a corner if all things remain balanced.
In other words: no braking, no excessive throttle, no change in radius or camber and no change in the road surface.
The surface is the variable that's out of your control. You need to be anally aware of hazards and watch for gravel, sand, leaves, potholes and about a thousand other things that lurk on the surface to surprise you.
---
Road Toads Charter Member
- old guy goes stromabout on a 2007 Vee and finally has touched all of the 48 contiguous United states and the 10 Canadian provinces.
Exactly - perfect description.

One track rider cracked he never rode aggressively on twisties as too many "gotcha's" on the pavement compared to a track.
---
Ontario Canada rider staying in Cairns Australian Feb to May & Aug-Oct each year
Canada
2018 CB500x
>
2009 CBF1000 sold
• 10 Wee ABS sold • 09 Burgman Exec sold • 10 NT700v sold
Australia> 04 KLR650
• 93 ST1100 sold •
Travel photos
>
https://500px.com/macdoc/galleries
Oz riding >
https://tinyurl.com/y4c7lm87
Stromthusiast!
Join Date: Mar 2011
Location: Pasadna area
Posts: 13,446
I don't consider my riding aggressive but I've touched both sides pegs using the 705 Shinko's. Surprised me since i din't think I was heeled over that much.
Stromthusiast!
Join Date: Aug 2015
Location: Alstonville NSW Australia
Posts: 650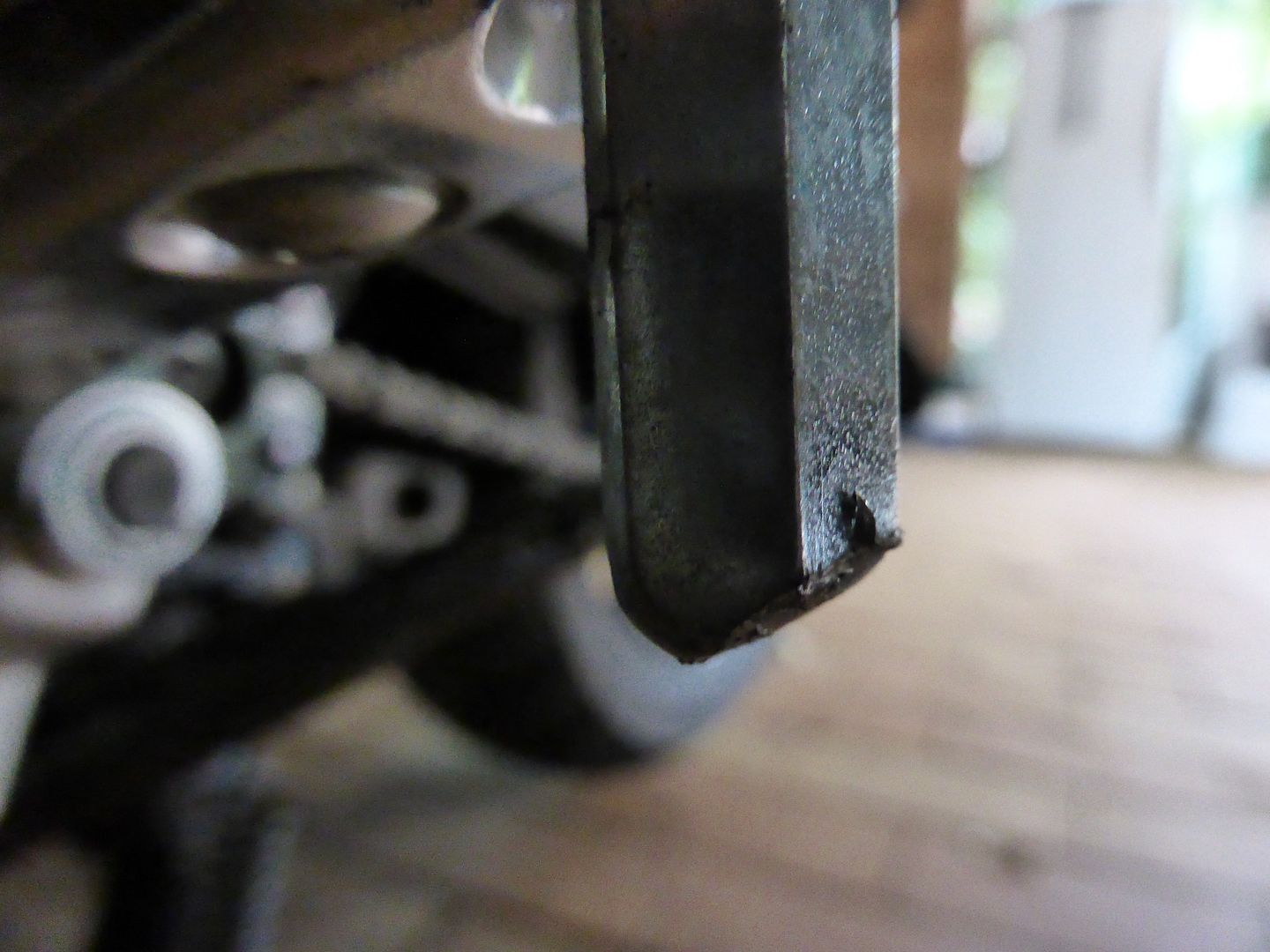 V2 both sides on first ride after swapping from SV1000 which I had started to scrape LH the exhaust can mounting flange.V2 is on stock Deathwings. I actually (for the first time ever) heard the rear tyre squeel in a corner (!) I have reached the edges of front and rear Deathwings and actually quite like them on dry pavement. - I have adjusted my riding corner speed in consideration the V2 isnt an SV, and also I now move my body off the bike/shift body weight more to keep the bike more upright and leave some margin in case of the unexpected.
I believe that under "normal" dry conditions that a reputable tyre will "outride" most riders. It will be the bike scraping something immoveable and lifting the rear wheel that will cause the tyre to slip.
I dont explore lean angles in the wet...
---
Paul and Dixie and our V2
DL1000A 2015. SW-Motec crash bars and skid plate,Givi Airflo screen,Givi rear Hugger,Factory low seat,Barkbusters with Storm guards,Factory Tank Protector, Factory centre stand,RadGuard Radiator Guard,home made top box adaptor plate with poverty top box,Factory hard panniers,Zumo390LM,TKC70's,windshield lowered 50mm with custom mounting plates,motopressor tyre inflator,Virgins breath in the tyres,Barrett exhaust,AWESOME rider and pillion.
Quote:
Without a lot of experience, do you think the DL650 with stock tires, warm summer day with sunshine, riding a somewhat correct line in a corner that the bike will not slip until the pegs touch? I don't know what angle that is on that bike but I always think the tires will slip. Am I worried too much?
You're worried too much, and worried about the wrong things.
Whether or not the pegs touch is a factor of a lot of things, suspension setup, body position, line though the corner...etc.
I've kept up with track day experienced guys on sport bikes dragging their knees, without touching anything down.
---
Rich Desmond
'07 DL650, '01 DR-Z400S, '99 SV650 (race bike), '80 GS1000S, '85 RZ350, '08 Ducati 848
Stromthusiast!
Join Date: Jan 2012
Location: Bremerton, Washington
Posts: 1,381
All good information. Here's the thing on dragging hard parts on the street. If you are dragging your pegs and there is a little hump in the road, as a previous poster said, it lifts the rear tire and you will likely high side. That's a likely trip to the emergency ward. So don't do it regularly on the street. Either the road conditions or unexpected little humps will eventually get you. If you want to prove something, try a track. Lots of fun and oh so much less risk.
I'm an aggressive rider and I don't drag pegs much at all and they are lowered. I only drag when the curves are tight and smooth, not many roads like that around here. Western NC is mostly where I loose my chicken strips..
The key to street survival is not to panic, keep riding. People screw up because they overreact and jam brakes or don't roll off throttle and drift through a little. Thats why some dual sport experience on loose dirt roads or a full on dirt bike do wonders in building street riding skills. Just stay away from the center line till your experienced, no stupid racing line crap. But, don't clip bicycles on the fog line either by staying hard right, takes time to get good and quick while fairly safe on the street.
For me I always leave some lean angle for safety, you never know when you'll need to tighten a line for a rabbit or gravel, deep pot hole in a shadow at the exit of a semi-blind curve etc. Riders with dirt experience have an advantage, they already know how to steer with throttle and a slide is normal. I've low sided once on the street so I've found the limits of rear tire traction the hard way. Since then I've lost traction countless times, but I haven't panicked again like I did when I crashed. I learned not to panic.