Banned
Join Date: Mar 2015
Location: Holland
Posts: 1
Knee Down Tutorial
---
A knee down is when you touch the asphalt with your knee, whilst maneuvering your bike around a corner. In the motorcycle world this is perceived as an achievement. It's also a cool thing to tell your buddies at your local bar or maybe hit on that biker girl you have been having a crush on for a while now. Next to the fact that it's ''cool'' to do a kneedown it also has a function.

It's the best way to measure how much ground clearance you have left before your pegs hit the pavement. It's also to keep the bike in a smaller lean angle so your tires have more grip because they are not used in a big lean angle.
Something that is important to know is that not everybody has the same amount of skill on a bike and you should never push yourself to the point that you're unable to handle thebike and possibly crash. So take your time and do it at your own pace. Some people do their first kneedown after a couple of months and some do it after years of practice.

Tips before doing a knee down:

Try to apply these tips we are about to give you one at a time, this way you will benefit the most from them.

Make sure you are very used to riding the motorcycle you are attempting the knee down with.
Make sure you know every part of the corner and you only do the knee down in a place where it's safe and you have enough room to abort.
''Take it easy'' take your time to apply all the tips you're getting, it's better to do the knee down after 100 attemps than, overdoing it and crashing in the first corner.
You aren't the only person on the road don't bring other people in danger when riding.

Check the corner for dirt, oil and water when you have one of these elements it will be dangerous to perform a knee down. Check your bike: tires and chain are most important.
Wear the right protection!
Relax when you're on the bike, when your not relaxed it will be harder to do the knee down.
Enough talk! It's time for the real stuff! We divided the knee down into three stages:

1: Entering the corner

2: Making the corner

3: Exiting the corner




Entering the corner

Move your butt back about 10 centimeters, this way you create a lot more space to move around
Place the balls of your feet on the pegs and point your inner corner foot towards the corner.This way your knee is already pointing towards the corner and makes it easier for the rest of your body to follow.
Place one butt cheek on the saddle and the other next to the saddle, this way your body will already be hanging next to your bike and the bike will have to do less in the corner and the bike will have a more upright position and thus more grip.

Make sure you are in the right gear and speed before entering the corner.
Take your hands off the break and clutch levers, because when you are scared you tend to grab the levers hard and this could bring you out of balance.
Always look towards the end of the corner because your bike will automatically go to where your vision is pointed.
Important Tip!! Try to move your mouth to your hands, when you do this your shoulders will automatically move to the side and you will have the most possible bodyweight next to your bike. Don't use your hands to move more to the side. Why? Take a look at the next tip.

Your hands should be relaxed on your clip-ons. Hold on to your handlebars but not too tight when you grip on too tight your front wheel will lose it's maximum grip.
If you are riding a sportsbike you can try to press your shoulder against the tank to release the tension of your clip-ons.
Try to repeat this a couple of times with a lower speed until you get the hang of it. Then you can keep increasing your speed.


Making the corner

Push on the outer peg with your foot, this way you bring the bike in a smaller lean angle.This feels weird because you are used to bringing the bike in a large angle, but the rule is the less lean angle the more grip the bike has!
Keep a constant throttle on the bike, the back tire is bigger than the front wheel so you want the biggest impact being on the back wheel that's why you keep a constant throttle.

Keep looking at the end of the corner this way the bike follows to where you are looking.
When you keep looking at the wrong side of the road you will end up there.
Your body is next to the bike during the corner this is not what you're normally doing so take time to get used to this.
Your outer knee is used to maintain a grip, so you need to really make sure it's pressed firmly against the tank.
Place your outer arm firmly on the tank, this way you can sense what the bike is doing.
I have to keep stressing to relax your hands, your front wheel will find grip and follow the corner.


Exiting the corner

When exiting the corner build up your throttle carefully don't go on the gas too quickly or you will face losing grip and maybe crash.
Keep hanging next to your bike until you are going straight and you have left the corner completly.
Keep your upper body low and try to move your weight to the front of the bike to prevent the bike from lifting the front up. This is especially important for the 1000cc+ bike riders.

Keep your hands relaxed while exiting the corner and let the bike do the work.
When you feel the back of the tire losing grip, always keep the throttle up if you abruptly close the throttle the bike will lose all its grip and you probably end up doing a high-sider.

First place your knees against the tank and then you can move your upper body back to its normal position. If you don't use your knees you will be using your arms to move on the back and that's not the way how to do it.

We hope you liked our tips! Feel free to ask for more tips or about anything specific or share your experiences with doing a knee down below.
---
Last edited by greywolf; 03-16-2015 at

09:45 AM

.
interesting post.

thank you,

be well.

rob
---
2013 Yamaha FJR1300 - Stone Grey
2009 Suzuki DL650 Wee-Strom - Le Grande Orange
2006 Kawasaki Z750S black
1974 Yamaha RD350 maroon with a white racing stripe!
Stromthusiast!
Join Date: Jun 2013
Location: Portland OR
Posts: 634
Thanks, but...
---
I sold my ZX-9.
---
2007 DL 650 with assorted upgrades
I think attempting to put a knee down on a VStrom is asking for trouble, and most likely some giggles from anyone watching.
FORUM GODFATHER.....R.I.P. PAT
Join Date: Jan 2006
Location: Evanston IL USA
Posts: 38,049
It's a track maneuver. Doing it on public roads will allow you to hang a SQUID sign around your neck. Never ride at 10/10ths on the street. There is no margin for error and you're accompanied by other idiots in close proximity. Do a track day or try club racing. The surface is controlled and there are no blue haired old ladies in Buicks looking to pick off a rider.
i thoroughly agree with gw and imagined the op would say the same.

i would gladly do a track day on le grande orange.

i am sure i would learn much.

i have seriously considering the track in nj.

but the timing for me just hasn't been there.

ymmv

anyone stromtroopers do a track day on their dl1k/dl650s?

be well.

rob
---
2013 Yamaha FJR1300 - Stone Grey
2009 Suzuki DL650 Wee-Strom - Le Grande Orange
2006 Kawasaki Z750S black
1974 Yamaha RD350 maroon with a white racing stripe!
---
RandyO
IBA# 9560
07 Strom 1k (8x,xxx miles)
99 SV650 (135,006 miles)
82 XV920R
A man with a gun is a citizen
A man without a gun is a subject
www.gbhsurvey.com
---
Last edited by randyo; 03-14-2015 at

07:55 PM

.
Point your chin at the turn exit. This helps to keep the eyes level as well as assisting the look through the turn. Some people find that this is a big help.

Agree, anywhere off the track dragging a knee is a stunt, often set up by having the bike in a position that is not optimal, or just way too fast for the street.
---
"Older people who are reasonable, good-tempered, and gracious will bear aging well. Those who are mean-spirited and irritable will be unhappy at every period of their lives.

"Let each of use properly whatever strengths he has and strive to use them well. If he does this, he will never find himself lacking."

Marcus Tullius Cicero
44 B.C.
Stromthusiast!
Join Date: Aug 2012
Location: at the Gateway to the Sierras, in California
Posts: 1,564
Lee says... knee down!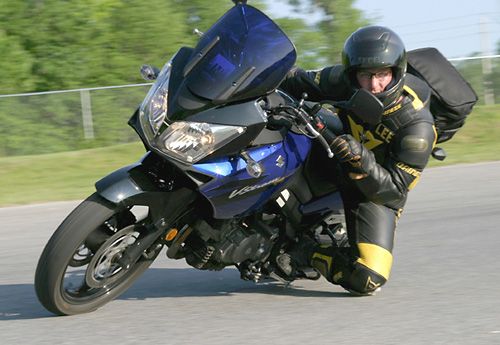 Stromthusiast!
Join Date: Aug 2012
Location: at the Gateway to the Sierras, in California
Posts: 1,564
By the way, did anyone notice the OP is not even a real person but a robot promoting another website?
Ir is it possibly Mark?