ARCHIVED Reports Central America
---
Post links to Route Sheet threads that better fit this category so that members can sort them easier. Feel free to note something like "Good report on Blue Ridge Parkway" etc.
---
Last edited by Brockie; 10-31-2018 at

01:35 AM

.
Stromthusiast!
Join Date: Sep 2009
Location: Northern California
Posts: 77
Belize or Bust.
---
I am an archaeologist who has been working in Belize on and off for the past decade. Besides excavating lost cities (real Indiana Jones stuff) I also run a field school. This allows both students as well as the Average Joe to get a taste of life in the trenches. Usually I fly down at the beginning of the summer and spend the next 3 months happily mucking around in the dirt.
This year I am thinking about doing something different. I just bought a 2005 wee-strom with 11k on the odometer. My plan, if everything works out is too ride it from San Francisco down to Austin, meet up with a friend and then for points south. On the plus side we will be transporting a truck down so I will have a little extra space for gear. On the minus, I can't rely on theat vehicle coming back, so I'll have to be self reliant.
I know some of the gear that I will need, but not all. I have only ridden sport bikes in the past so this will be my first experience with long distance touring. I am hoping that I can turn this tread into a sort of how too for noobs like me. What I should bring, what are good brands, etc. I know that this information is spread out all over the board but maybe we can consolidate it a bit.
I am also hoping to post back information about my prep. Shorter rides, gear good and bad, and finally culminating with a "Long Way Down" epic commentary. Hey I am a writer thats what I do.
Off the top of my head I know that there are certain things I will need to get.
luggage - hard case panniers
Clothing
maintenance items/tool kit
electrical mods to the bike
tires - what are the right type for road use and semi-improved roads
travel gear - I have most of this.
I know that there is a lot of stuff that I have forgotten. I hope that members of the board will take pity on my and chime in with their accumulated wisdom and opinions.
I will start the ball rolling with a board favorite, aluminum luggage. I have it narrowed down to Jesse cases, Happy-trails, and the Trax Alu-box. I have re4ad all of the posts that I can find and still can't make up my mind. I admit that I am lost. Any help out there?
Join Date: Oct 2009
Posts: 33
south america
---
What is your time frame for heading down? I have been planning a trip to Tikal for the last 3 mos, I was planning on leaving mid january, heading to the bottom of texas and riding down the yucatan penninsula. I just replaced my dual sport with a strom dl 1000 and have outfitted it with crash bar, skid, happy trails cliff cut panniers, tail box, headlight gaurd, centerstand, continental dual sport tires(knobbies), xm radio, onboard air system, and other little goodies, I also purchased a qualcomm satellite phone, and personal satellite locator from chapparal cycle supply. If your plans fall in this time frame let me know, I am 44 and have done many adventure rides and have over 35 yrs combined riding experience dirt and street. Thanks. Tom W
Stromthusiast!
Join Date: Sep 2009
Location: Northern California
Posts: 77
I don't really have firm plans at this time. I need to be in Belize mid may. Seeing how I will be unemployed in mid December, my college declined to pick up my contract for the Spring semester, I have to take a look at my schedule.

At the very least I would like to stay in touch about routes, etc.

Tim
---
[SIGPIC][/SIGPIC]

[B]2005 Red DL650[/B]: EB fuse panel, OEM center stand, gel Seat, Madstad adjustable windscreen, SW-Motech crash guards, SW-Motech quick release side and top racks, black Trax ALU-BOX side and top cases, electrified Cortech Super 10 tank bag, dual tool tubes.

Projects planned or sitting in my garage waiting for time: Oxford Heaterz (waiting for time), handguards, aux lights, and new paint (waiting for money).

[B]Triumph Street [I]III[/I][/B]: plain vanilla, go fast bike.

[B]ATGATT[/B]

[URL="http://www.maya-research.org"]Maya Research Program[/URL]
I did a similar trip in 2001. I rode from Boston to Eureka, CA and then down to La Paz, took the ferry over to Mazatlan and made my way around Mexico ending up in Mayan places like Yaxchillian, Palenque, etc etc...I was more on the border with Guatemala/Mexico.

At the time I was riding a 1974 Honda CB750 and carried basic gear as you have mentioned - basic tools, soft panniers, tent (which got stolen in San Cristobal de la Casas so after this a hammock sufficed), rain gear etc. In some places - particularly in Baja I had to fill up from barrels of gas in the middle of nowhere...so I was lucky to have a fuel filter ;-). The backroads of Mexico are great for riding and I would definitel recommend riding through the Central Highlands. I never went on the auto routes/pay roads.

Whole trip was 2 months, 16,000 miles. Bike was fine the whole time. Just dont forget a pump and tire repair kit - I got 6 punctures in Mexico alone (2 in the US).

cheers
Andy
Stromthusiast!
Join Date: Dec 2006
Location: Costa Rica /Florida /Ohio
Posts: 24
Routes South
---
I would add some good long tire irons to your tool kit.I know the Stroms are tubeless, but better safe than sorry. Also a good 3/8 socket kit. Oh, make sure you have your 12mm allen for the front wheel.
I have done the trip through Mexico a number of times using basically 3 different routes. Once south of Tucson into Chihuahua, through the Copper Canyon and down to the South Coast of Mexico. Rode the coast into Guatemala, cut over to Honduras, down through Nicaragua and into Costa Rica.
At one time there was a ferry from Tampa to the tip of the Yucatan. It left you off in the port of Progresso. I took this route once, headed South into Belize, cut west to the border of Guatemala at San Ignacio, spent two days at Tical and then headed South into Honduras and down to Costa Rica.
Another route is to enter Mexico at Brownsville, and head down the North/northeast? coast of Mexico. Run the coast down to Villahermosa and cut South up into the Chiappas, some of the best riding you'll ever find. From there head south into Guatemala or a little Southeast into Oaxaca, Mexico, another great riding road. Head South into the highlands of Guatemala. It's all great. If you want to head to Tikal and Belize I think you have to start heading East when you get to Huehuetenango, Guatemala and head for Coban.
I guess I have traveled 4 routes. Once I took the high plains through central Mexico. Kinda of Southeast out of Chihuahua down into Mexico CIty. I remember the city of Morelia which was pretty interesting, and I remember sitting on the Southern edge of the Bowl that Mexico City sits in and being pretty impressed with the size of Mexico City.
I guess the point of all this is that the route that I liked best was the route along the NORTH coast and then up into the Chiappas. Of course it's only my opinion
Stromthusiast!
Join Date: Apr 2011
Location: Guatemala City/Cape Cod
Posts: 88
any updates??
---
Anyone with any more current info? I took my truck from Brownsville to Guatemala a few years ago but am wondering if the security in mex is a problem. I have spent the last couple of years in Guate and am OK traveling there, but am wondering if anyone has any recent experience going through Mexico.
Stromthusiast!
Join Date: Apr 2011
Location: Guatemala City/Cape Cod
Posts: 88
skipped the Mexico leg
---
I am still taking my truck through Mex to Guatemala, but bailed on the idea of taking my Wee in the bed. Too tempting. Bought an 05 Wee here and am still registering it and checking it out. Seems fairly solid, considering, but needs a little attention before i do serious riding. Have done a couple trips between Guatemala City adn Antigua (40km ea way) and I can tell you that riding here demands your full attention. I have driven all over Latina America, but this is my first time on 2 wheels. I have a series of trips planned and will document and post over the coming months.
Stromthusiast!
Join Date: Apr 2011
Location: Guatemala City/Cape Cod
Posts: 88
Getting in some good rides in 'Land of Eternal Spring'
---
Have been doing a fair amount of riding -- weather is perfect here in Guatemala, as always. Today was the usual sunny/70 and I headed west on the highway toward El Salvador. After you get over the first ridge of hills/mountans/volcanoes -- about 15 miles -- the temp goes up 10-15 degrees adn hyou are in the middle of pineapple growing country. I was looking for some un-roasted coffee to take back to the states. I came out here a month ago but the harvest had not begun. In luck this time -- I pulled up to one of those little store-fronts where they buy/sell all sorts of grains and whatever it is that farmers buy and sell. the guy was just dropping a bag on the scales adn I said 'I'll take that, if you please' They started harvesting in that area a couple weeks ago and after husking and drying it is starting to come to market, so this is as fresh as it gets (the coffee you buy in the local Safeway might have been picked and stored in this condition for a year or more prior to blending/roasting) Good stuff.

On the way back to town I was really tripping on the ride -- good asphalt, clear weather, no traffic, nice gentle curves -- and two bikes blew past me. I was doing about 70 and they must have been in high 80s. I caught up to them and it was a Triumph Tiger and Kawasaki Concourse with el Salvador plates. I stayed back of them for about 8-10 miles, but once we entered city limits and they were still doing 60 I backed off -- too much traffic. At any rate,. I was really impressed at how the Kawa handled the curves. Much as I love my Wee, when I am getting up above 7000' and have a passenger, its limitations become obvious. A 14t sprocket is next mod. One of these days I will post some fotos.
Stromthusiast!
Join Date: Apr 2011
Location: Guatemala City/Cape Cod
Posts: 88
Guatemala City to Semuc Champey
---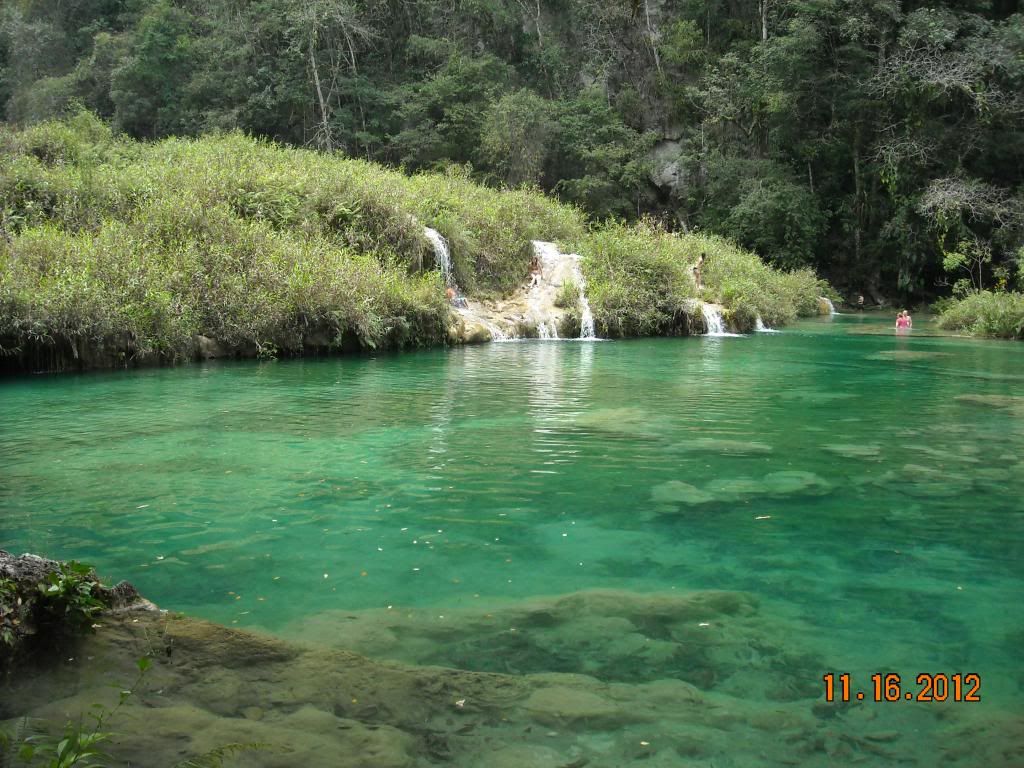 Semuc Champey is quite nice -- the Rio Cahabon flows down to create a series of about eight pools. Water is clear and cool, loaded with these tiny fish that nibble at you. There are caves that you swim through -- you duck under a stone bridge and suface inside the cave and have to carry candles/loghts with you as you move from one to another. Lots of "eco-lodges" that rent cabanas, rooms, bunks, or even hammocks. Getting there is not so easy. There are shuttles from Antigua, Coban, Flores, or you can drive. I chose to ride.
Most of the way it was fine -- departing Guatemala City on the CA9 (Carretera Atlantico) until km 83.5, then you cross a bridge and in a couple hundred meters there is a well-marked left turn toward Coban. Proceed toward Coban to km 209 and take a right on the Periferico Sur (beltway South). Head for San Pedro Charca. After you pass San Pedro you continue toward Lanquin, about 50 km outside Coban. At the turn-off for Lanquin you leave the asphalt and it gets very tricky. The next 15 km or so are very rough, but passable. Some traffice, the road does not always accomodate two vehicles side-by-side.
Anyone with commons sense or respect for his life would stop at Lanquin, take a hotel there and then proceed the last 8 km to Semuc Champey via 4wd shuttle. I made a big, big mistake and went forward. The trail is loose gravel, sand, foot-deep ruts, all straight up and down. No visibility -- they grow corn right up to the side of the trail so it is like going through a maze in places. You have no idea what is around corners. I set the bike down once and dropped it twice -- the last time I was less than a foot from a 10 foot drop into a corn field. Simply could not control the bike. Spent a couple days at the lodge and then arranged for a 4wd pick up to haul me back to Lanquin. That ride was 40 minutes in 1st gear to go 5 miles. Still can't believe that I did it. Never, ever again. Do NOT go beyond Lanquin.
In the photo below -- taken on the return just after I got back on asphalt -- you look down toward Lanquin. If you look really closely just below dead center of the photo you can see a couple short stretches of the trail leading to Lanquin. That was the easy part. After Lanquin is suicidal.