MABDR
---
---
15 DL650XT
"You do your own thing in your own time"
Stromthusiast!
Join Date: Mar 2017
Location: Turnersville,nj
Posts: 218
Awesome trip! My buddy did it last year & still talks about it. Godspeed, be safe & enjoy!
---
'12 Glee, Metallic Fox Orange, '98 DR350, CMA #183680
I posted this over on ADV:

"Day one, maybe 10 miles in on gravel out of Damascus. I topped a rise and a full grown 3 axle 22ton county dump truck was barreling at me at 25 mph. I was doing about the same speed and the truck took up the entire width of the road.
That's a closing speed of about 73' per second and we were about 150 apart. I did not think stopping was a good idea, so already being on the RH side of road I looked to bail right. Nope, it was a steep drop off on both sides...we were on a saddle.

When I
looked back, the driver was easing to his right and a narrow escape route began opening. I looked thru the opening and got right on the edge and some how slipped thru without hitting the truck with my left saddlebag, or dropping off into the tree filled holler.

Scared the shit out of me...thought I was a gonner. If we had met at the top of the rise I would be a hood ornament. Seriously, wtf was that big of a truck doing on a dual track road? I am still re thinking this kind of riding. On the blind curves and hills even at 5 mph there is no escape of the potential for a head on collision.

Maybe next time it's a Subaru, or an asshole flying in a Razor, or another bike. Am I being over dramatic, or losing my edge? I was in second gear, looking back, that was too fast for the conditions, but then again I was not expecting a vehicle that was at max legal width, and I always expect the worse.

With about 400,000 miles behind me I have had close calls before, but I'll be honest, I'm still a bit rattled."

I did up to section 4 of the MABDR...kinda. The tracks I loaded into the Zumo then converted to a trip kept routing me off the gravel and onto parallel pavement. So I missed some chunks of it before I realized what was happening. Then I spent two days dicking around between the Butler Map and the Zumo and it got tedious. I had other things planned, so I broke off the MABDR and checked out a CW battlefield in Remington VA, then up to visit an old buddy I have not seen in 15 years in eastern PA. Then on pavement up through the New England states to the Canadian border at Calias Maine.

3,402 miles in 11 days and I'm back home cutting and splitting firewood. It was a great trip and a bit cooler than I had planned...the heated grips were a life saver. I will return to the MABDR when I have someone to ride it with me.....it has some pretty remote sections.
---
15 DL650XT
"You do your own thing in your own time"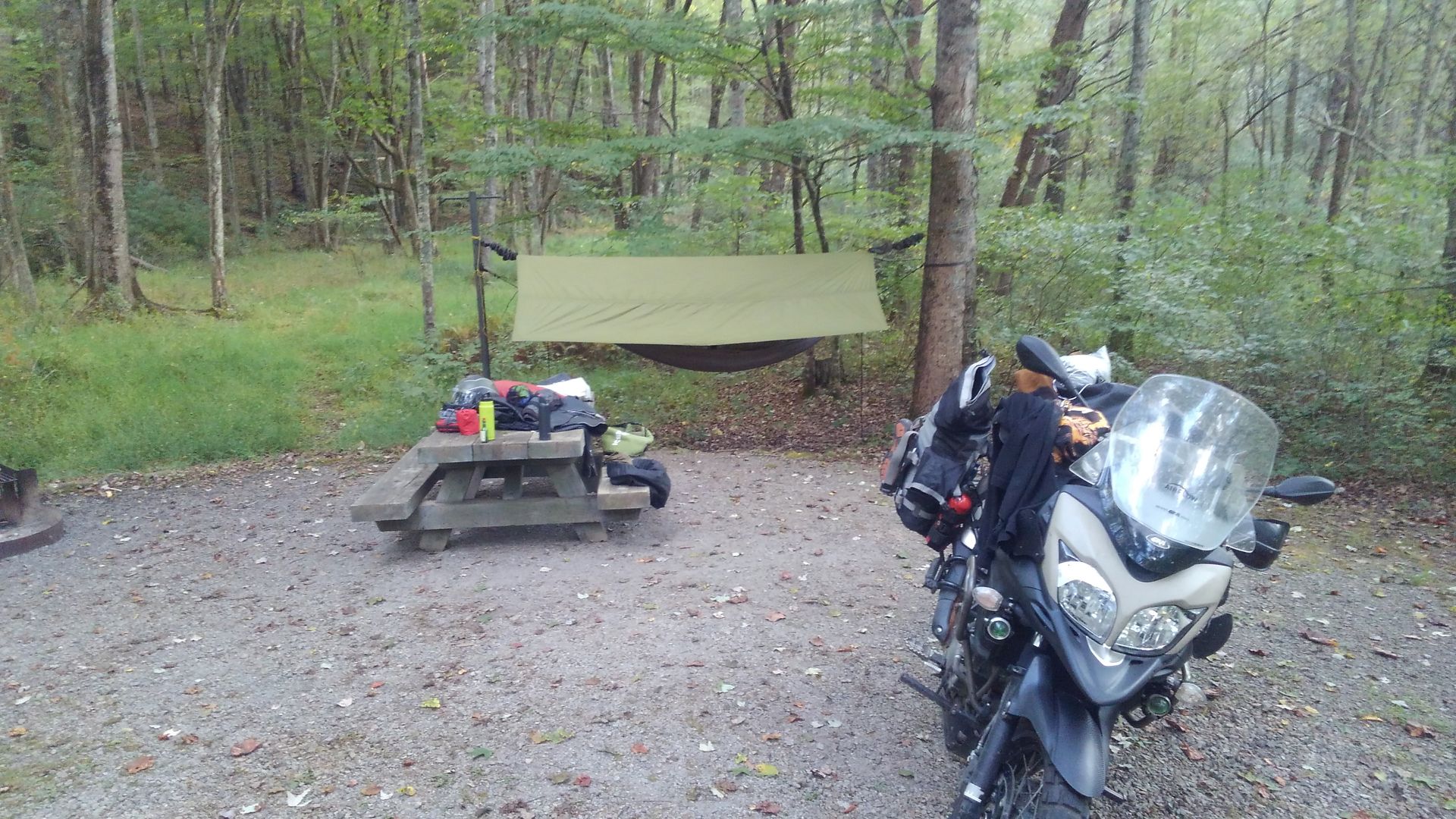 ---
15 DL650XT
"You do your own thing in your own time"
Acadia NF:
I was glad to find this State Park in VT right before it started to rain....reg tent site was $20, the shelter was $27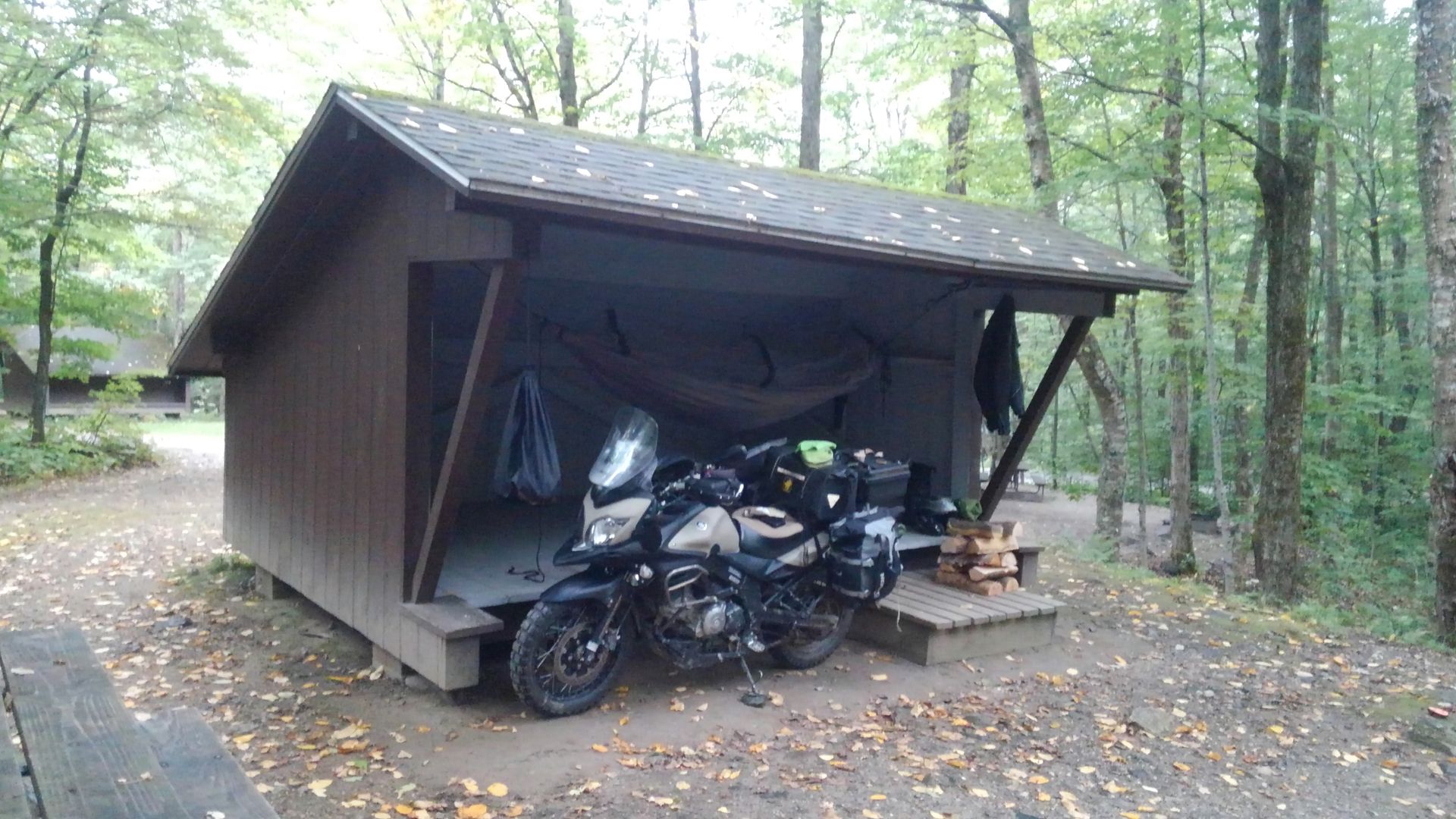 ---
15 DL650XT
"You do your own thing in your own time"
---
Last edited by Motor7; 09-25-2019 at

11:38 AM

.
Stromthusiast!
Super Trooper!
Join Date: Mar 2011
Location: Pasadna area
Posts: 14,002
The cigar and a beer,or the beverage of choice, makes the evening reflections pleasant.
Clampett-esque?....yep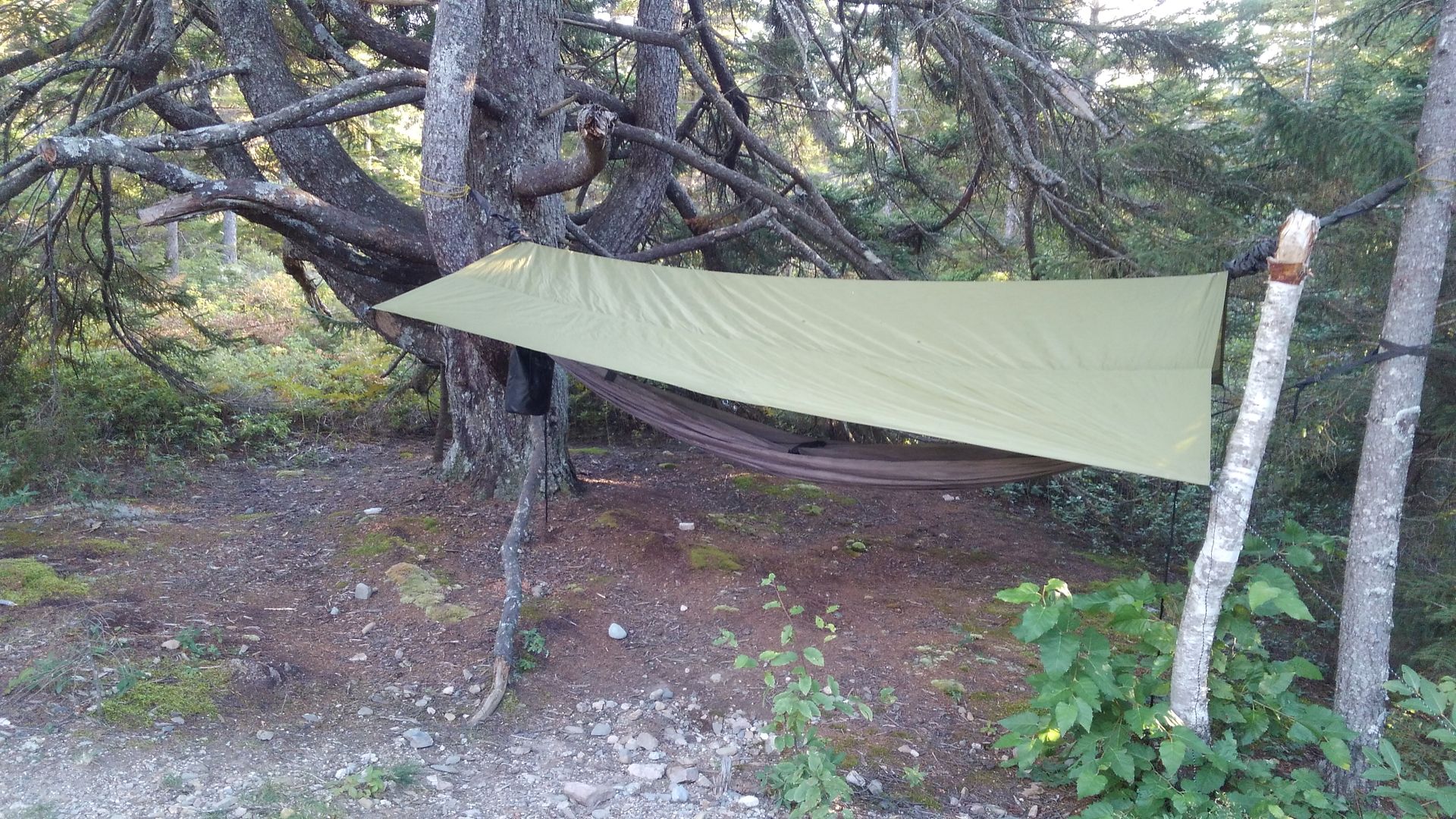 ---
15 DL650XT
"You do your own thing in your own time"
On the 3rd night in Maryland it was hot(hit 97 mid afternoon), so I violated my own rule and left the rainfly off because there was no call for rain and I wanted to catch the warm breeze. WRONG, at about 0230hrs, I heard something...."wind, that's wind right??", then the first rain drops hit. I rolled out of the hammock and started deploying the tarp right when a micro burst dumped on me. The tarp was not strung, just draped over my hammock which means everywhere I was touching the tarp it started leaking. For 30 min I had to lay there with water dripping into my left ear and down a dozen other places. A late start in the AM waiting for things to dry out, and that's what get for being a dufus.
More of Acadia NF Maine: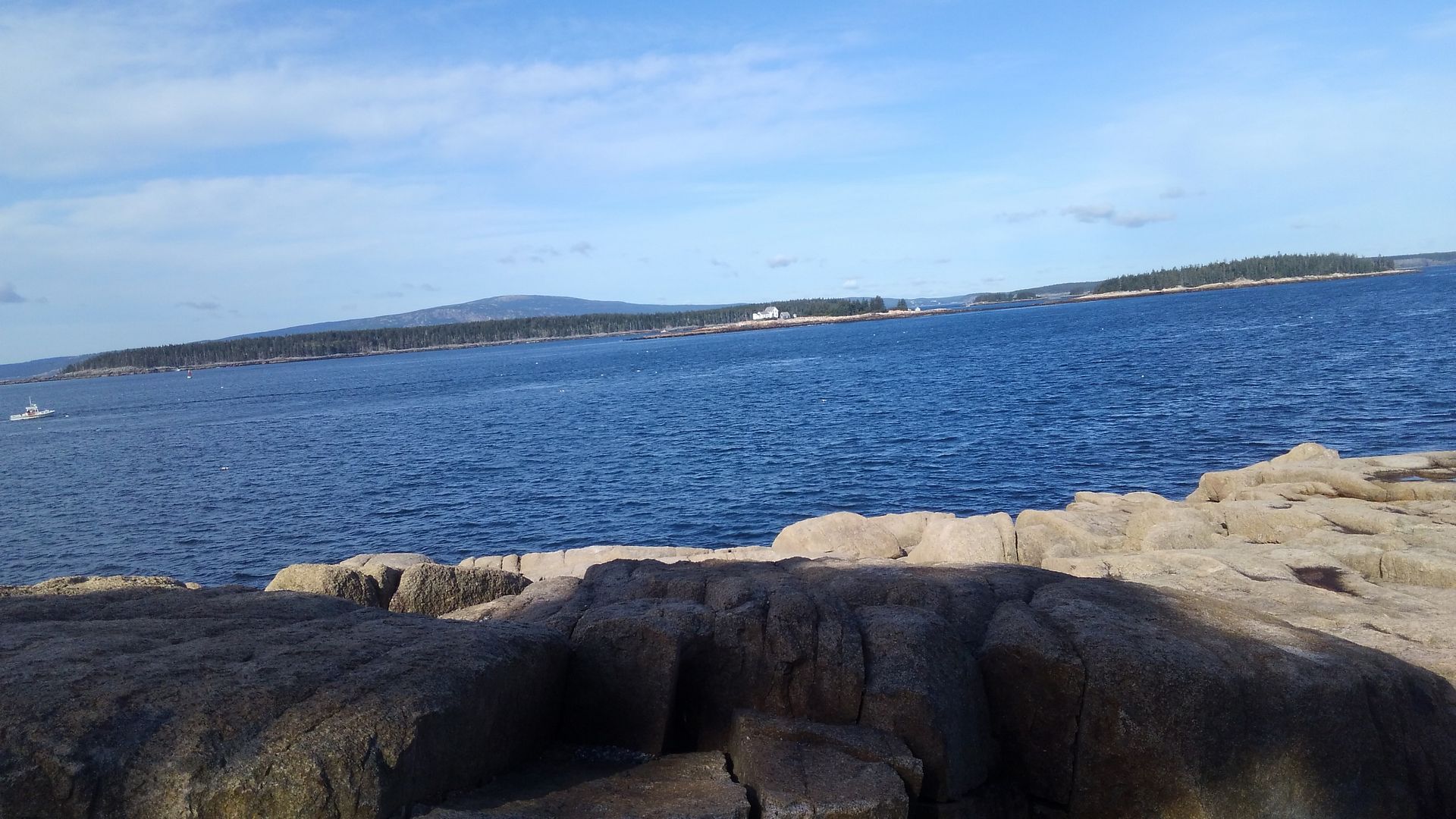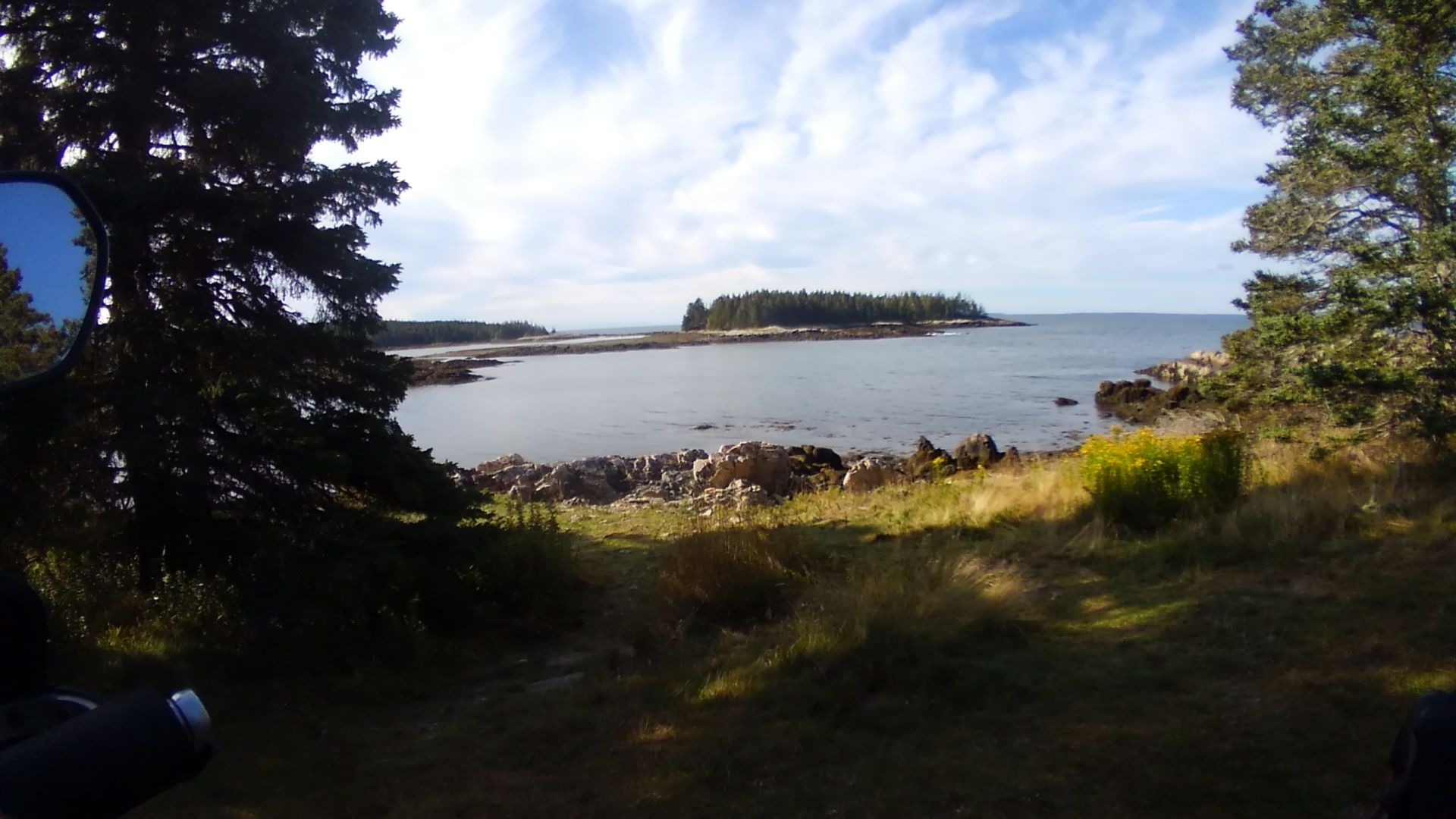 ---
15 DL650XT
"You do your own thing in your own time"
---
Last edited by Motor7; 09-25-2019 at

11:51 AM

.