Summer 2017 - Wa State to Lake Tahoe
---
I meant to post this several months ago but somehow forgot. For those of us missing summer, maybe it will pass a little bit of time.
Edit: Photos are huge but I did them as a batch out of Apple's current version of iPhoto or whatever it is called. The next size smaller was too small. And while I consider myself to be a pretty good D-SLR user, the post processing on the iPhone images sure looks good . . .
The time was right to hit the road on a trip just long enough to make me feel like I was far from home but not so far as to require so much planning as to suffer from process-paralysis. Many of my ride journeys start with a goal as benign as, "I'd like to ride around Lake Tahoe some day." Well that was the crux of this trip. To ride from Washington State to Lake Tahoe and back and just see what needed seeing along the way.
My only real concern on this trip would be the extreme heat of SE Oregon, NE California and pretty much anywhere in Nevada. I started a thread here at a ADVrider about coping with 90+ degree temperatures. I'll ride a single day in high temps or pass through them, but have never taken an entire trip where 7+ days may see temps in the mid to upper 90's or even 100+. Most of the advice I heard I had heard before but there were a couple ones many emphasized and I took that to heart.
Keeping cool and keeping hydrated were the biggest priorities like they would be for everyone. Prior to a multi-day ride in high temps, I would just down water at gas stations, soak my long sleeve, beneath my mesh jacket in water and arrive home a bit dehydrated and sweaty, but safe. For this trip I added an evaporative cooling vest as well as actually using my hydration pack. Both of these made a world of difference.
I normally sweat a LOT and dehydrate very easily. I would say much more so than the average person based on how much I sweat at the gym compared to everyone else I have ever seen workout. The concern about hydration and keeping somewhat cool really caused me a lot of anxiety before I left. But having ice water to sip throughout the day really made a big difference in comfort and peace of mind. Once the temps hit the mid 80's I would stop for gas or lunch and soak my hydration vest in water. Placing that under my jacket kept me plenty cool for as much as 2 hours if it was only 85 or so out. Each 5 degrees seemed to take about 30 minutes away. When temps hit the mid 90's in Reno I would only get about 45 minutes out of this cooling method by 3:00 every day I was off the road anyway. Keeping my lower body cool amounted to nothing more than just pouring water over the mesh and that would last for at most 20 minutes in the heat.
But the amazing thing is that I never once broke a sweat inside my helmet and felt great the entire ride. In fact I would dehydrate more walking around in a cotton t-shirt if the late afternoon sun than the equivalent time on the bike. Long story long, I am now confident I can ride for extended periods of time in temps up to the mid-90's and be perfectly comfortable. I won't quite cross Death Valley in July but I think my point has been made.
The bike would be a nearly brand new V-Strom 650. My bike was a new 2015 held over that ended up marked down by over $2,000 since nobody wanted it. Great. Almost 60mpg with a 5.3 gallon tank gave me an easy 250 mile range and probably 275. I can't believe all bikes don't have at least this range. I had all my camp gear with me but never used it. Someday I'll man up and camp but not this trip. I really like the bikes lower seat height but comfort leads to contempt. Twice the first day I tipped the bike over and it fell onto it's right hand side. I can't tell you why it happened the second time because I still can't figure out how it happened the first time. Had I been on my sky high F800GS that requires tippy toes to touch while balancing 100 pounds of cases and gear I most certainly would not have fallen as I would have been more careful. Some days I cannot win . . .
In addition to the typical long distance ride items we all take I brought a nice D-SLR and my laptop. One of the cameras fell in Oregon and is now awaiting repair. I can't believe the padded camera case fell off the seat while getting something out of the top case but is surely happened. And for the lamest of reasons. I had the camera in a brand new case and didn't want it to get dirty! Well I paid the price because the repair bill will be at least $400 if it can be fixed at all.
So I set my alarm for 4:00 in the morning and after a restless night, awoke to see the mighty Panthera Onca staring me in the face telling me to, "Relax, you'll have a fantastic journey!"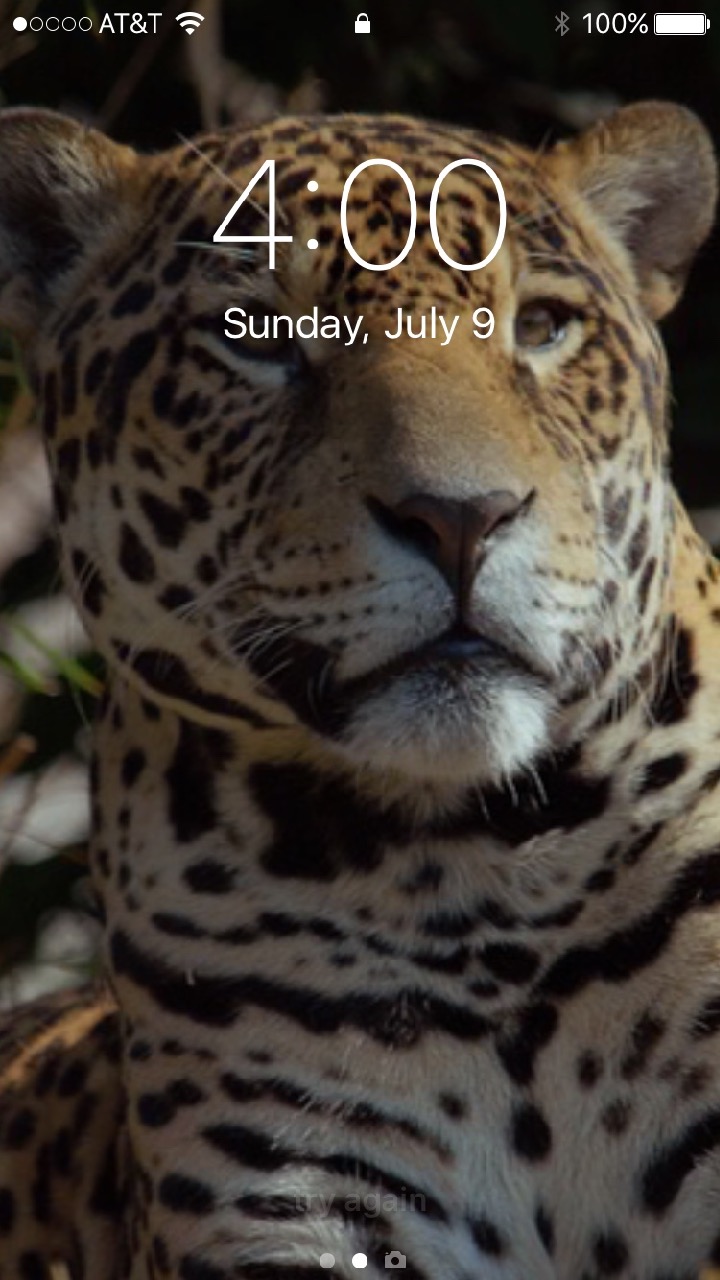 I hit I-90 on my way to Ritzville Washington, then to the Tri-Cities, over the Columbia River to Biggs Junction and to my first destination, Bend, Oregon. I love Washington State but after this trip, I think Oregon may have us beat for motorcycle scenery. If you ever go to Oregon, MAKE CERTAIN TO STOP AT A VISITORS CENTER! The will give you a map, for free, that is geared to motorcycle riders. The map not only says so but has riders on the cover. Very cool to see a state do this.
I hit cruising speed before 5:00 in the morning. I love the desert in the morning when it is still kind of cool and temps are low. So low at first that in mesh gear at 60 mph I was a bit cool. But the day would top out in the 90's so I enjoyed it while I could.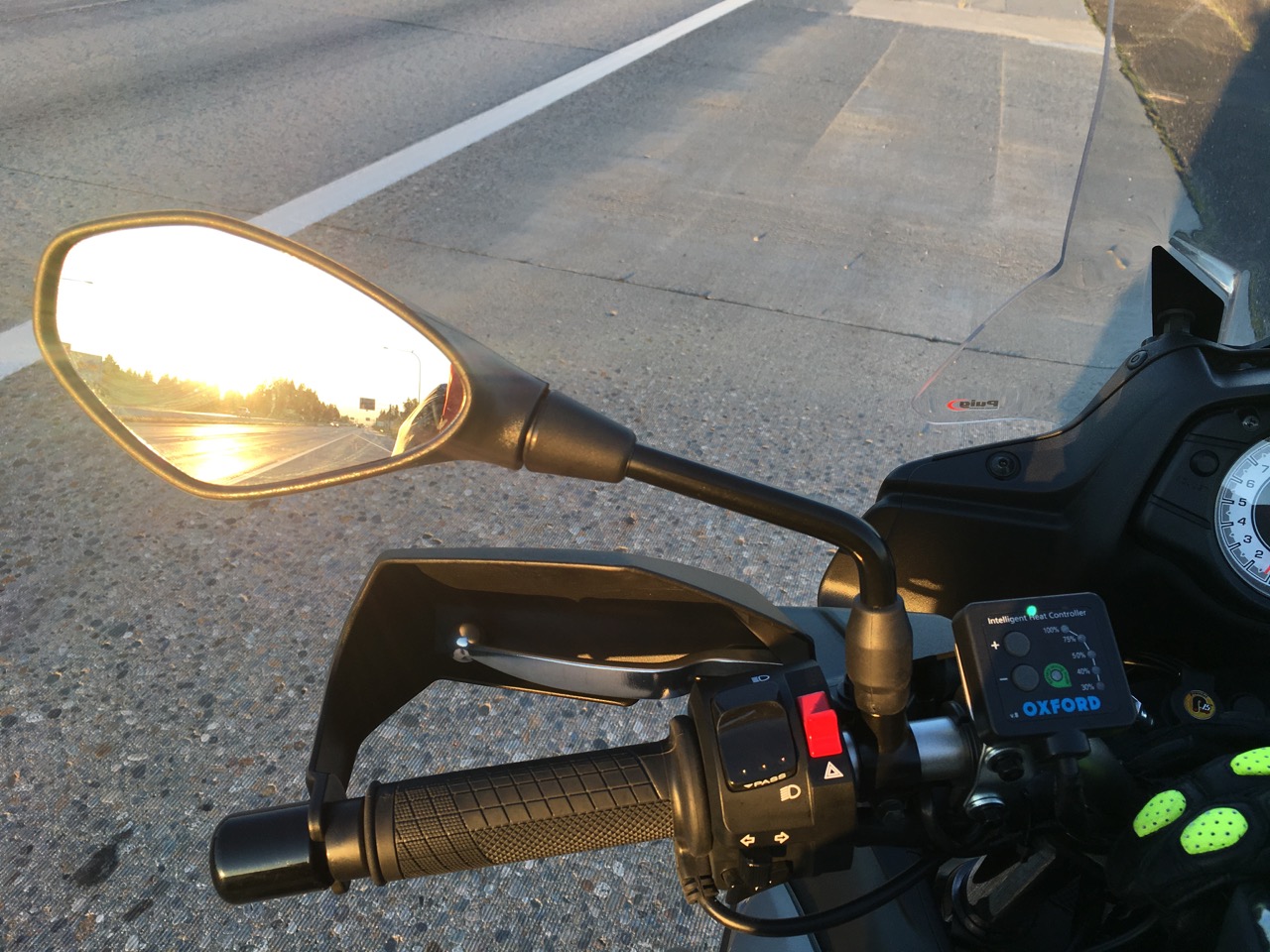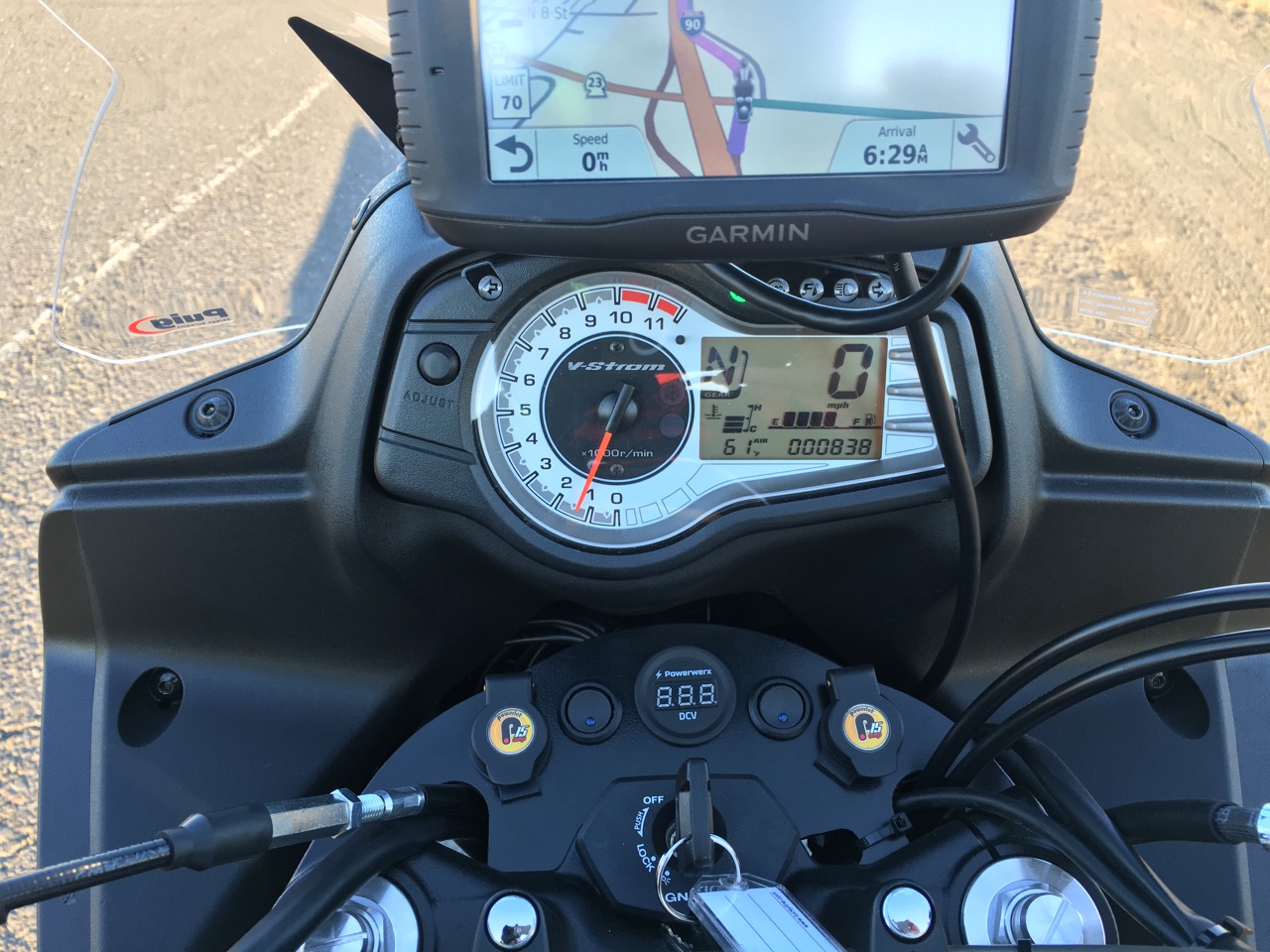 Crossing the Columbia River between Kennewick and Richland.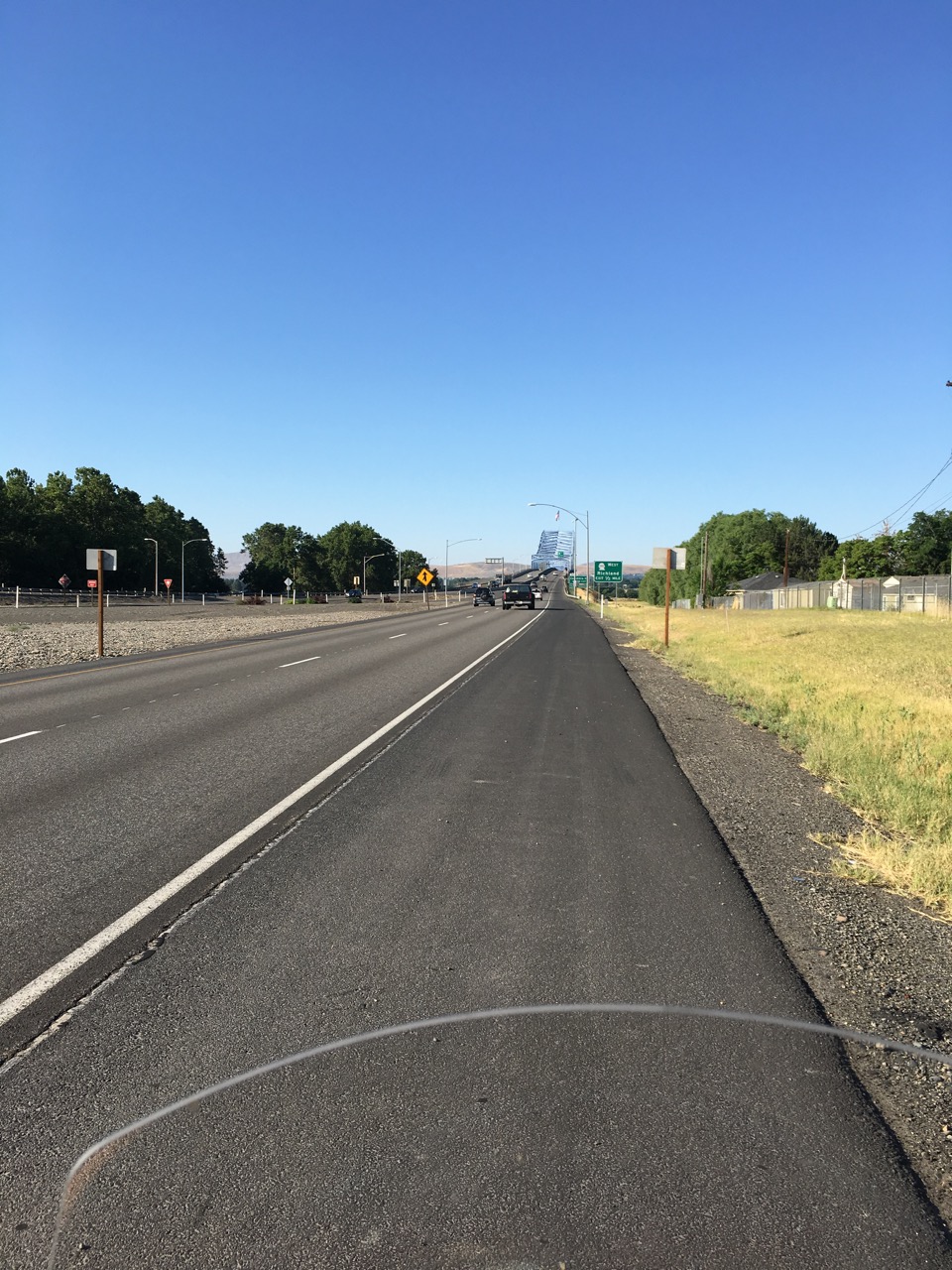 Just over the Columbia River into Oregon. This is the very Eastern side of the very windy gorge that is famous for wind surfing. You will battle a 30 mph headwind and your fuel economy will drop by 20% or more. Not far from here I dropped the bike twice. I still don't know how.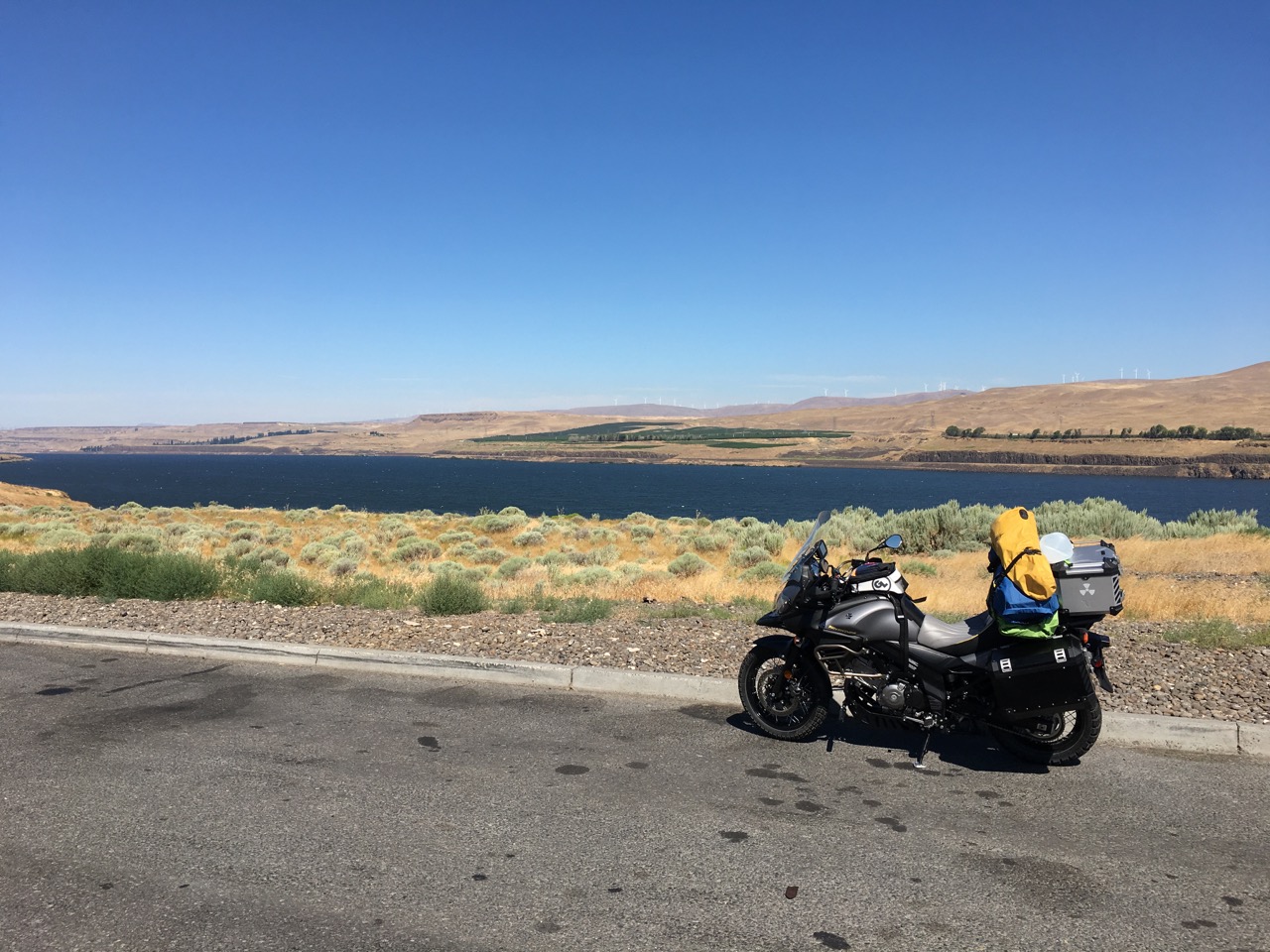 A quick turn to the south at Bigg's Junction on my way to Bend and Mt. Hood comes into view. I made it here by 10:30 and temps were still only in the low 80's. Getting up early can be worth it.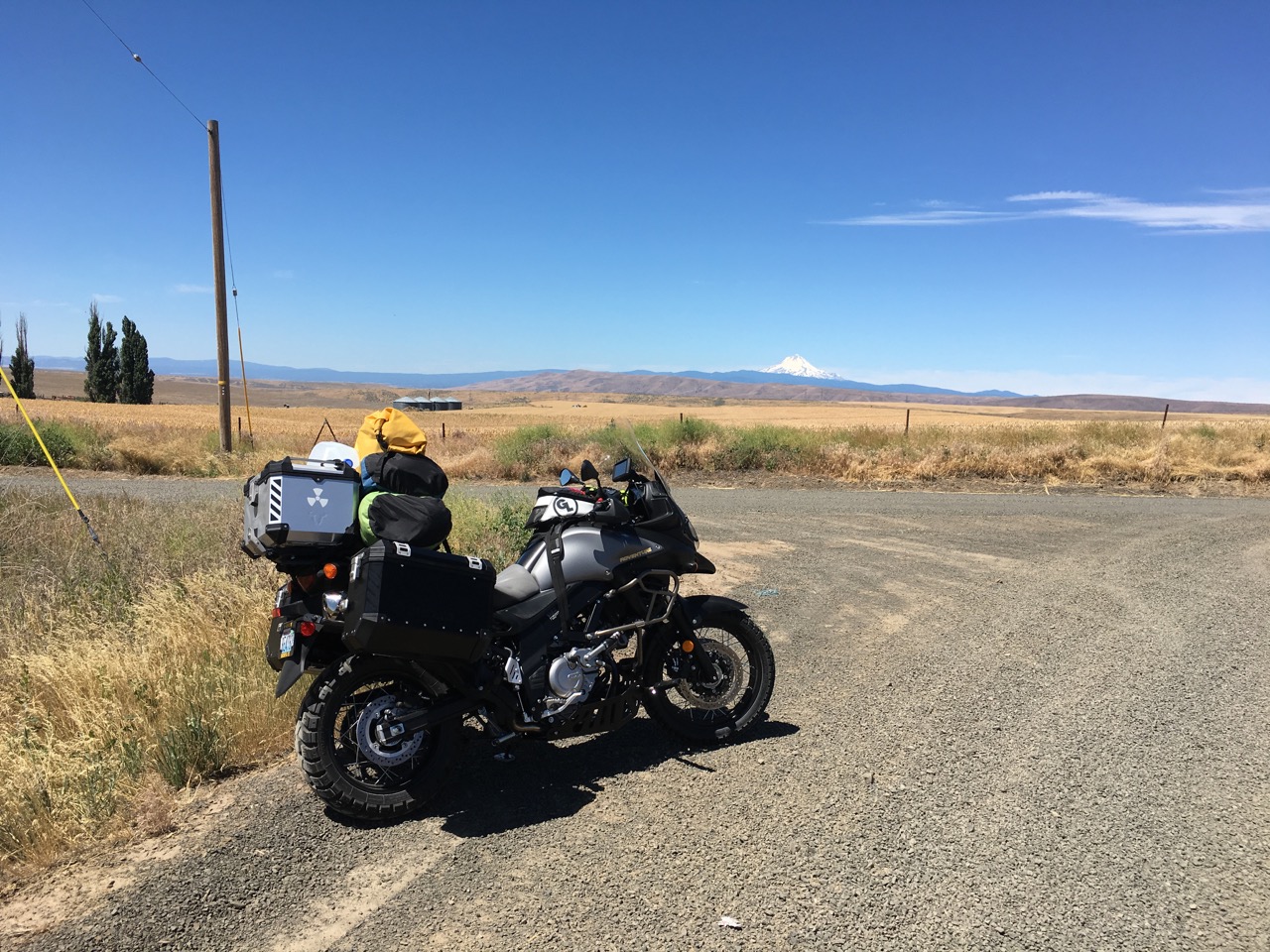 Crooked River bungee jumping about 30 miles north of Bend. By now I had managed the heat just fine and was really starting to hit my groove. Though terrified of heights I walked out on the bridge which is about 250' above the canyon floor.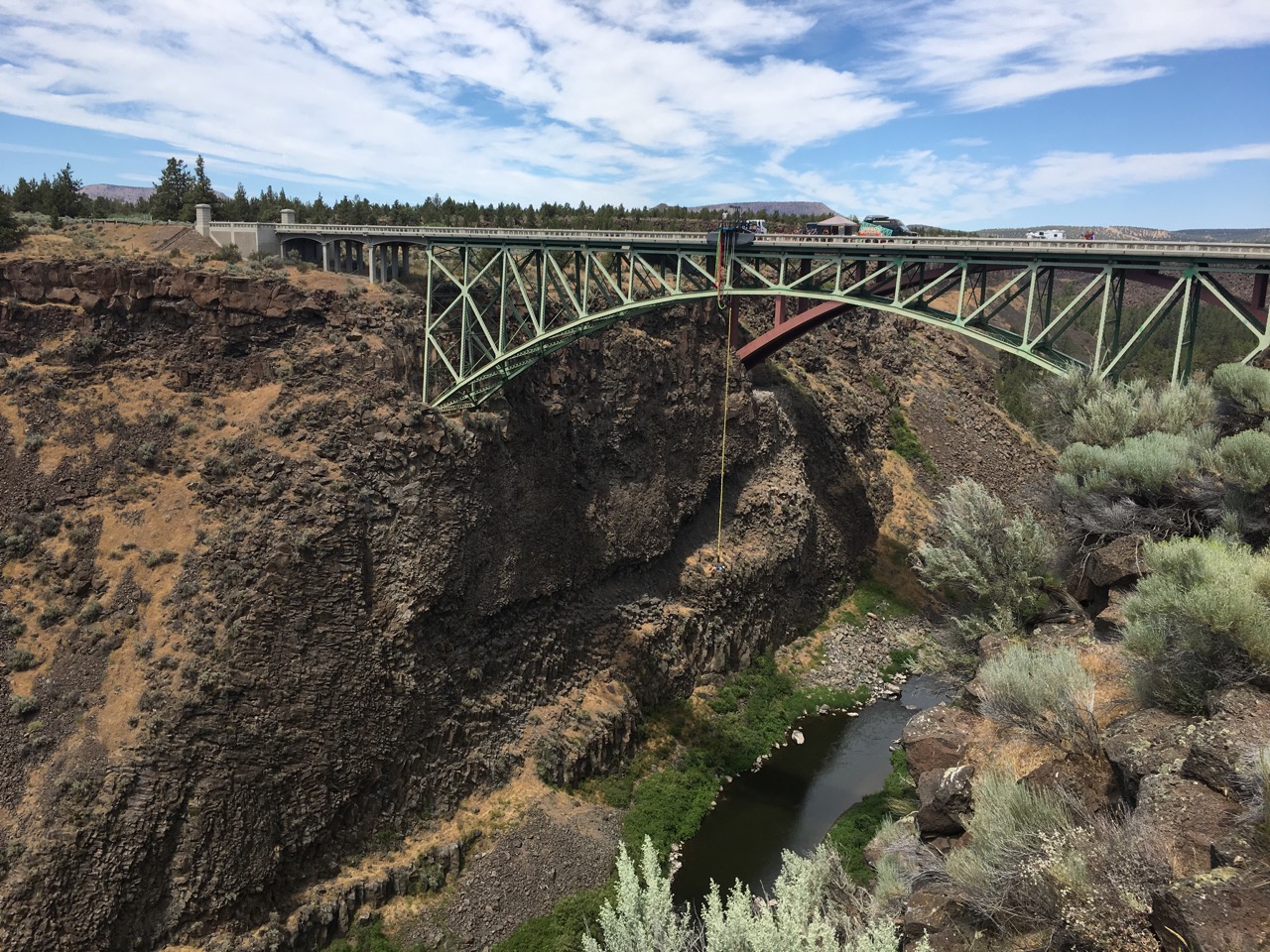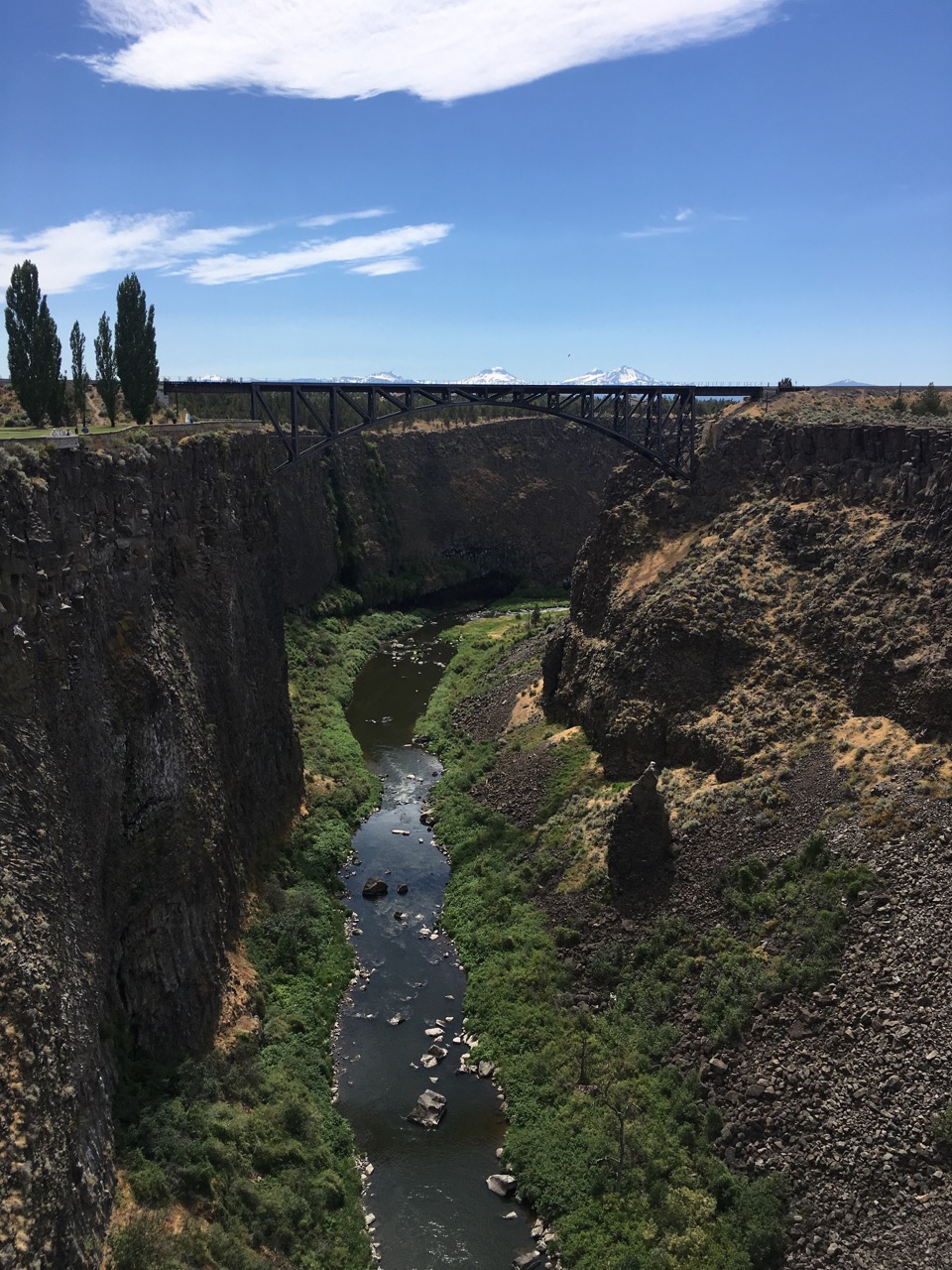 From here I rode into Bend and grabbed my pre-arranged hotel room. With the early start time and pre-ride jitters I crashed pretty early this first day. Day 2 I would ride to Klamath Falls which as the crow rides is less than 200 miles. But I would detour around Mt. Bachelor, the Cascade Lakes National Scenic Byway in addition to the Volcanic Scenic Byway to route myself around Crater Lake.
Day 2. I left Bend and headed West towards Mt. Bachelor and the Cascade Lakes Scenic Byway. This may have been the best part of the trip. Temps were in the mid 70's and I cruised at only 50 mph to be able to take in the scenery. Sweet smelling pine forests soon took the place of the semi-arrid topography that surrounds Bend. I can appreciate all of it but something about lakes forests and snow capped mountains puts my mind at ease like nothing else in the world.
Ranger station stop.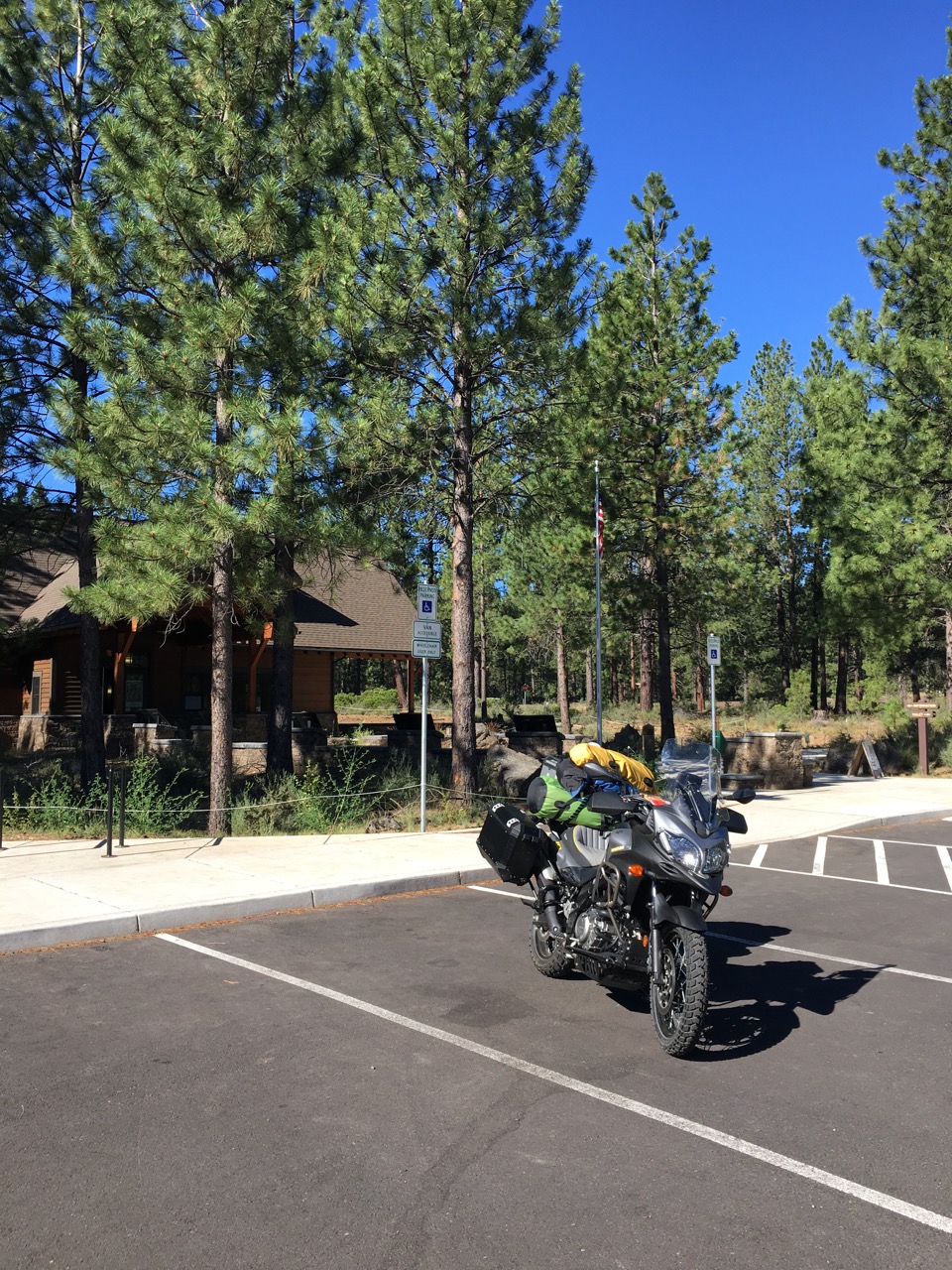 This is what I love about weekday rides in the back country. Nobody but me and plenty of time to park the bike on the center line for an illegal and worth taking photo.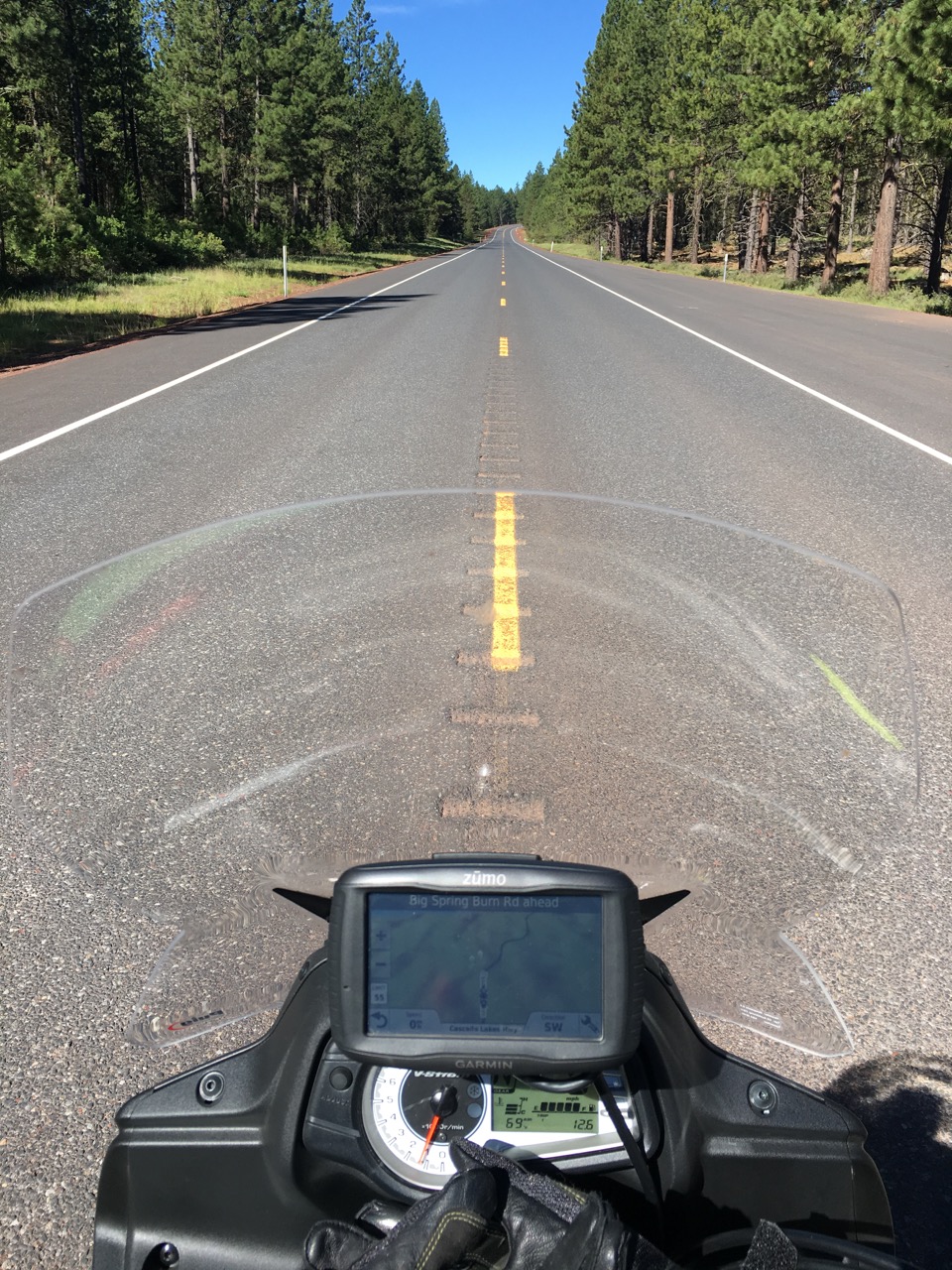 Mt. Bachelor. I took the near identical image with a really $$ D-SLR and the difference is not that great.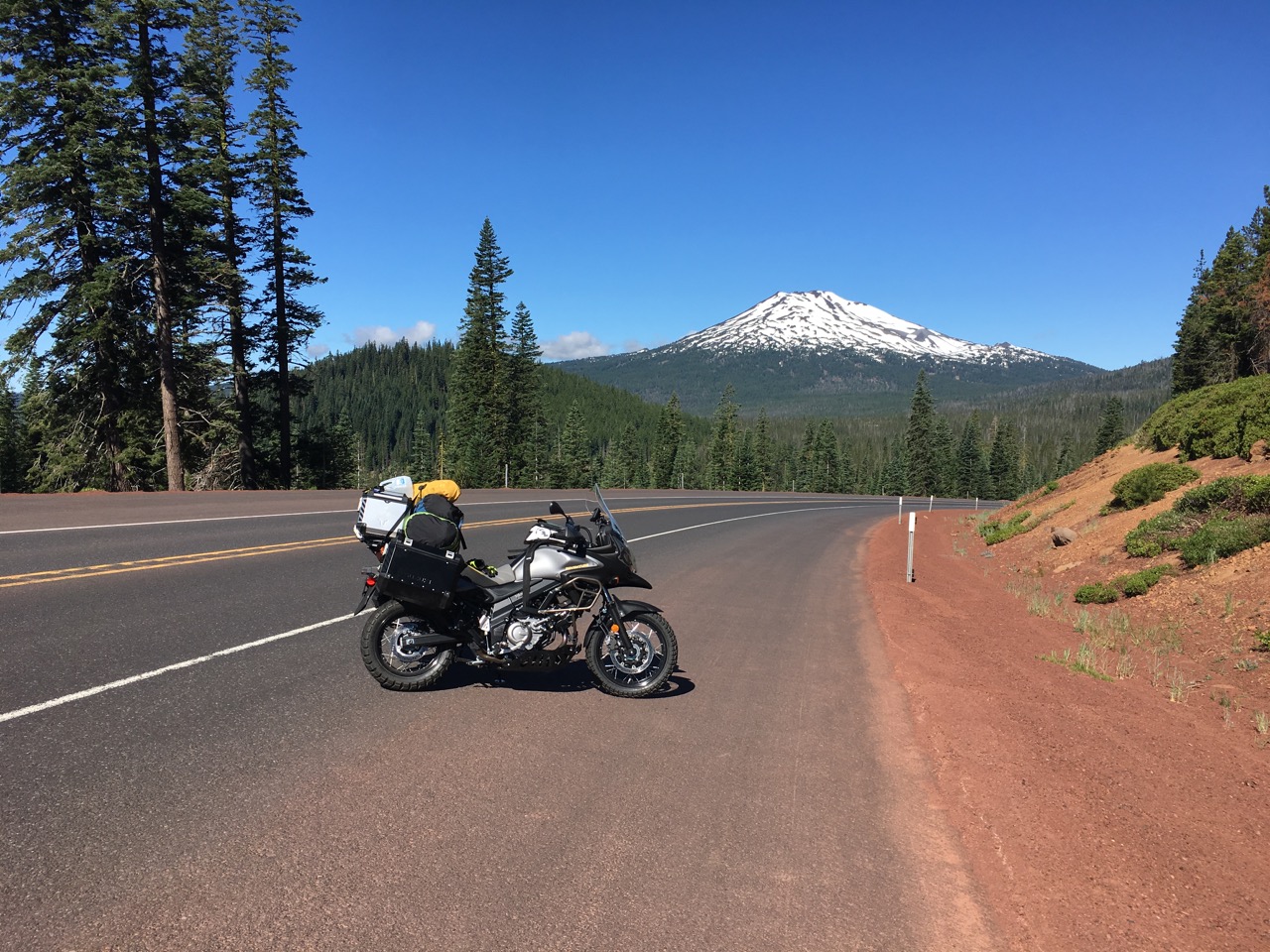 This image is with a Nikon D-SLR. The only big advantage is having a zoom lens which allows the photographer to push the bike into the background and make the mountain look larger. Wide angle fixed focal length pictures often lead to that, "The mountain sure looked bigger in person scenario," we have all seen.
Lake Country. Lava Lake I believe. It is really unique to ride through the forest and see the basalt flows in the middle of it all.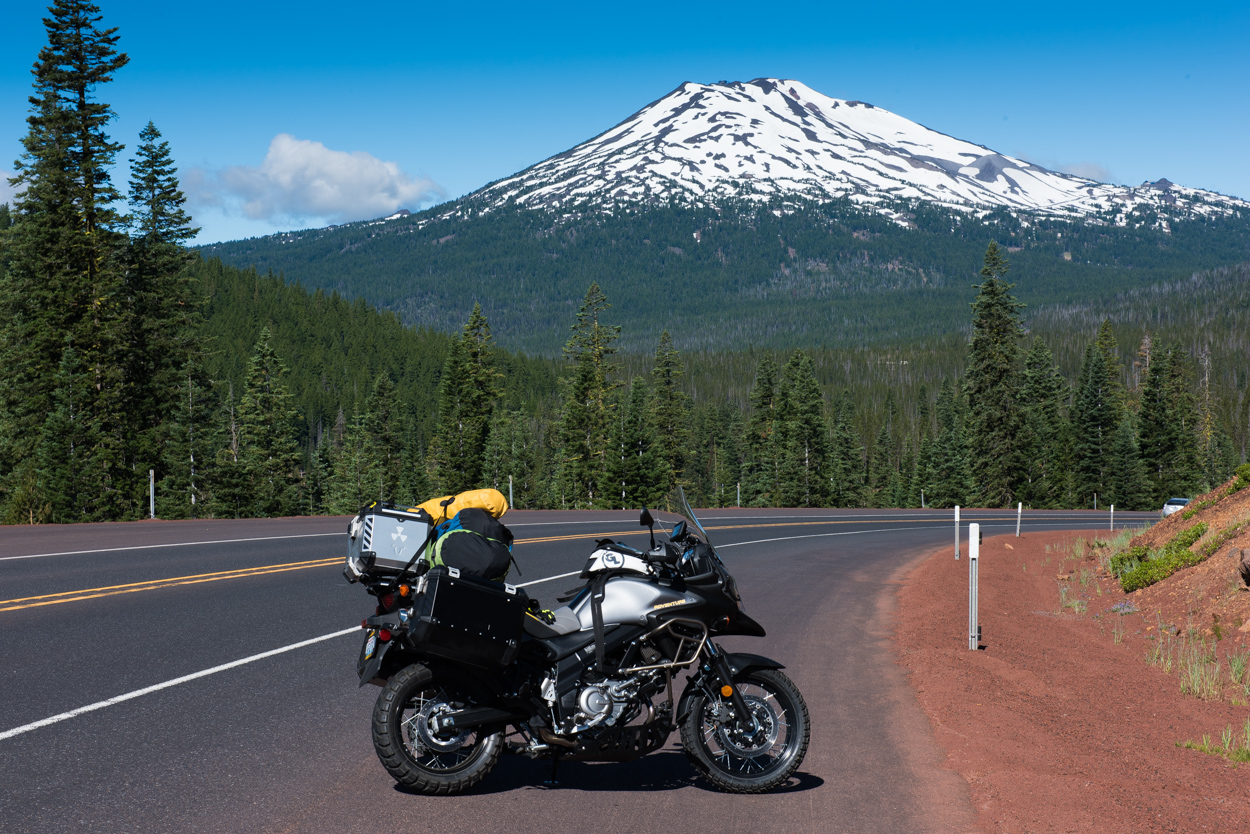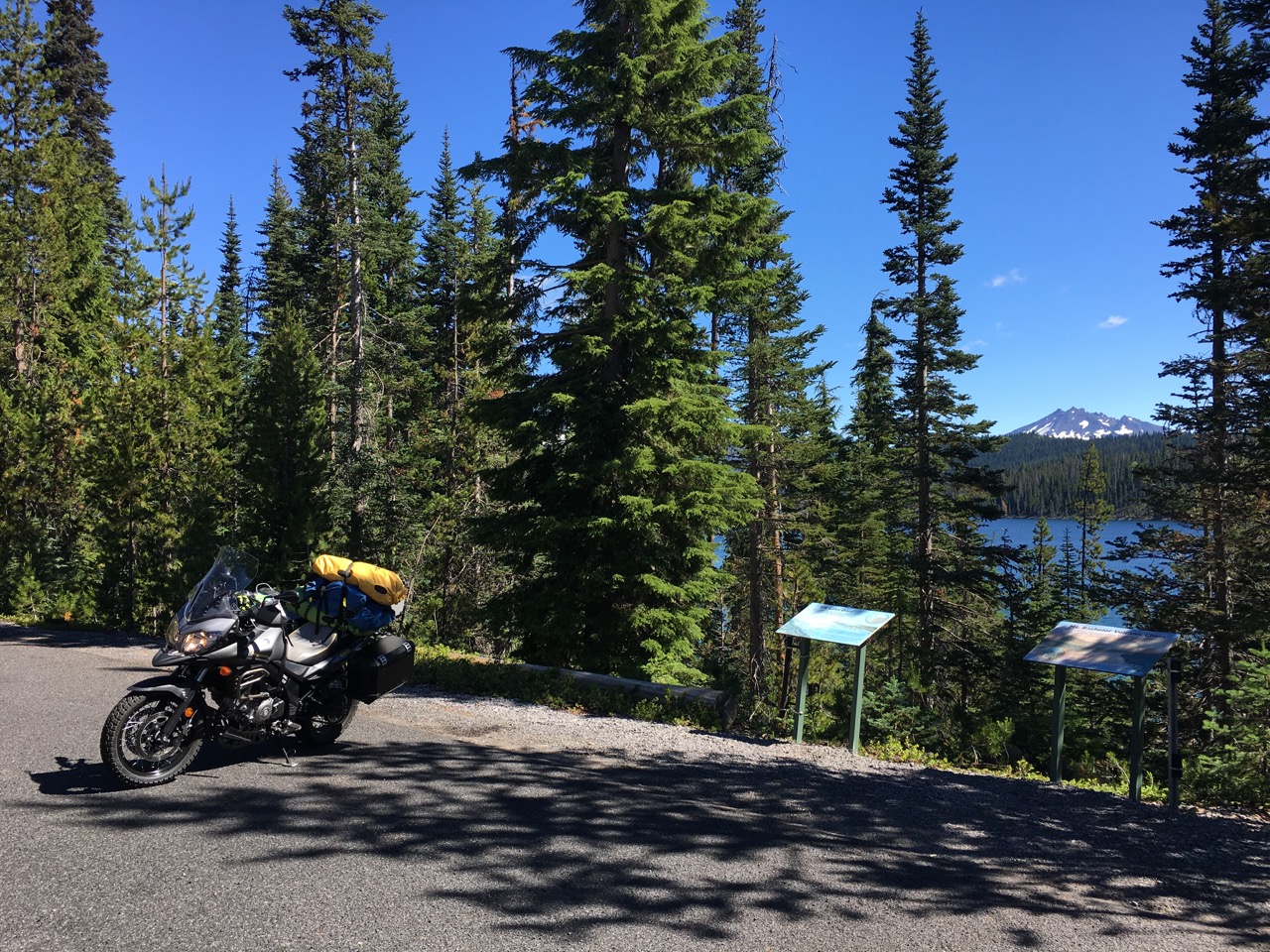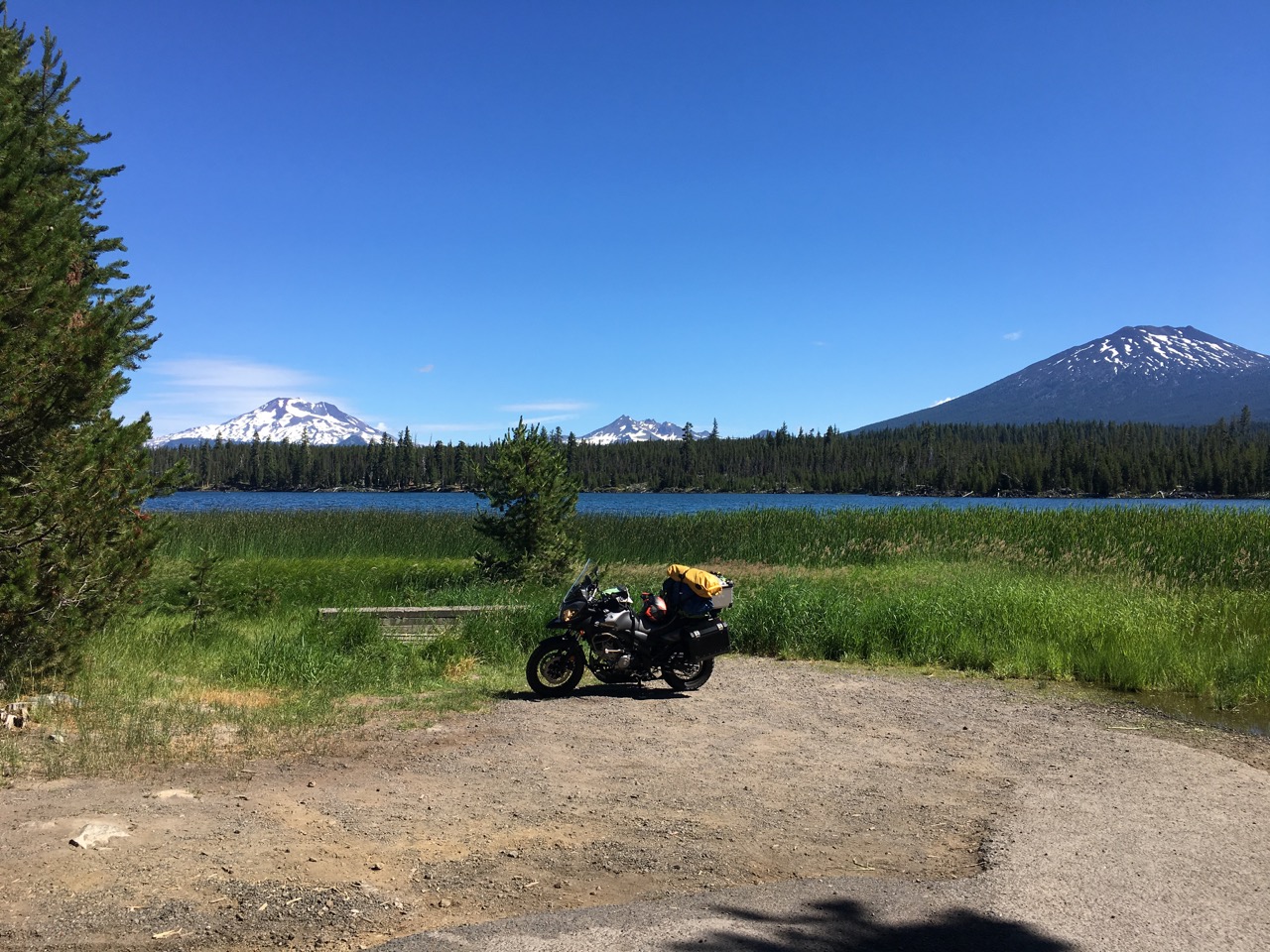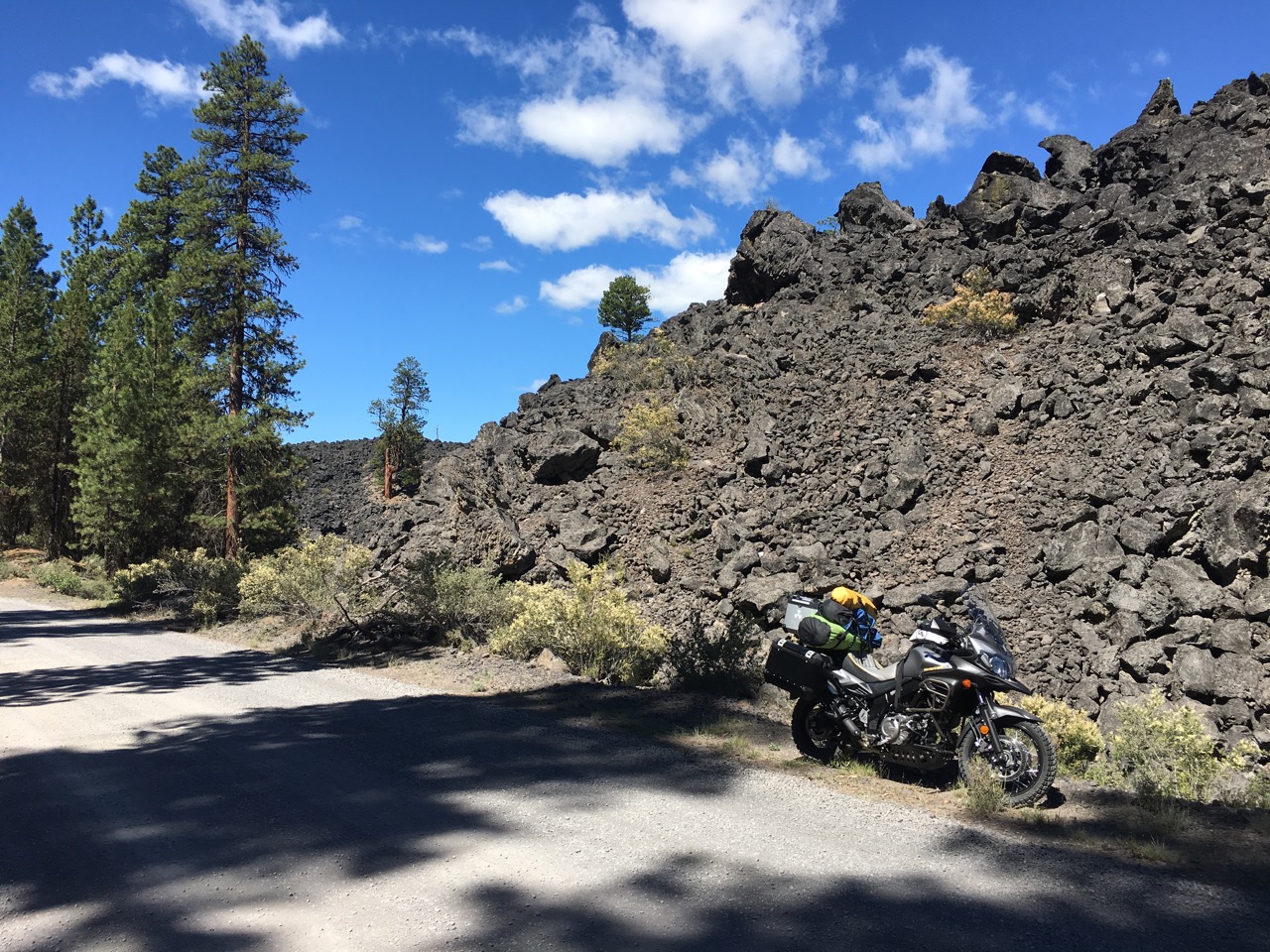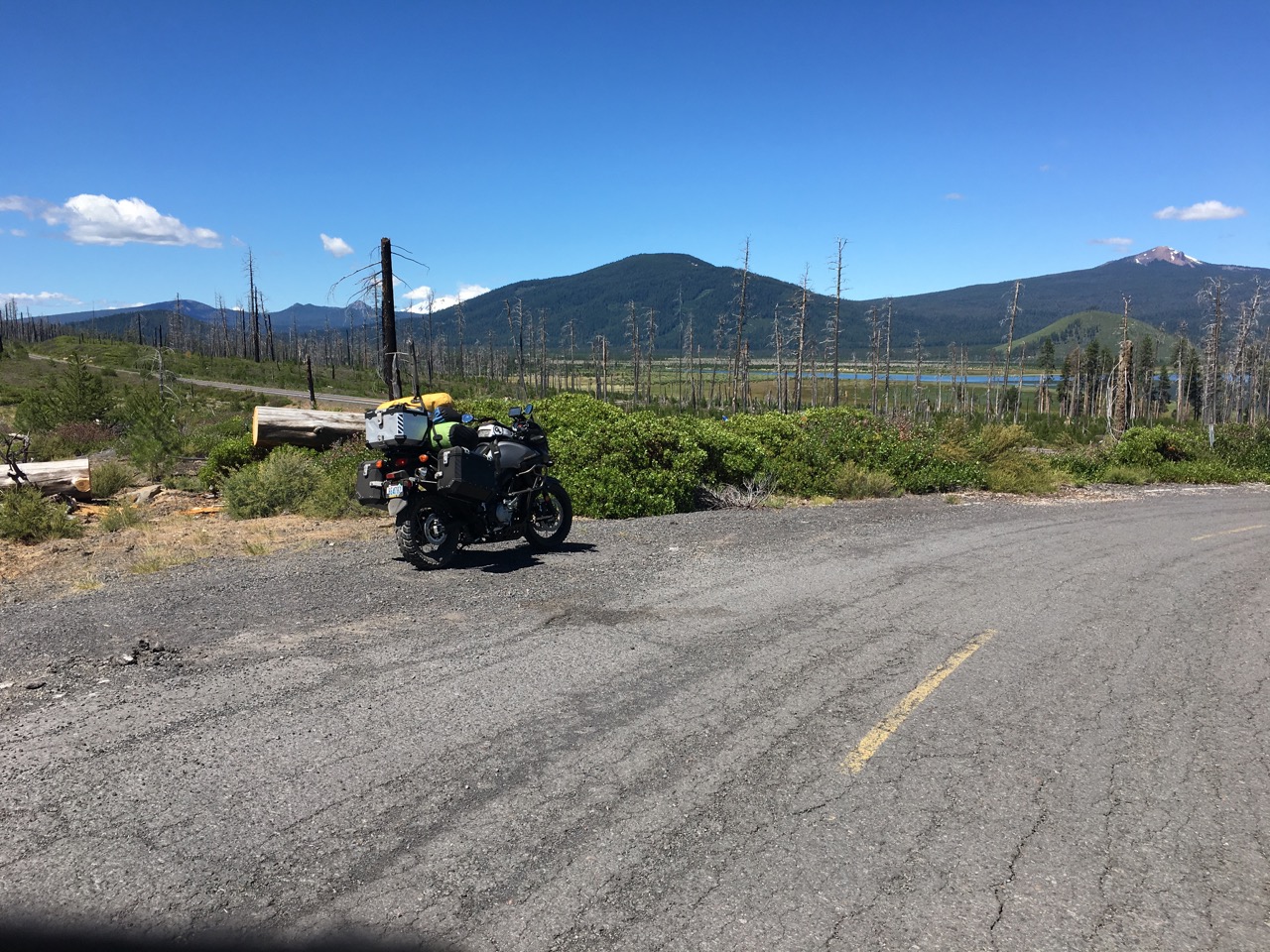 To be continued.
After a lunch that consisted of 20 ounces of Diet Pepsi, a bag of dried out beef jerky and one package of chocolate chip cookies, I came out to my bike to find my camera case sitting on the ground beside my bike. It only fell 30 inches and since the case was padded, I thought nothing of it. As I have already mentioned, unless I need a longer focal length, the iPhone takes pretty nice photos so I just accepted my stupidity and put that nice camera away.
The Cascade Lakes Scenic byway basically heads West from Bend, South paralleling 97 and then connects back to 97 at Crescent. Go south a bit and you'll grab the following. Heading West again.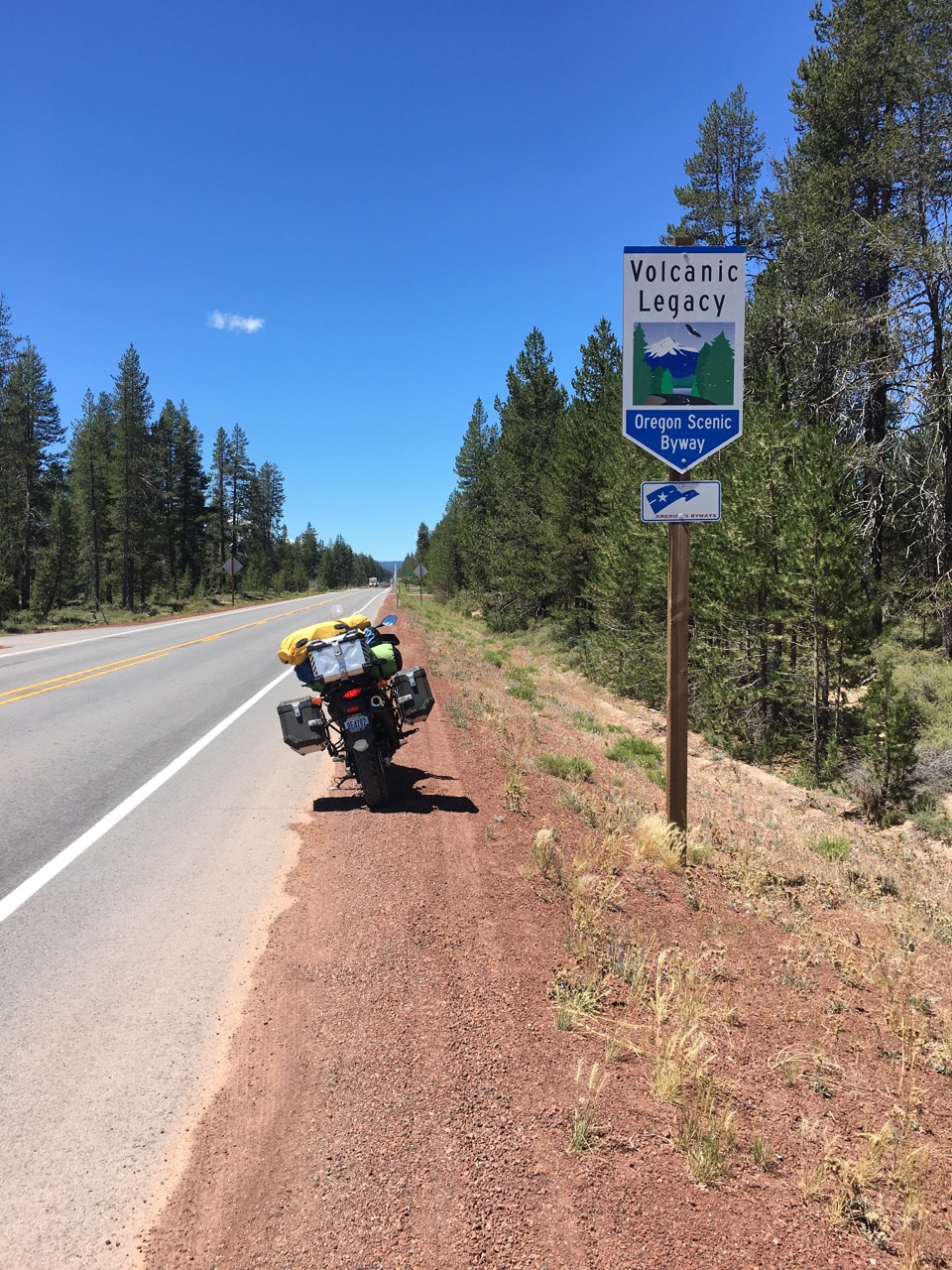 Closing in on Crater Lake.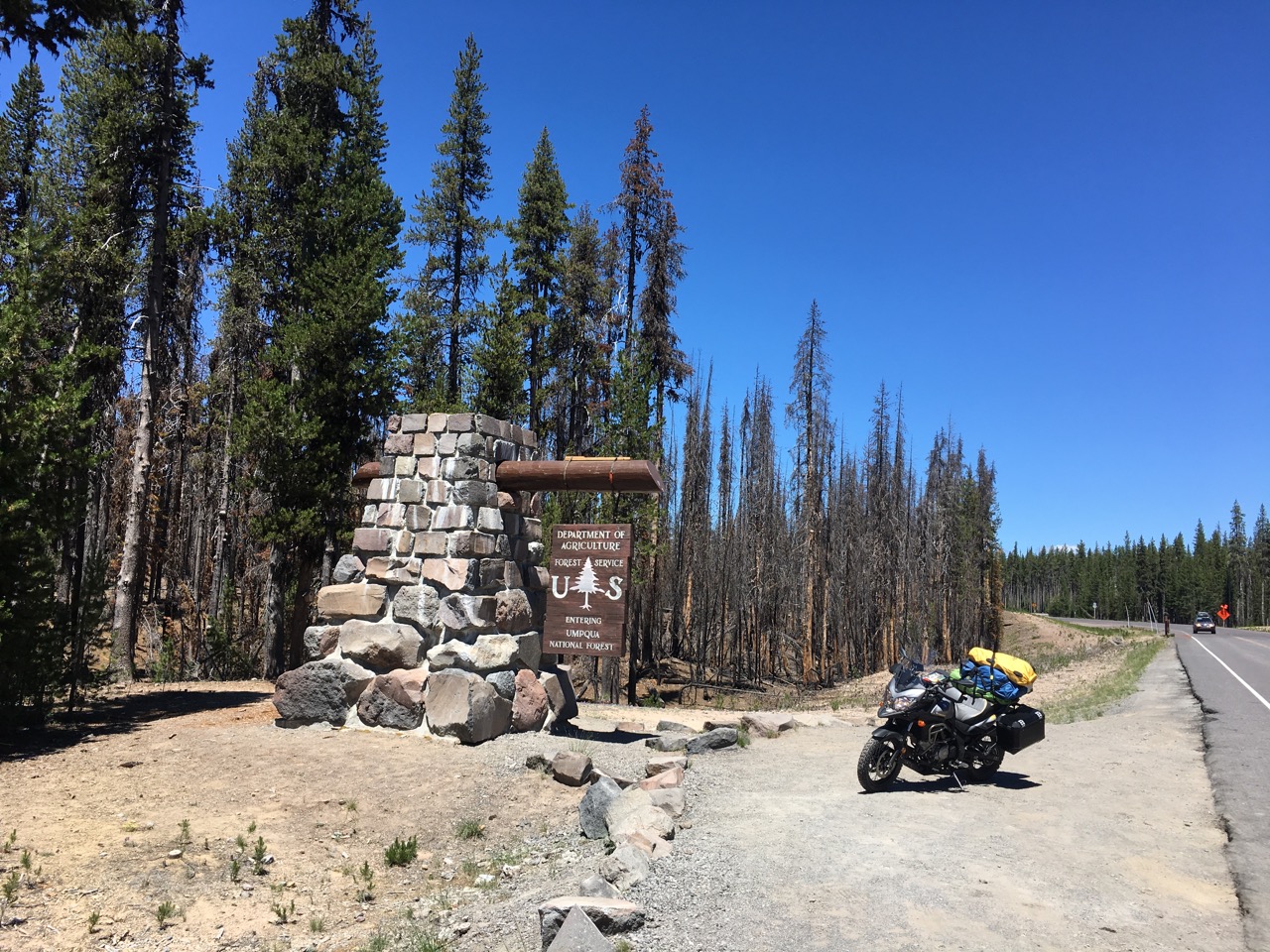 Maybe The Sisters in the background.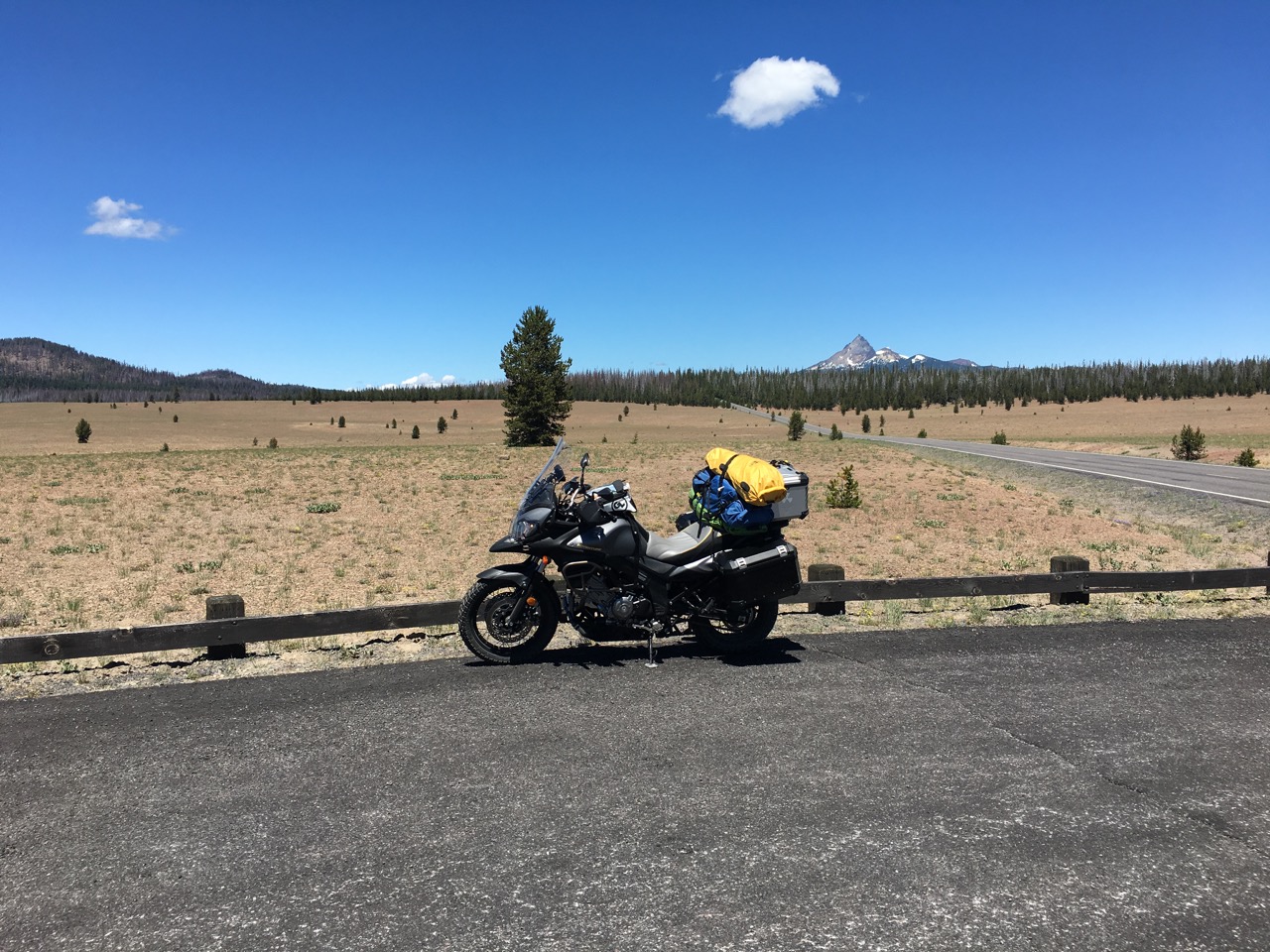 And here I arrived at one of my three main destinations. This water is as blue as I have seen in my life. The only disappointment is that the snow had still not melted and you could not ride around the entire lake. The eastern most section of road was closed which mean an out and back type of ride. It is at the image above when I tried to use the nice D-SLR and found out the lens mount had pulled free from the body. I won't go into how I felt at the time. At least the lake was as stunning as I had hoped it would be.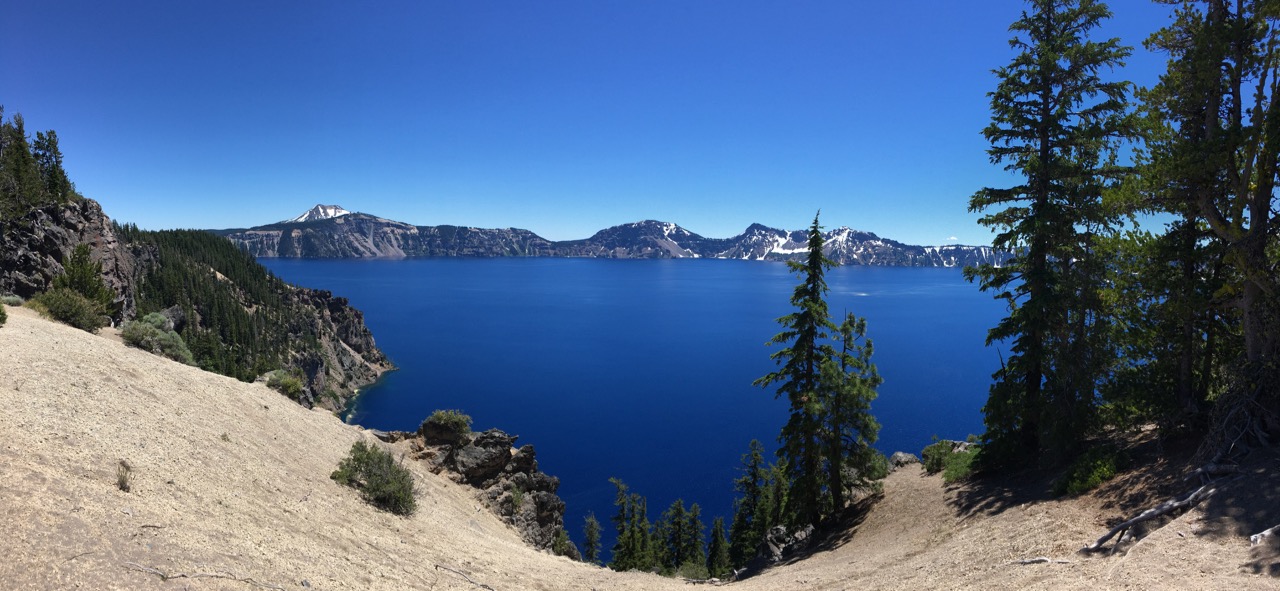 Kind of cool to see your gps and real world side by side.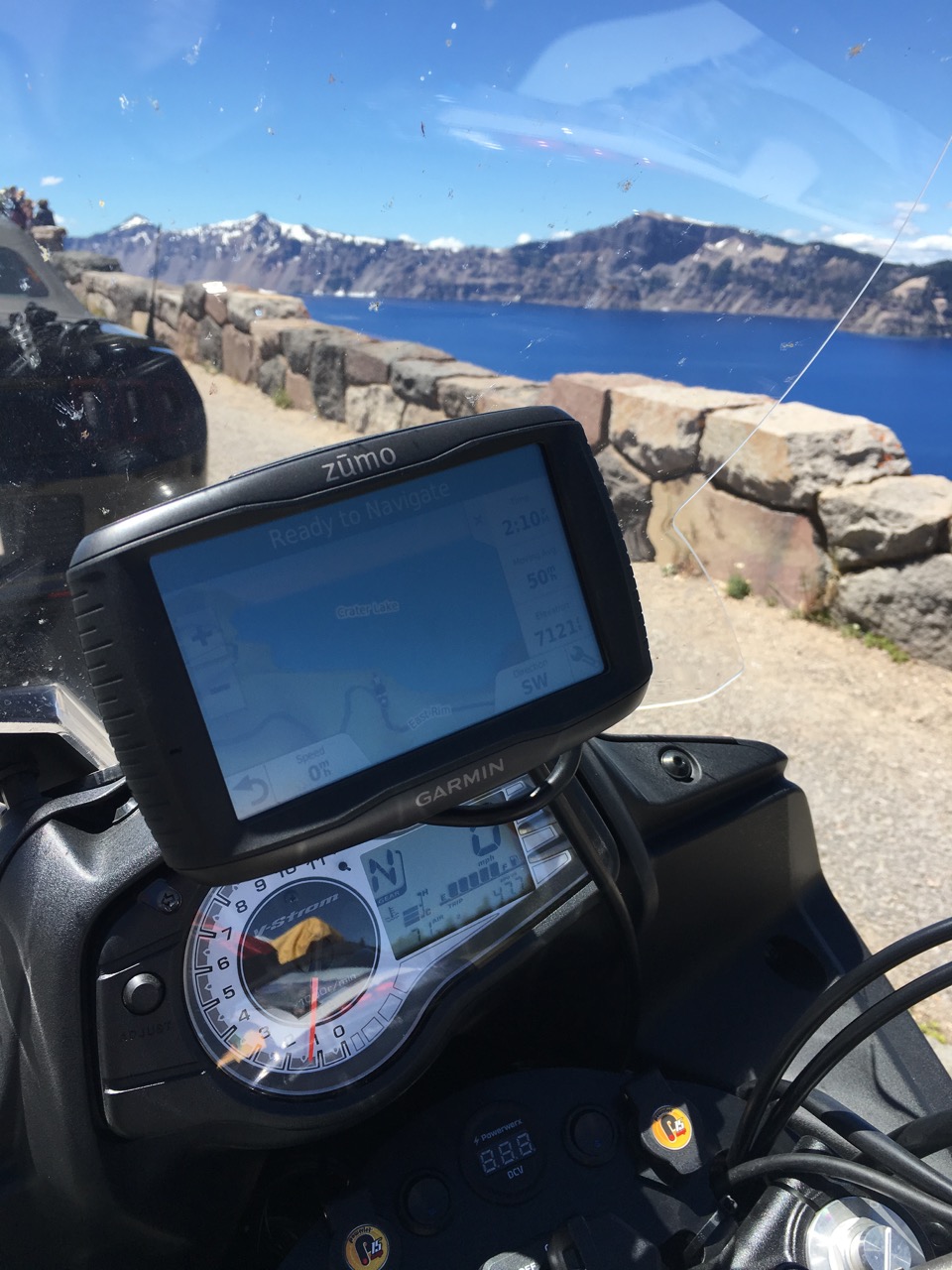 Stupid, awesome Pano function of the iPhone puts my D-SLR to shame.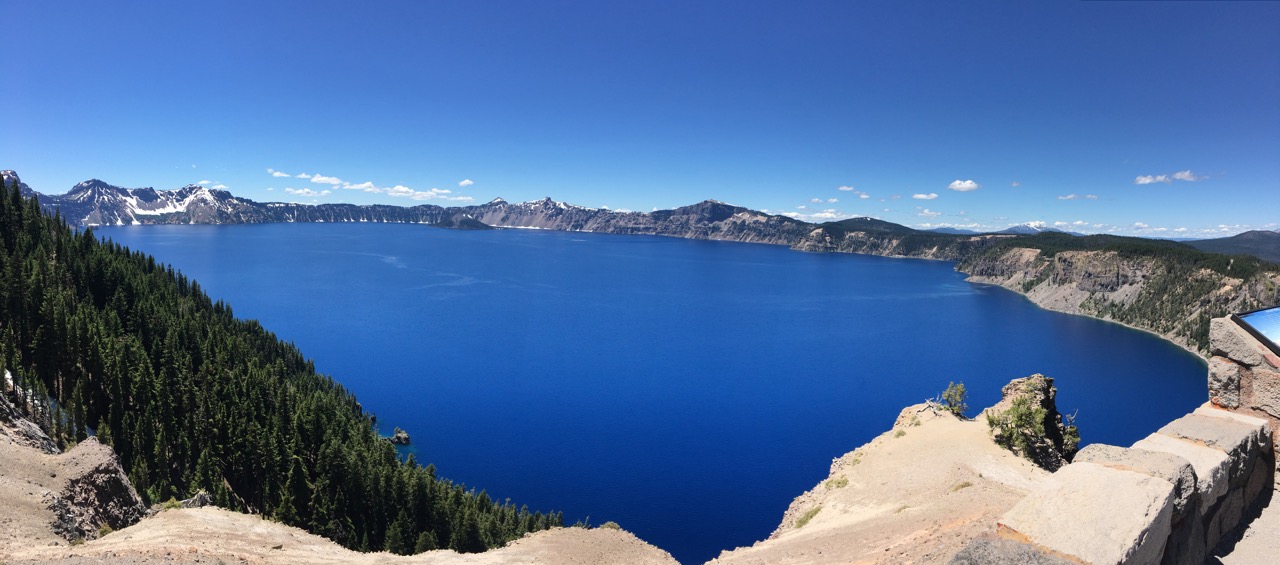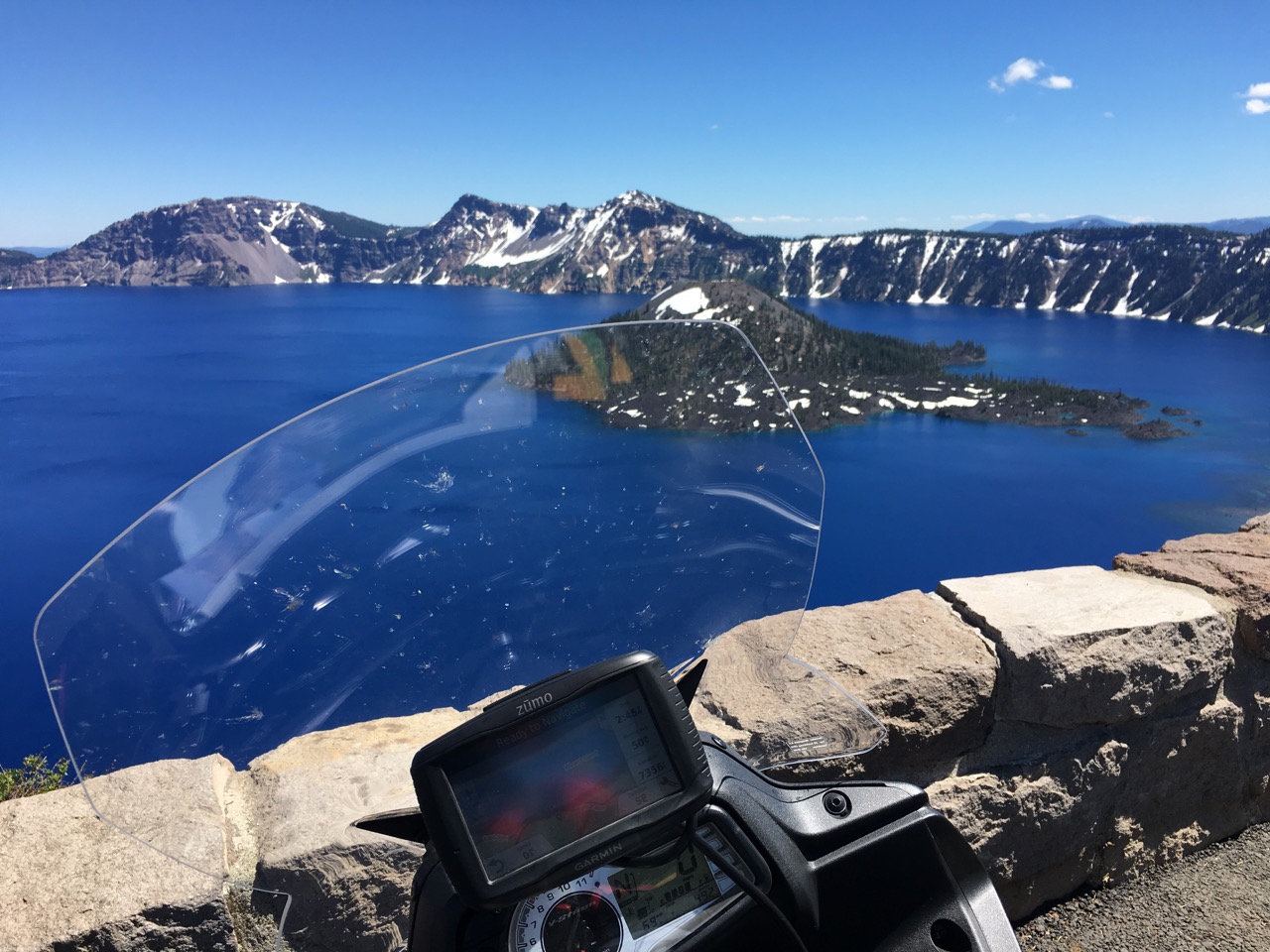 Heading out of this out-of-this-world location. The is the last time I'll say it, if you haven't ridden Oregon, add it to your to ride list.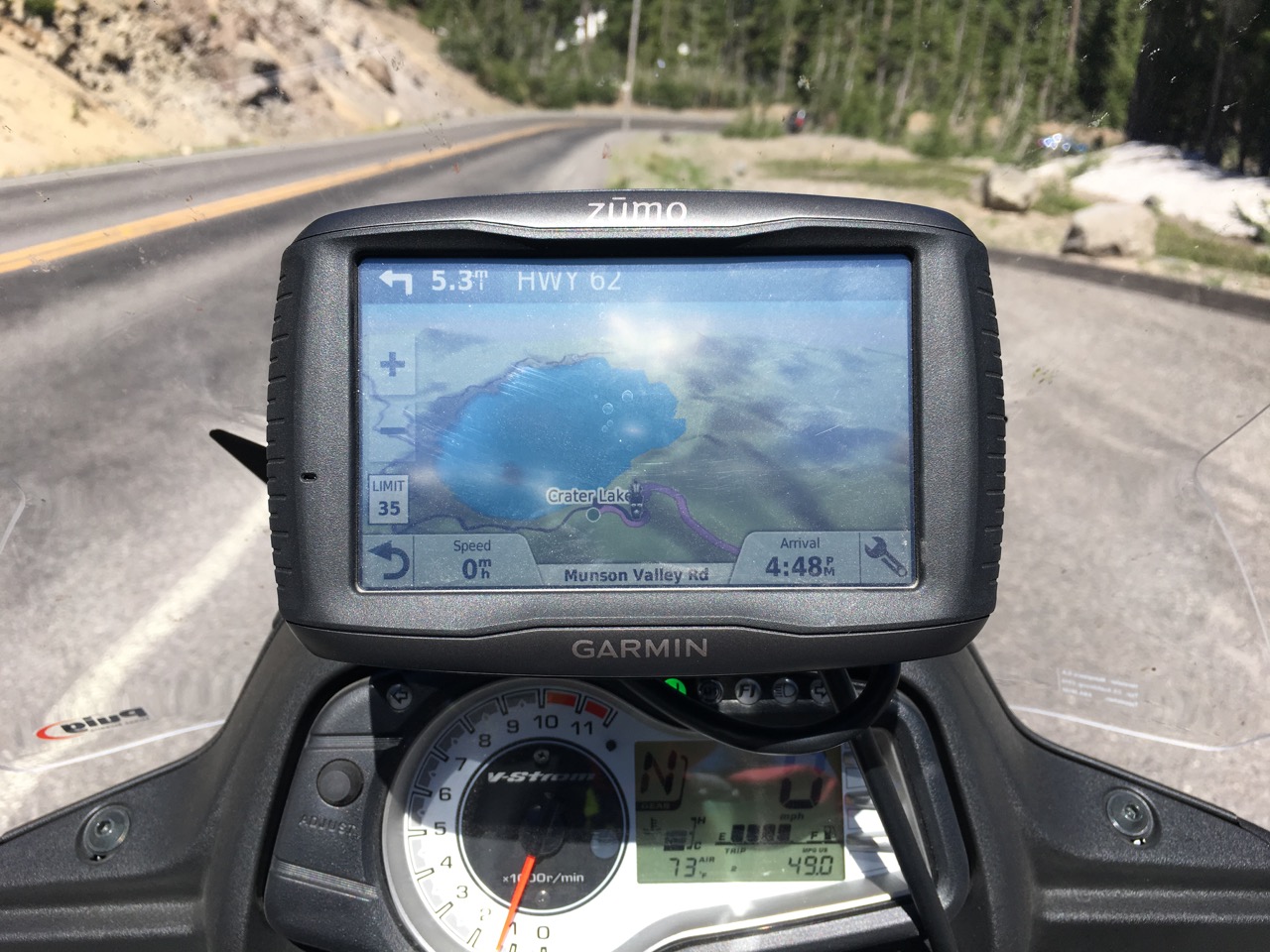 I left Klamath Falls preparing for the hottest day of the journey. Of course all my preparation made this a moot point. By the time it started to get really warm, I was less than an hour from Carson City where I would head up to Lake Tahoe.
This is approaching Susanville. I kept my eyes peeled for the Tall Man but didn't see he, Mike or Reggie.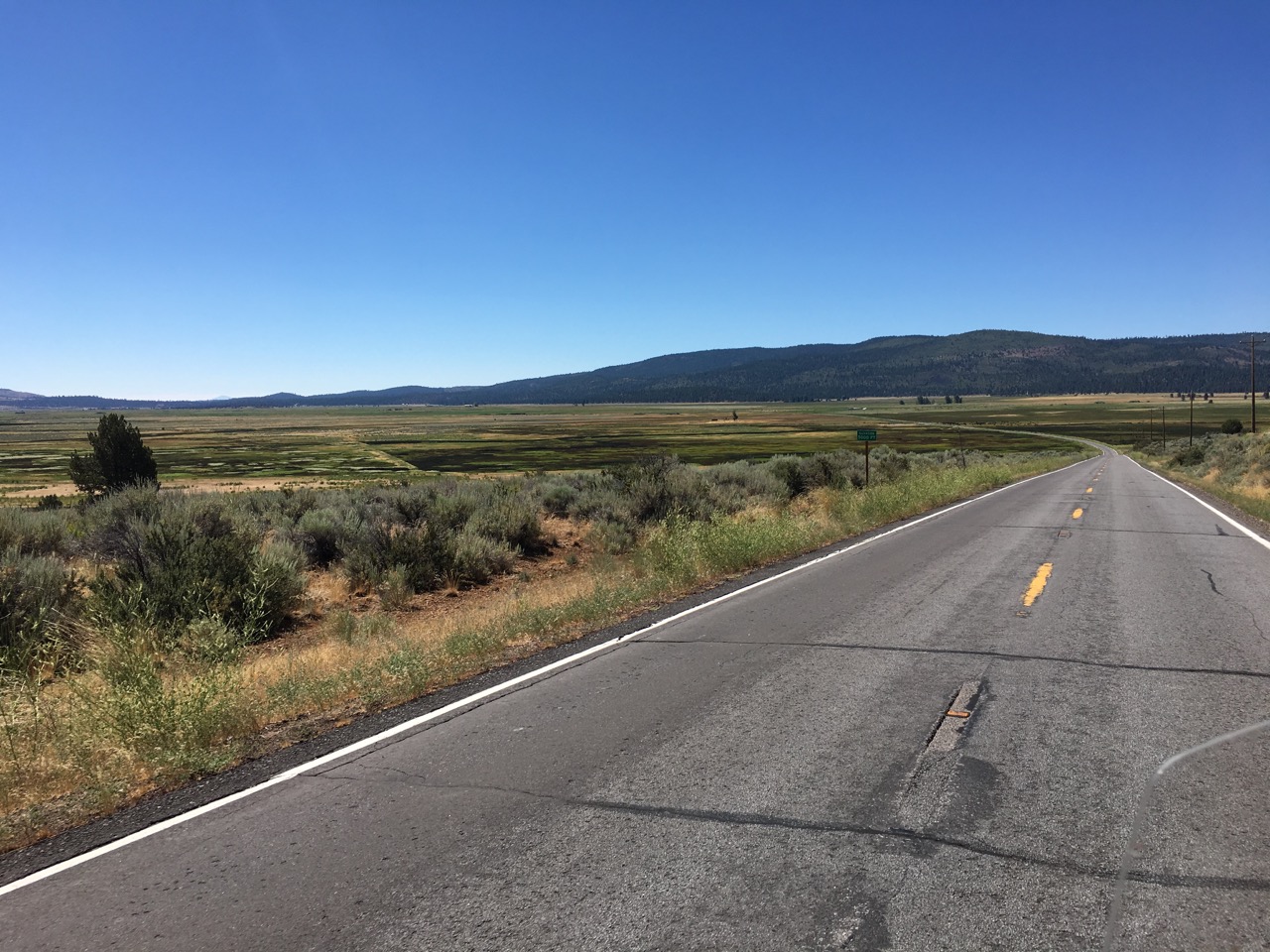 From Klamath Falls to Susanville I passed through some awesome country. I made up my mind to stop in Bieber California and get a picture taken by the welcome sign but for some reason, anxiety crept in and I simply grabbed lunch in Susanville and then b-lined into Reno, Carson City and then to Lake Tahoe. I wish I had taken more photos but sometimes fear/anxiety just about shut me down. Google maps makes the ride from Klamath Falls to Susanville look pretty desolate. Well the route I took had nothing but trees and farmland. The temps started to creep up but what a pleasant surprise this part of the trip turned out to be.
About 30 miles outside of Reno I stopped for gas and to soak my vest and shirt and learned of a forest fire that was blocking I-80. I had planned to ride into South Lake Tahoe so this didn't slow me down at all but is a reminder of how easily the west can burn. Given the heat I just kept the throttle open and made my way up and over the pass into Tahoe.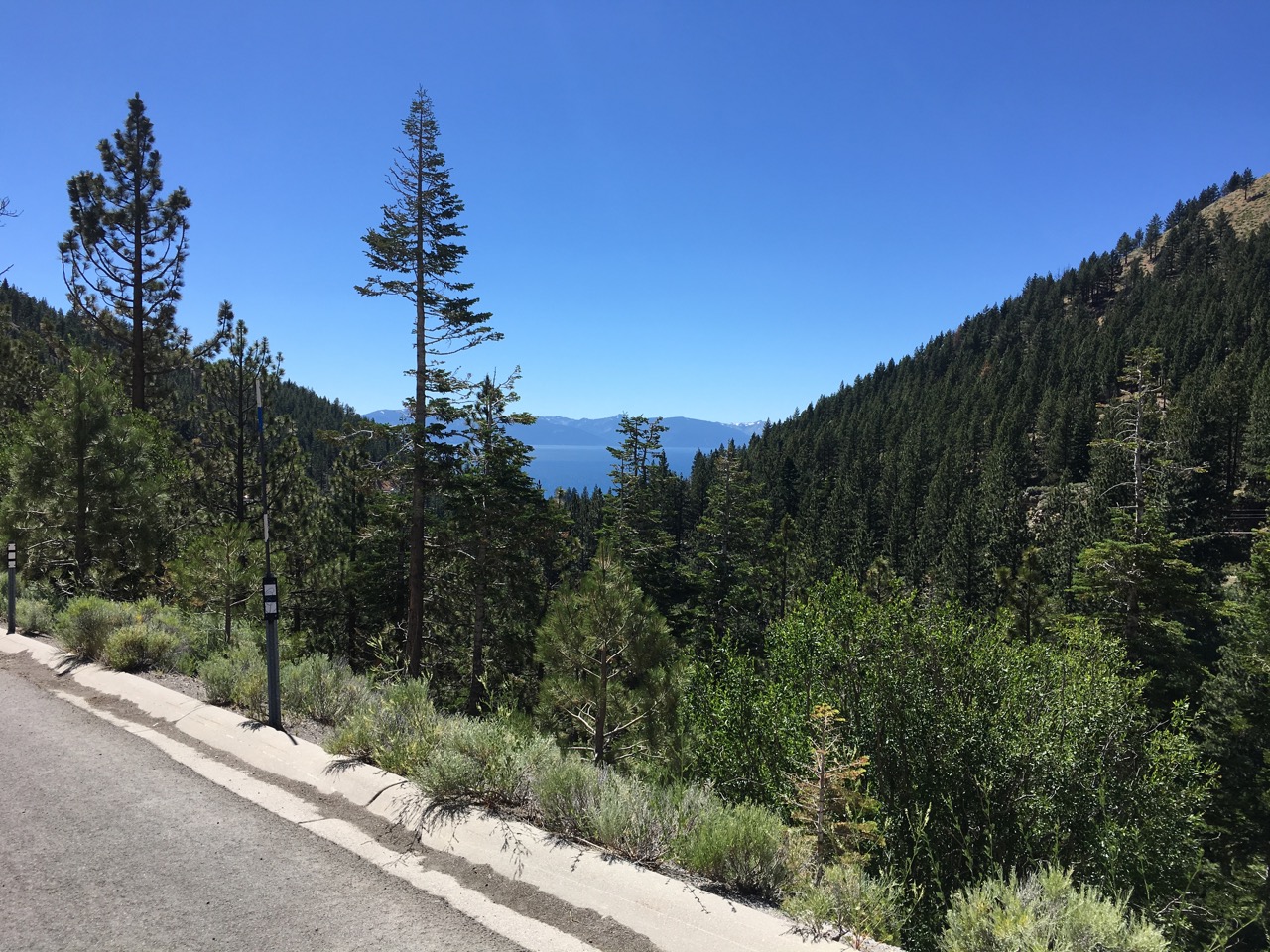 Arrival at my lake side Hotel. I didn't know at the time of booking that my room did not have AC. Oh well, I bought a small fan at the drug store and placed it by the sliding door to bring in the cool air. That worked well enough. The hotel owner is a moto-enthusiast as seen by the artwork on the bear's stomach.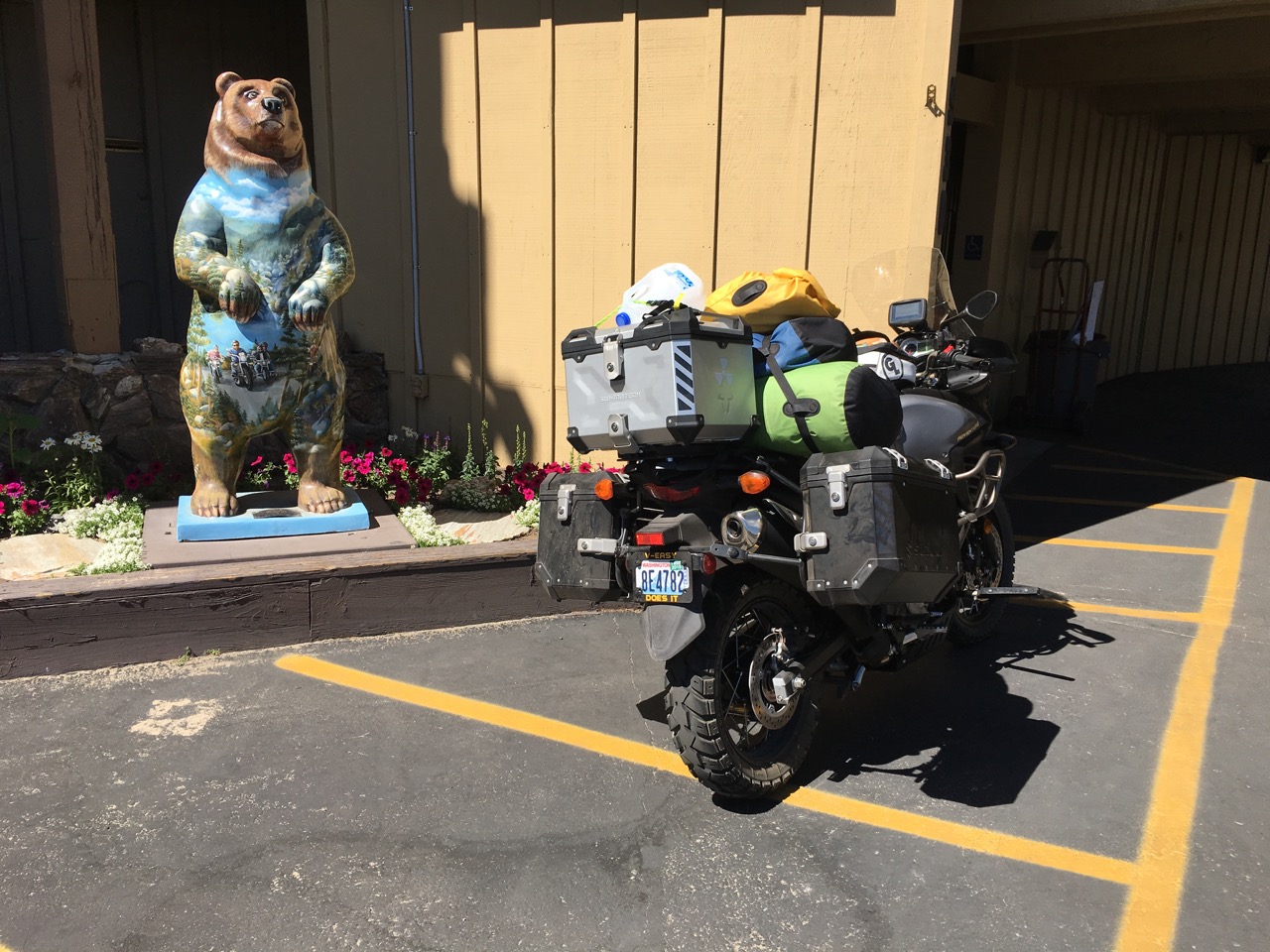 View out my window. This part of the lake is anything but blue. I assume it is the shallow water and wind that makes the water look murky.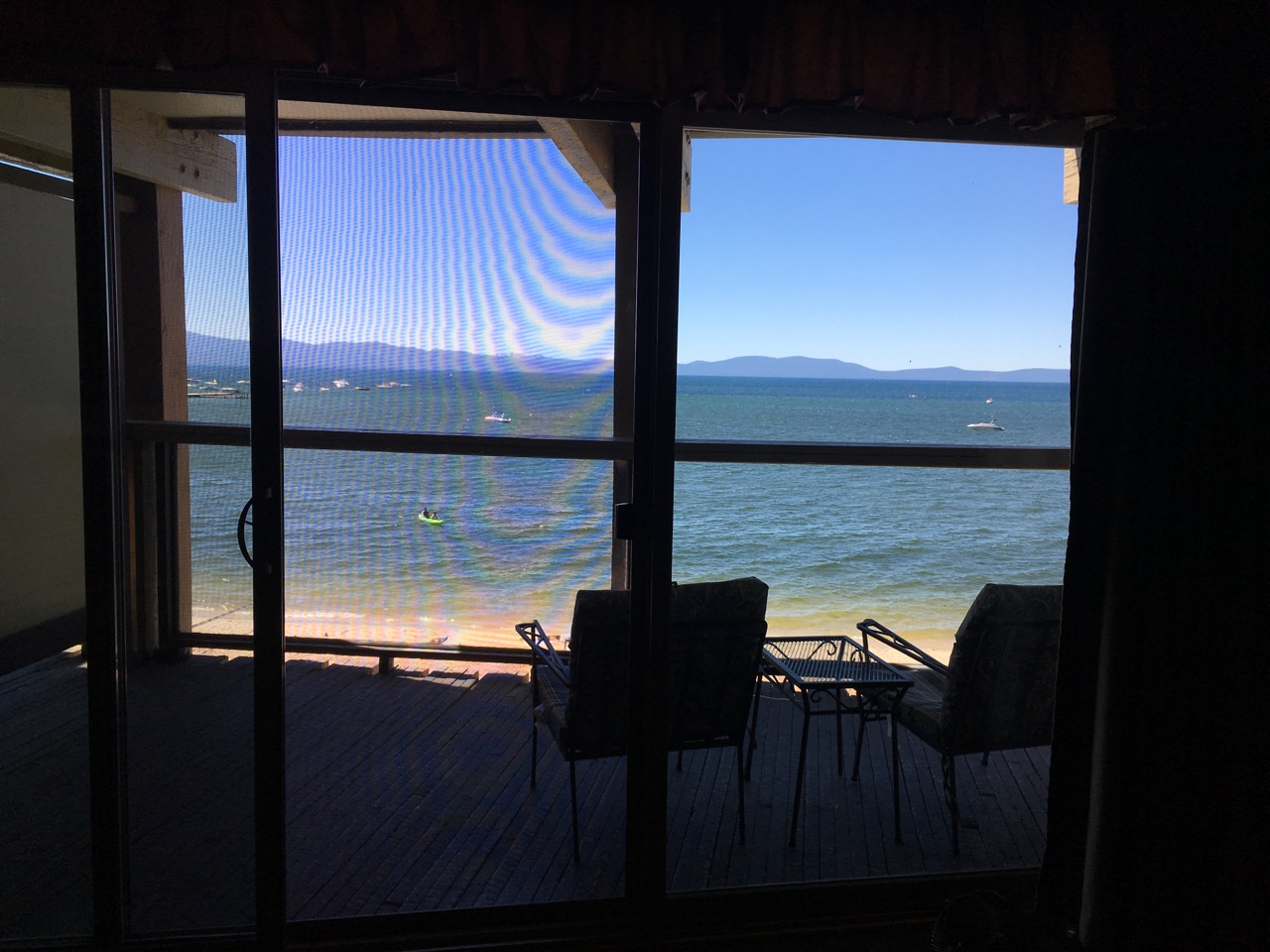 Perfect riding conditions.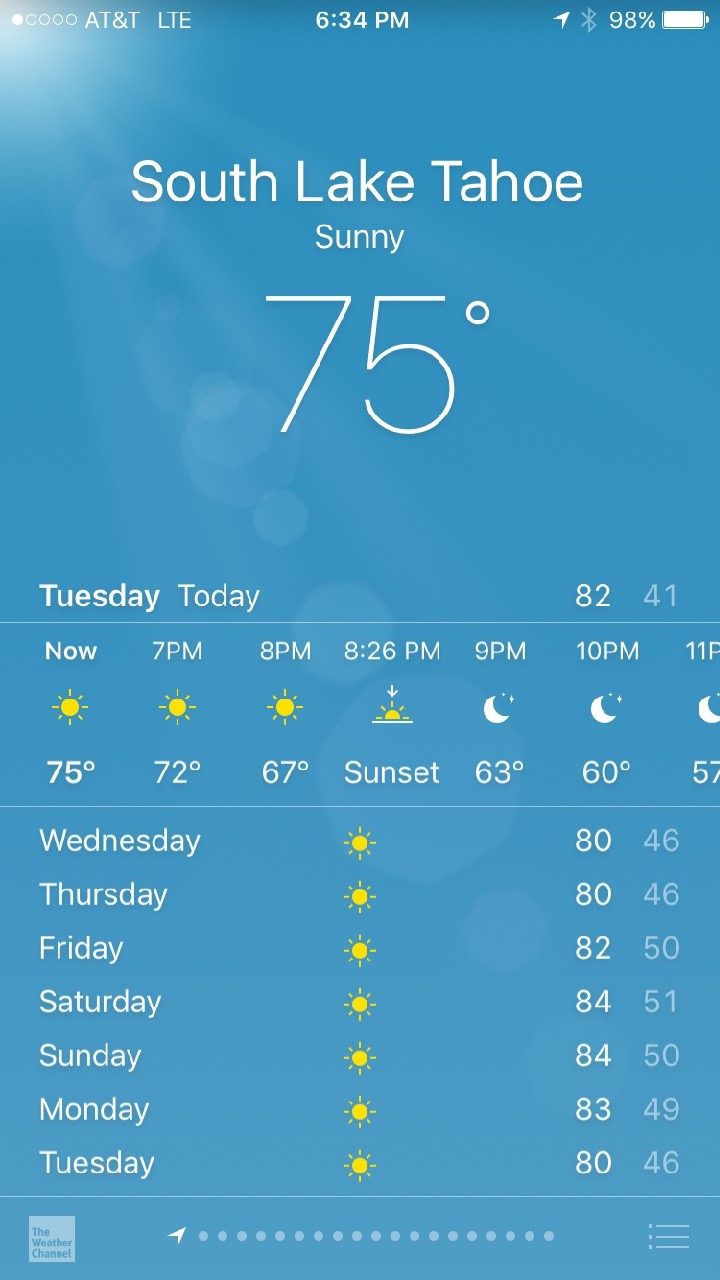 Just across the street from my hotel was an Italian place. Fantastic food and reasonable prices. Given that my room cost $$$, it was nice to save a few bucks on food.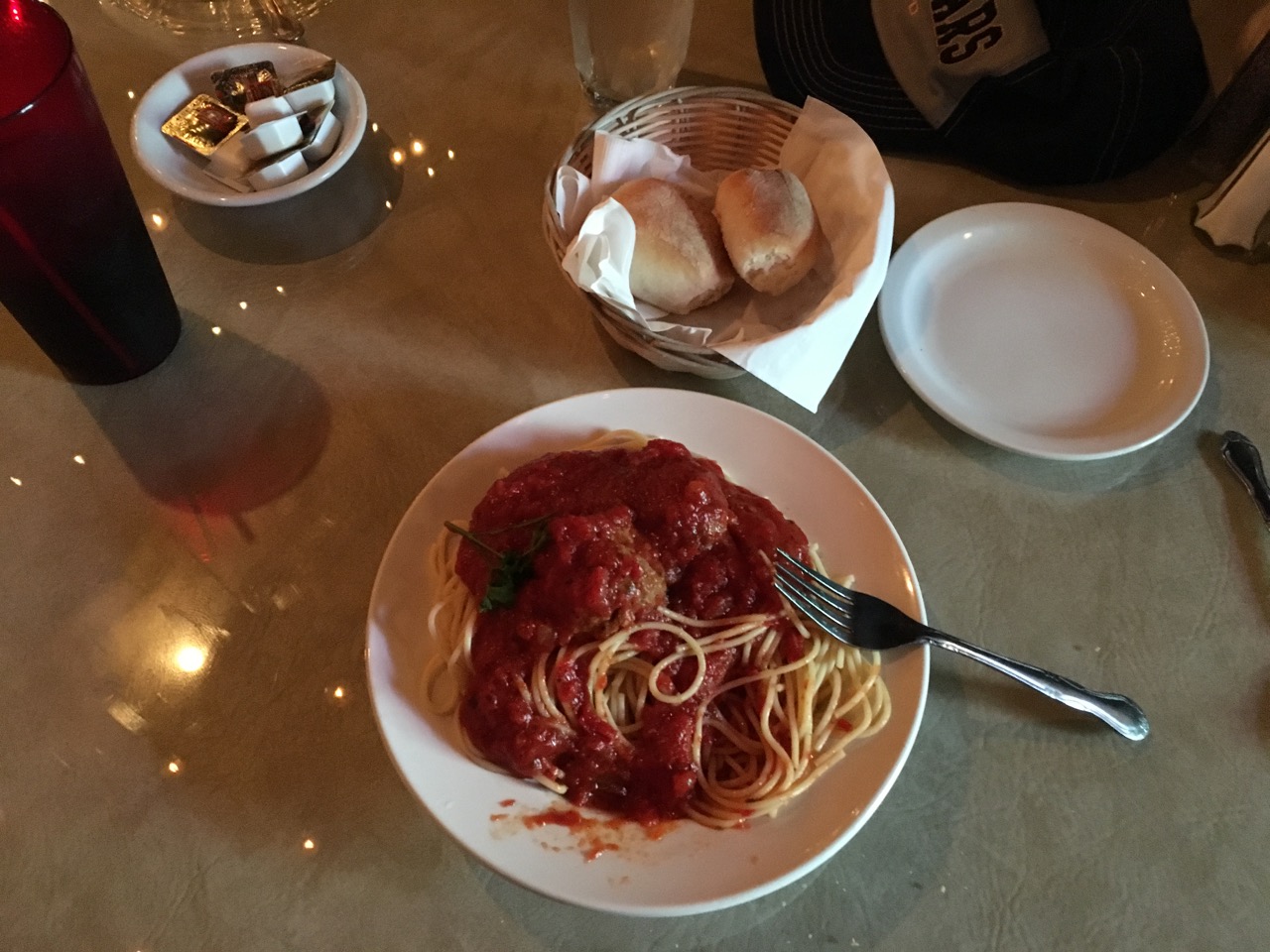 Sunset followed by sun rise. Stupid nice iPhone pictures.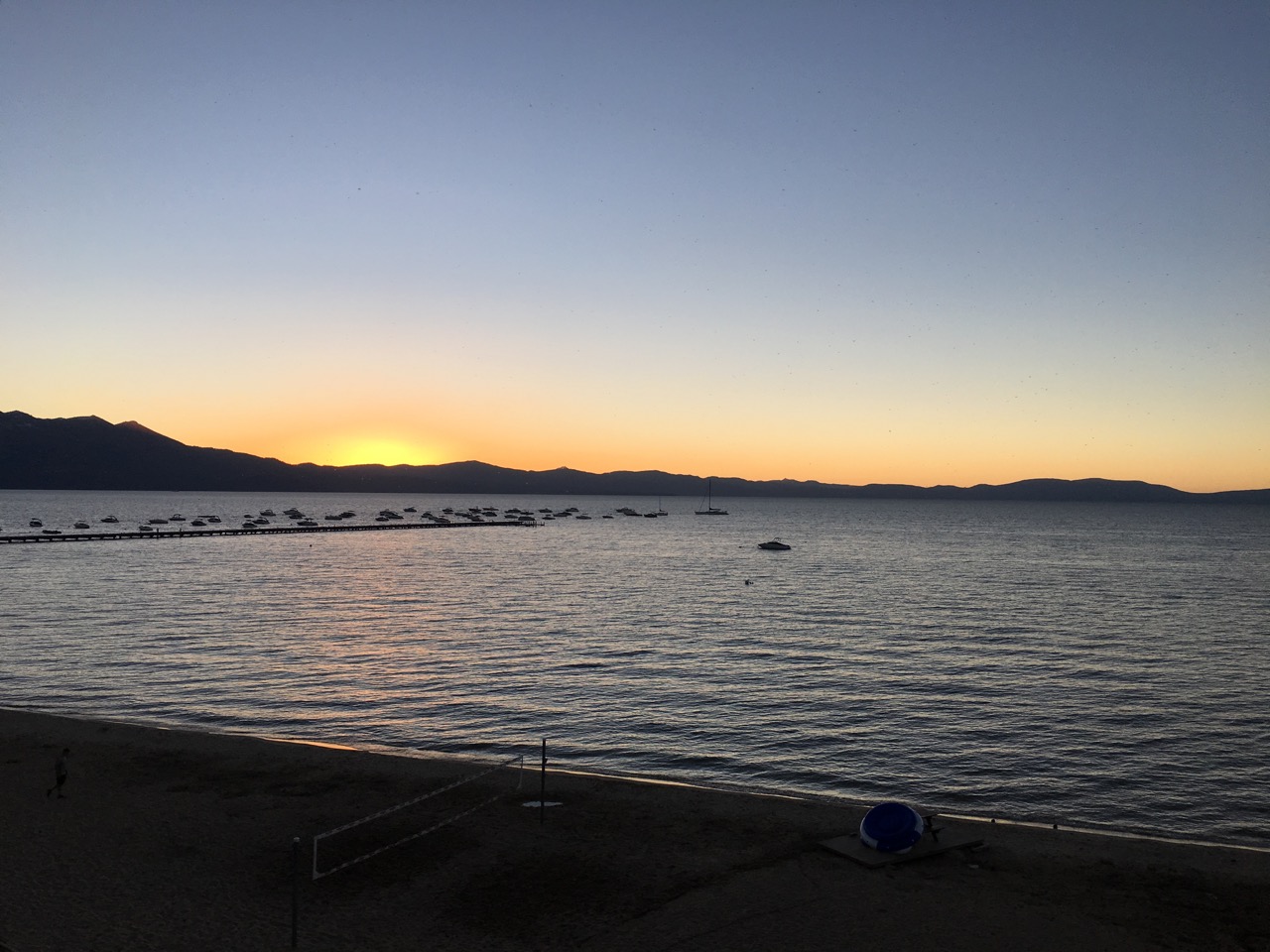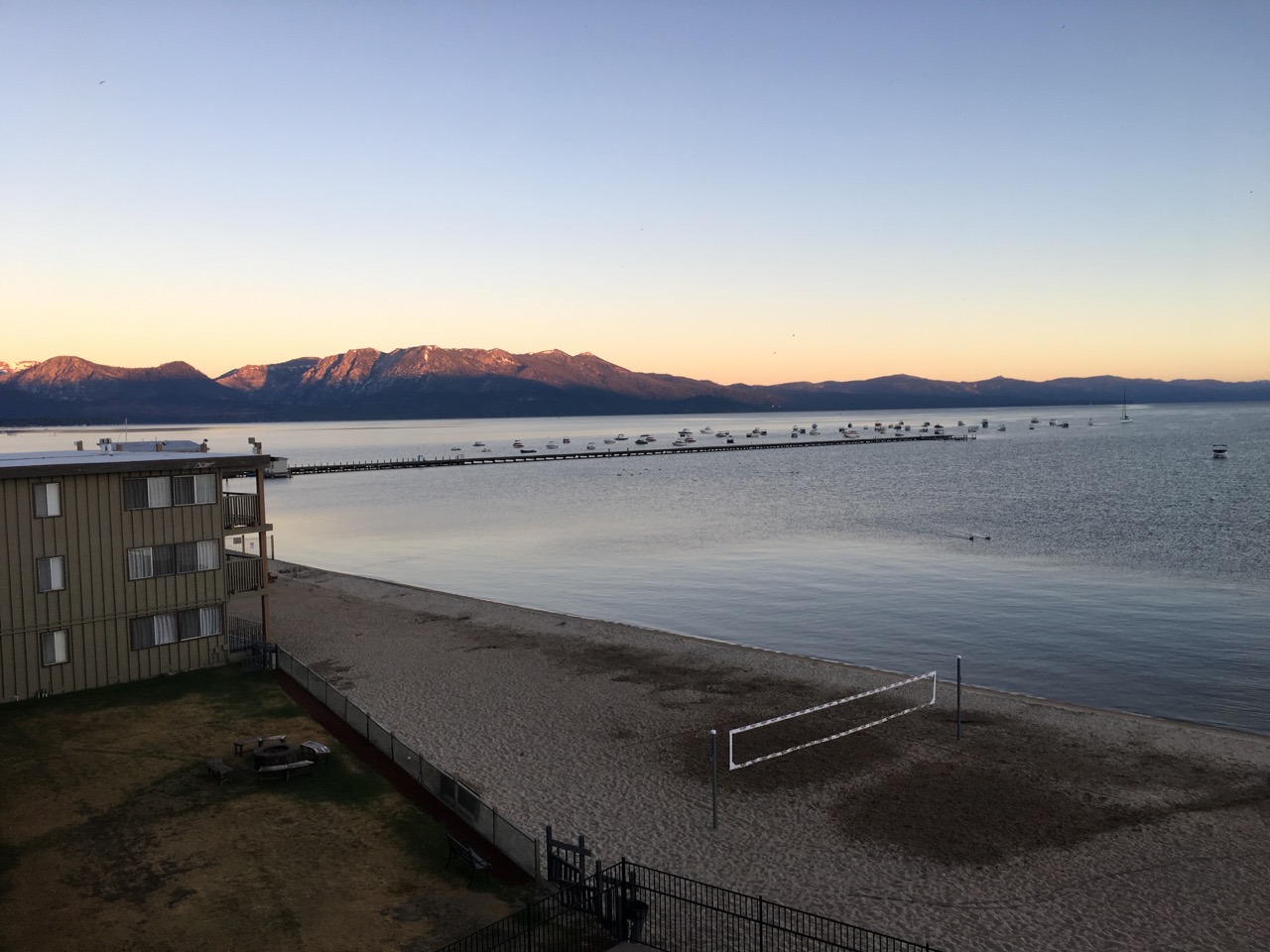 So my arrival in Tahoe made for my third full day of riding. Due to concerns about thigh cramps (google inner thigh cramp if you want to know what pain is) I try to not spend more than three days straight making miles on the bike. So this day would be a much more casual ride day around the Lake itself. I would ride clockwise through a lot of nice scenery, congested roads, and really rich people with their handsome sons and beautiful daughters out and about doing nothing more than looking good for those who care to look in on them. I imagine folks who have live in Tahoe for 40+ years will lament how it has changed like so many other places in the world. Oh well, better to see it in 2017 than 2037 if I cannot go back in time and ride it in 1977. I was born in 1970 so could not have ridden in the good old days but maybe it is better to not know just how good they really were . . .
I love to see wildlife and this sign got me going. I had no such luck on this trip but you never know.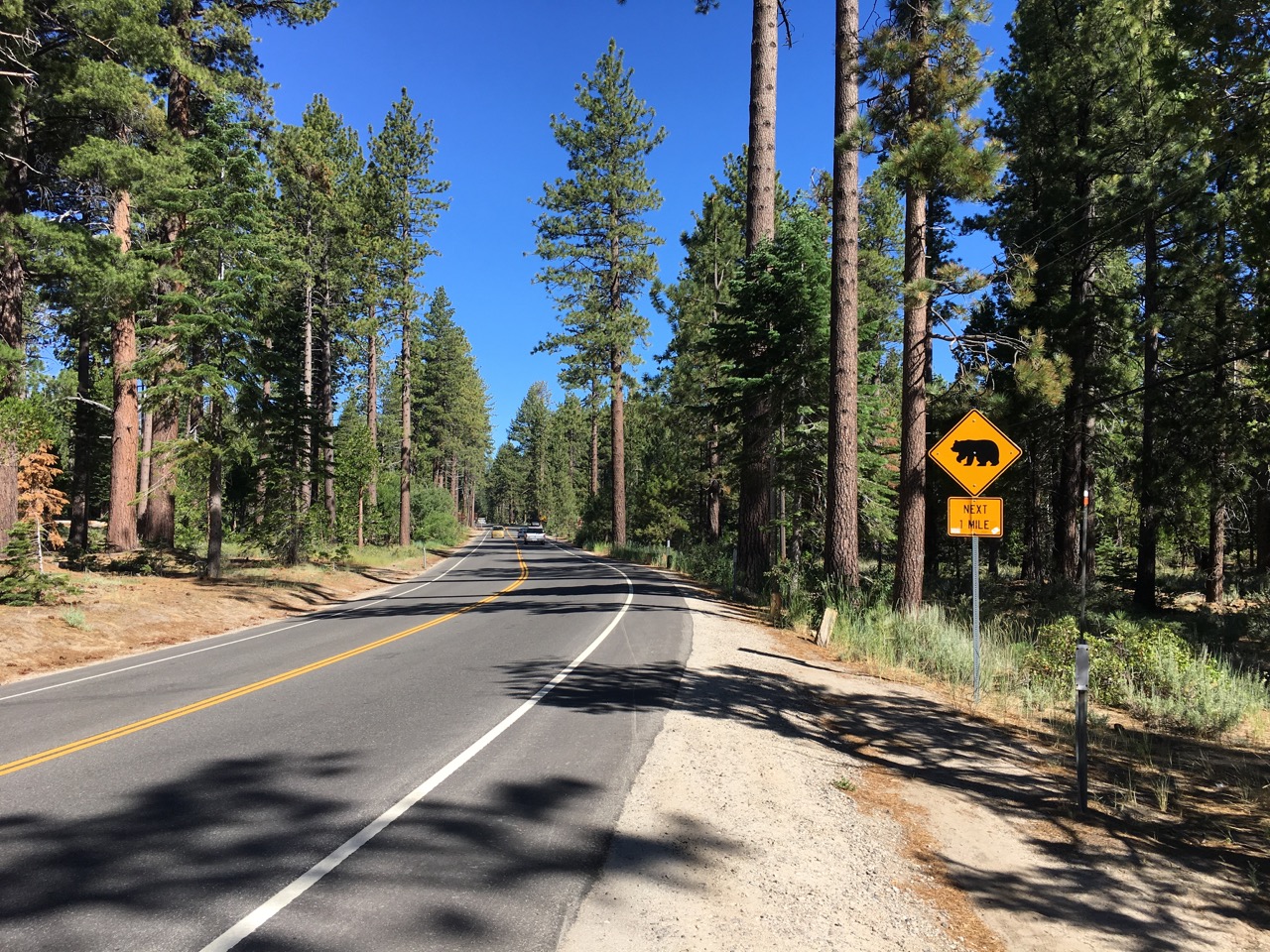 Observation area above Emerald Bay.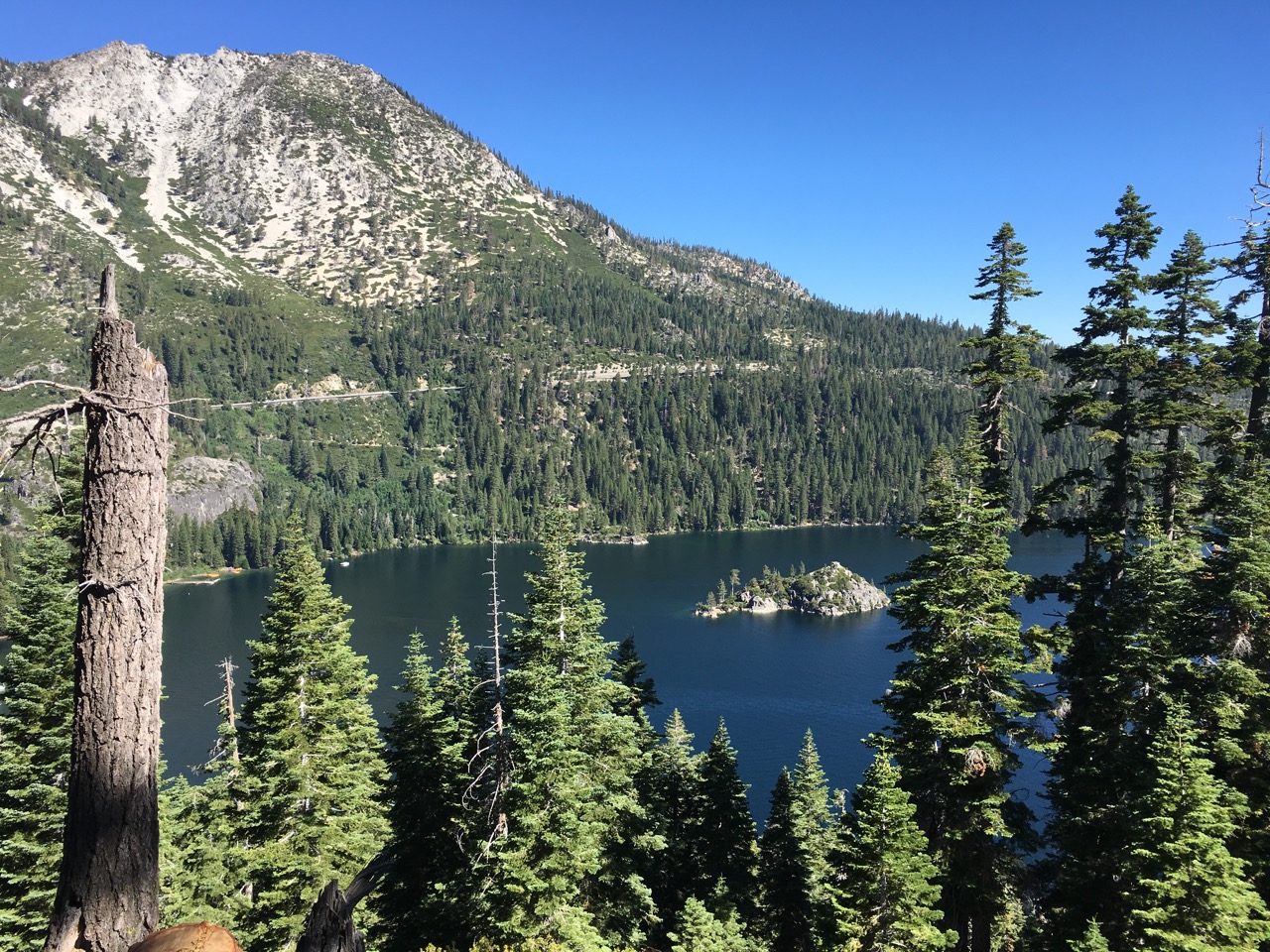 Stupid low quality panorama mode of the iPhone again.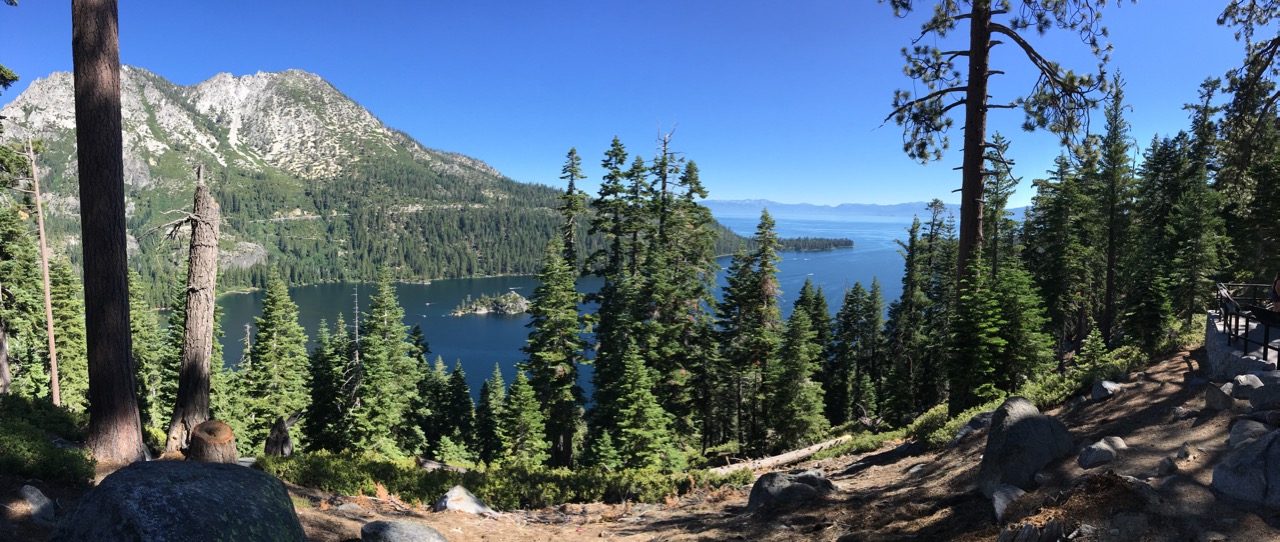 Yes folks it is true. The Jeep Wrangler Rubicon and Honda ATV are really named after a genuine trail in this area. It connects Tahoe to Sacramento (sort of) but was more adventurous than I wanted to do on my V-Strom.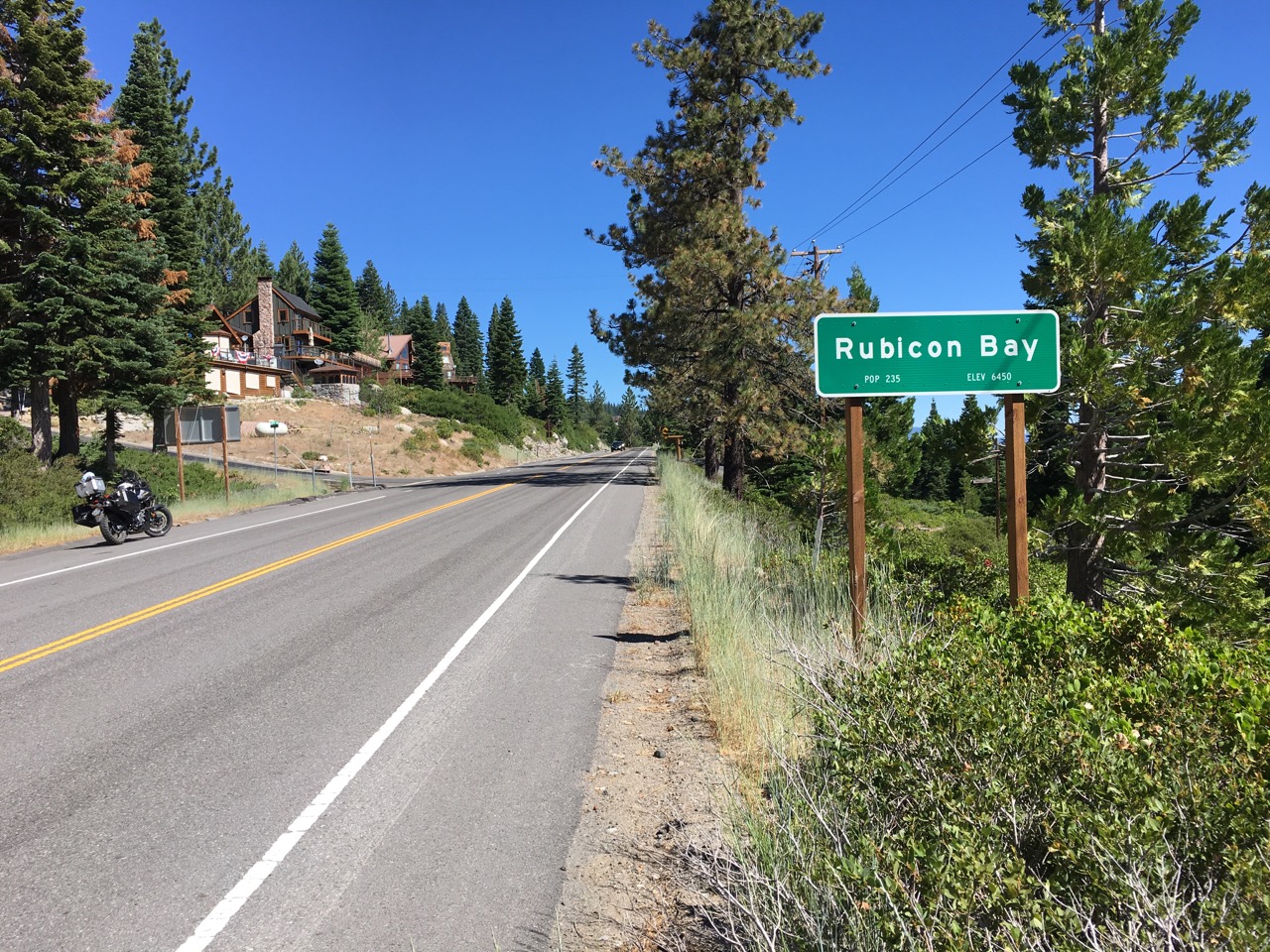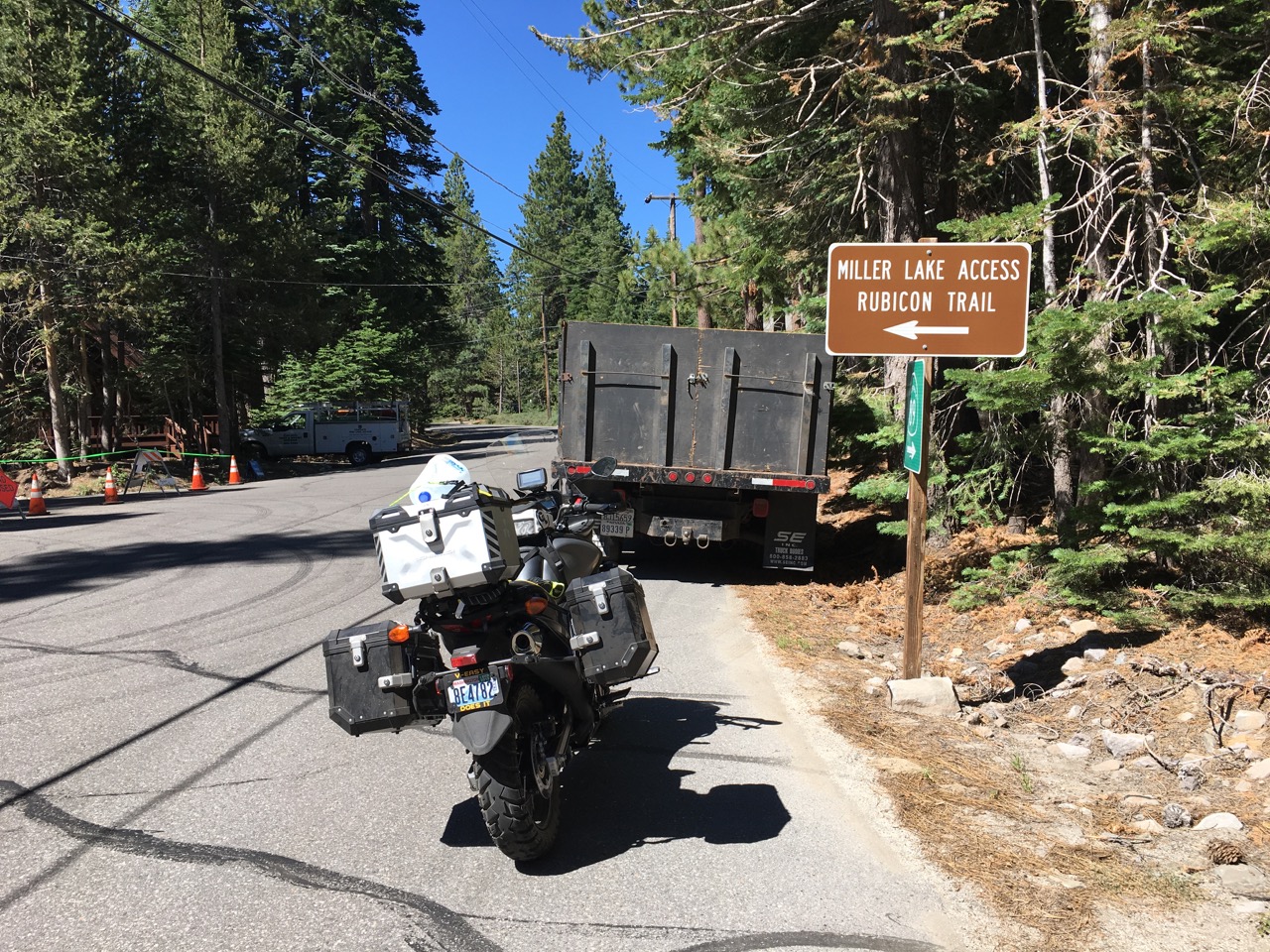 My building appetite lead me to Donner Pass. I typically skip breakfast on a ride day so I can grab lunch somewhere I have never been and eat something I have not ever tried. The run down shack at the summit of the pass had just that. They wouldn't tell me what I was eating but told me it tasted like chicken. I am not so sure. I had it once before; maybe.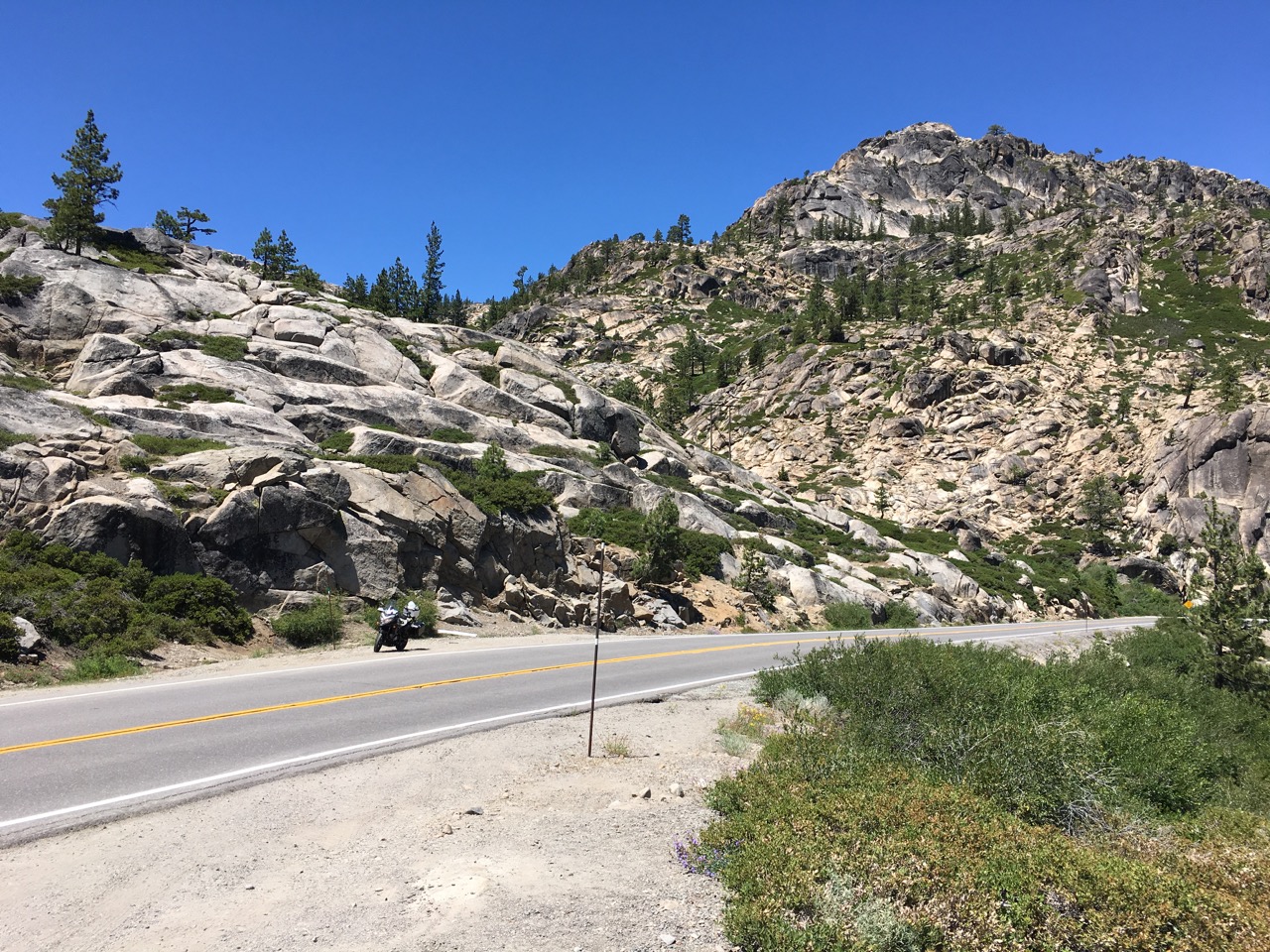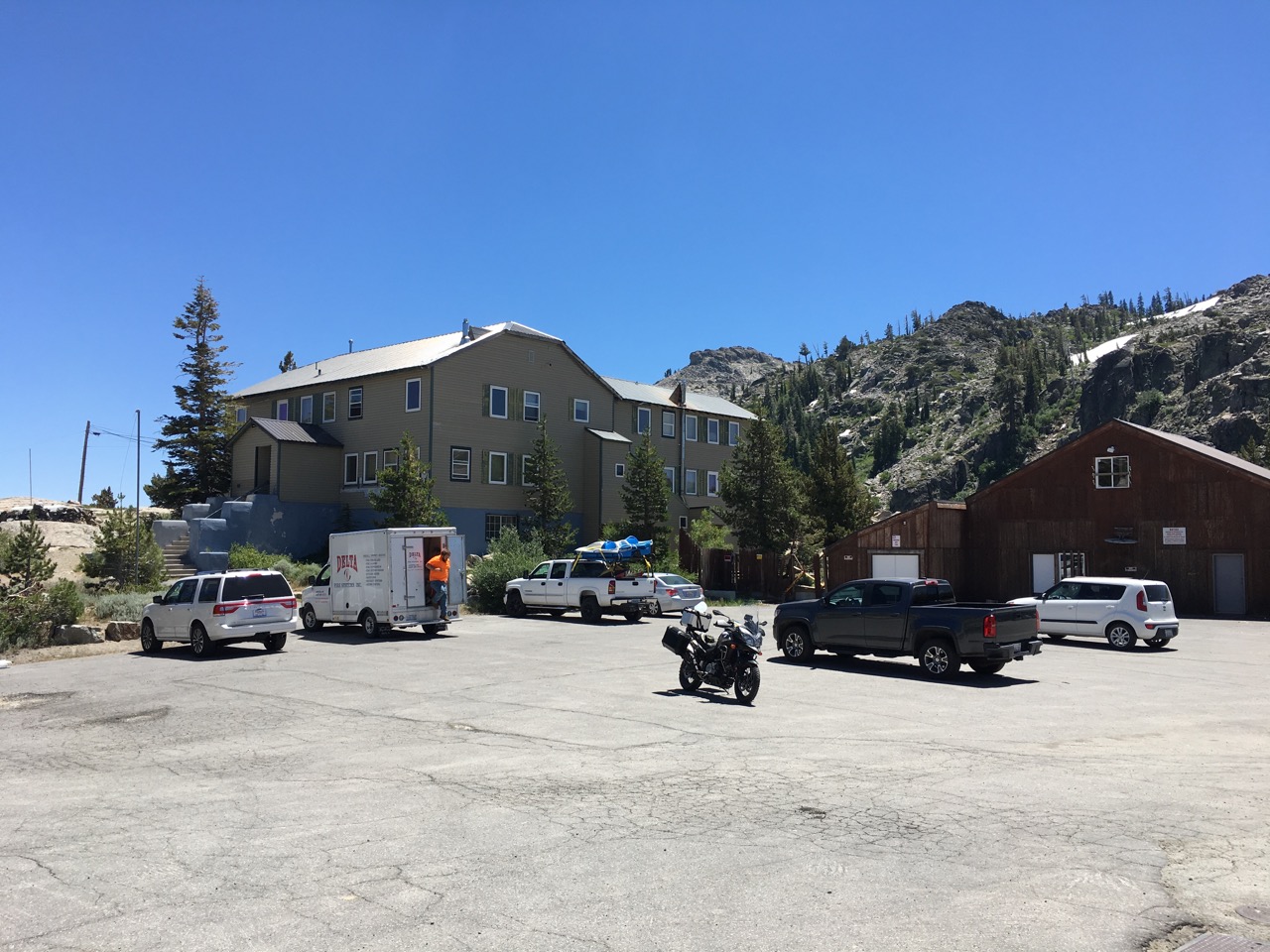 Almost like Stelvo Pass.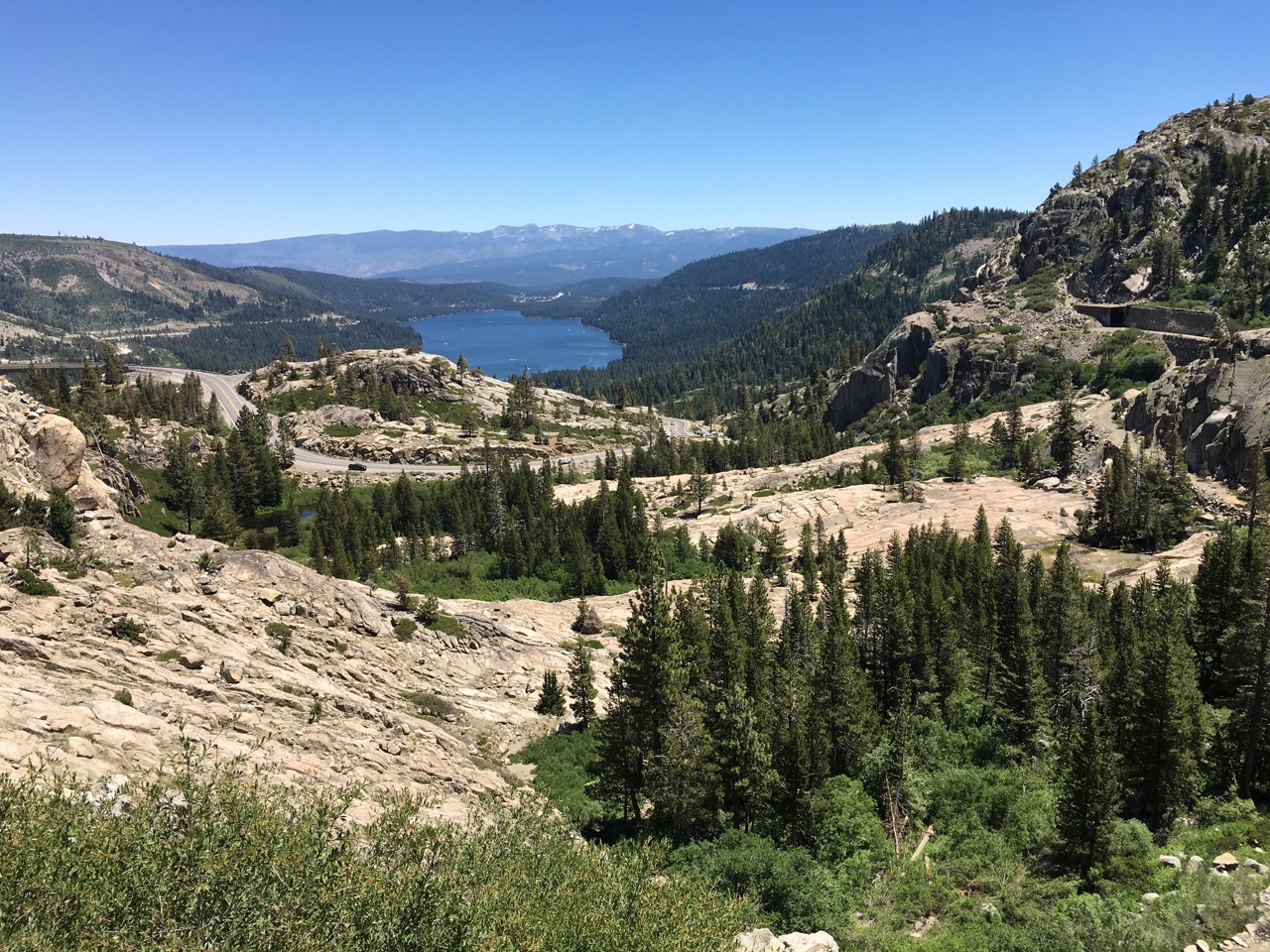 The rest of my ride around the Lake was pretty sublime. Traffic lightened up and I ended back at my hotel and decided on Thai food for dinner.
From here I took the entire next day off to just sight see buy foot and took few pictures. A dinner cruise proved very worthwhile though eating with the 2nd seating meant an 8:00 meal. The next morning I would route up around Mt. Lassen and Shasta to Dunsmuir for the evening.
From Tahoe to Truckee and Sierraville yielded a pleasant well maintained road with minimal traffic. It is fun to just stop and walk around towns like this. I noticed a small hotel at the end of town with three ADV style bikes outside. One of them was a converted Ducati Scrambler. Nice job on that one.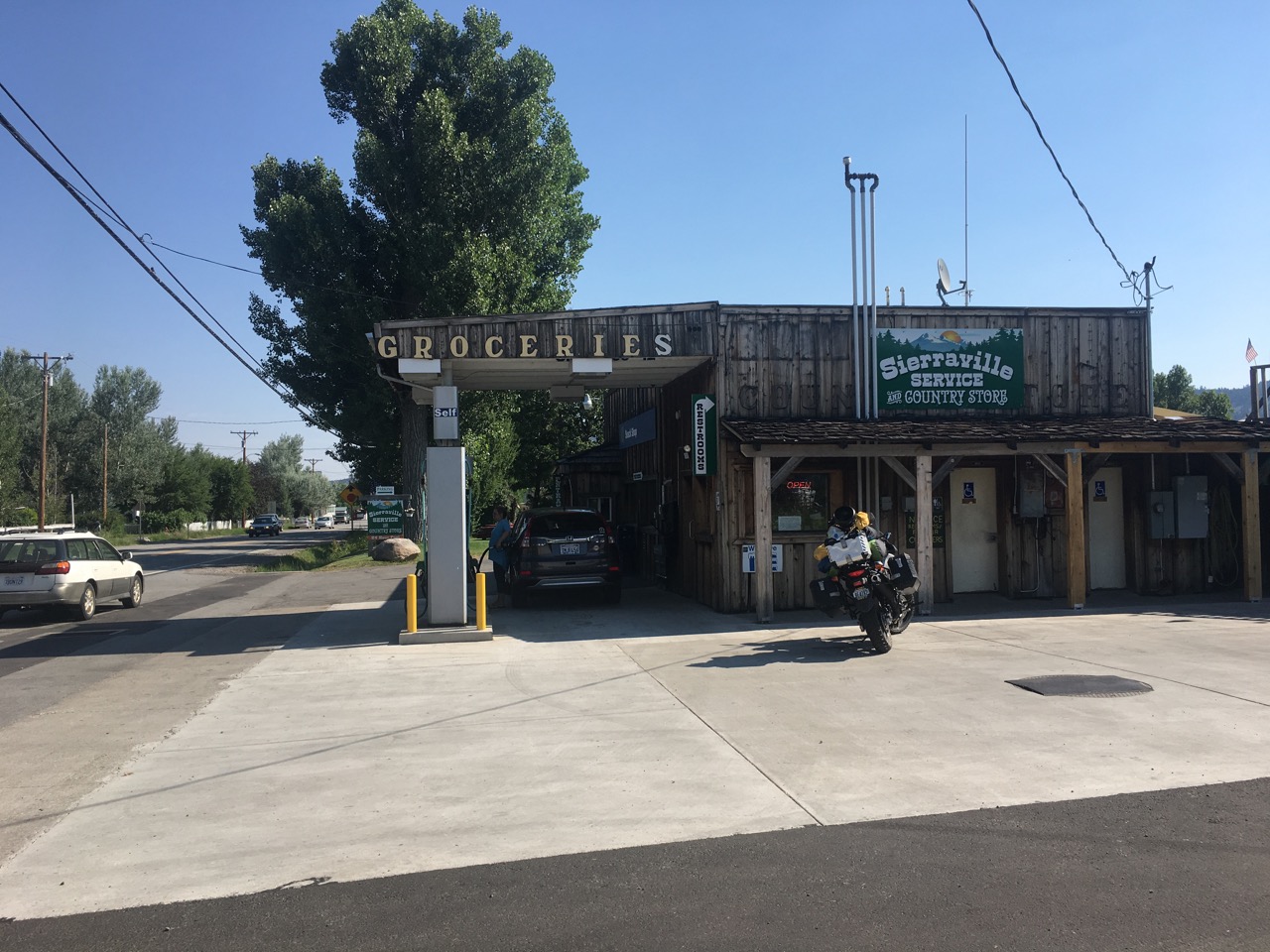 Mt. Lassen was high on my to ride list as I had not been there since a teenager on a road trip with mom. I get my travel bug from her side of the family but alas, and as with the east side of Crater Lake, Mt. Lassen was still snowed in and I had to ride to the East of it. No use in complaining about that which one cannot change. There was plenty of nice scenery on the way to Dunsmuir which is just about five miles south of the where 89 connects with I-5 near Mt. Shasta. Scenery like this all along the way.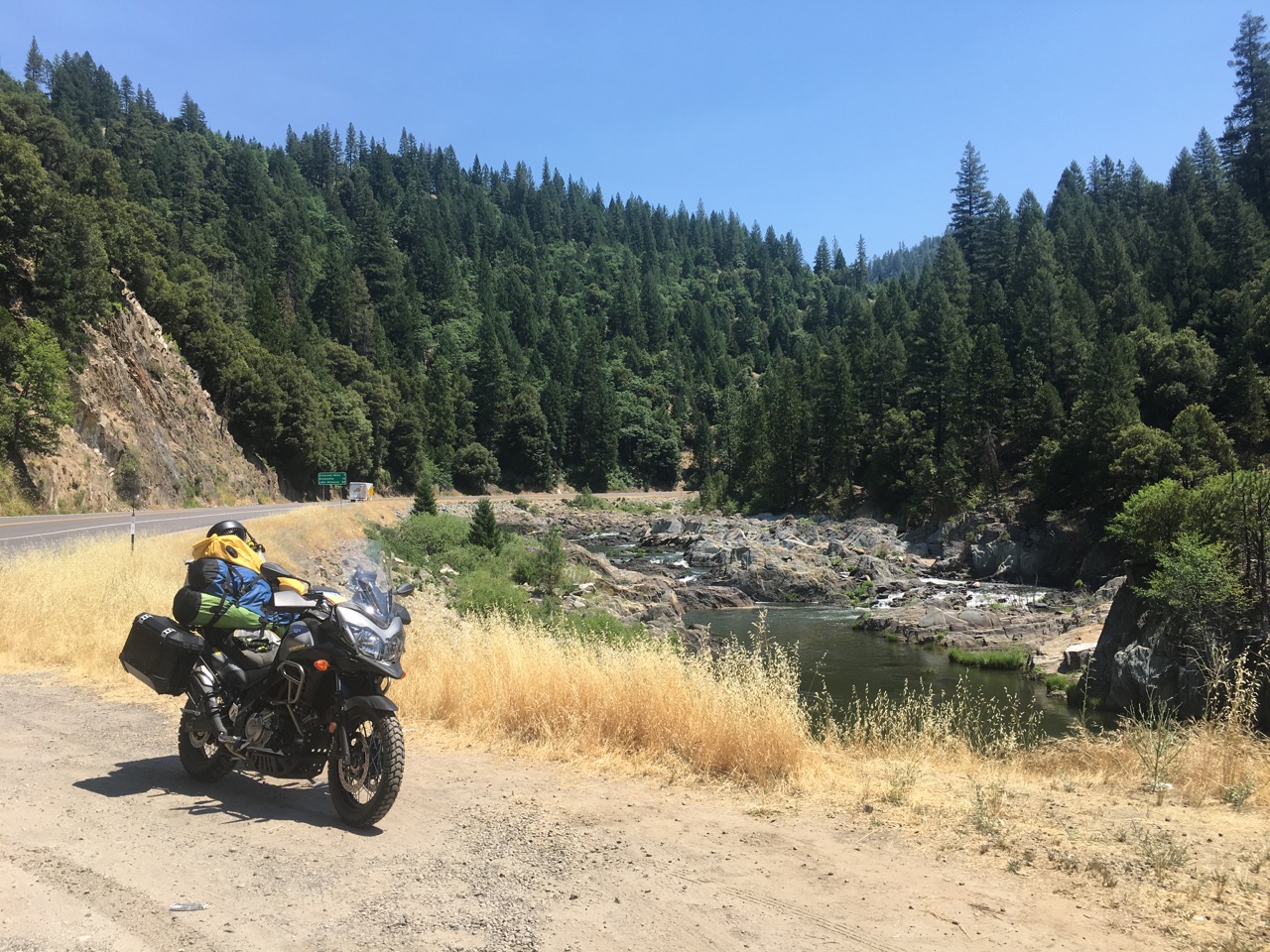 Lake Almonor.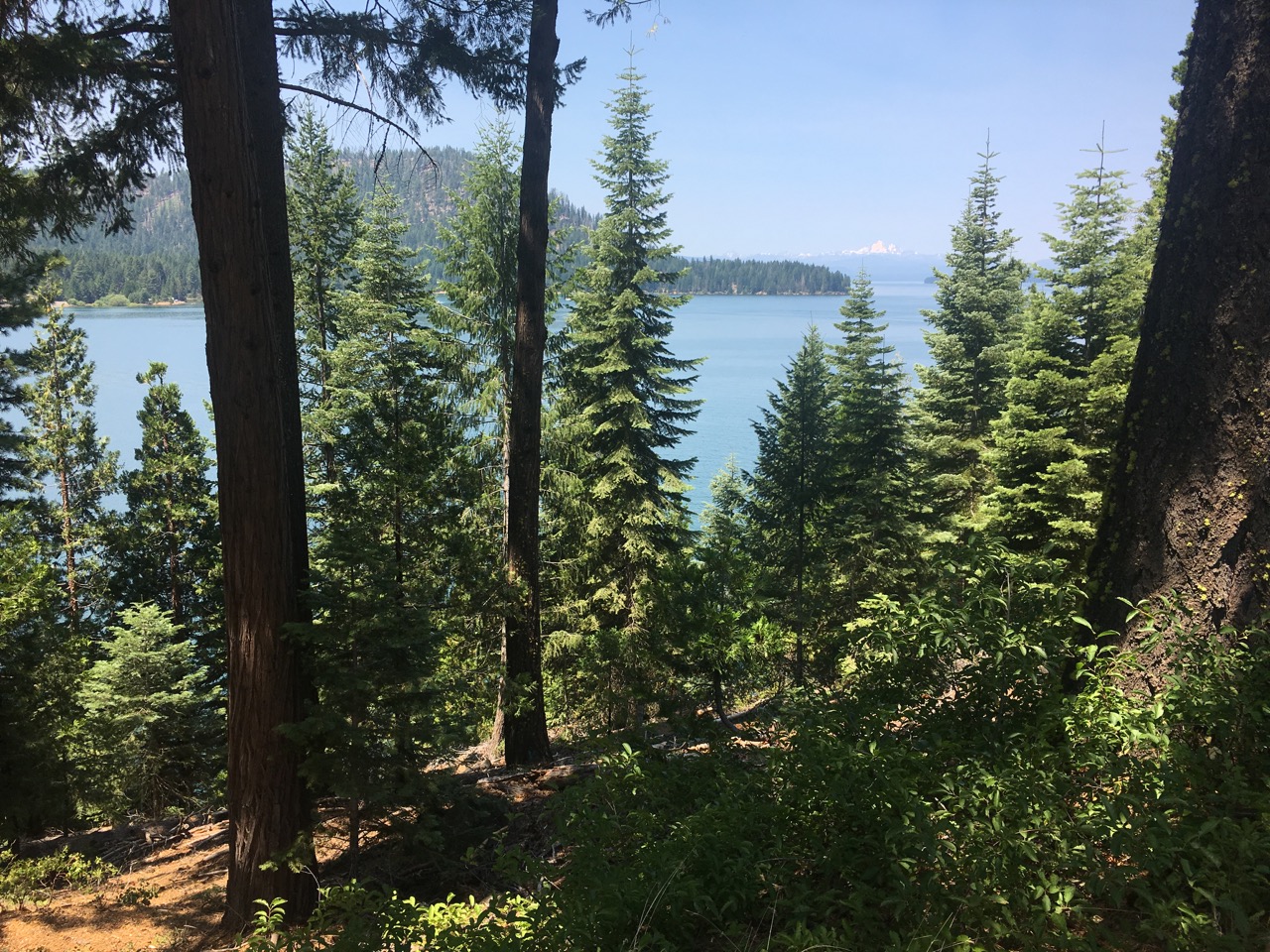 A hazy Mt. Shasta lurks in the distance.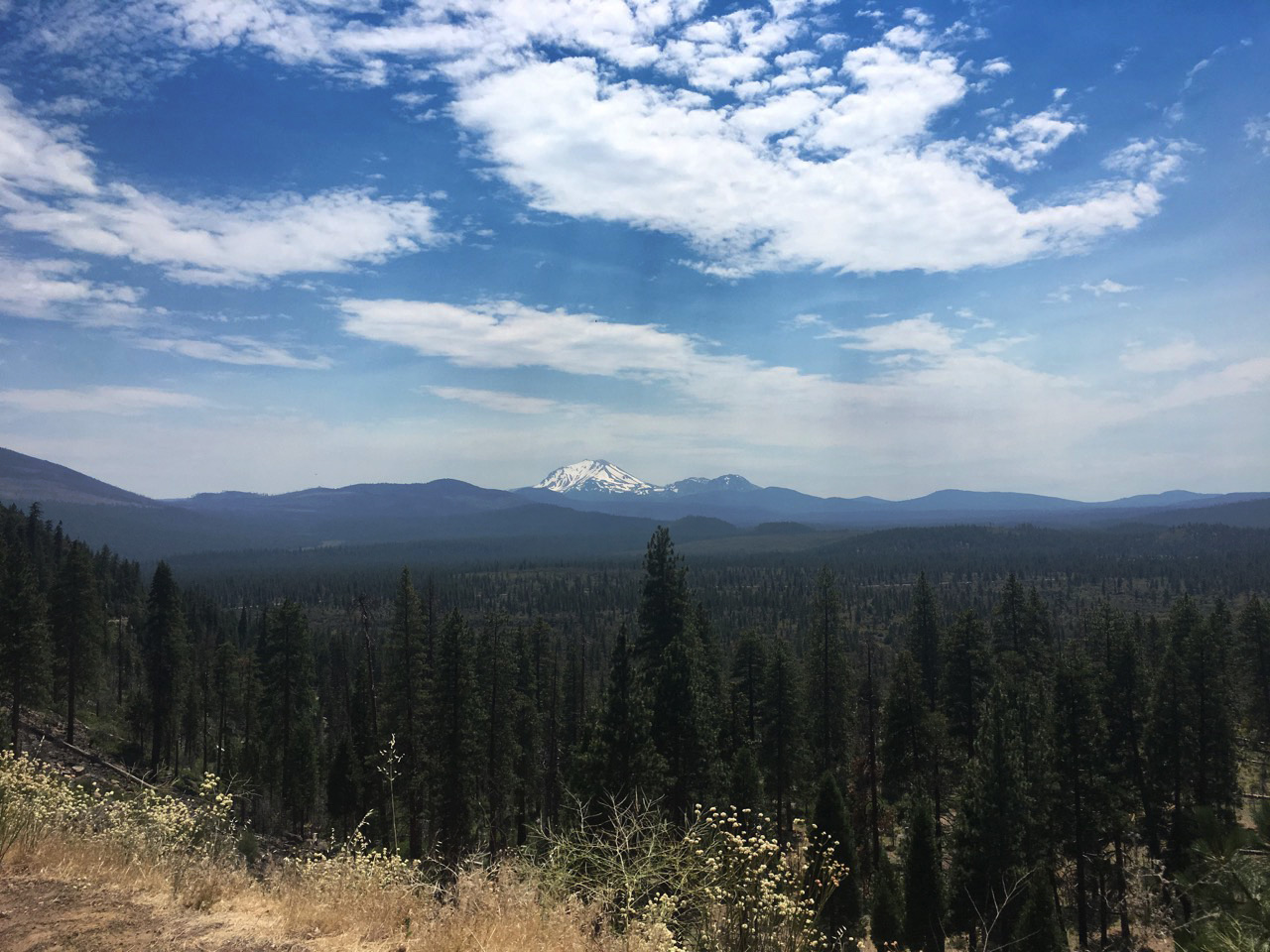 Same but with the bike.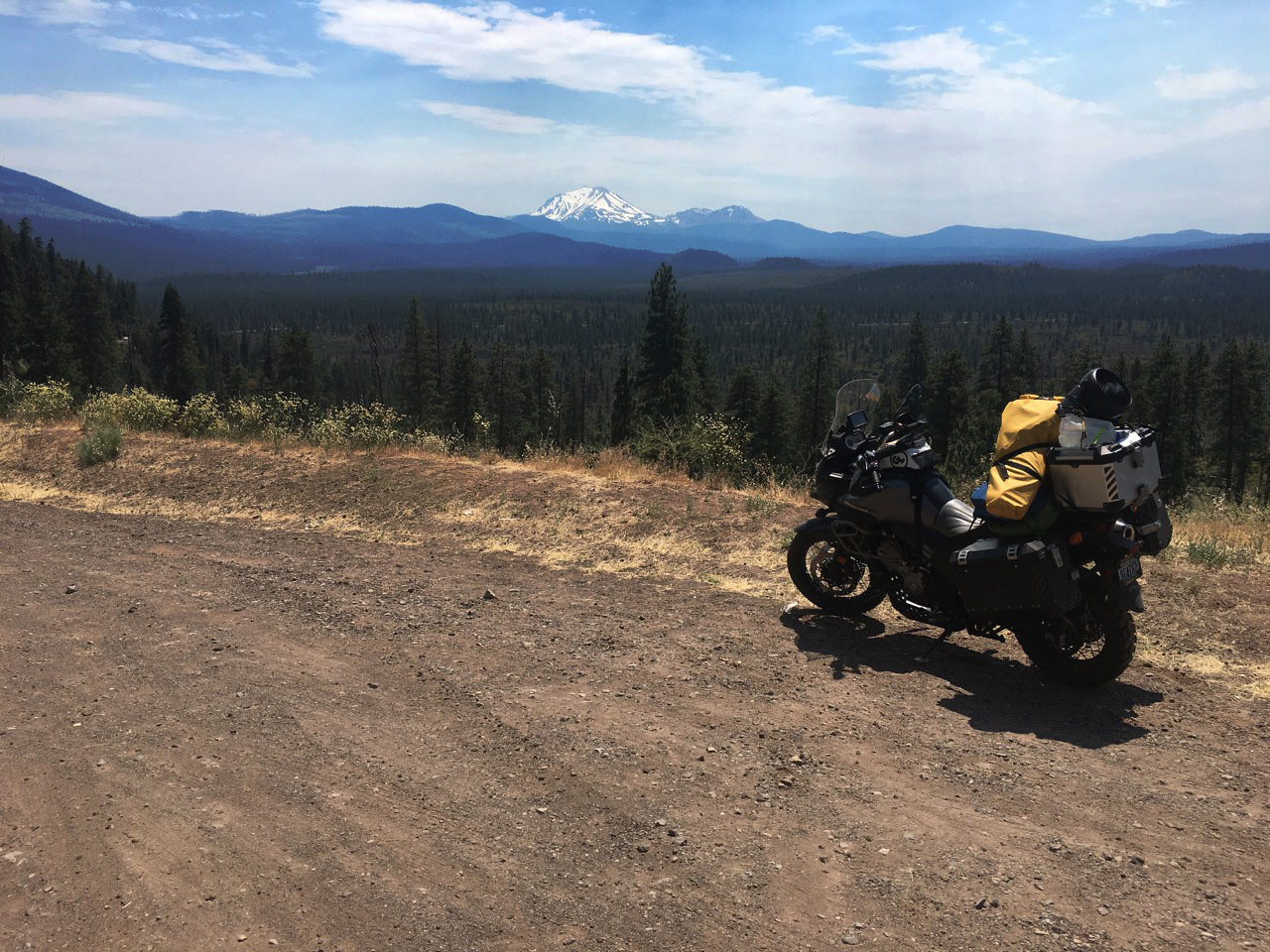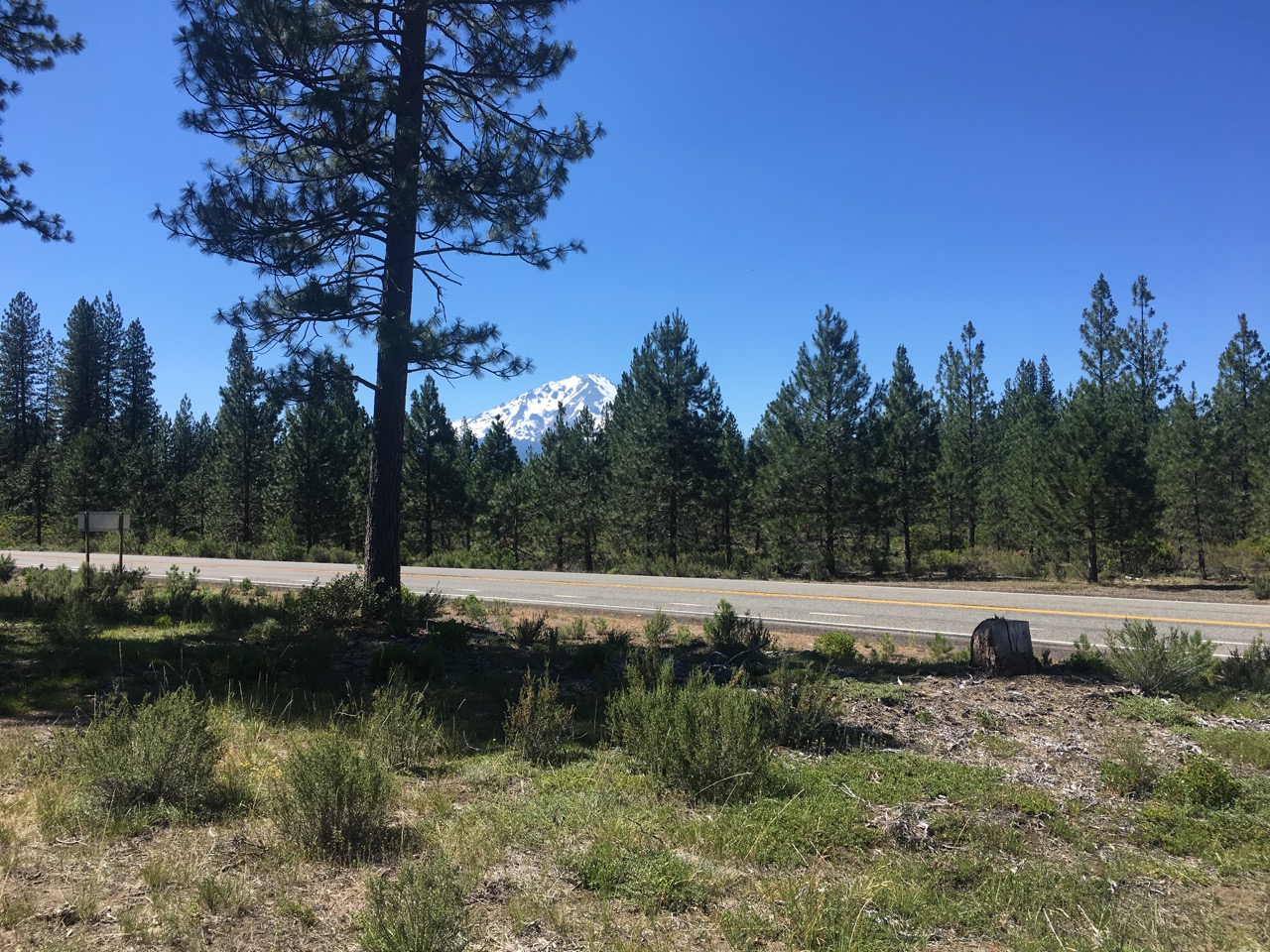 These are the cabins at Cave Springs in Dunsmuir. I stayed here 30 years ago with mom when we would drive from Seattle to San Jose. The same guy still owns the place. He said my last name sounded familiar but maybe he was just being polite. I really wanted to stay in the cabin for nostalgia's sake but after the nights without AC in Tahoe, I opted for a room. I probably should not have as the room's AC didn't do much good until after 12:00. But after a full day on the bike, sleep arrived on schedule and I got up the next day to ride somewhere north in Oregon. I didn't have a plan of where to stay but figured I would find a place.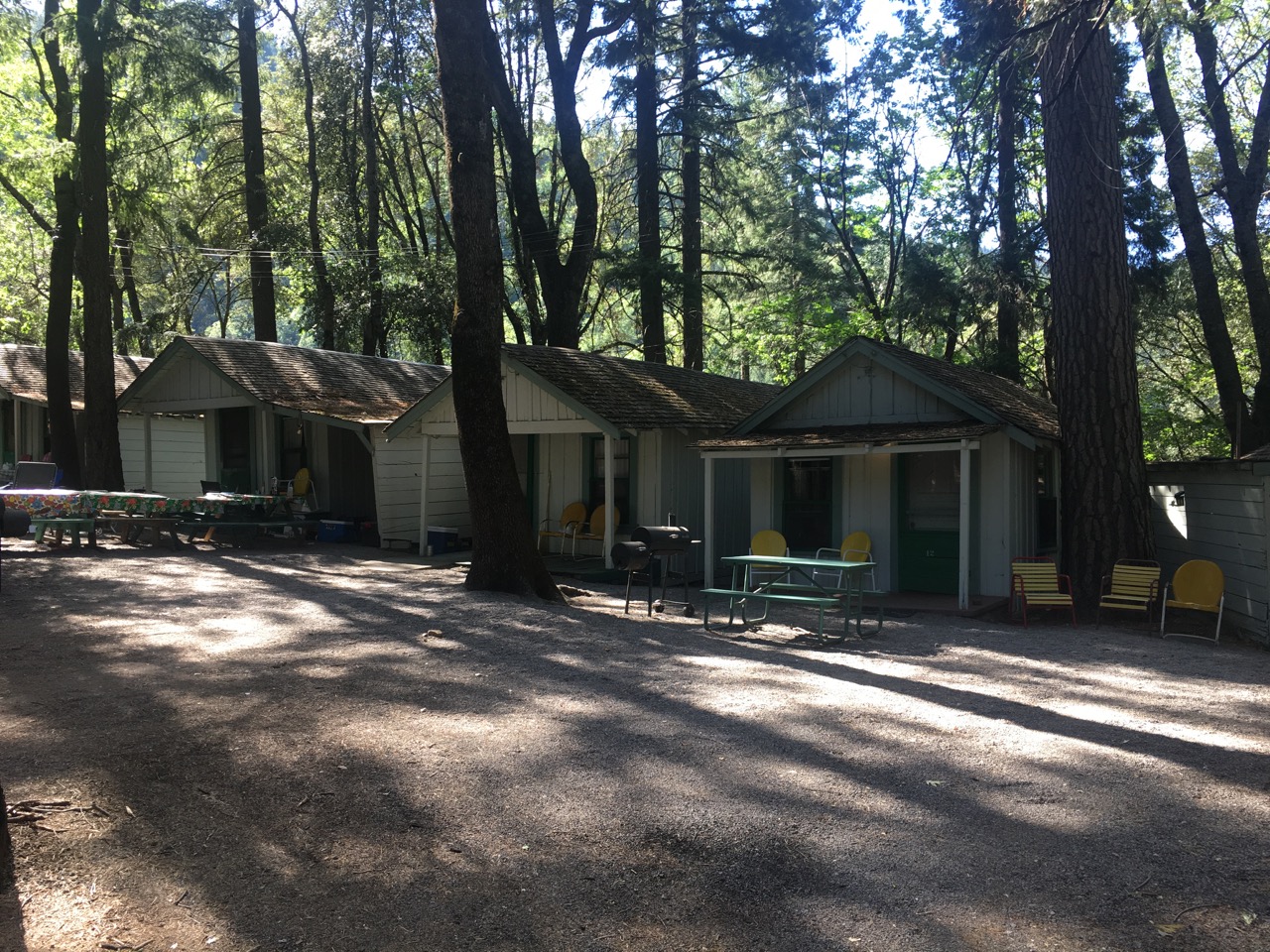 The cabins and pool make this a great place to stay with kids. Quite a few saw my bike and gave me a thumbs up.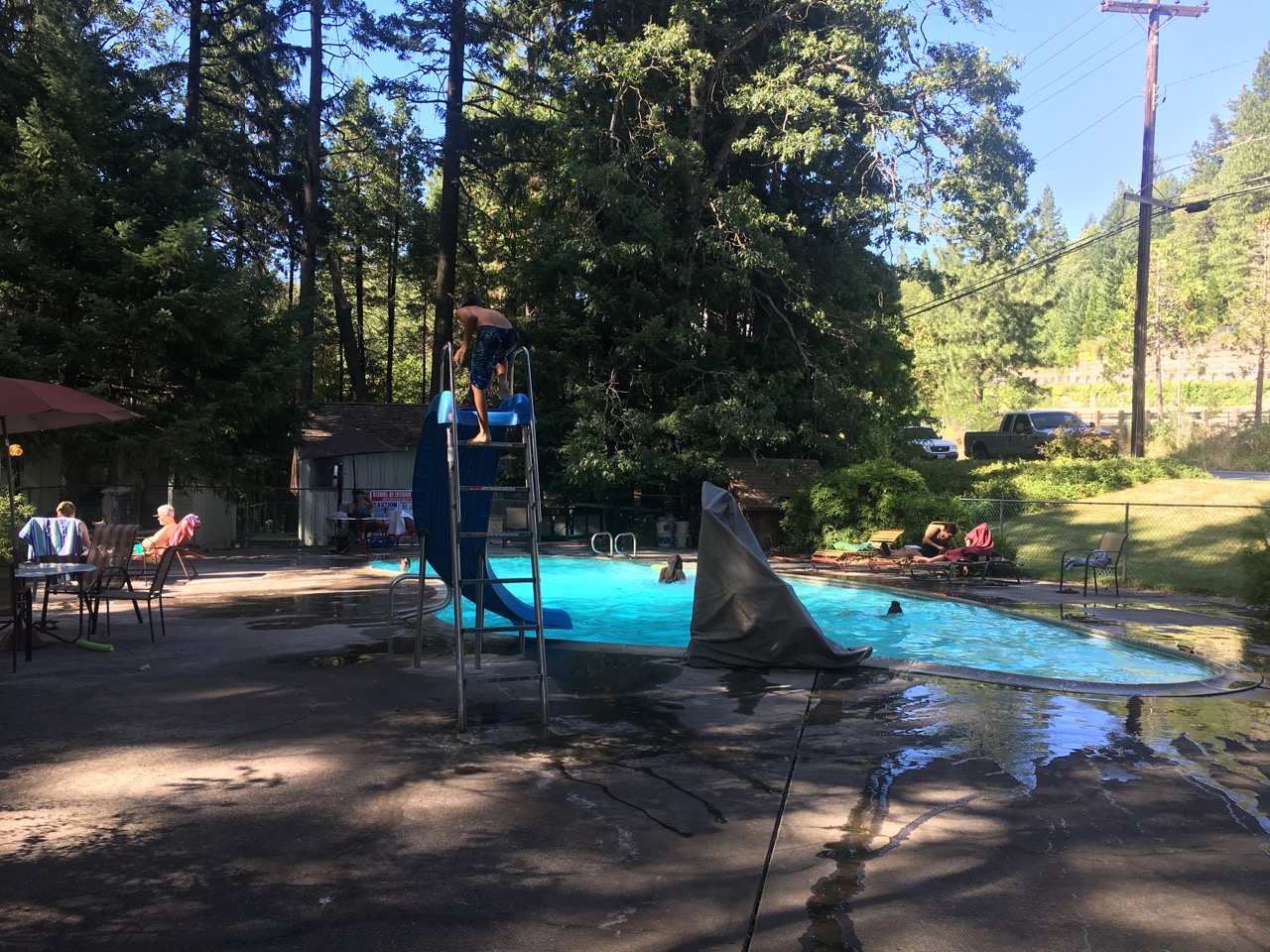 Oh and never underestimate the luxury it is to be able to unload your bike and only have to walk ten feet to your motel room door.
Miscellaneous shots from Dunsmuir. I arrived early enough to explore the town and came across a couple places where a one lane bridge crossed the Sacramento River. What a great day of riding it turned out to be.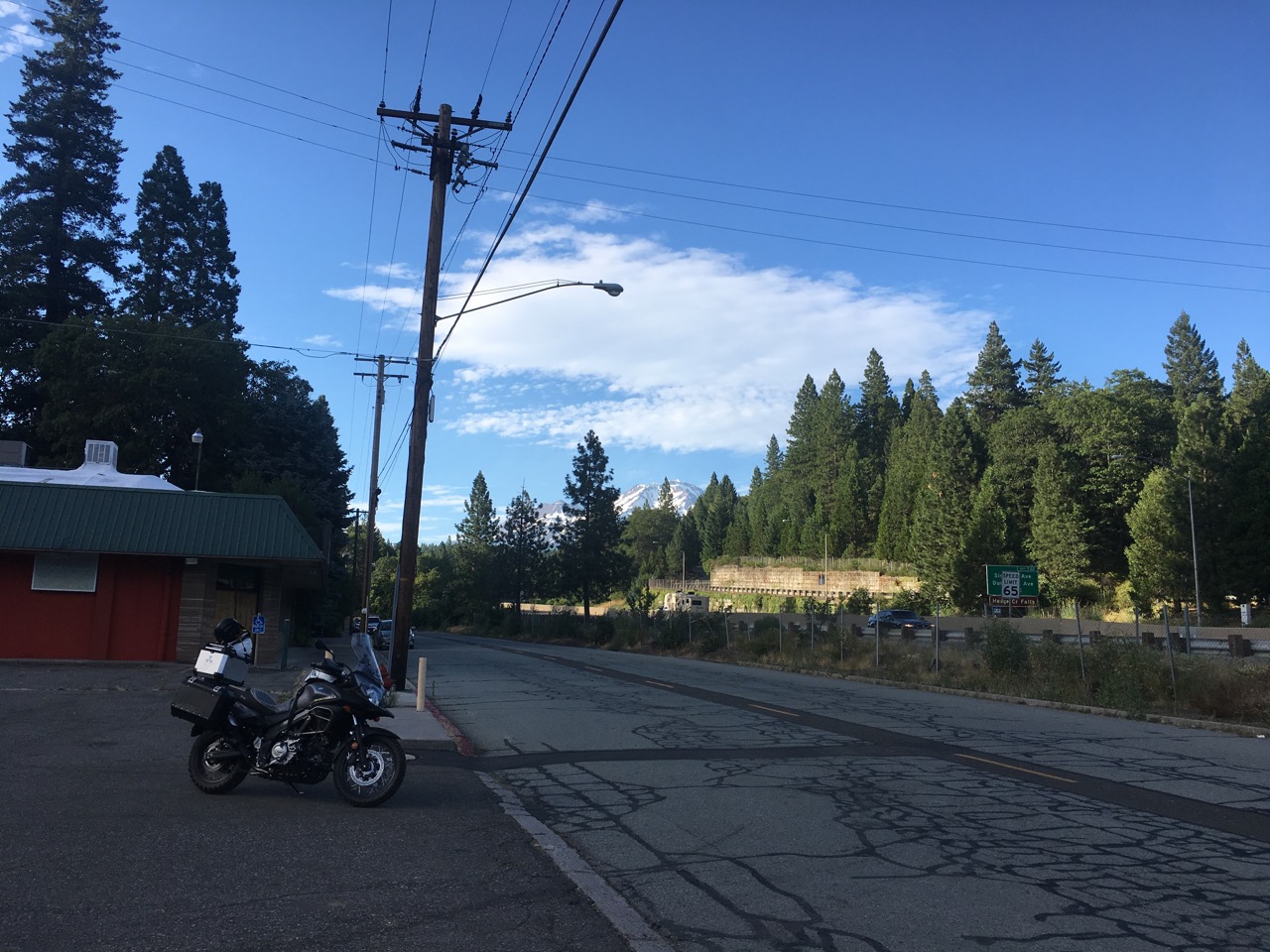 The Sac as the locals call it. Note the fan on my top case. I kind of hoped someone would have asked me what it was for and I would have mentioned it kept me cool on the bike. This is the fan I bought to keep my room at Tahoe cool.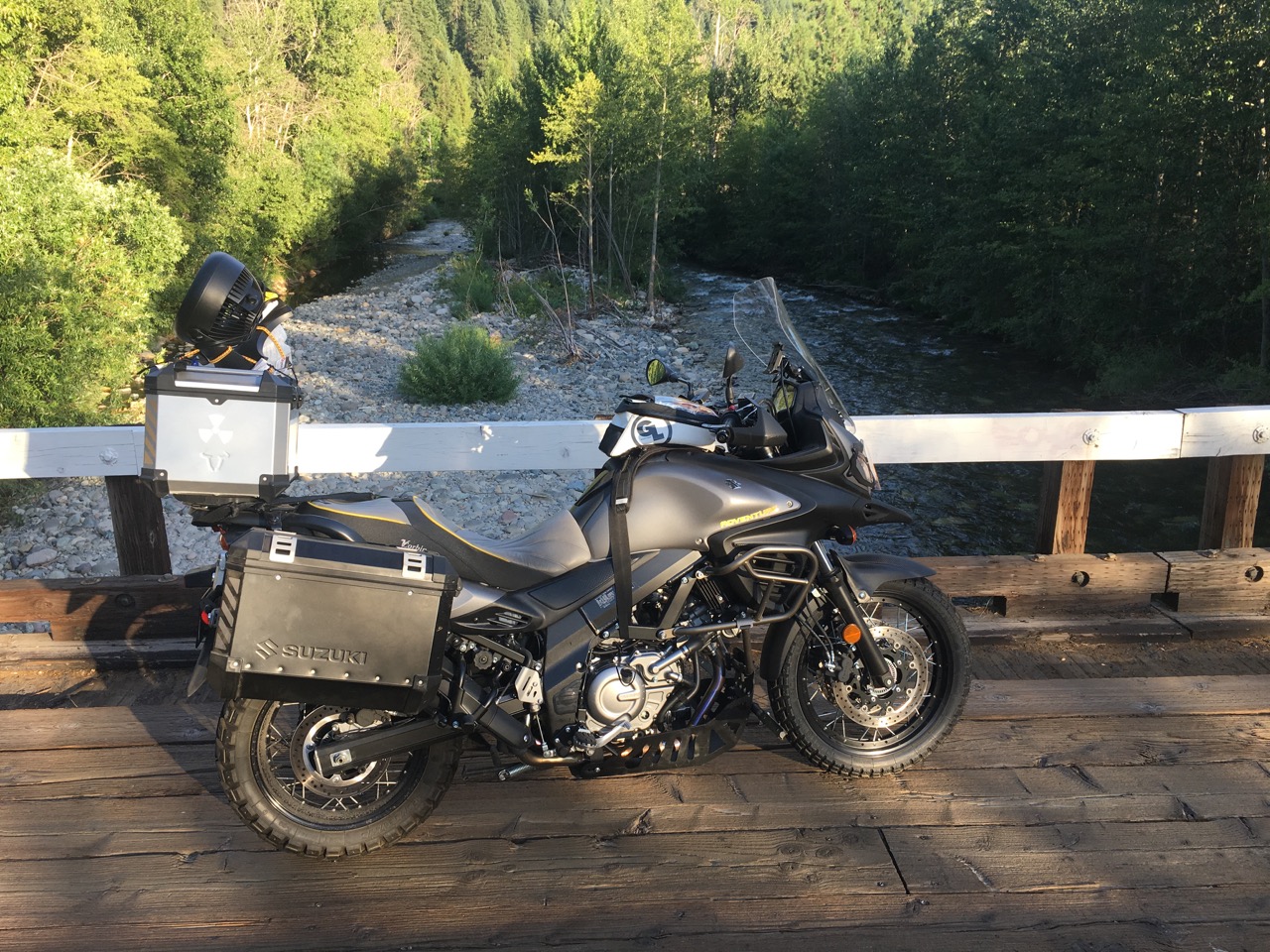 Getting towards the end of the trip but the fun factor was still pegged. Mt. Shasta made a nice backdrop for the mornings departure. I broke my no breakfast rule and ate at the Black Bear Diner in Shasta. I hadn't been for probably fifteen years (I used to drive mom to Palm Springs in the fall and though we didn't stay at Cave Springs, we would typically eat at one of the Black Bear Diners as she always liked their food and setting). So I loaded up on first class ham and eggs and swung a leg over my V-Strom and headed for Oregon.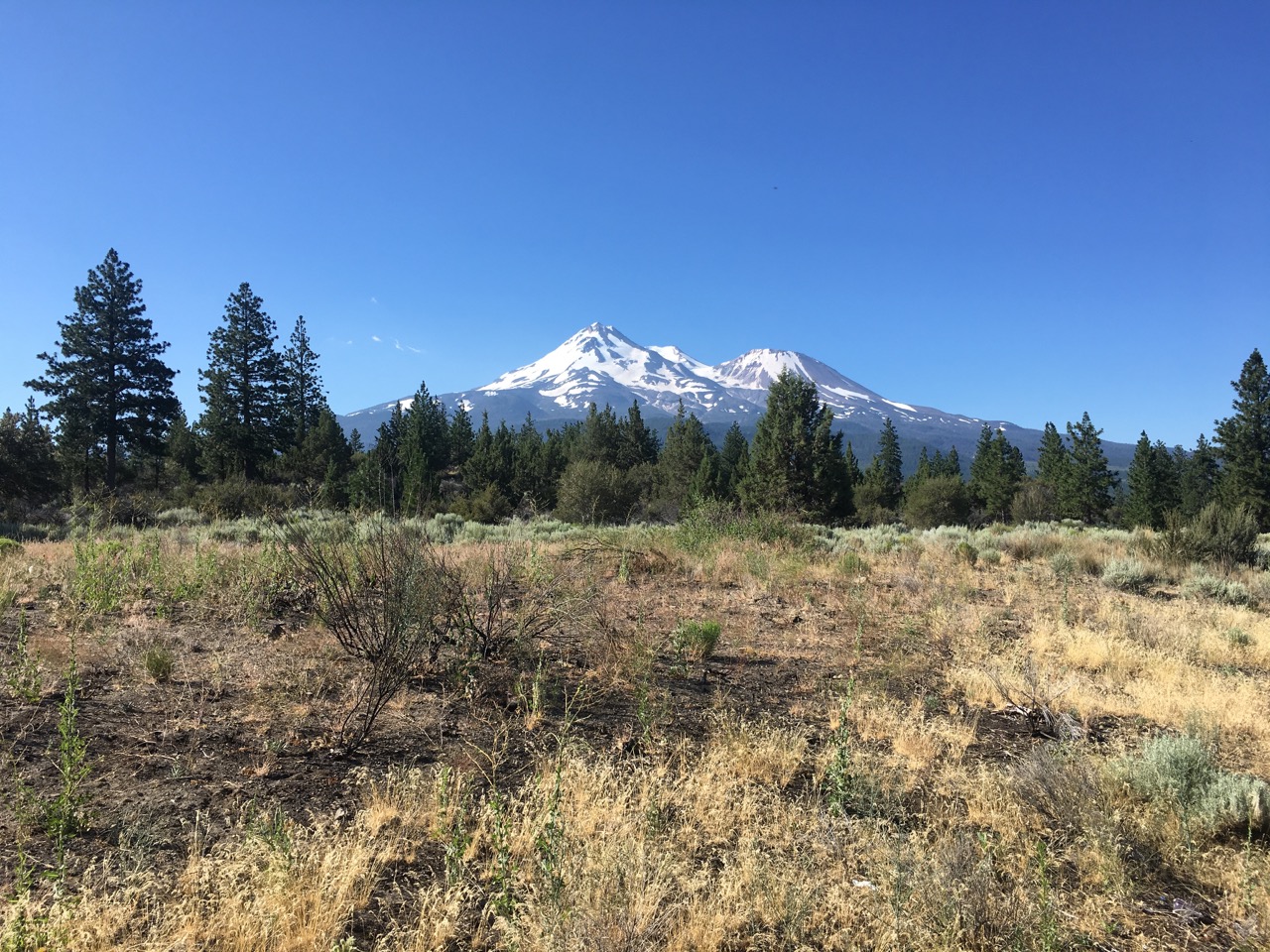 Not sure how the Garmin knew this was coming but I dropped my speed a bit and kept my eyes open.
Odell Lake as I left 97 to make my way up to Oakridge Oregon.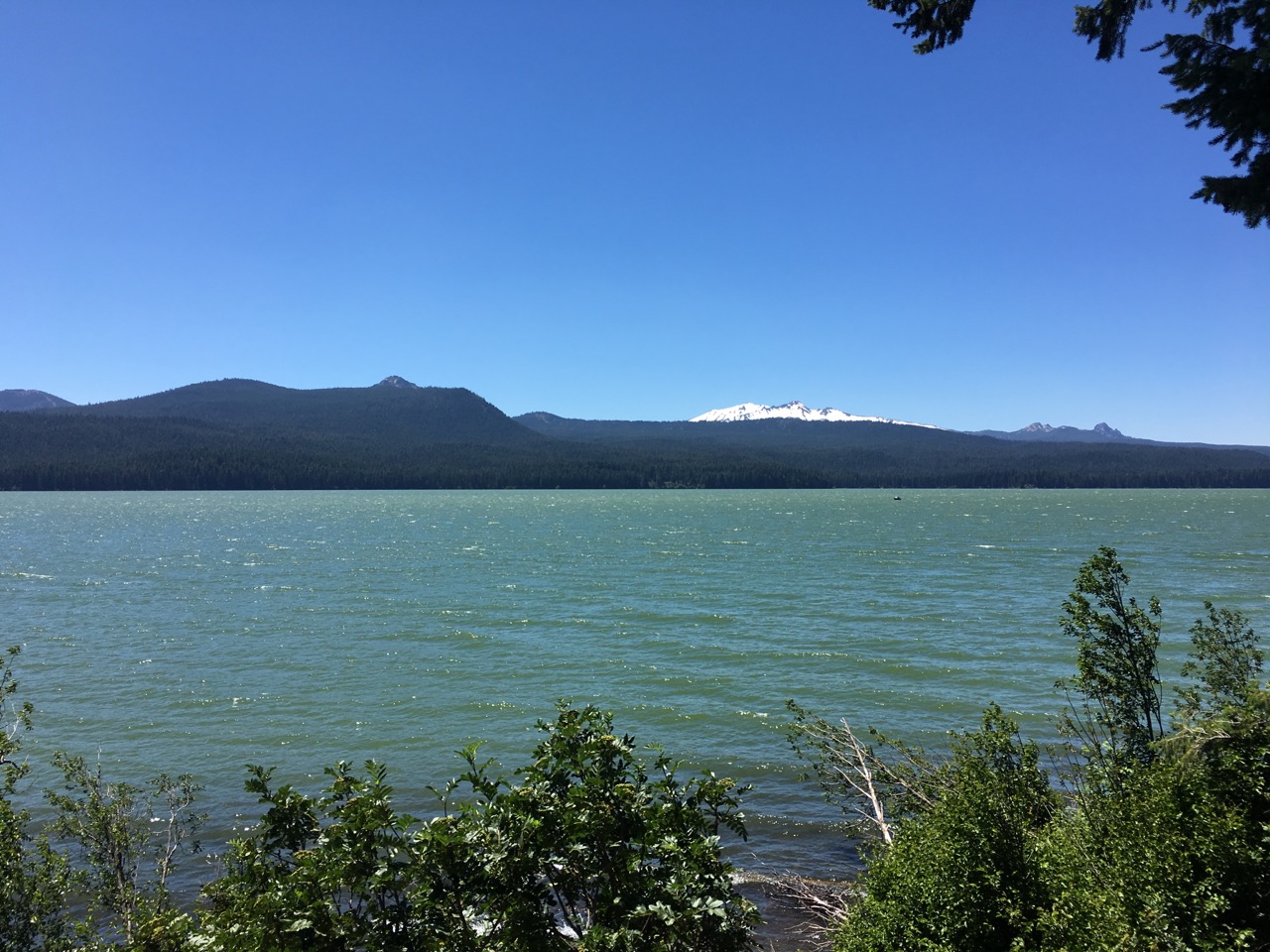 I ended up taking an early night in Oakridge, Oregon. I had planned to ride to Detroit Oregon but I am glad I stayed here. Detroit turned out to be a bit of a tourist town and I may not have round a place to stay. I ate at a local Chinese restaurant in Oakridge where the guy who owns the place sits you at a table as he addresses you in a muscle shirt and shorts. Totally casual and awesome food. This tiny town was big enough to have a Dairy Queen so I followed my not so healthy dinner with a less healthy dessert.
Here is a lousy picture of Salt Creek Falls. Do a google image search to see how it looks if you don't mind hiking 1.5 miles to a better viewing spot. I guess I got in a hurry. I often wonder why I don't get better pictures on trips like this even though I tell myself to. I think part of it is that I tend to be in a bit of a hurry but it can't be that simple. I think I get caught up in the moment and the scenery is so majestic that images in my mind will suffice. I am not supposed to say this again but I will, Oregon is beautiful and worth a ride.
Given that I arrive in Oakridge at only 3:00, I had plenty of time to kill. I checked out the town and came across the ubiquitous air strip that is so common to so many small towns.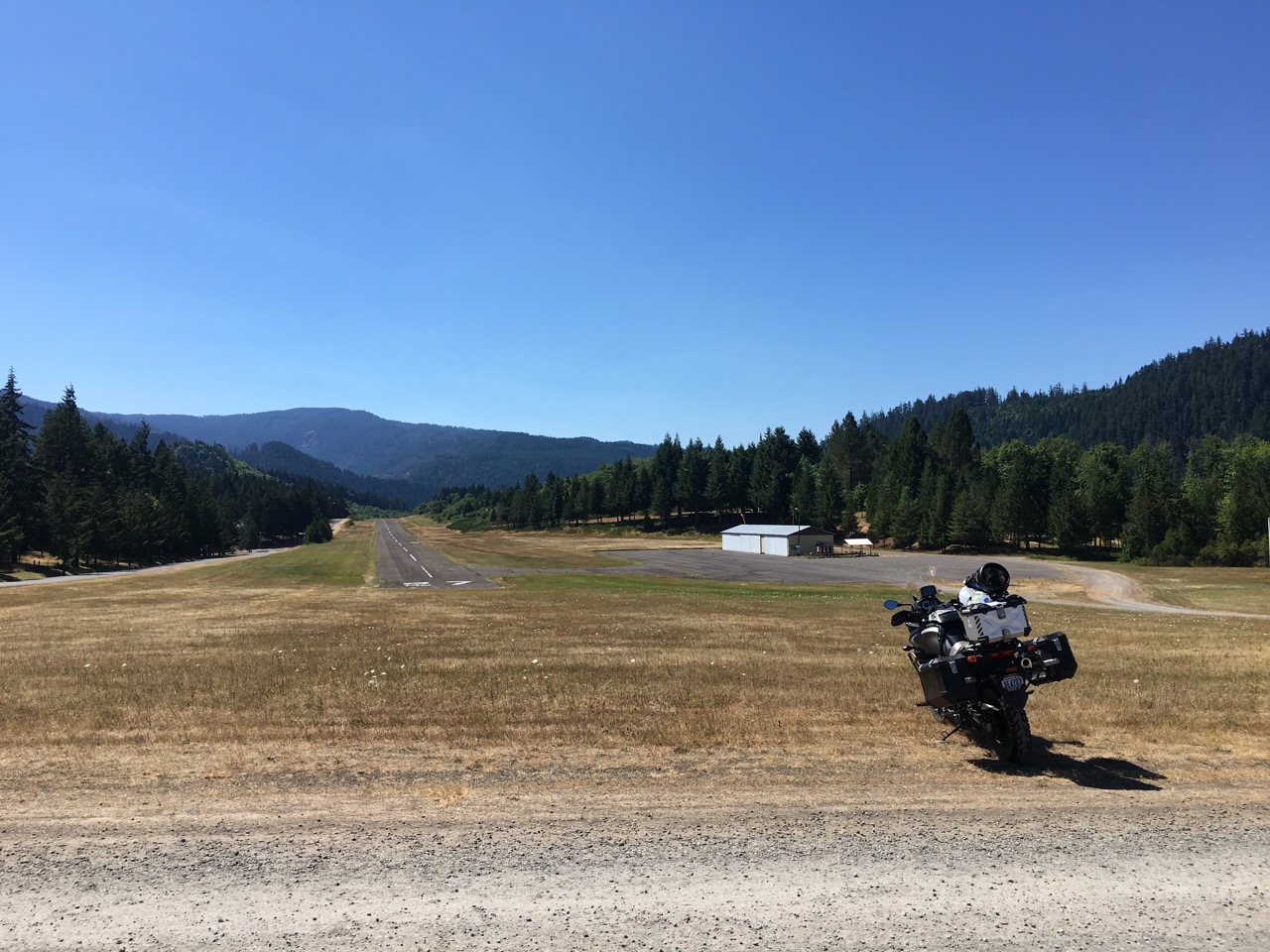 I left Oakridge the next morning on yet another Scenic Byway. This road runs pretty much due north to Estacada and to Sandy where I spent my final night.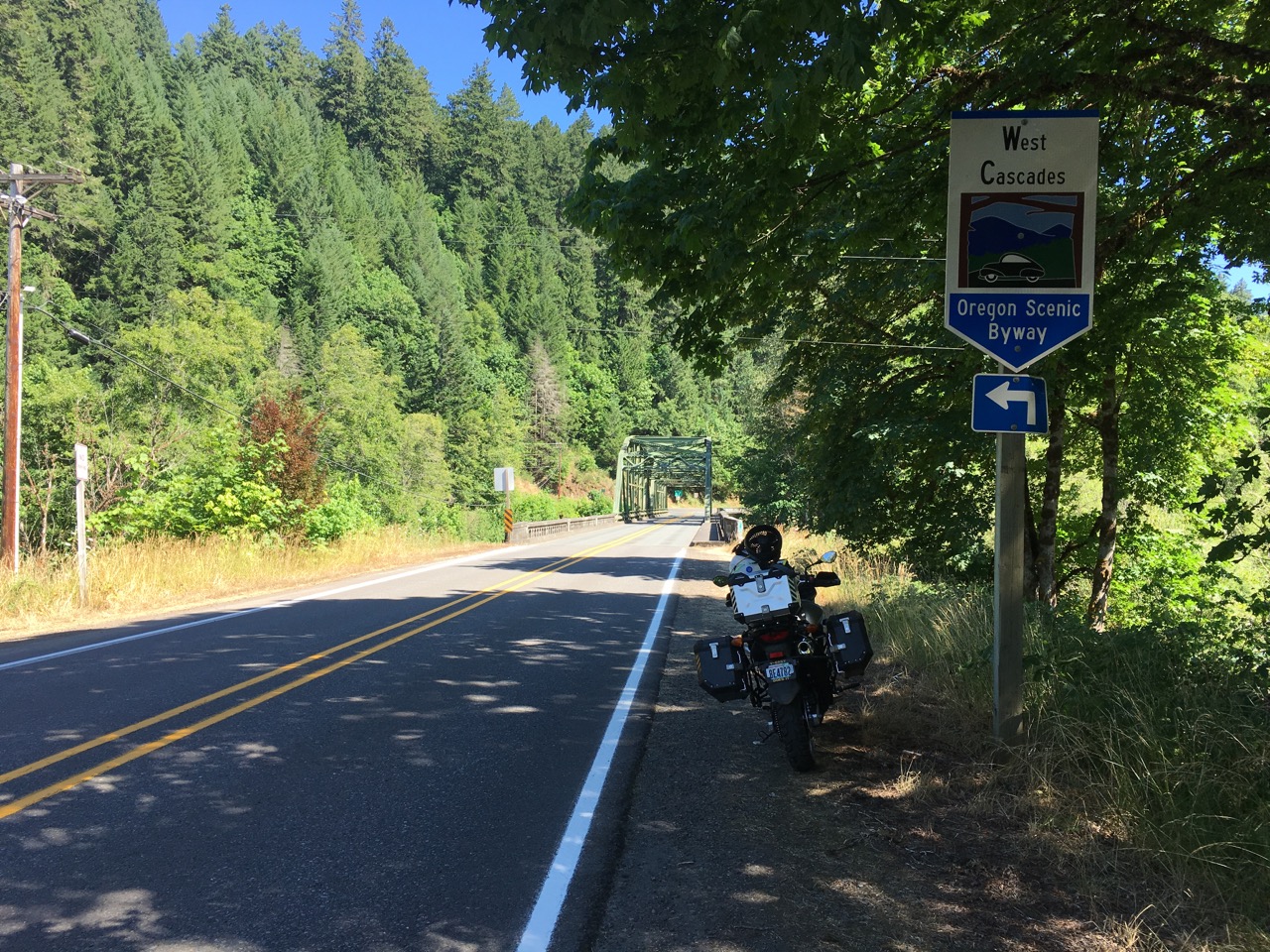 This, I believe, is the Mackenzie river. I think that blurred object is my left glove. I like the photo as the way the glove is angled it makes it look like a weapon held in the first person shooter game Unreal from about 15 years ago.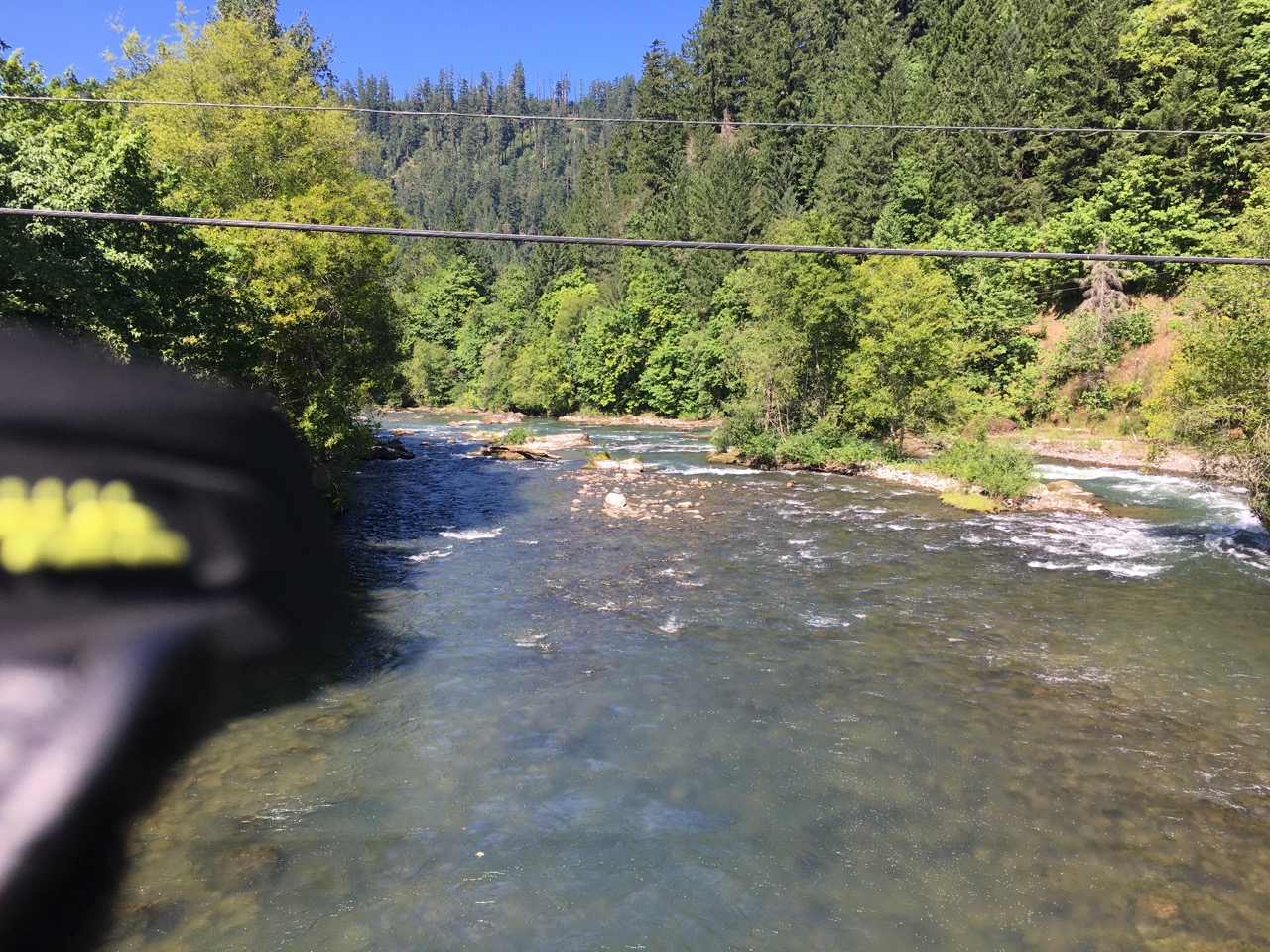 I have never seen covered bridge in my life but on this day I rode through two of them. Pretty cool.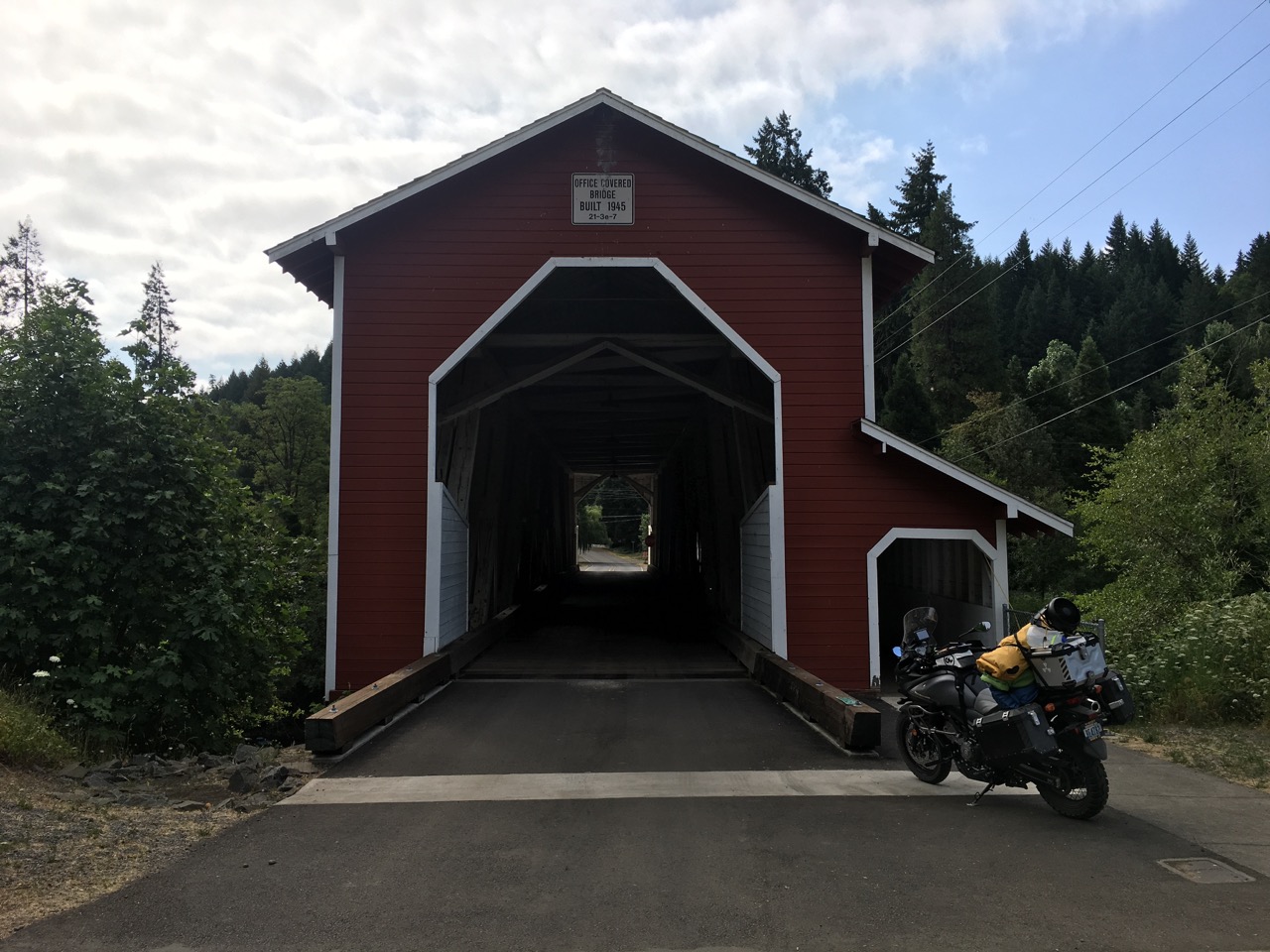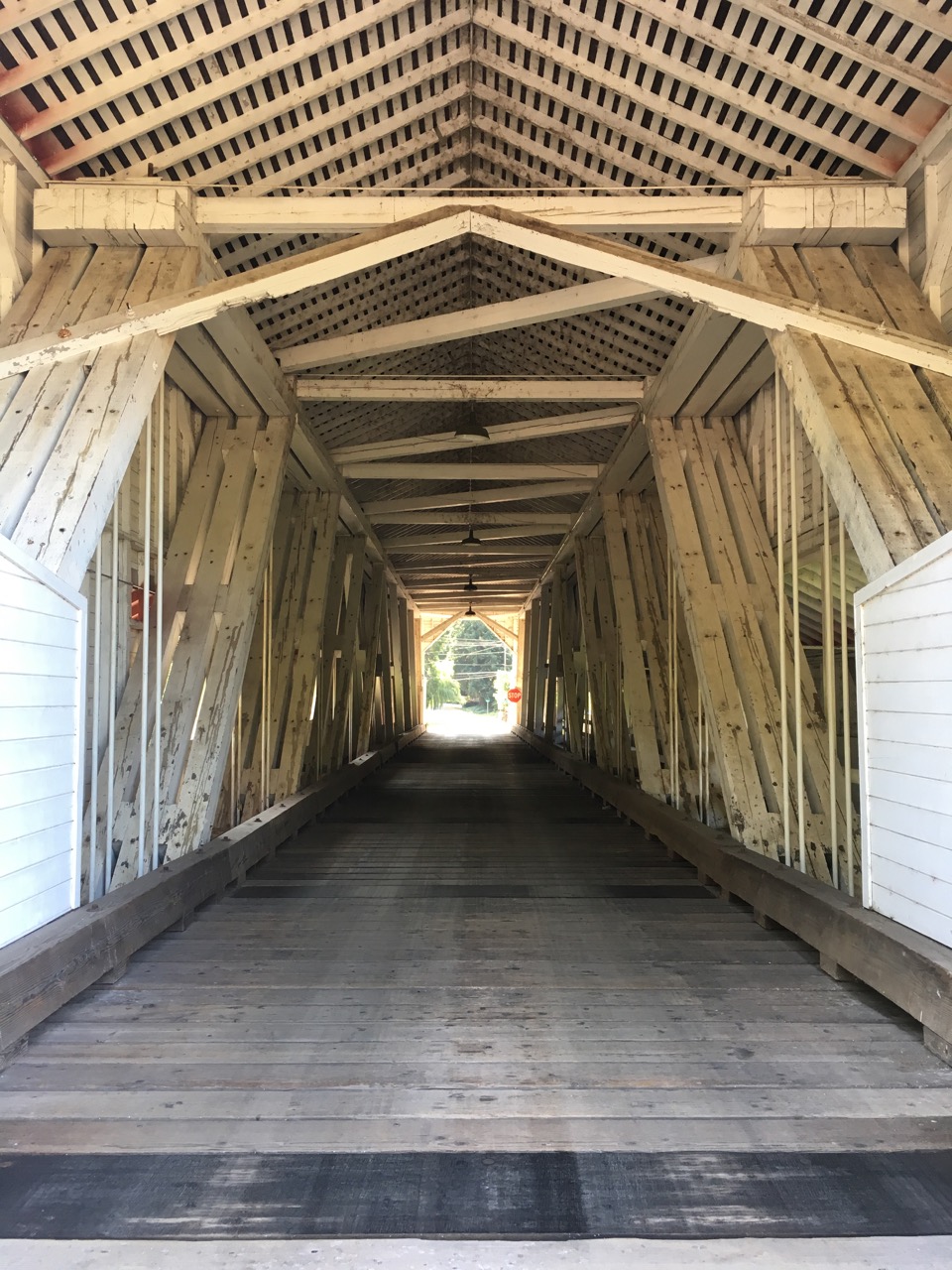 Today, while not the final day, was the last full day of riding areas I had never been. North out of oakridge was a nice, if a bit rough, two lane road through forest. It was like this all the way to Detroit. From Detroit you ride a similar road that is also like this into Estacada. From there it was ten miles to Sandy which is about twenty miles East of Portland. Yet another awesome ride.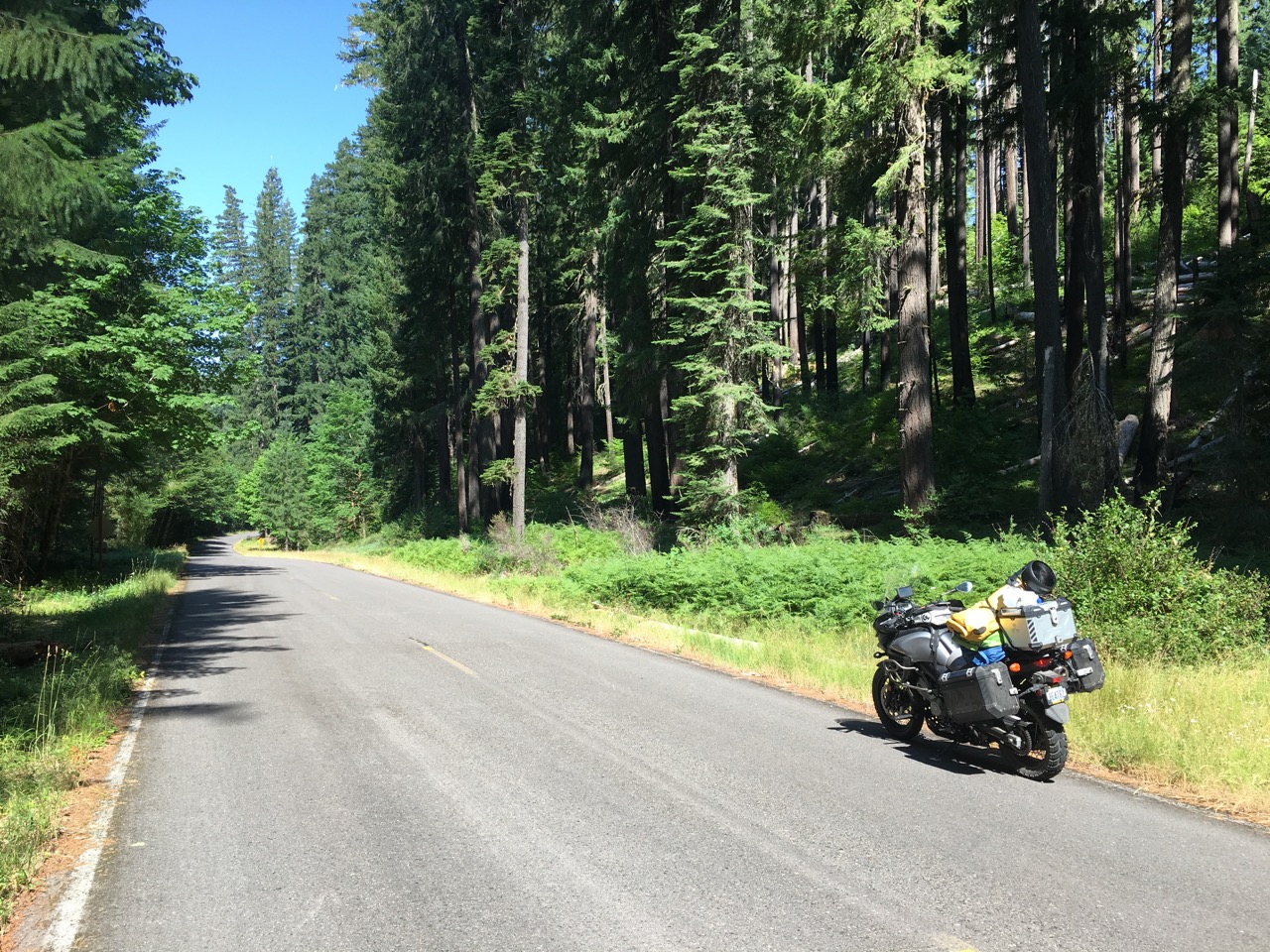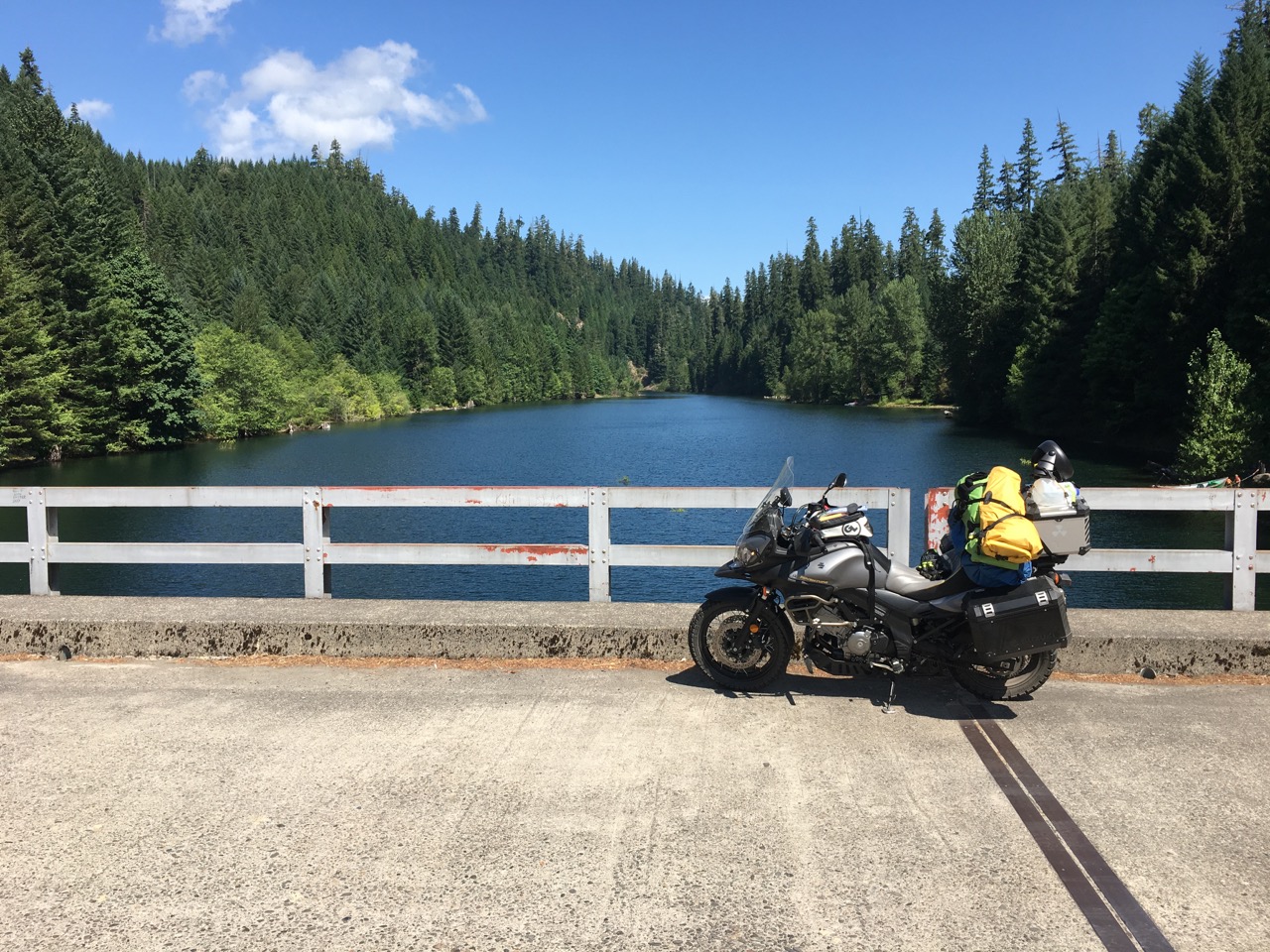 Near Cougar Dam and reservoir lies Cougar Hot Springs. The actual name is Terwilliger but everyone calls it Cougar. Clothing optional which I don't do but couldn't care less about others desire to do so. But since there were a few bare booties in the area, no photos taken.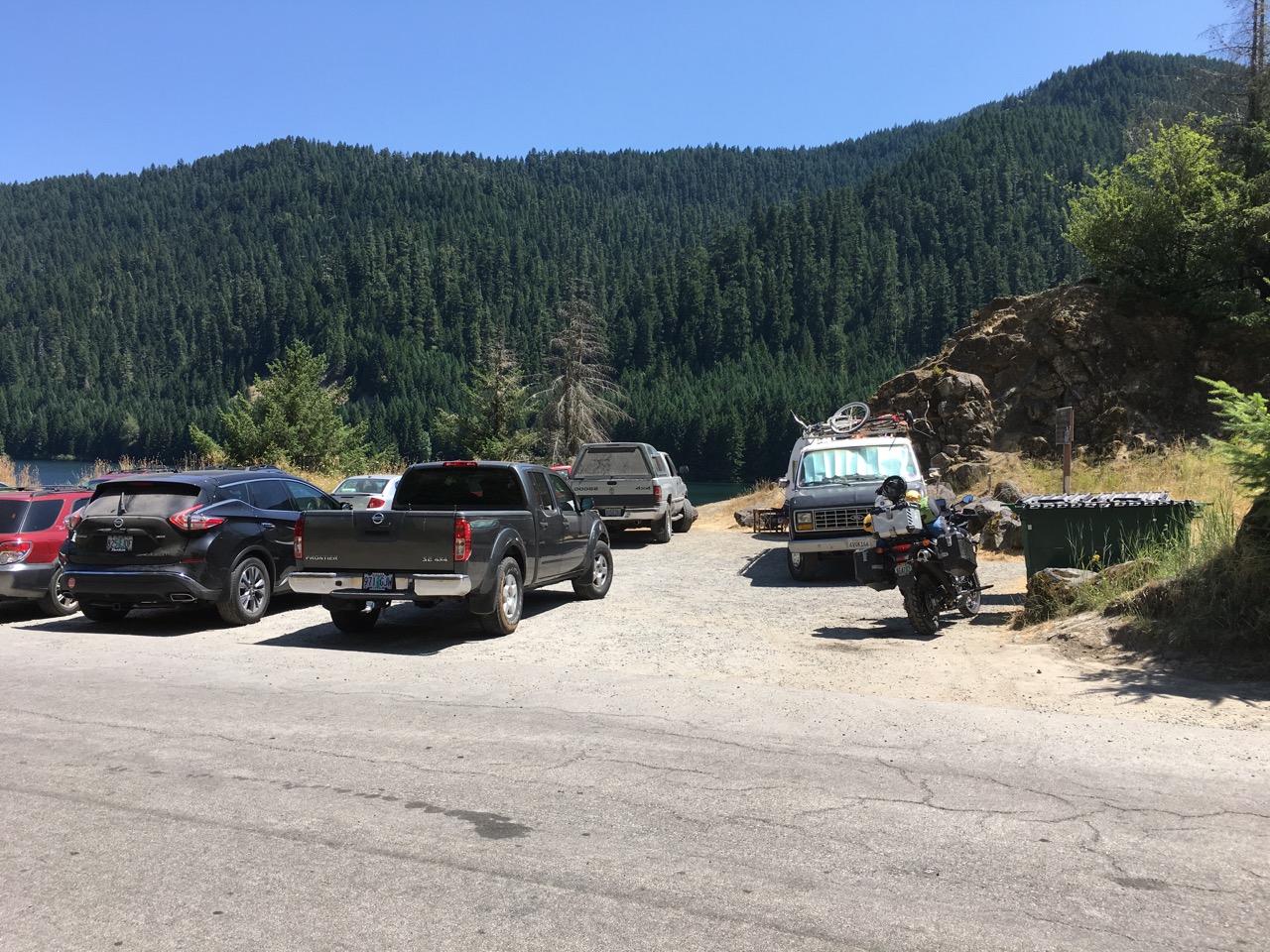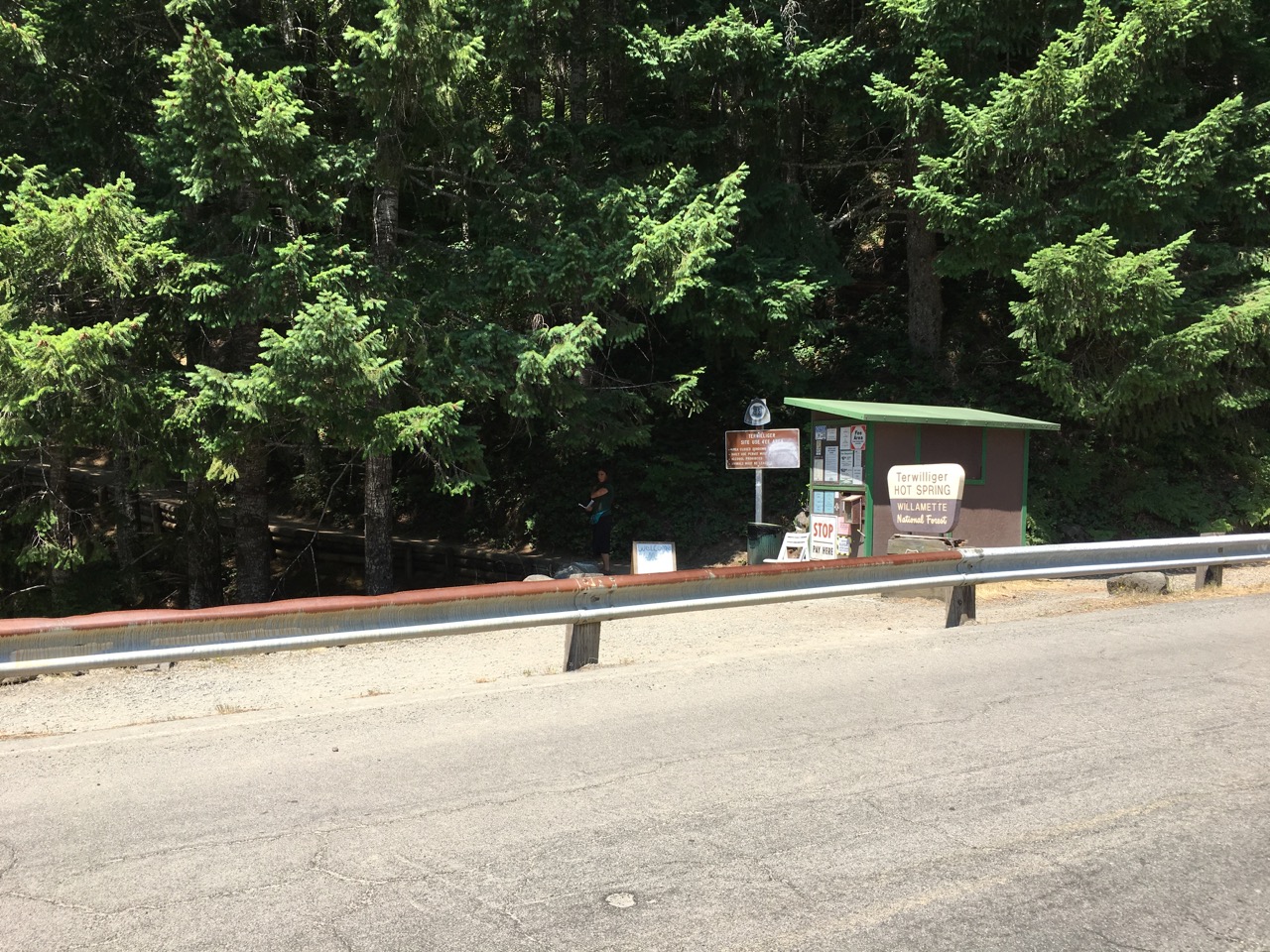 Backside of the dam. Bike is beside the chain link fence on the right side of the image.
That second covered bridge.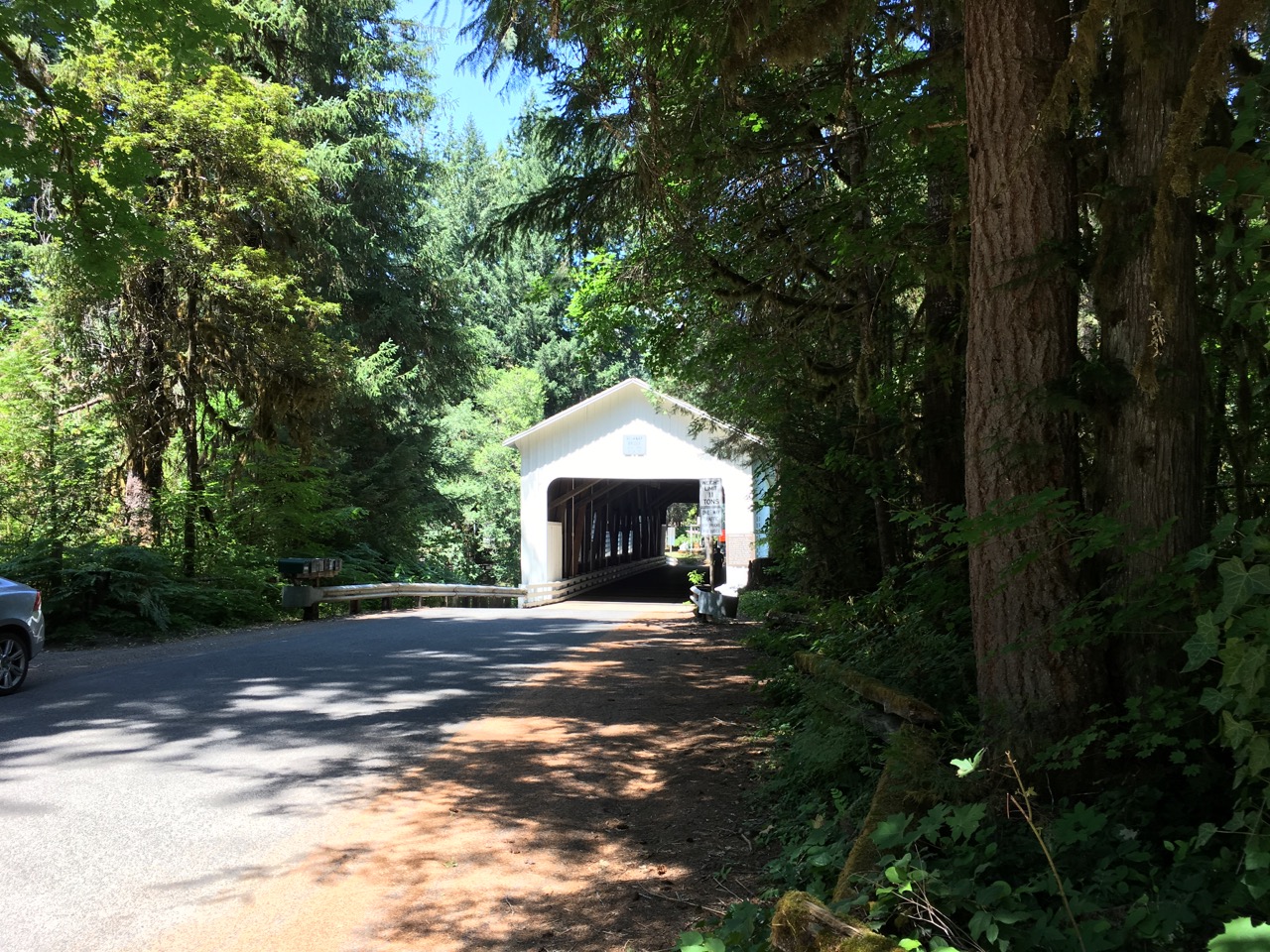 Another waterfall. This one is Sahalie on the Mackenzie river. Next time, don't break your good camera. Place it on a tripod. Use a 5 stop ND filter and a two second shutter speed. Stupid.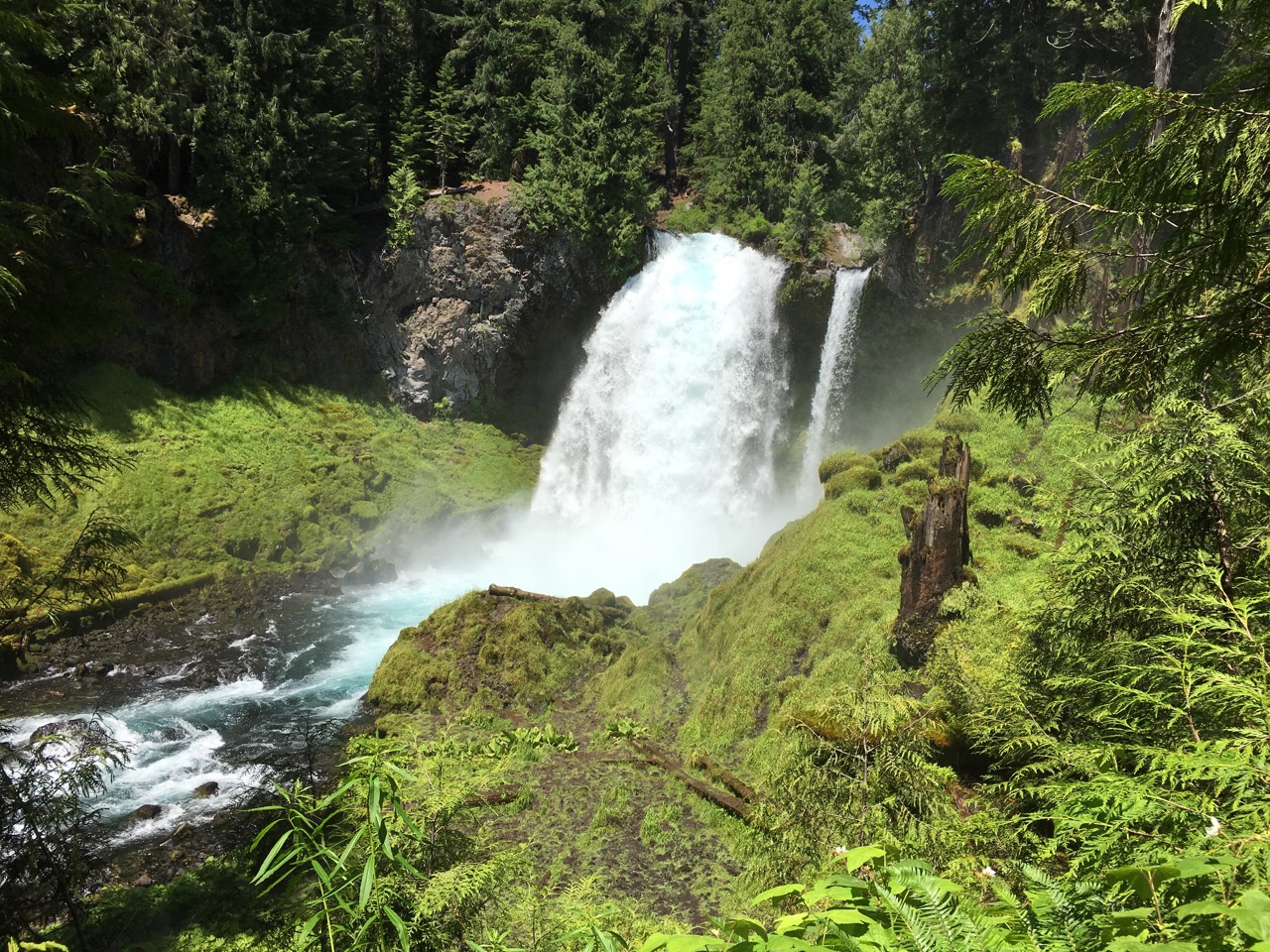 More basalt lava flows.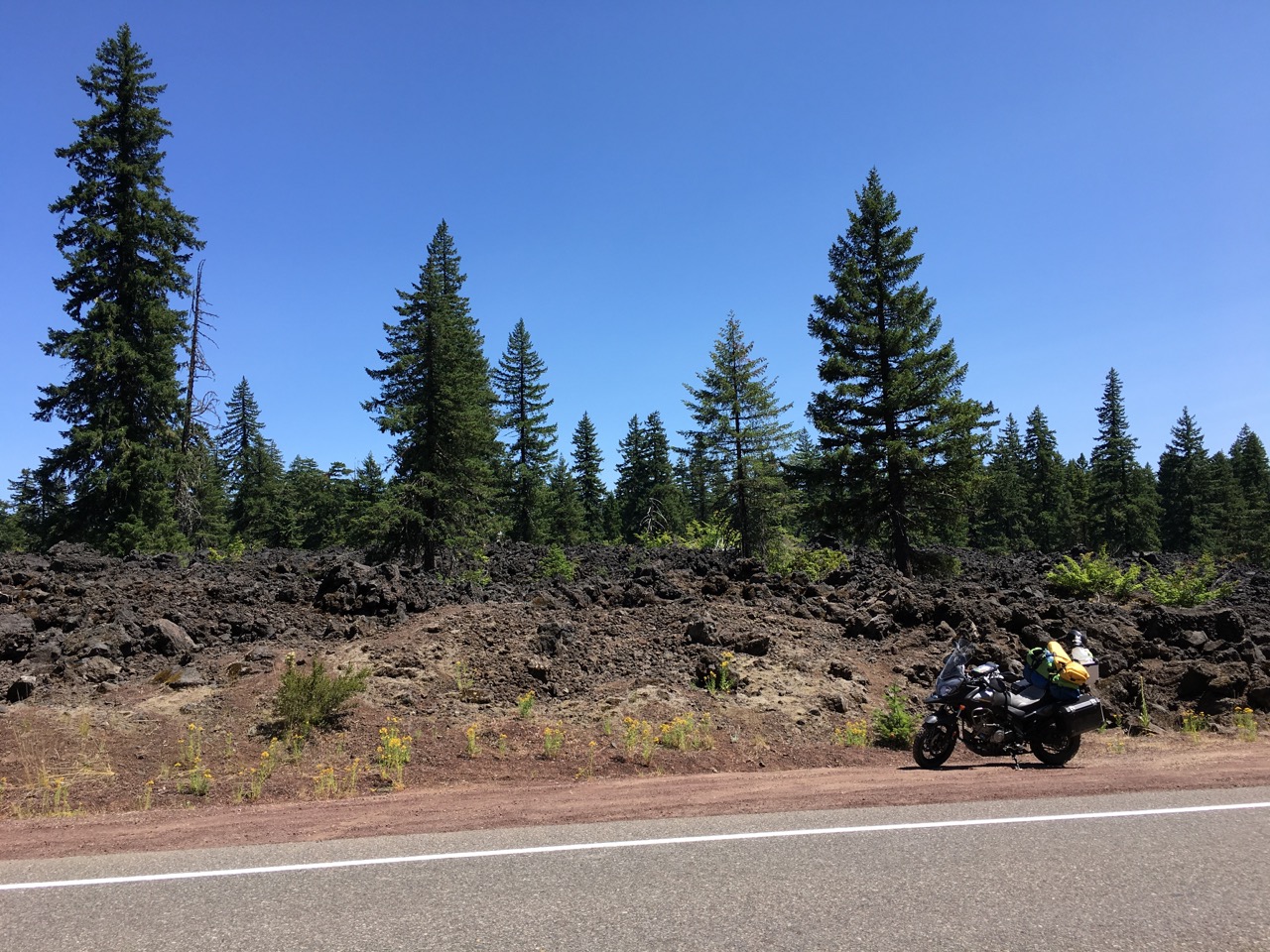 So many times I stop and ask a local if there is a good place to get a photo of a local site that is worth photographing. So I asked the lady at the hotel I stayed in in Sandy if such a place existed for Mt. Hood. The afternoon light was fading and a morning image would be backlit. I had really hoped she could make a recommendation but based on the past twenty years of experience, I figured she would say no and look at me like I was an alien from outer space. Given that I ride a motorcycle I get that look a lot and had come to expect it. Her reply, "Oh sure. Just make a left out of our parking lot and make a left on Bluff road. After only a mile or so you'll come to Jonsrud viewing point." I couldn't believe it. She had actual, specific directions to exactly what I wanted to see. Of course if I hadn't broken my good camera and could have shot with something other than a 5mm lens I could have gotten a much better photo. But still, this one made my day.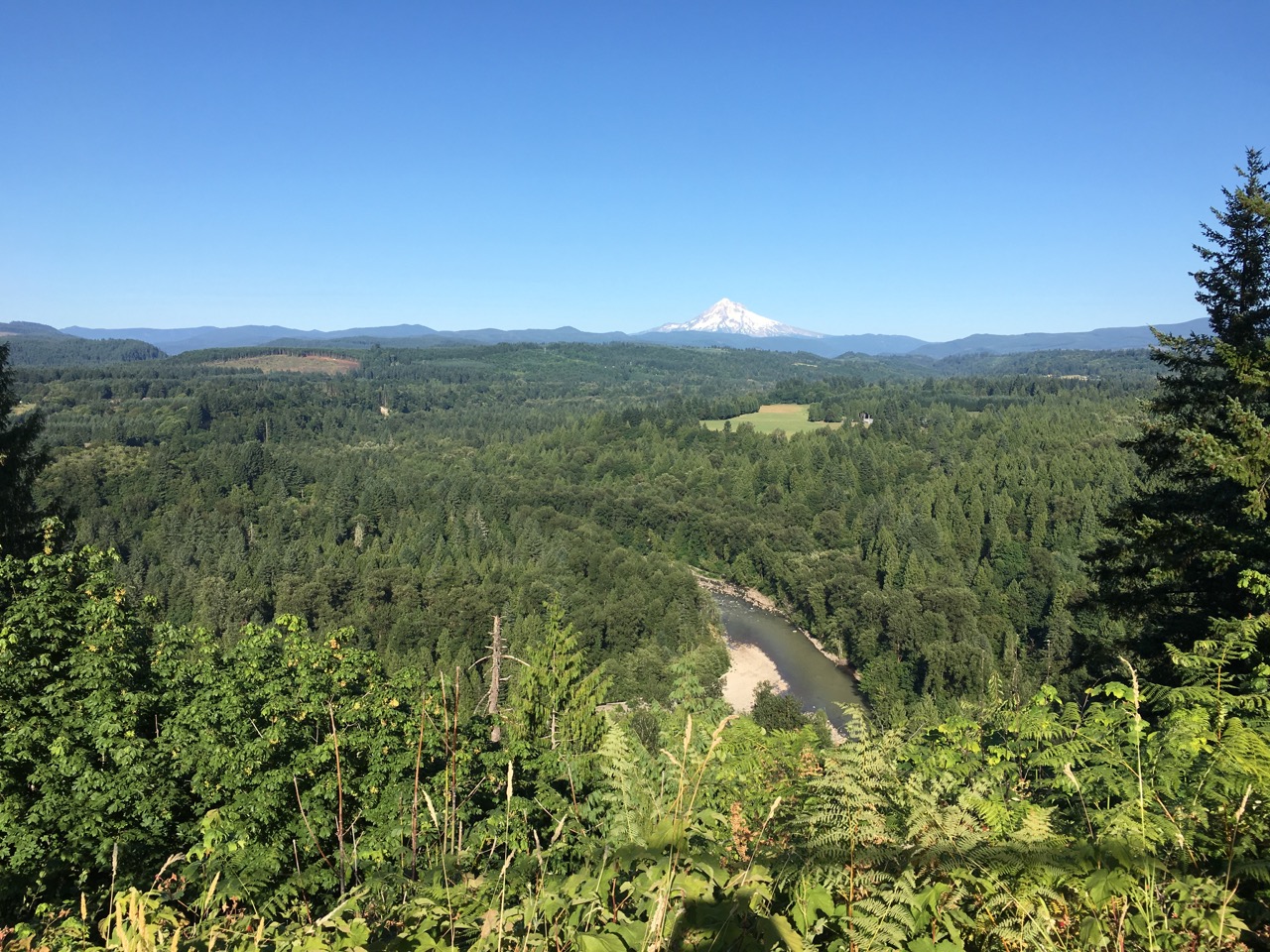 A decided a second night of Chinese food was in order. I haven't found a good place in Spokane so I decided to max out while I could. The next morning was a cool one with temps in the 50's. The mesh gear had me a little too cold but by the time I would make it to Hood River the temp would rise from the mid 50's to the upper 60's and then to the 70's by the time I got back to Eastern Oregon and Eastern Washington. I looped around the spectacular Mt. Hood and reminded myself how lucky I am to live in the pacific northwest with so many sites to see. I may repeat portions of this trip in early September when the kids are in school and the temps a little cooler. Final picture of the day. After Mt Hood, the scenery got to be pretty familiar so I didn't snap any more pictures.
So get that hydration vest, fill your camel back and hit the Sierra and Cascade ranges this summer. And don't break a nice camera just because you don't want to set a $90 camera case on the ground. I still can't believe that . . .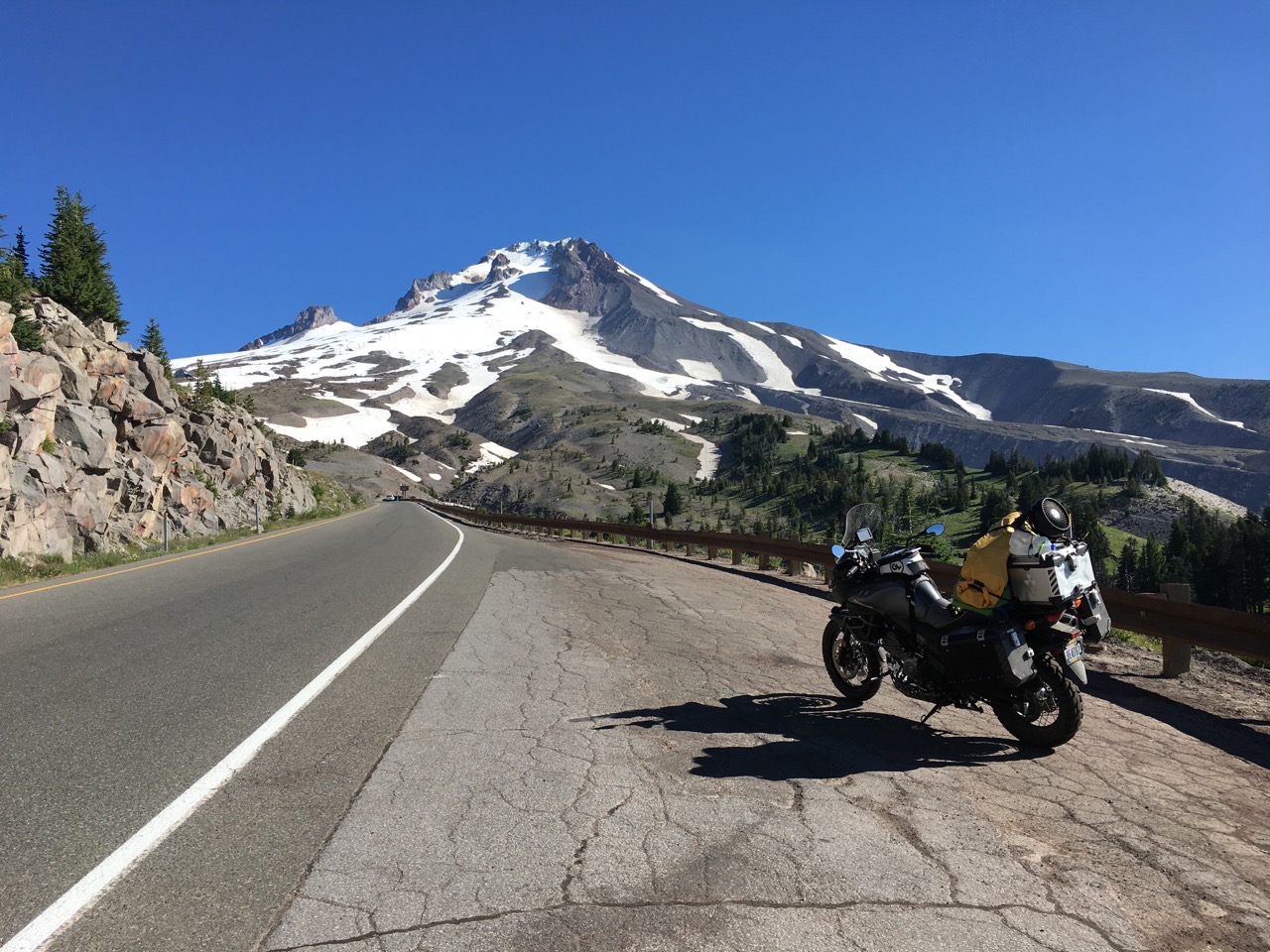 NC
Stromthusiast!
Join Date: Sep 2016
Location: Helendale CA
Posts: 894
Thanks for posting. As you may recall, I was just a couple days ahead of you heading in the other direction.