Blanding, UT to Yellowstone and Back.
---
Dottie and I left on the 650 for Yellowstone yesterday. If our old bodies hold out this will be a 10 day trip. Hopefully so as we have motel rooms reserved. Our destination is Chico Hot Springs, just north of Yellowstone where I've been before. Great old hotel and hot springs pool and hopefully still great food.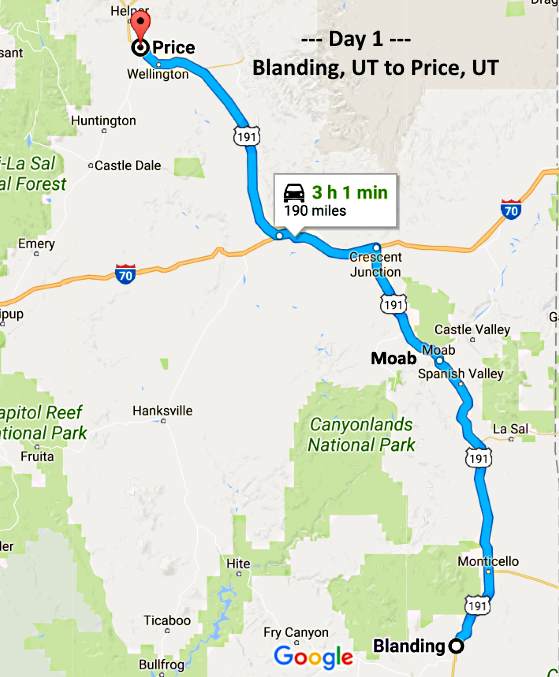 We are trying to take it easy with 200-250 mile days and trying to stay off the main roads. We left Blanding about 1 in the afternoon yesterday ...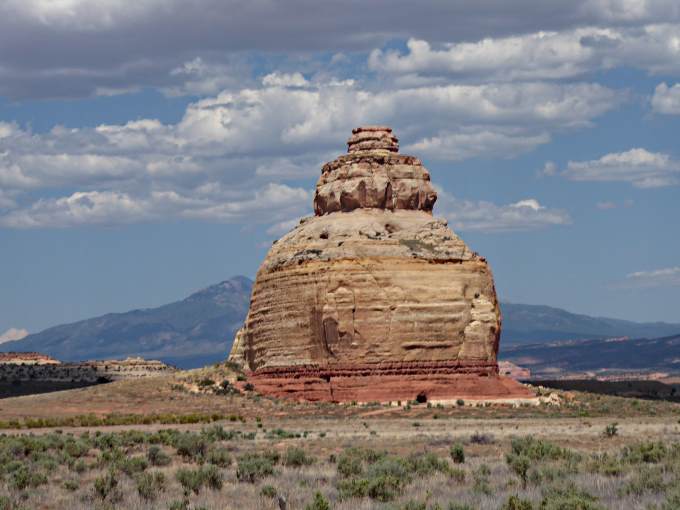 .... and went past Church Rock about 45 minutes later.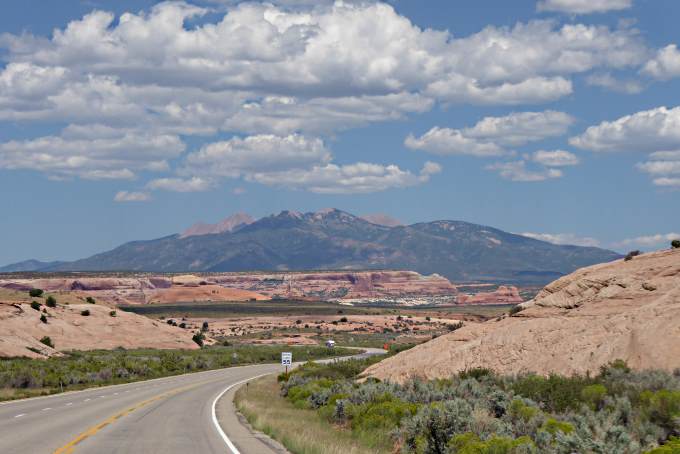 Just past there we were treated with better views of the La Sal Mountains that are by Moab.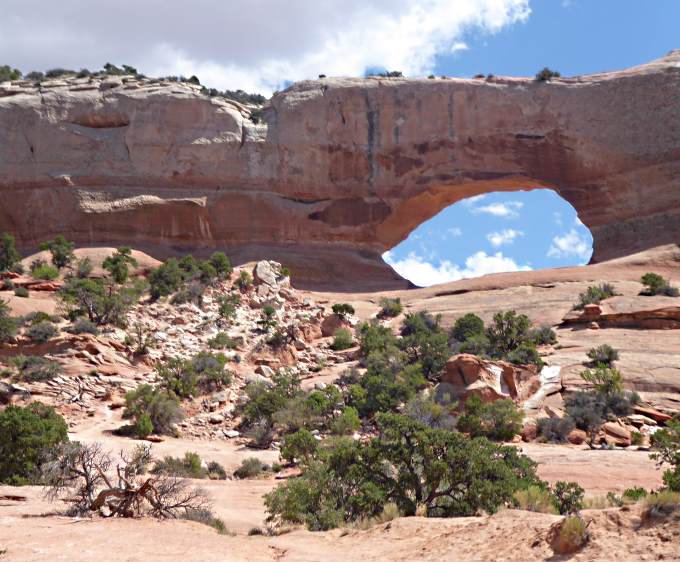 We passed Wilson Arch just off the highway. A Moab pilot flew through this arch some years back.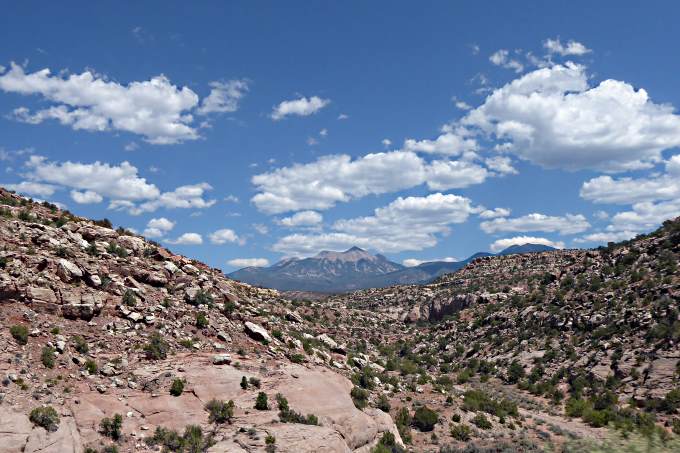 Closer to Moab.
Then up to I70 and west to ...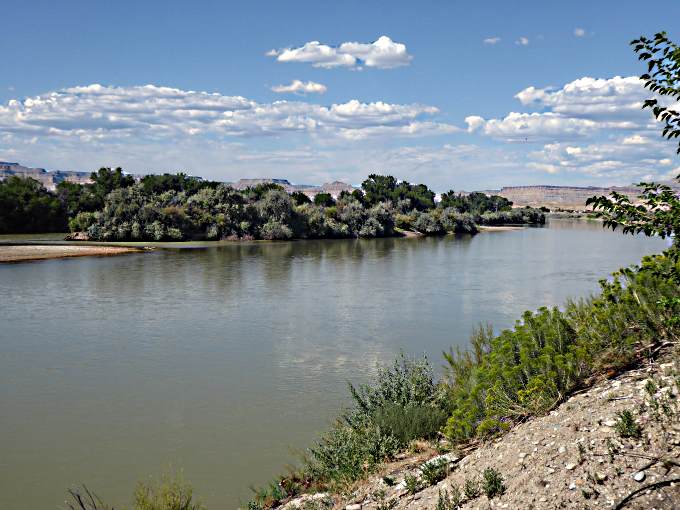 .... Green River, UT for a stop at the Powell Musuem there. Just out of Green River we headed north on 191/6 ...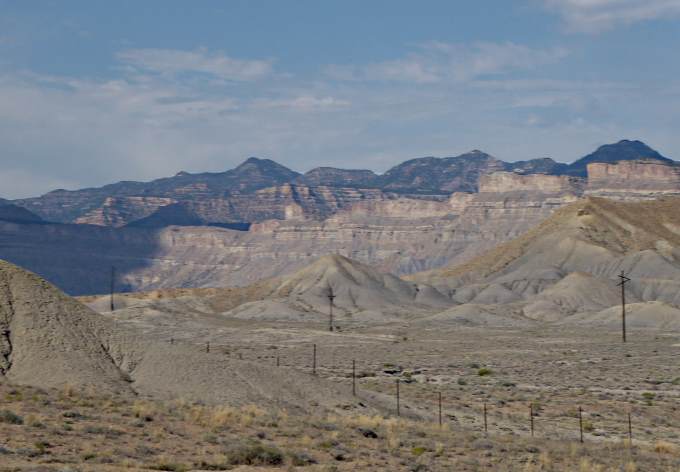 ... and our motel in Price, UT.
Today it will be up 191 through Vernal to Flaming Gorge Resevoir where we took the sailboat last year...
http://1fatgmc.com/boat/mac-1/2016%2...p%20Index.html
... and then NW to Lyman, Wy for the night.
If I can, I'll try and post as we ride along,
Sumner
---
Our Bikes -- Suzuki DR200SE and DL-650

Our Home Pages -- Google 1FATGMC

Visit us if you are near and stay safe .... Dottie and Sumner
---
Last edited by Sumner; 08-27-2017 at

09:26 PM

.
Stromthusiast!
Join Date: Sep 2016
Location: Helendale CA
Posts: 894
Outstanding!!! Looking forward to your updates.
Day 2 --- Ride from Price, UT to Lyman, Wy.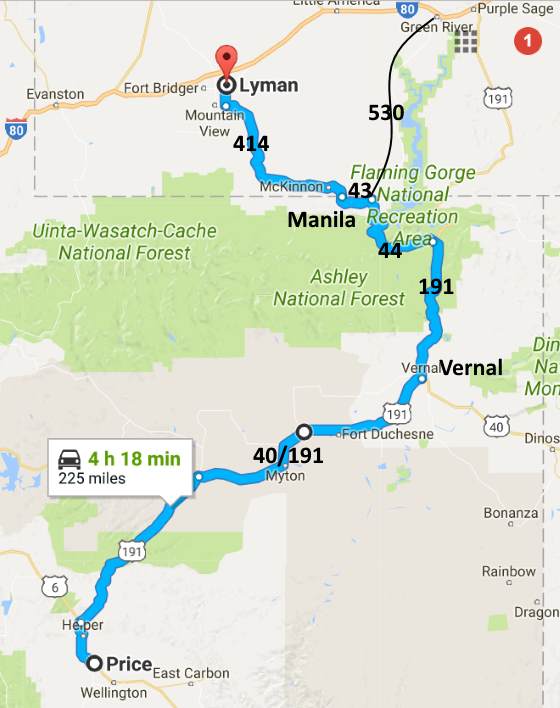 The days route above.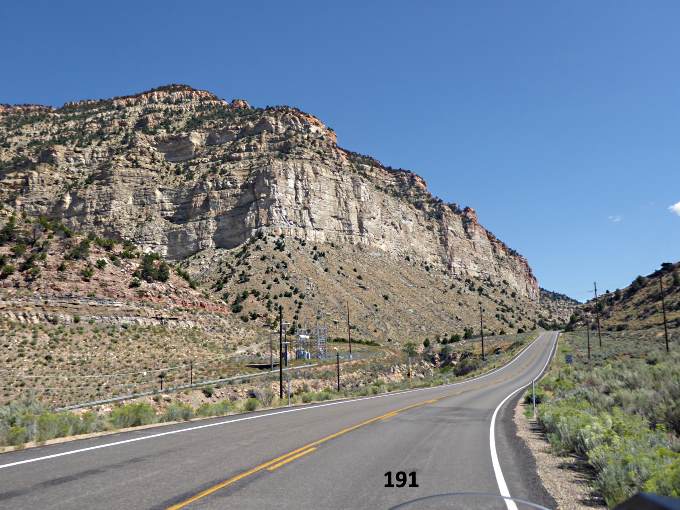 Just north of Price, 191 left Highway 6 and we rode and climbed, and climbed, until 191 finally peaked out at over 9000 feet.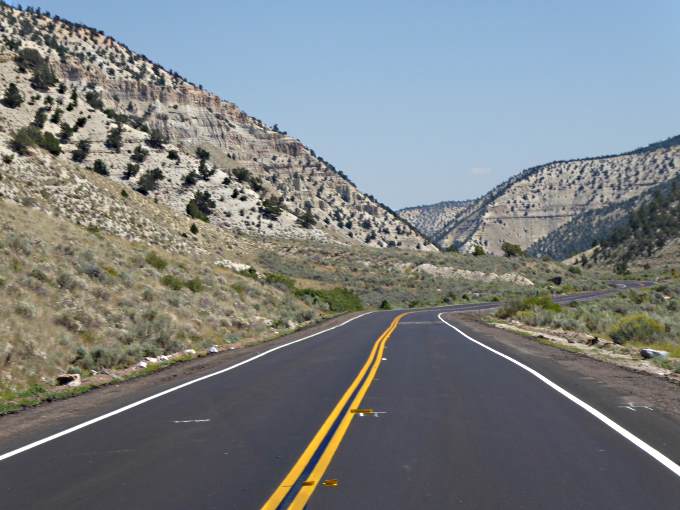 Then we started the descent to where 191 joined Highway 40 and we rode east on both to Vernal, UT. 191 to 40 was a great ride. 40 east was a ride and ...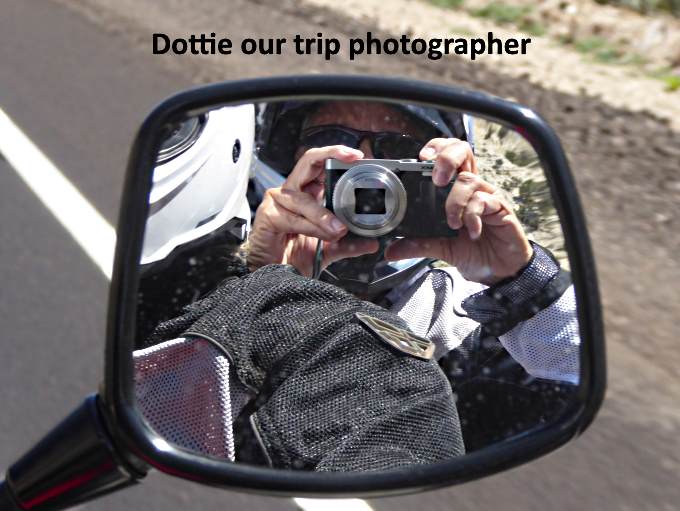 ... Dottie as always was busy with the camera!!
We had lunch in Vernal and it was good to get inside with air conditioning. It was a hot day once we got down onto 40.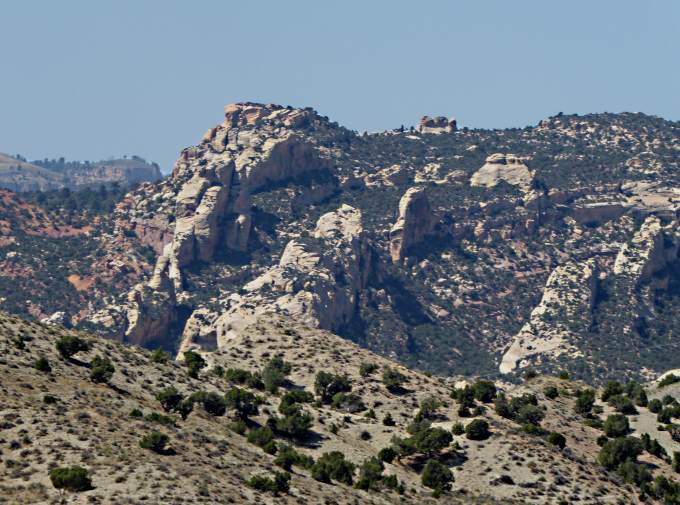 In Vernal 191 leaves 40 and heads north. We rode north and once again were climbing with the help of switch-back after switch-back. The road took us over the the eastern flank of the Uinta Mountains, the only mountain range in the U.S. that runs east-west.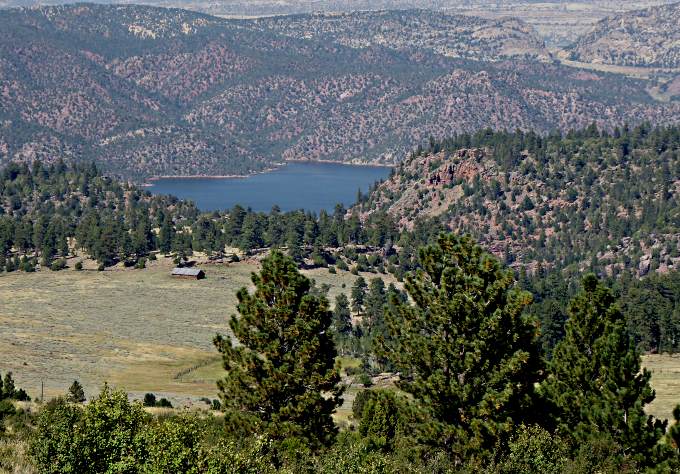 191 had been paralleling the Green River canyon to the east and finally started dropping down to where we got our first glimpse of Flaming Gorge Reservoir, which is formed by a dam on the Green.
We stopped at a great view area on the west side of the road. It was neat to see the same stretch of water we had sailed and motored through the year before. We had anchored then...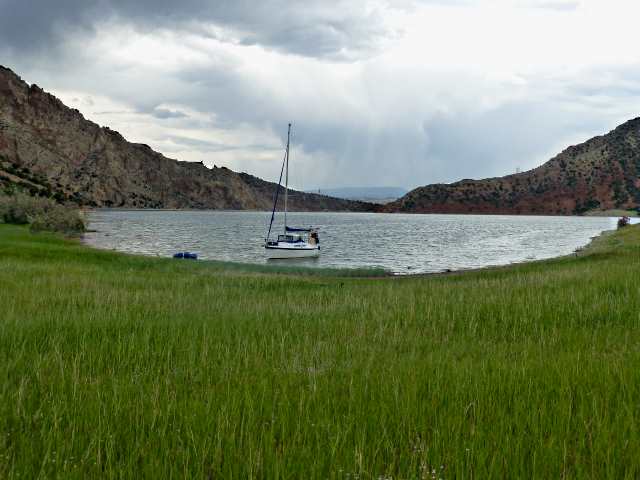 http://1fatgmc.com/boat/mac-1/2016%2...ge-Page-8.html
... in the small cove shown above.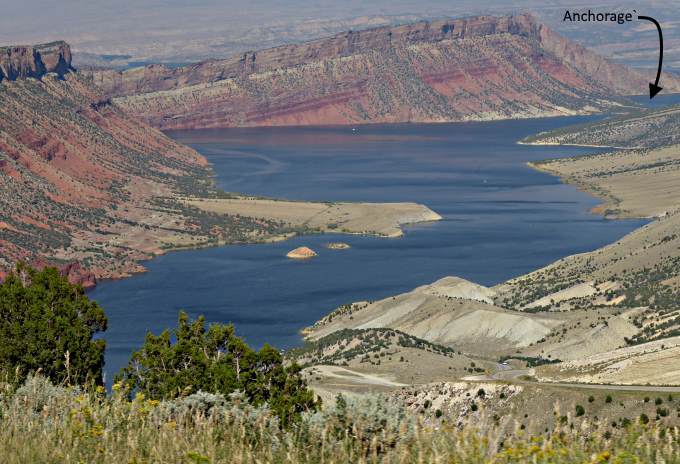 The cove is in the upper right corner of the view above, that Dottie took from the view area.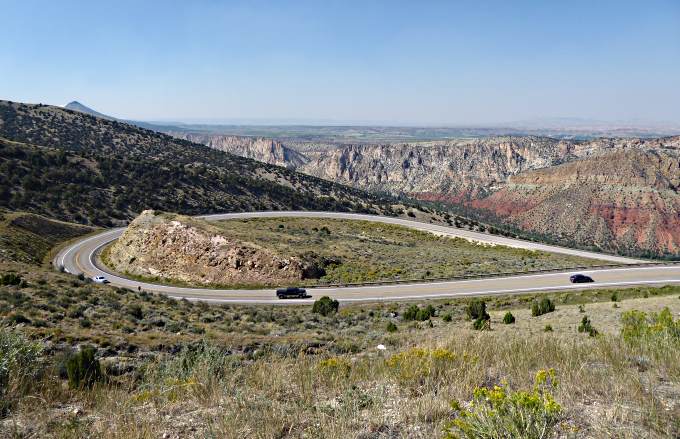 Once past the view area the road begins dropping to near the lake level by a number of switch-backs. Once it reaches the valley floor it head towards the notch you can see in the distant ridge-line just above the switch-back above.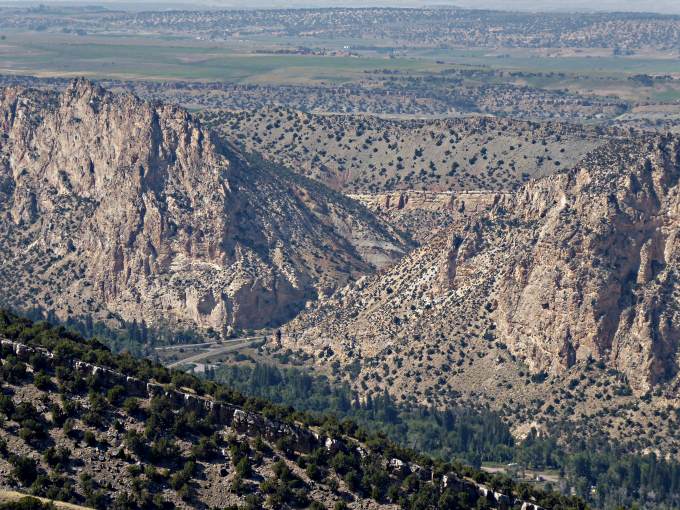 Above is a telephoto of the road going through the cut taken from the view area.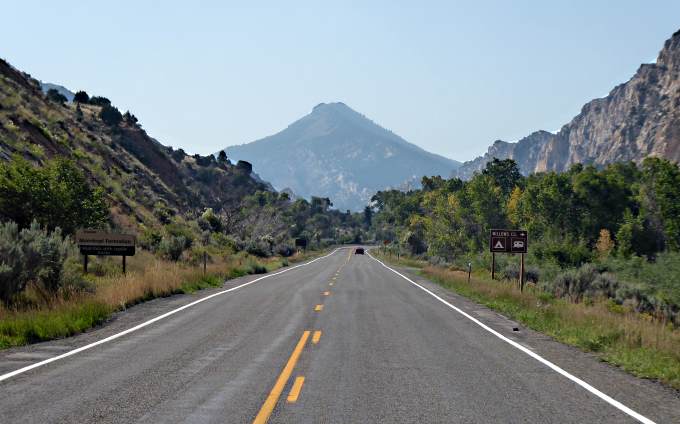 The road at the bottom of the mountain heading towards the cut.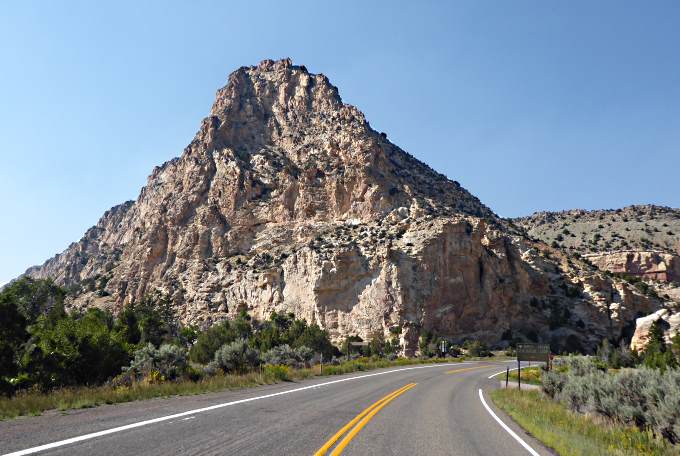 The picture above doesn't due justice to the depth of the cut.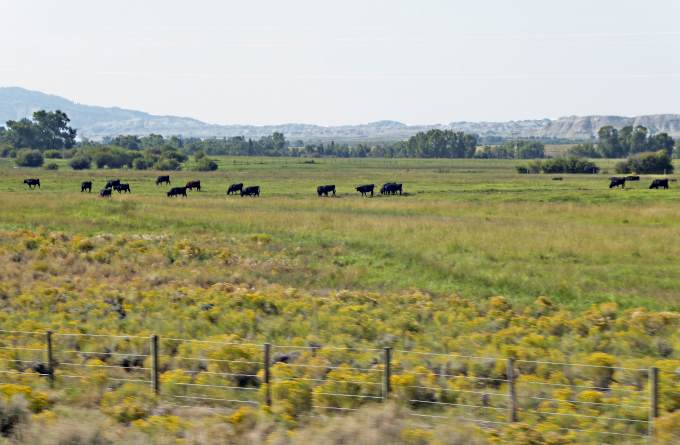 It was then a short distance to the town of Manila, UT where we headed west on 414 past a lot of irrigated ranch country at the base of the north side of the Uinta Mountains.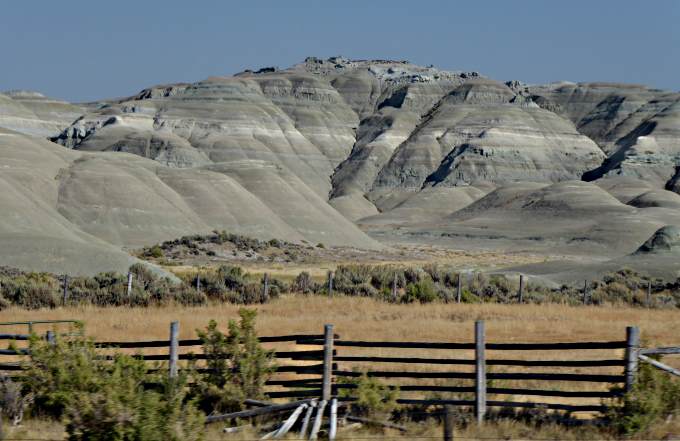 Past the green pastures we ran a short stretch of 'bad land' type hills, but were soon past them and dropped down into the irrigated valley where we first went through Mountain View and then 6 miles down the road we arrived at our motel in Lyman, WY. We had to make a short 3 mile drive to I-80 were we found a truck-stop restaurant for supper and then back to the room for the night.
We really enjoyed this segment of the trip. Great curvy roads with outstanding scenery and very little traffic. Highly recommended and it was nice and cool in the higher sections and only hot down on 40,
Sumner and Dottie
---
Our Bikes -- Suzuki DR200SE and DL-650

Our Home Pages -- Google 1FATGMC

Visit us if you are near and stay safe .... Dottie and Sumner
---
Last edited by Sumner; 08-28-2017 at

12:52 AM

.
Those photos really take me back....I took that same route up 191 back in 2009 during a cross country trip.
---
"No matter where you go, there you are."
Quick update.... No good wifi for a couple days and too tired to edit pictures and post. Will wait until we are home after the 4th of Sept.

The third day we made it to Alpine, WY south of Jackson and it was a good ride.

Next day was from there through Yellowstone to Chico Hot Springs north of the park. Yellowstone was really crowded and they are doing major work on roads so twice had to wait a long time for traffic to clear as the road was down to one lane.

We stayed at Chico two nights and were going to go in the park the second day there but just stayed at Chico and relaxed and enjoyed the hot pool and peace and quite.

Then onto the Bear Tooth Highway to almost the east end and then backtracked to the road through Sun Light Basin and into Cody.

Next day from Cody back into the park via the east entrance and on to Yellowstone Falls. Then out the south entrance and east to Dubois.

Today Dubois back to Jackson Hole and then southeast to Pinedale, WY.

Tomorrow down to Rangely, CO via the east side of Flaming Gorge Reservoir and maybe Dinosaur National Monument.

Monday Home to Blanding via the Book Cliffs, the river road into Moab and back to Blanding.

Lots of pictures. I'll try and get them and the trip report up here and on our site once home.

So far, knock on wood, the 650 has run like a top and we only had two short spats of rain. Weather has been ideal but a lot of smoke at times in the air from the western fires,

Sumner
---
Our Bikes -- Suzuki DR200SE and DL-650

Our Home Pages -- Google 1FATGMC

Visit us if you are near and stay safe .... Dottie and Sumner
---
Last edited by Sumner; 09-03-2017 at

12:23 AM

.
Stromthusiast!
Super Trooper!
Join Date: Mar 2011
Location: Pasadna area
Posts: 13,986
Yah, da smoke. I have friends headed for the Glacier. There seems to be some smoke all over the West.
The Forest Service has a Websky link that will show where all the fires are and where the smoke is blowing.
I'd post it but the link is down or slow at the moment.
https://haze.airfire.org/websky/v1/#status
---
Last edited by notacop; 09-03-2017 at

06:46 PM

.
Stromthusiast!
Join Date: May 2017
Location: Harrodsburg ,Ky.
Posts: 1,098
Summer thanks for the great pics and read.
My wife was late before she got the nerve to ride but would go to the drag strip sometimes when I took the drag bike in my pick up. After years of thinking I guess in 1992 after becoming a grandmother she started a few short rides then day rides then out of state. She never went on more than a week out of state and never the camping I do. At age 69 she about stopped anything but day trips and now at 70 she has only rode a hour or so a time this year but still likes it ok just not very long. Charleston,SC was our pick of together place and did it three times. Hope you two have many more years of great rides.