Top 100 places you have to visit
---
Let's build a list. The top 100 places you have to visit on your motorcycle. Not limited to the US btw.

Put in as much info as possible. Try to avoid commentary about the posts in this thread so that we can make it as resourceful as possible. If you would like to discuss a location, please post it as a normal post.

For example, if someone posts about deals gap, don't post a "yeah, I have been there" etc post in this thread.

Go get em!
B.K.
---
Last edited by Brockie; 10-29-2018 at

11:59 PM

.
Vegas Baby!!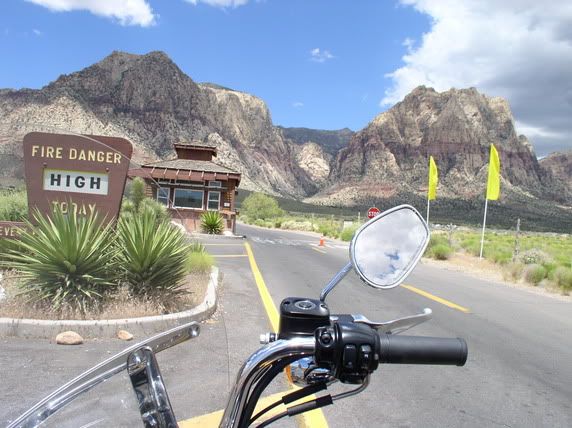 Rod
07 Vee
Riverview, FL
Blue Ridge Parkway
---
From what I have seen, riding the Blue Ridge Parkway would be an awesome ride...
http://www.blueridgeparkway.org/
(Getting there would be half the fun, from here!)
- BCB.
---
K6 - DL1K - Red

Burning fossil fuel for fun!
Only two places since I posted this thread? Come on, share will ya?
---
Last edited by Brockie; 10-30-2018 at

12:00 AM

.
Stromthusiast!
Join Date: Jan 2007
Location: Sandy, Ore. USA
Posts: 942
Avenue of the Giants, Redwoods National Parks in northwest California. A friend that rode his Goldwing through it described the 32 mile ride as "sublime". I will do myself on a trip in mid-June.
---
2007 Suzuki V-Strom 650, "The Grey Mule"
2012 Suzuki GSX-R750, "Shoot to Thrill" (sold 2017)

Author, "[URL="http://www.taesia.com"]The Taesian Chronicles[/URL]"

BLOG "[COLOR="DarkSlateGray"][B]Two-wheeled Astronaut[/B][/COLOR]": [url]http://www.ruckerworks.com/category/motorcycling/[/url]
Stromthusiast!
Join Date: Nov 2005
Location: Lompoc, CA
Posts: 131
Highway 1 on the California coast between Morro Bay and Carmel has to be on everyones list!
---
Rogues are preferable to imbeciles because they sometimes take a rest.
Okay, I will share too. Not on a bike but Bryce Canyon is one of the most awesome places to visit. Alaska, the Yukon Territories and of course the Pacific Coast Highway. The drive from Banff to Jasper Alberta is another wonderful trip.
---
05 / 650 in blue
88 / KDX 200 in green
81/82 DT 175 Yamahussies
79/SP 370 Suzuki-bad bike-no keep
78/ GT 750 water pumper
75/Suzuki 125 RV
alkali lake too big bar ferry
---
the dirt road follows the fraser canyon , i stoped for a rest at the alkali lake indain reserve, a native gentle man drove his truck down too me and asked;; where are you going''''' i said too big bar ferry,,, he said ;; in one half hour ,you will feel like a very small man ,in this big world ,and he drove away, i hopped on my bike and rode away wondering what he was talking about...30 minites later i came around a corner and i almost crashed my bike , the view was increadable , the fraser river cut deep below ,and i knew what the man had told me , i have never seen the grand canyon but this spot has too be a top 100
---
swann strom
Stromthusiast!
Join Date: Feb 2007
Location: Maryland
Posts: 60
Rt. 39 through Goshen, VA. Prettiest stretch of road I've ever seen.
Join Date: Aug 2006
Posts: 97
Going to the Sun Highway in Glacier Natl Park, Montana.
Be 100% sure to do it when it is warm, because Montana doesn't mess around about winter.
http://www.pascomputers.com/goingtosunphotos.php
I haven't done the ride on a bike, but i drove it many times when I was younger growing up there. It is a place untouched by man.
Mike