Site Sponsor
Join Date: Sep 2014
Location: Albuquerque
Posts: 62
What Was the Bike you Learned to Ride a Motorcycle on?
---
Tell us about your first bike and what the experience was like?
RD400. 2nd gear wheelies every time!
---
2012 DL650
U.S. NAVY, RETIRED
Stromthusiast!
Junior Trooper
Join Date: Aug 2014
Location: PA
Posts: 6
Honda 90.
Dad said we could only ride in low range, till we figured out how to put it in high range.
Stromthusiast!
Join Date: Jul 2013
Location: Close to you
Posts: 639
Honda Chaly, then Suzuki GT750 Triple (kettle)...........two weeks later.
That was awesome, even had a gear indicator. It was golden brown , which was the fastest colour.
FORUM GODFATHER.....R.I.P. PAT
Join Date: Jan 2006
Location: Evanston IL USA
Posts: 38,049
1971 Honda CB350. It only did one wheelie in all the time I had it when it wheelied out from under me the second time I tried to move on it. My brother told me to give it more gas because I killed it the first time.
2008 Royal Enfield Bullet 500cc in British racing Green. Bought almost immediately after taking the MSF basic riders course. Wanted a "classic" looking bike that wouldn't easily kill me. Yes,, I could get killed but certainly no monster in the power department. In fact it's still sitting in my garage.

Rick
Stromthusiast!
Join Date: Nov 2014
Location: Ontario, Canada
Posts: 11
My buddies late 70's early 80's XL80 , then I bought an XR80 new with my hay money
Yamaha YB125.
Heavy as f*ck. Its engine could provide about 5 MousePower
Similar to this one, but orange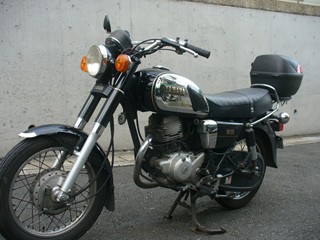 ---
I is poor doge... I no know bikes!
Stromthusiast!
Join Date: Oct 2014
Location: ID
Posts: 20
I took a Motorcycle safety course on a Honda 250 Rebel I think. My first bike was a 2004 Yamaha VStar Classic 650cc.
My Honda 250... a XLR 250 Baja. Read my first experience with that bike.
Back in 2001, I went to a used bike dealer and, out of the blue, bought a 1996 Honda XLR Baja 250. I only had previous experience riding my brother's YDR125.
Well. I payed and then the dude tells me to come tomorrow, sign the paperwork and pick up the bike. TOMORROW!!!
No way! I'm riding right now. No papers, no driver's license, no plate... just the bike and me.
After I hardly climbed the TALLEST bike ever, kick started it and decide to hit the street. Well... I took off and ended up in the middle of the road, with a stalled engine and a bus coming right towards me. Luckily, I didn't fall.
After I managed to restart the bike, I decided to go home.
After a couple a minutes, I understood there was something wrong with the steering. It had some sort of 'click' just in the middle, which prevented you from doing a smooth ride. So, there I go, driving awkwardly, avoiding main roads, but really happy. Until.... .... ... THERE COMES A COP AND PULLS ME OVER!!!!
He asks for my license... papers.... at least I had the Invoice the dealer gave me. I was asked to follow him to the Copland. After I arrived, I was seated beside some odd looking guy. After maybe half and hour, there comes another cop and writes me a ticket worth a month of salary. :157:
And of course, they wouldn't let me go riding the bike. I had to call my brother to come and pick the bike. To make things worse, that day was his son's birthday, and he was setting things up for the party and had a lot to do back home.
After maybe and hour, my brother arrived with an 'I hate you face'. Took the bike and left my car in the police parking lot for me to drive home. After I start the car, there comes the same cop and ask me for the car's papers and my license. At least this time everything went fine.
Three months later, I crashed that bike against a car that ran a stop sign...
---
I is poor doge... I no know bikes!