Wolfman Large Rolie Bag
---
Just wanted to give a quick review of the Wolfman large Rolie bag.
I have a Givi E45 topcase I use most of the time, but there are times when I do not need all the room of the E45, and I also wanted something that was waterproof and had a lower profile, and was able to carry just the essentials along with a tank bag if necessary.
This rolie bag fits the bill perfectly for what I needed it for. It's the large bag which I think holds 12 liters according to the specs. There is also a small and a medium bag too. In the following pics...inside the rolie bag there is my ipad with a padded cover, a full set of rain gear, a small air compressor, and a 5 liter dry bag with misc. stiff inside it. There is still some room to spare depending on what else you wanted to put in there.
It comes with four straps that I secure around the side handrails, so it's a pretty quick on/off. It could sit further back on the topcase mounting plate, but sitting on the passenger seat works fine for me. I also bought the optional deluxe mounting straps, but don't need it for the time being. The four standard straps keep it very secure.
Once you roll the top down, there are two straps that come up from the bottom and buckle to the top, to keep it from unrolling (3rd pic)
It also comes with a pad that attaches to the bottom with velcro, in case you have it sitting on a painted part of the bike. You can't see it very well in the pics, but it is there.
I put two strips of red reflective tape on the bottom for a little more visibility too, as seen in the last pic.
It comes in yellow, black, and orange. The orange doesn't match the bike that well, but I wasn't going for a color match anyway...and I didn't want yellow or black...so orange it was.
I'd certainly recommend it, if it fits your needs.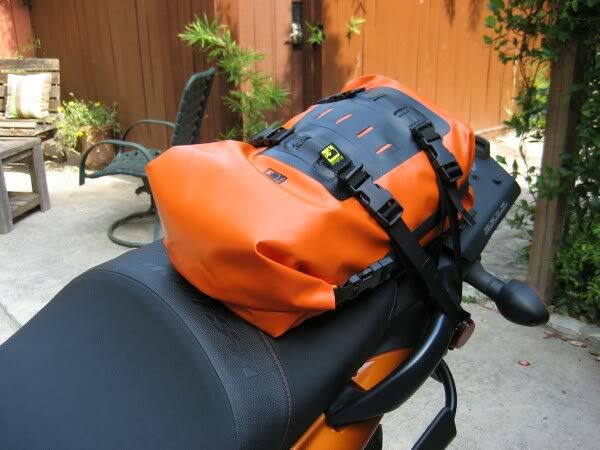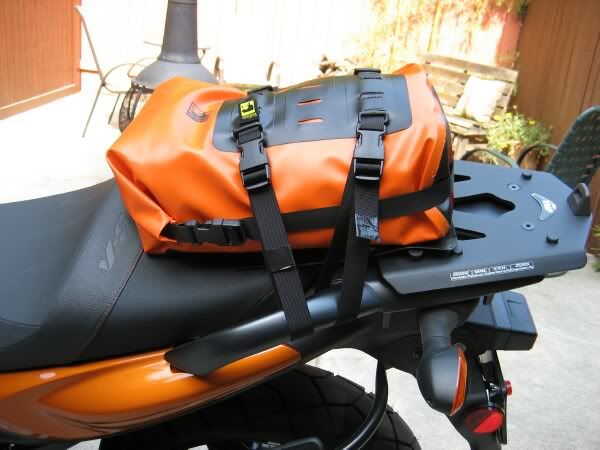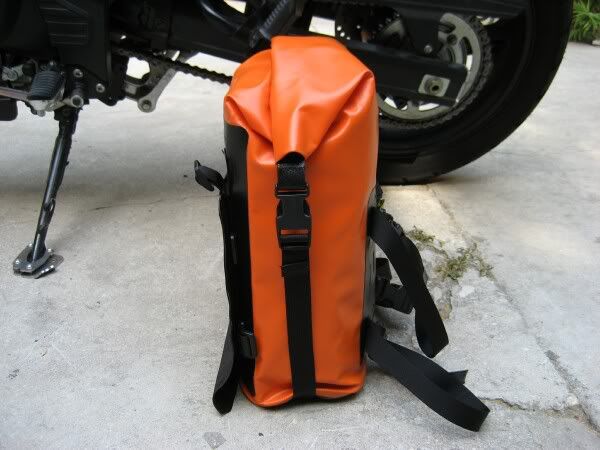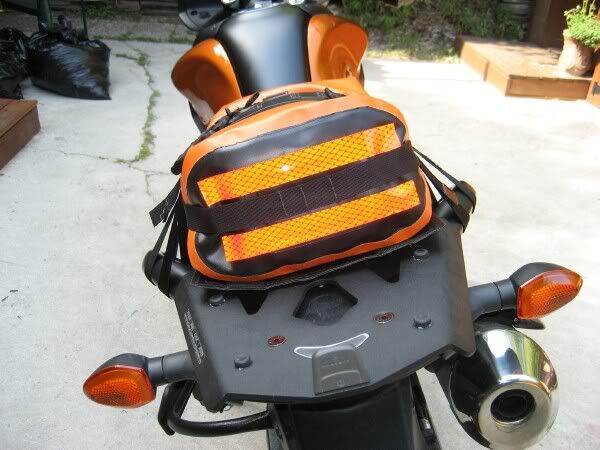 ---
2012 Vstrom 650
Join Date: Feb 2011
Location: San Diego County CA
Posts: 527
Thx for posting that. I have the Wolfman side racks and expedition bags on my DR and they don't make side racks for the Strom. Not in development either but they were great about responding to emails.
I wanted a straight swap over without having dif racks and using their adapters for other racks.
Didn't enter my pea brain to just use one up top for a quick overnight.
I have the small rollie and tank connector along with the map pouch. Works well.
Stromthusiast!
Join Date: Jul 2012
Location: Central Arkansas
Posts: 76
I know this thread is a little old but.....
you can mount the expedition bags to any rack with this
Wolfman Motorcycle Luggage
I use this option on happy-trails racks on my KLR and it has worked great for thousands of miles. I can also use this mounting option on my SW-Motech quick lock racks that are on my strom.
I have been debating on rolie bags for tank panniers or the regular tank panniers from wolfman. I was concerned that the rolie bags may scratch the bike up. I see from the post that they come with pads to keep from doing so. Thanks for the write up.