Stromthusiast!
Join Date: Feb 2012
Location: CA
Posts: 64
Dan Vesel Product Reviews (Pics)
---
I recently purchased a pair of elite highway pegs for my 2011 Wee from Dan Vesel. I also bought one of his sheepskin seat covers. Total came out to $200 even. Shipping was fantastic: I order late Saturday night and it arrived Wednesday morning as anticipated. The customer service was second to none and he responded promptly to all my questions and requests. I would highly recommend buying from him--his products are of great quality and the service is impeccable.
First of all: the highway pegs.
I haven't had a chance to test them yet but install took the best part of 15 minutes. The hardest part by far was removing the bolts that attach to the upper part of the frame near the gas tank. I used a large allen wrench and all my weight and they came off but some might have difficulty getting those off. Once off however, the rest is a breeze. There are two bolts that attach the sidebars to where the old bolts were. Then there is a crossbeam that attaches to the lower part of the side-bars. You may have to push in the sidebars to get the bolts in the crossbar to go through but that isn't really an issue at all. A piece of plastic covers the outside of the sidebars and the whole piece looks like it came with the bike--outstanding quality.
A question I had for Dan--since I do so much commuting in heavy LA traffic--was how wide the bars are when folded up. He told me they were roughly 1" (I believe) from the outermost part of the fairing so when you are lane-splitting, just fold them up and you will be fine.
As for the seat pad:
Like I said, I haven't had the opportunity to test it out yet but I get back from a 300 mile trip tomorrow afternoon and I will review both the pegs and the pad. From all appearances it is of high quality and feels plush and soft--very comfortable from my quick sit on it in the garage. It laces up very easily under the seat--the rain cover I just put under the seat.
All in all, I am very happy with the products and my experience with Dan. Highly recommend his products if you were wondering about quality, customer service, etc.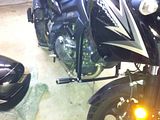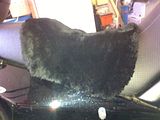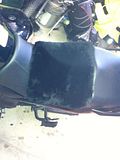 ---
2011 Vstrom 650 ABS Black: Coocase S50 Luxury Edition Topcase, Arkon iPhone 4 handlebar mount, Flash2Pass Garage Door Opener, Laminar Touring Lip, 17 tooth CS sprocket, grip puppies, Oversize crampbuster, iPhone 4 ram mount, Dan Vessel Highway Pegs and Sheepskin cover, Givi PL Side racks, custom 20mm ammo can panniers, OEM handguards.

2005 Suzuki SV650, bar ends, custom shield. "Worst bike ever" (SOLD)

2005 Yamaha R6S. "Most fun to be had semi-illegally" (SOLD)

1998 Kawasaki Concours ZG1000. "Baked my legs" (SOLD)

2005 Suzuki M50. "Brakes off of a tonka truck" (SOLD)

2005 Kawasaki Ninja 250 "Where this all began" (SOLD)
Stromthusiast!
Join Date: Jun 2012
Location: Southern California
Posts: 58
I ordered the passenger relocation pegs and have nothing but great things to say about them... the ordering process was good and shipping was fast... installed very quickly and securely. i like how they told me about other options for the foot pegs versus the ones in the pictures on their website.