Stromthusiast!
Join Date: Feb 2009
Location: Arlington, VA
Posts: 131
K&L brake caliper seals
---
Have any Stromtroopers had trouble with K&L aftermarket seals?
Ran into this issue yesterday, as I was taking advantage of the long weekend to re-build my 2009 DL650A's front brake calipers. I ordered an overhaul kit from K&L, who seems to make kits for every bike ever made and has positive feedback. Ordered via Amazon and fulfilled by SVS Powersports. Double-checked the kit number in the K&L catalog, and it's the correct one for my V-Strom 650.
After getting the caliper off and the pistons out and everything cleaned up, it was time to put in the new seals. Greased everything up with brake fluid (per Suzuki manual) and tried to insert the main seal into one of the cylinders. No go. I could push it back into its groove, but I could never get the whole thing seated - there was always part that buckled forward out of the groove.
Compared the old seal to the new one, and discovered that the seal from the K&L kit is bigger than the factory seal. See photo: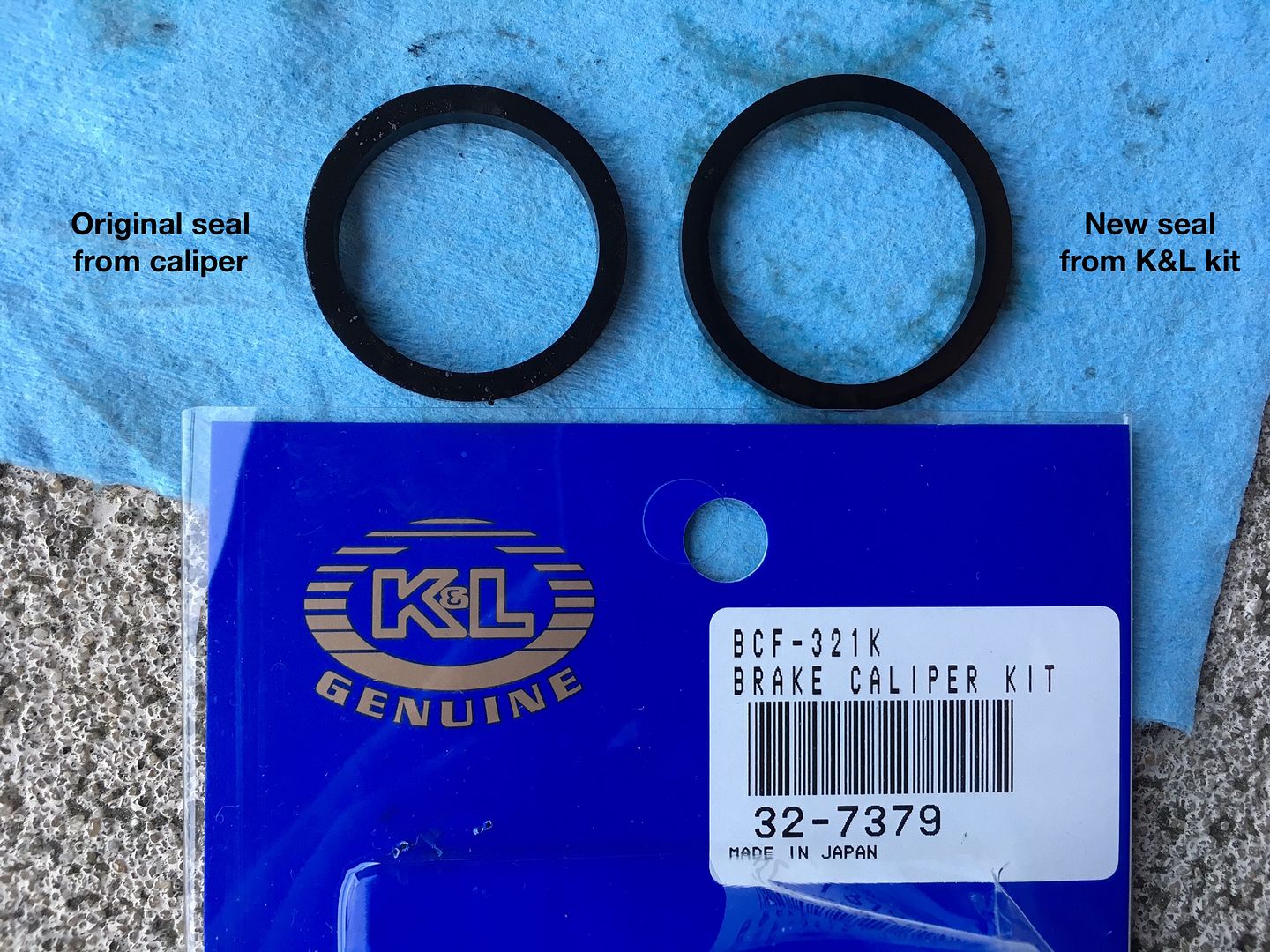 Of course, this is the Sunday of Labor Day weekend so no motorcycle shops are open (and my local doesn't show the parts in stock). Ordered a new set of Suzuki OEM seals from a different dealer and notified the seller. They (SVS Powersports) were very responsive and offered to pay for the replacement seals, which I thought was very decent of them. I would just ship the kits back, but return shipping would cost almost as much as the kit, and I can still use the boots from the kit and just toss the wrong-size seals.
K&L doesn't seem to have a "customer service" e-mail, so I may try calling them next week. Just wondering if anyone else has had any issues with K&L products. Thanks
---
Last edited by skyguy; 09-04-2017 at

10:36 AM

.
I've learned the hard way, over many bikes and many types of parts, to avoid K&L's imitation crap.

It's great that the seller is willing to refund or replace the seals with OEM, but what they and many otherwise reputable sellers really need to do is stop selling K&L's shoddy junk.

Brake parts are (obviously) critical to safety, and it's kind of amazing to me that they've been peddling fraudulent parts like this for decades and no one's sued them into oblivion. Then again, I guess you can't hurt yourself if you can't even put your bike back together.


Anyhoo, after perusing part numbers for a while, it looks like their application data is wrong (as usual -- did I already mention how much frustration these crapwackers have caused me over the years?).

There are a couple of different Suzuki part numbers for the seal sets -- the later part number is 59100-04851 and is used in the 2007+ DL650 and DL650A

The earlier part number 59300-33841 is used in the 2002-2012 DL1000 and the DL650 up to 2006. But K&L's catalog just lazily smushes these together.


Look at it this way: even if you had gotten a part of the correct size, the material itself is still highly suspect. Yes, I have seen K&L gaskets and seals literally fall apart.

To be fair to K&L, I've had one (1) caliper rebuild with K&L parts that worked OK -- it was a vintage bike where the OEM parts were NLA so we had to take a chance. And some of their tools are pretty nice. But that's about it.

In other words, you're much better off with the correct OEM parts anyway.
---
2002 Suzuki DL1000 V-Strom, Dark Metallic Space Blue
1983 Suzuki GS850G, Cosmic Blue
2005 KLR685, Aztec Red - Turd II.2, the ReReTurdening
---
Last edited by bwringer; 09-05-2017 at

11:50 AM

.
Stromthusiast!
Join Date: Feb 2009
Location: Arlington, VA
Posts: 131
This is all good to know - thanks for replying!

Yeah, the OEM seals should be here in a day or so and I'll be glad to have them in there. I'll use the K&L boots since I already have them. They appear to fit and will be easy to inspect and replace if they fall apart.