Stromthusiast!
Join Date: Jun 2012
Location: Tucson AZ
Posts: 174
New Air Bag Vest - Hit Air HitAir Hit-Air
---
I wear this now:
2016 Hit-Ait Air Bag Vest. Approx $550.00 delivered.
Bikebone Motorcycle Safety and Security
There's two other manufacturers: Dainese, who makes a high-end model that leashes electronically to the cycle, and Helite. I wore the Helite vest, and at 4 lbs, it was almost twice as heavy as the Hit-Air (at 2.5 lbs). When it's on you, you can really feel the weight difference.
Supposedly, the airbag inflates in under 250 milliseconds. That's pretty fast. Like this: If it activates, and you're launching over a car hood, it will inflate before you reach the other side of the car hood. An eye blink is about 30 milliseconds. Thats fast.
This vest physically ties into the cycle frame via a lanyard with a quick disconnect. It takes alot of pulling force on the lanyard to active the vest. I've forgotten to disconnect before dismount many times now, and have not (yet) caused the vest to pop.
Thats the hardest feature for me: Remembering to "tie in" to the bike before riding away, and remembering to disconnect before dismounting.
But, I do enjoy the extra safety of airbag tech.
The companies offer this feature in coats and jackets, also. I opted for the standalone vest because I have different needs for pro, for different rides. I ride dirt and street, dual sport, ADV, and the '14R super sport.
So, I have a tether mounted to each cycle, and I "clip in" to my ride 'o the day.
The jacket and / or coat options become an expensive specialty garment. The vest can be worn over motocross armor to ADV air-weight armor, to full on rain gear ADV coat (when you might need it most, right?)
The choice to clip in while riding super sport street is a no-brainer. The same decision when riding 2-track or single track is a bit tougher. I decided to do it anyway for a couple reasons. It's where I take the most hits, it's where I take big hits if I crash (OK, not as big as a 70 MPH+ get off on pavement, but still, big enough to break bones, crush ribs, etc), and ... best of all, this thing is "rechargeable". This compartment I'm pointing at in the pic? That's a 60 cc CO2 cartridge, replaced for about 20 bucks delivered. That, and the bag folds back up into the vest for another use (not that I *want* another use...)
So, I'm posting this for my friends. These are now affordable. I rationalize it by thinking it costs about the same amount as one ambulance ride. Yeah, a bit morbid, but WTH, works for me!
My wife rides, too. We bought a 2nd vest for her. That's what I think of these things, I voted with my wallet to the tune of over a grand.
I feel safer already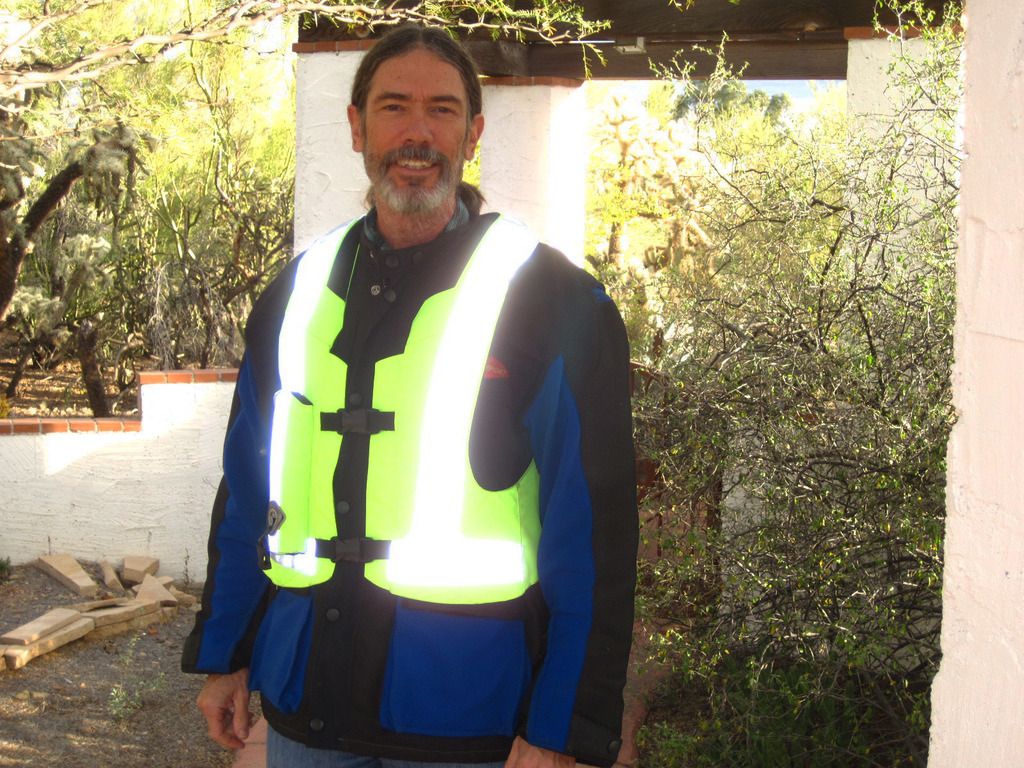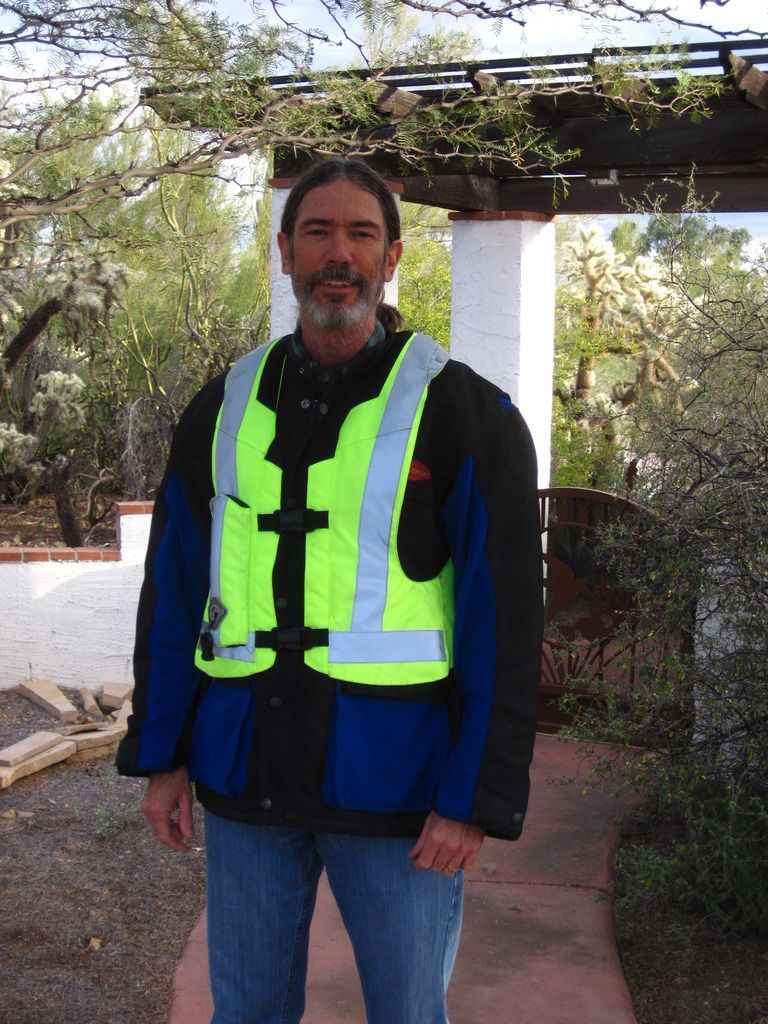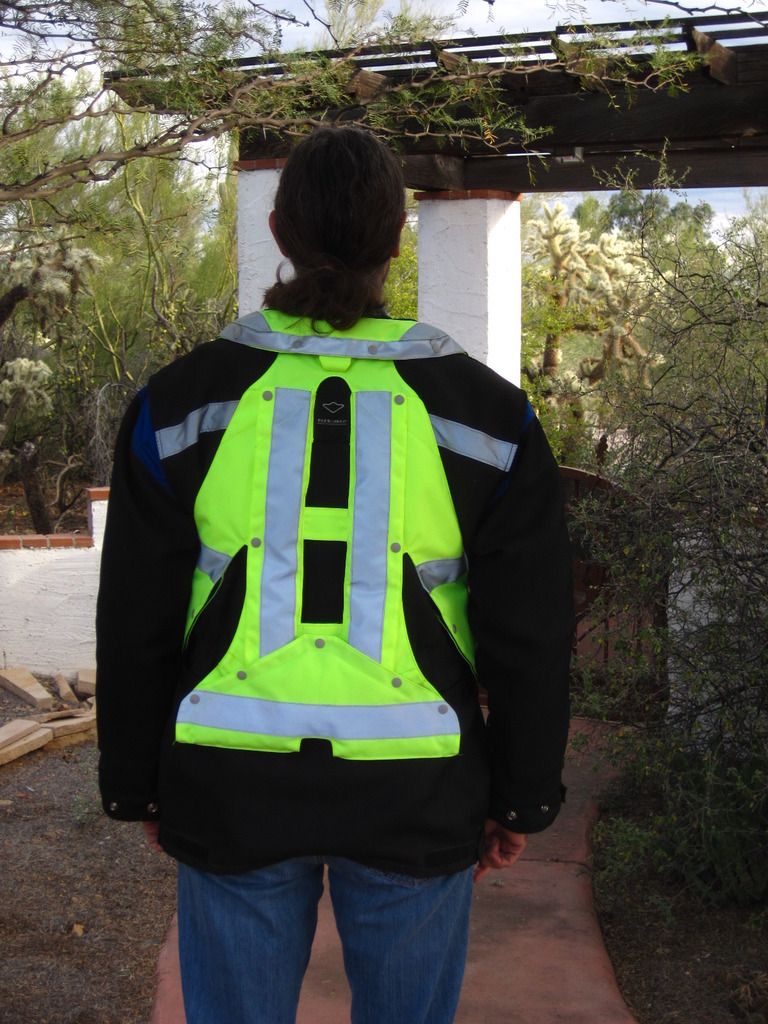 ---
2007 Suzuki DRZ400-S
2012 Suzuki DRZ400-S (sold)
2012 WeeStrom
2012 Kaw ZX-14R
2013 Yam WR450F (sold)
Stromthusiast!
Super Trooper!
Join Date: Mar 2011
Location: Pasadna area
Posts: 13,982
A friend in Minn crashed his Trike into a cager that pulled out in front of him. Since he was wearing a similar blow up protection device, he had only a few minor injuries.
Wonderful that the technology is available to us now.
For the similar price of the high end apparrel from Klim and Arerostitch, you get another level of protection. The jackets look good too.
Very interesting. I am doing research on the internet and it does appear that these airbags can really help.
I think I might just see an airbag vest or jacket in my future.
Hope you never get a chance to test out the jacket
I just know that I would forget to disconnect it when leaving the bike like I do with my heated gear and ear buds except they don't explode. That would be good for a laugh. I think it's a good idea though.
---
---
Last edited by VSrider; 12-19-2016 at

10:34 AM

.
Thanks for the review. I am considering one of these in the near future as well.
---
2014 V-Strom 1000
Stromthusiast!
Join Date: Jun 2012
Location: Tucson AZ
Posts: 174
You're we;lcome, all.

VSRider, I've yanked hard on the tether when getting off without disconnecting. I've never managed to get the bag to "pop". I *do* get a moment of "WTH, I'm still connected", as the tether reels me back in to disconnect.

I think it takes a violent get-off to make it pop. If you lift at the gym, think of lifting a 70 lb. free weight. I think it takes like that much, its not a casual amount of force.

Also, remember two more things:

If you don't connect the tether, you got a nice bright vest and that's it, and

You have to leave the cycle for it to pop. If you stay on the cycle, it's a nice bright vest and that's it. Can you / Do you push away during a get-off, or do you tend to "ride it out and hope for the best?" If you're the latter type, you may need to re-train somehow. I don't know how without actual practice, and who wants that right?

Anyway, I too hope I never need to use this thing. But I'd "rather have it and not need it..."
---
2007 Suzuki DRZ400-S
2012 Suzuki DRZ400-S (sold)
2012 WeeStrom
2012 Kaw ZX-14R
2013 Yam WR450F (sold)
Stromthusiast!
Super Trooper!
Join Date: Mar 2011
Location: Pasadna area
Posts: 13,982
Some of these safety devices had a replacement cartridge so if it do go off, the next round is simple a change of the CO2 cartridge.
Far cheaper than the Air Bags in your car.
$tromtrooper
Join Date: Mar 2008
Location: Lost Angeles, Peoples Republic of California
Posts: 7,760
Farkle Purchasing System
Join Date: Oct 2016
Location: ABQ, NM
Posts: 1,323
I saw that video not long after I'd started riding, last fall. I had already been aware of airbag vests because they were sold at the BMW dealership where I took the classroom portion of the MSF Basic Ridercourse.
That same dealership is currently running a special on the Helite Turtle airbag vest. I tried on one in hi-viz a couple of days ago. Surprisingly, the BMW dealer's price is WAY below anything I can find anywhere online.
I think I'll get one as soon as my tax refund comes in. I've been thinking about adding a vest since I started riding.
It's the neck stabilization that appeals to me, almost as much or more than the cushioning of initial impact. I'd hate to miss out on abrasion injuries in a wreck, only to die of a broken neck.
Nothing short of driving a tank is going to prevent *all* injuries, but given the choice of falling off with or without one of these vests, I choose "with."
I realize this is reviving a thread that is over a year old, but I could not find a more recent one on this topic.

I have been riding with a Hit Air airbag vest for six months now and I really like it. Thankfully I have never needed it!

It appears really well made. I have heard some people worry they would be too hot in warm weather. I have not found that to be the case. It is really lightweight and does not interfere with airflow much at all. I have heard concerns about accidentally "popping" the vest getting off the bike. I forget to undo the tether about half the time I get off the bike and have not popped it yet. I understand it takes about 35 pounds of pressure to pop.

It reminds me a bit of the inflatable life vests we wore as aircrew in the Navy, except it is much lighter. One additional benefit I thought of is that if by chance you had a mishap where you wound up in water, it would act as a life vest.