Stromthusiast!
Junior Trooper
Join Date: Mar 2015
Location: Wyoming
Posts: 4
Fastrax Backroads Tank Bag - Detailed first impressions
---
Well, my first official farkle has arrived, which to me was the most pressing piece of gear I was missing: the tank bag. My bike currently has no other luggage and for me to justify riding it around town, I needed some storage somewhere. Down the road I intend to add more bags, but the tank bag seemed like a good place to start.
I was looking for something waterproof, or at least water resistant, decent storage capacity with possible expansion for long trips, a bladder pocket/port for the hose, and an outside clear pocket where I could operate a touchscreen device, such as my phone, for GPS/music/other bluetooth options. I also obviously wanted a design that fits the Wee and needed strong attachments, either magnetic, strap, or tank collar. Whatever it was, it needed to be strong to stand up to Wyoming crosswinds.
Adhering to these criteria, I found the Fastrax Sport and Adventure Tour Tank Bag, which some on this forum have spoken highly of, here (
Amazon.com: Dowco 50143-00 Fastrax Elite Series Black Sport and Adventure Tour Luggage Tank Bag: Automotive
) and ordered it. Now... what I received is not, in fact, the sport and adventure tour bag, but apparently the new model which has replaced that one, the "Backroads Tank Bag". It can be found here:
https://dowcopowersports.com/fastrax...-bag-50144-17/
I see at least a few initial differences between the bags, but I don't know if the new bag is better, worse, or not sufficiently different either way, but time should tell. For now, a photo tour of first impressions.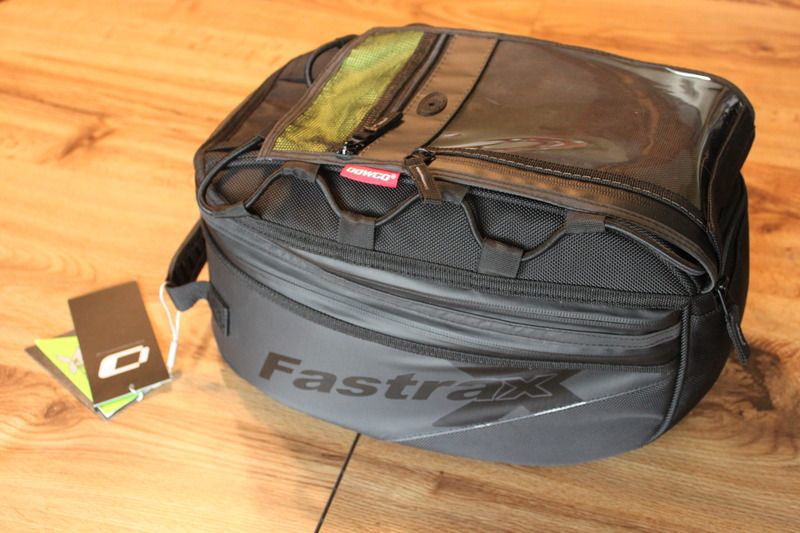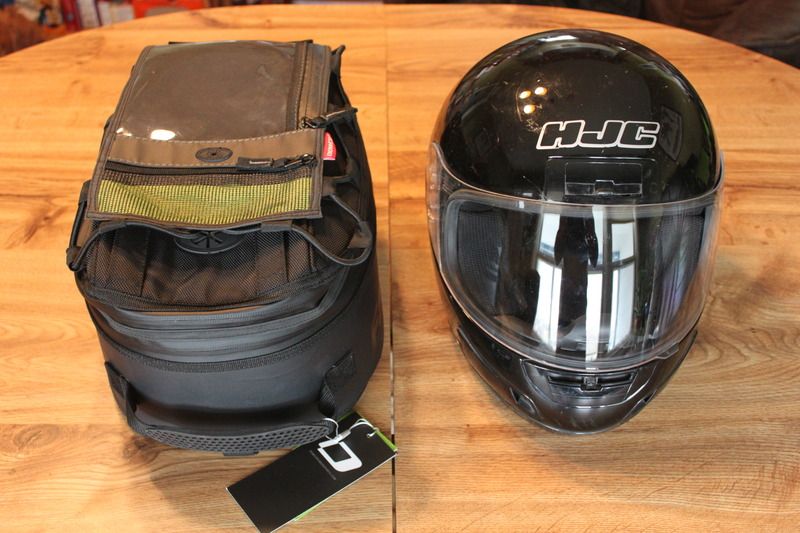 A size comparison with a helmet next to it. As you can see, the bag is not small. I don't find it too big, so far, but it definitely is bigger than some bags.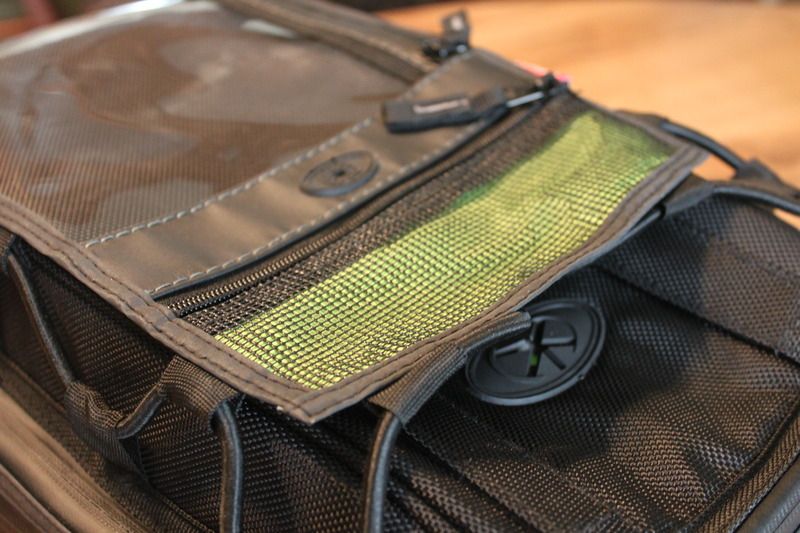 Bladder port and headphone port.
The zippers are the waterproof kind, and the entire bag claims to be highly water resistant. Others who have owned this bag on here have stated it holds up to that claim.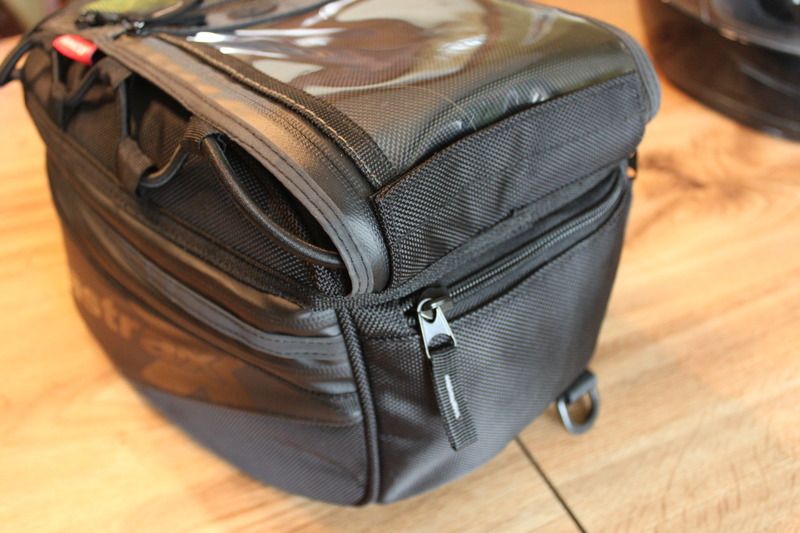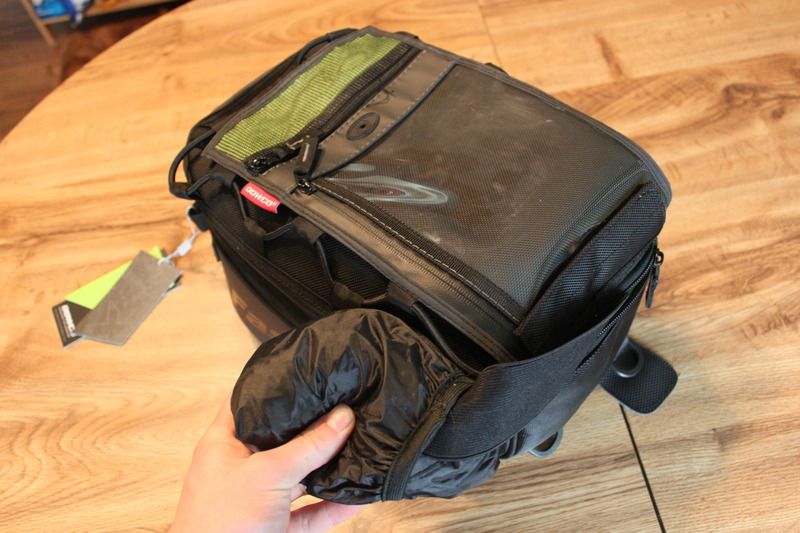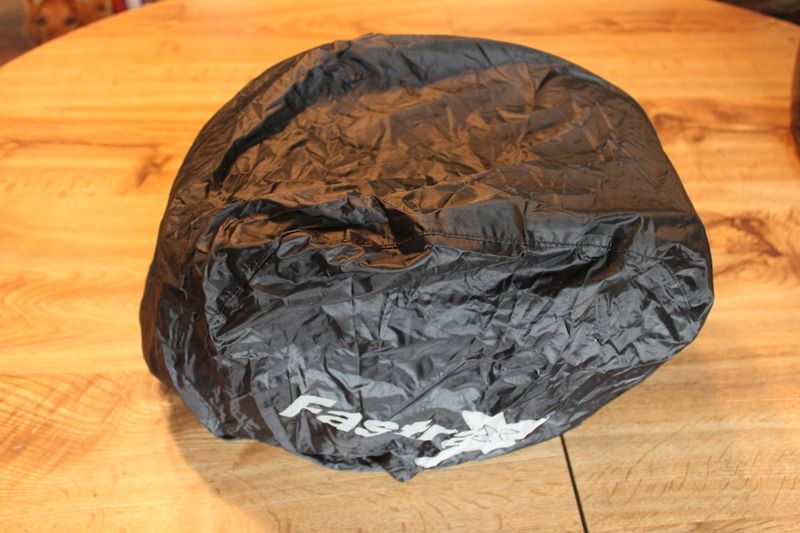 If it doesn't, there is a rain cover sewn in which seems quite easy to retrieve and adequately cover the entire bag. I think this could be deployed quite quickly.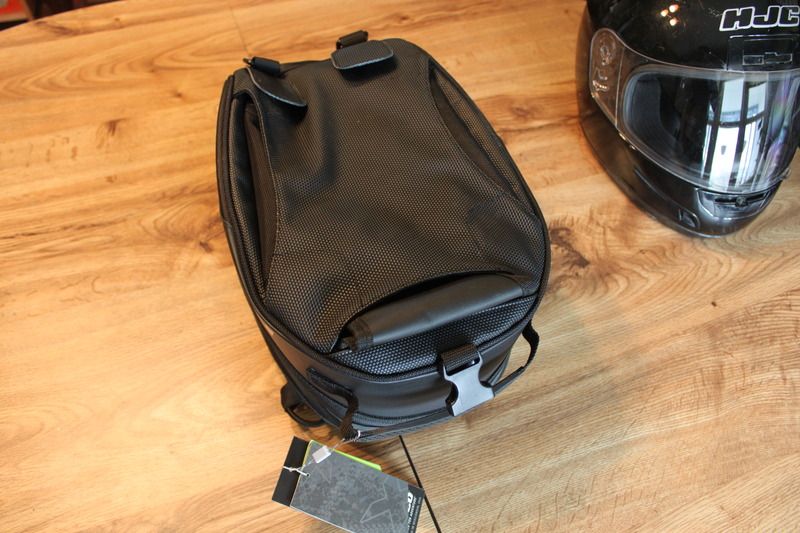 The bag has, from what I can tell, 9 magnets in it which seem to be extremely strong. There are four on the bottom, each side flap has two, and the bottom flap has one.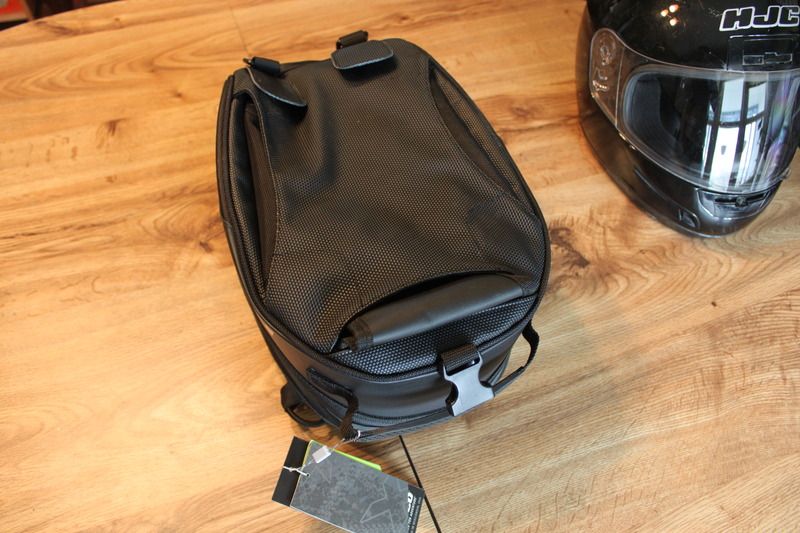 They also tuck away if you prefer using the straps, or if you want to carry it away for an extended period like a backpack. I hooked one of the connecting straps up in such a way and slung the pack around my shoulder, and it did just fine.
The top compartment is plenty large and I would imagine accommodating to any style of phone, including "phablets". I was able to use the touchscreen just fine through the plastic. For size reference, I have a Galaxy S4 Mini.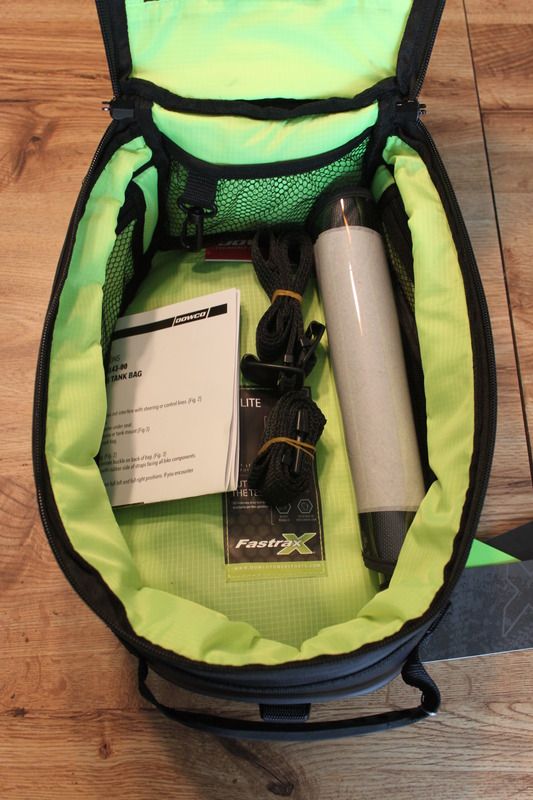 Inside is roomy and comes with two straps, a large map pocket which can be attached on the outside face, and an instruction card.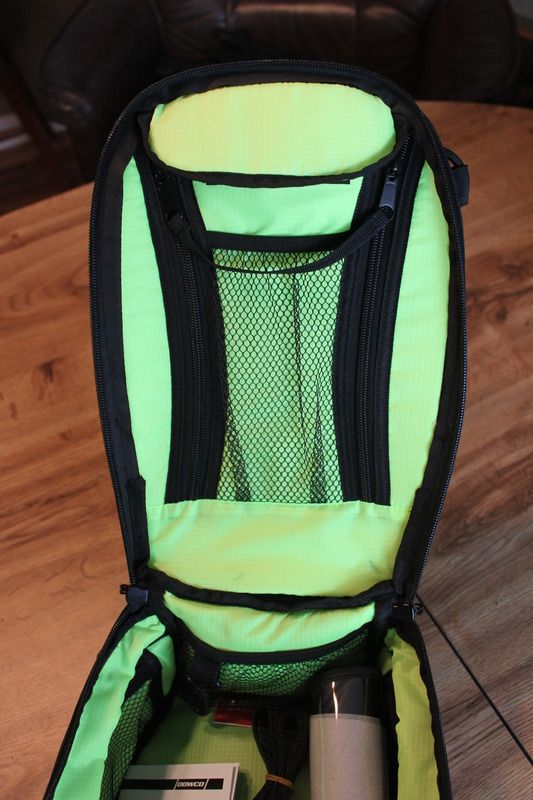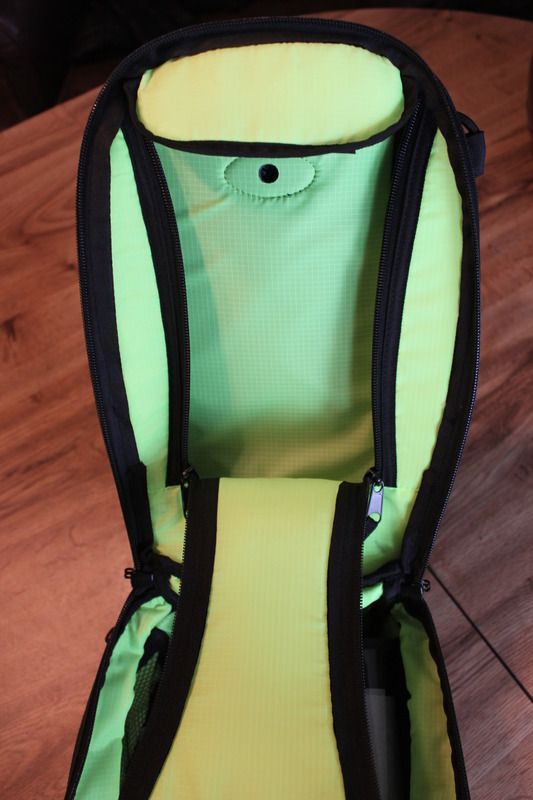 The main closure flap of the bag is quite sturdy and includes space for a bladder - I believe they sell a 1L bladder to fit it. Others should work fine, I would imagine.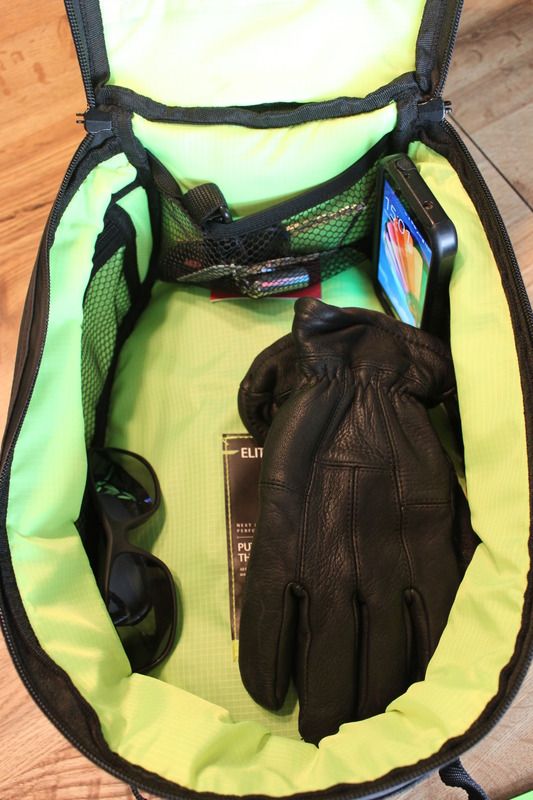 I added gloves, sunglasses, my keys and phone for some size reference. I also took it out for a ride to see how it did and threw my rain gear in there as well in case the threatening skies made good on their dark demeanor, and everything fit easily.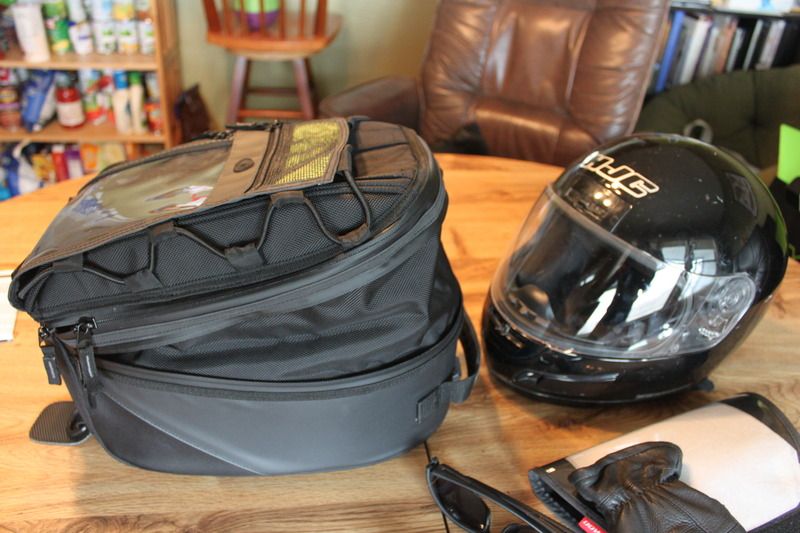 Additionally, the bag expands quite a bit (to 27 L from 19 L, I think) in a wedge shape, which seems to be a clever design. This is so you can still see your instrumentation if it's expanded, and though I haven't tried it, I expect it would work quite well. You can see from the size comparison, if you expanded this for a road trip, it would hold a considerable amount of gear.
Finally, I put it on the bike. It seems to fit well! Those magnets are not screwing around, that is quite clear. I road it to an errand and then around town a bit. Though I didn't take it over 50mph, there's a significant crosswind today and the bag never flinched (though, my front end did... I need that fork brace...). It is large, but not overly so, in my estimation. I actually really like the looks of it on my bike.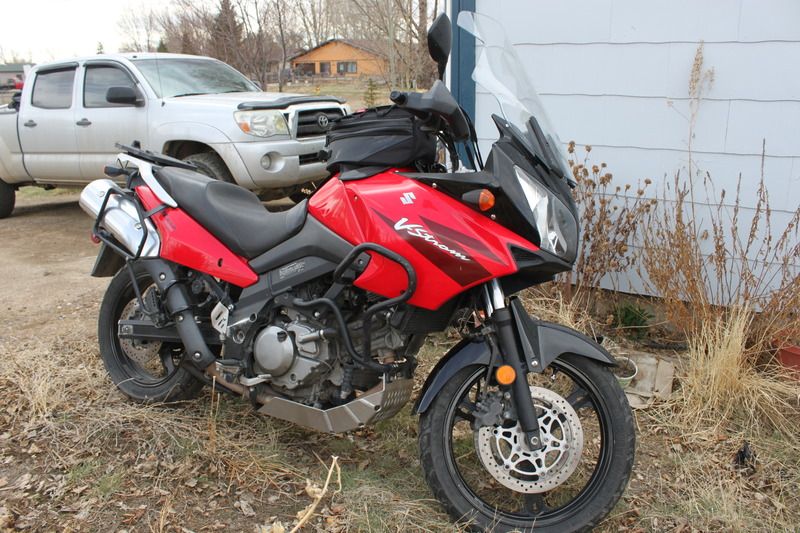 It didn't feel at all in the way once I was on the bike, though I did notice it while getting on - though that's probably just me not used to anything up there but the tank.
Overall, I like the bag. It seems solidly built and I intend to put it through its paces. It is not the bag I originally thought I was getting, but given the warranty that Dowco has on the bags and what I've seen, it still accomplishes everything I am looking for. It may even do a better job than its predecessor; time will tell.
I will write a full review once I've used the bag for a while, but for now, thanks for looking!
---
2006 DL650 V-Strom...

Let the farkling begin.
Great thorough review
---
Nighthawk, fine work putting the review together. I have been thinking about one of these for a bit. Your detail and pics are both spot on. The angles are all covered really well - great inclusion of scale with the helmet phone and gloves as you go along. I agree it's looks good on the bike.
Still trying to decide if I want to go the tank mount ring route or the magnets. I really like the idea of the 'wedge' expansion to not block the instruments if fully loaded.
Fine design that. Will welcome a chance to follow how you like this over the long haul. May go this way too. Thank you for the work of the review.
Excellent Review Nighthawk.......well done, Sir!!! Keep us informed with other Farkles you purchase (with a Detailed Review). I had another name-brand bag, about the size of your's, that would contact the horn button on full lock (like, when parking) and be quite embarrassing. Check that out next time you are on the scoot??
444