Join Date: May 2012
Location: Avondale Az
Posts: 491
Freeway Blaster horns WITH PICTURES!
---
Alright, some of you may have read my post in the general discussion area a while back entitled " Had a close call, buying a loud horn! " well here we are, after listening to what everyone had to say ( including the naysayers ) I read a very informative article in Motorcycle Consumer News that evaluated various horns. They said that the Fiamm hi and low tone horn combo provided a clear improvement over stock. They also said that it was the value leader of the whole bunch. I opted for the even louder version Freeway Blaster horns for just a few bucks more. Amazon sells them separately ( high and low tones) I purchased them at Amazon along with a wiring package that included a relay, a wiring harness that plugged into the relay and an inline fuse. All told I paid Amazom $36.50 with free delivery for parts.
In the interest of full disclosure I totally stole the mounting location idea from a former Stromtrooper member JBD1986, who posted a similar thread back in 2009, I thought that I could expand on his article and include more pictures.
So here we go.
First of all here are all the pieces that I will be installing today, a Fiamm Freeway Blaster low tone horn, a high tone horn, a relay switch, an inline fuse w/ 20 amp fuse, and rubber covered clamps that I picked up from Lowes for $1.75 for two clamps. The horns also come with some mounting hardware and wiring parts that I did not use.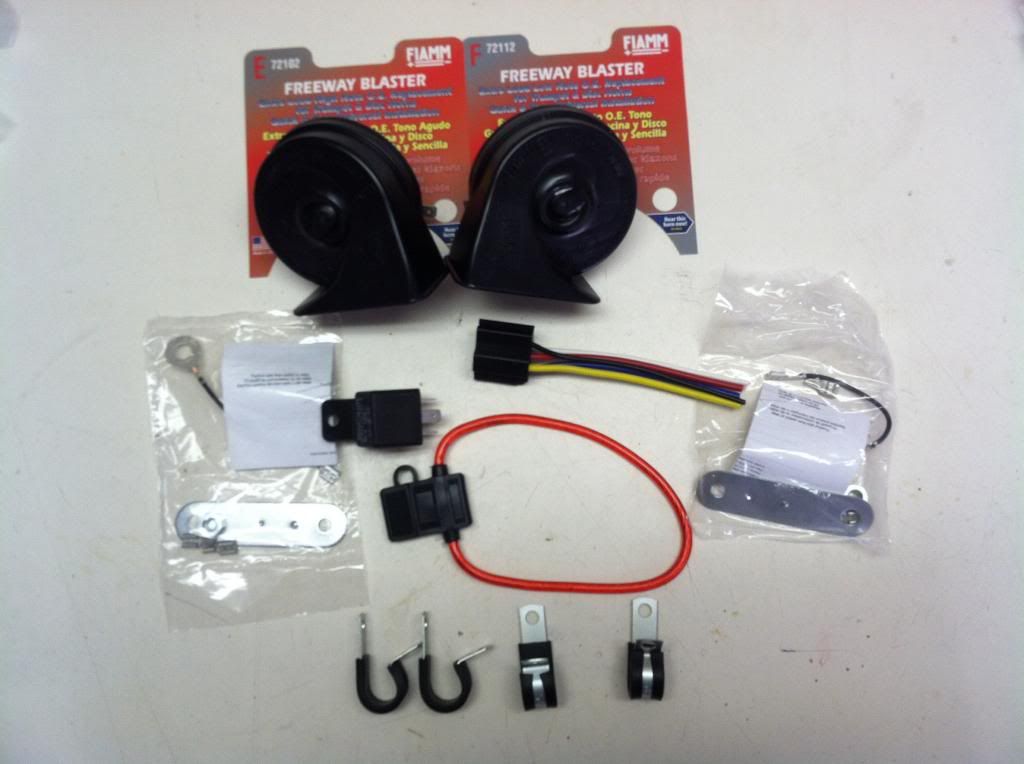 The first thing I did was prepare the bike for the work to be done. I removed the lower fairing, the seat, and tipped the gas tank up to make it easier to run wiring.
Here is a close up of the fairing support framework that I will be mounting the horns on.
Here you can see the first horn mounted up on the right side.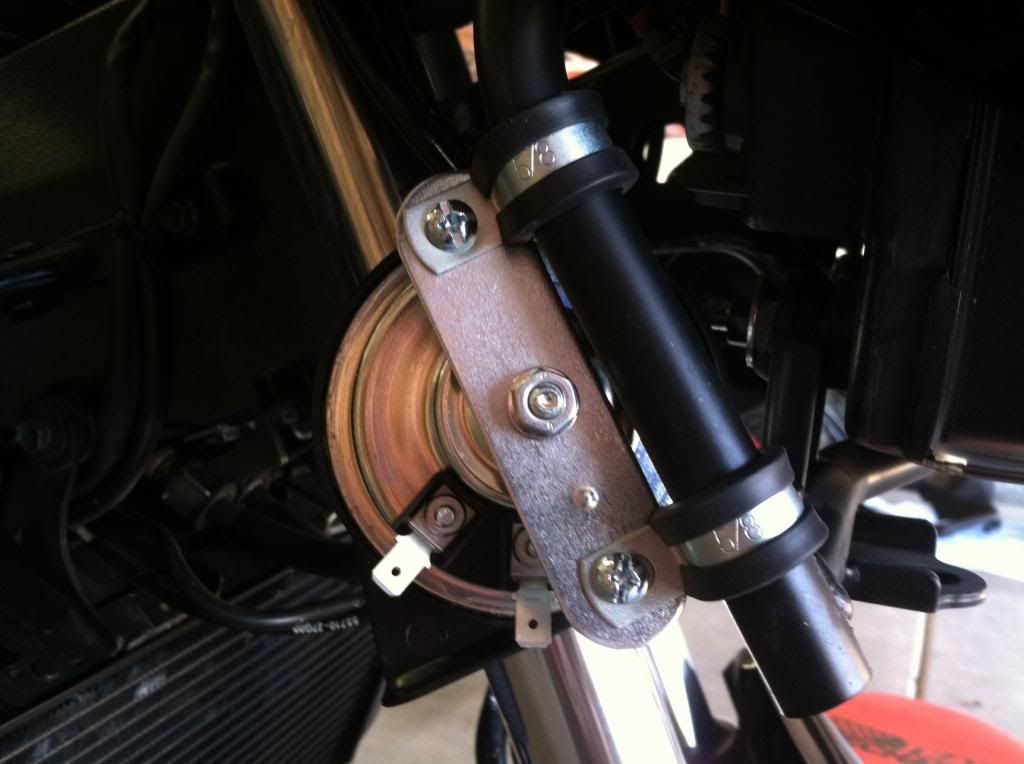 And now the left side.
This view shows you looking up at the bottom of the horns, they are pointed down and forward. They are the square looking openings on either side of the forks.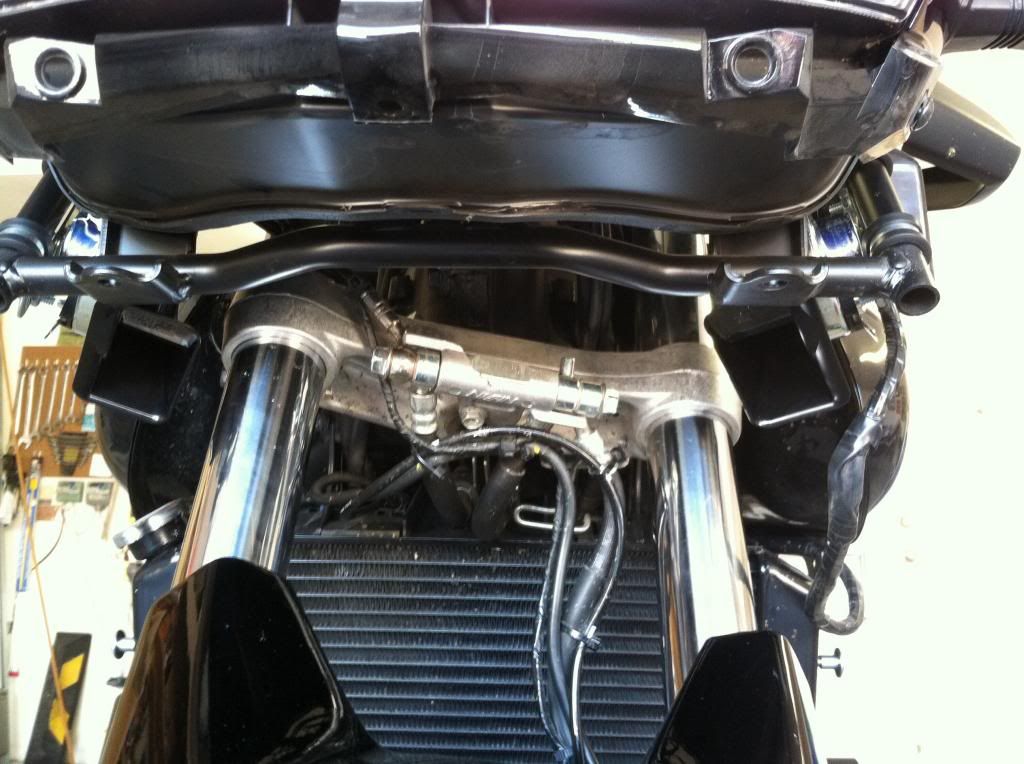 The next two images show some of the wiring details. In the plastic tray right behind the battery, I mounted the relay to one side with a bolt through the side. I drilled a hole in the front of the box to run all the wires through. The power supply with the inline fuse, is the large red wire going into the plastic tray. After consulting with other members here I decided to run the ground wire all the way back to the negative terminal on the battery. ( I was originally just going to ground it to the frame. ) the ground wire is the green wire going to the negative terminal of the battery.
Here you can see some of the completed wiring up by the horns. I zip tied wiring securely in place and tucked some connections up into a handy factory rain cover.
With the underside cowling back on, the horns trumpet is partially covered. It does not touch the horn, there is about a half inch of clearance. It does not seem to affect the sound of the horn.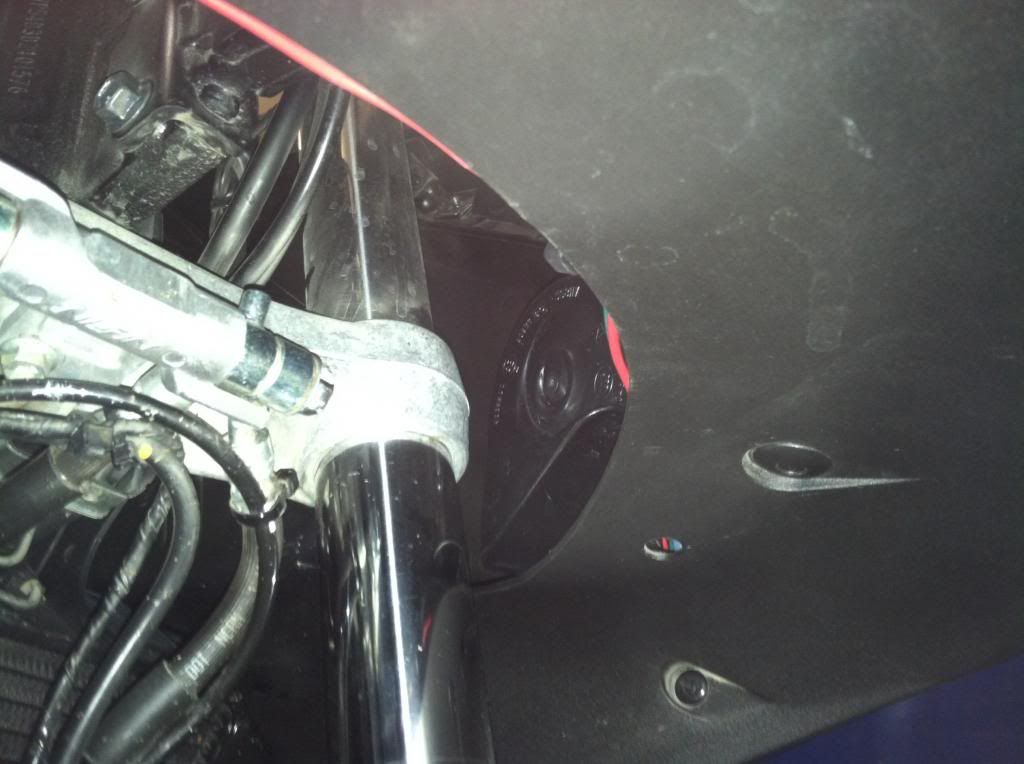 The next two pictures you can click on and here before and after sounds. On the recordings the volume sounds the same. However in person the new setup has a lot more substance and sounds like a nice big car bearing down on you. All in all it was a very affordable and fun little project and my bike no longer sounds like a bleating sheep. Haha, just what I wanted! And it is super stealthy, nothing shows. Don't laugh at my cheesy recordings.
Stock horn.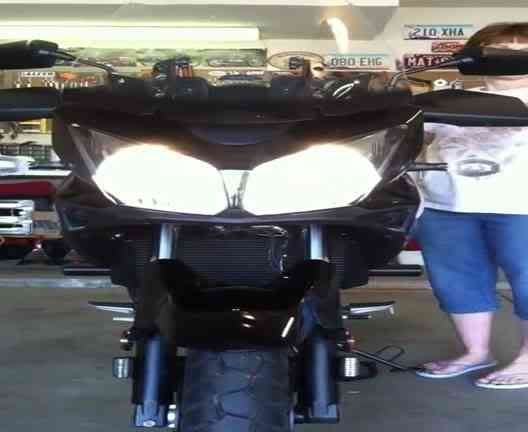 Freeway Blasters!
Join Date: May 2012
Location: Avondale Az
Posts: 491
$tromtrooper
Join Date: Mar 2010
Location: plymouth, michigan
Posts: 3,093
well done! the Lowe's rubber brackets are a nice touch.
---
"Side effects may include:
Mild kidney explosions...Testicular cranberrying... And Rectal hallucinations.
"
Johnny B!

Thanks for your article! Having a new DL 650 (only three days old) sitting in the garage, this is about the first mod I am going to do on this ride. It needs the 3 H's real bad.... horns, hand guards and heated grips. :mrgreen:

Your post here will be a great help! Thanks!

Cheers!

pr
---
Only two things are infinite, the universe and human stupidity, and I'm not sure about the former.

Albert Einstein

#64-> White V-Strom Group! :-)
Poopy head #2 here....
Johnny B:
I forgot....in your list of bikes, we shared two... the Yammer RD 350 and my XS was the 850 (basically your motor bored out a smudge). Fond memories of both.. and I am still glad I survived the RD! A fast, fast bike but my skill set was so rudimentary at the time.
Cheers!
pr
---
Only two things are infinite, the universe and human stupidity, and I'm not sure about the former.

Albert Einstein

#64-> White V-Strom Group! :-)
Poopy head #2 here....
$tromtrooper
Join Date: Dec 2005
Location: Sconsin, USA
Posts: 4,025
Very nicely done and a nice write up too. Thanks.
---
2020 Eastern V-Strom Rally (website) - May 14 - 17, 2020
__________________________________
2006 Suzuki V-Strom DL650K
1986 Honda Shadow VT700C
1974 Suzuki TM-250
1966 Triumph Bonneville T-120R
1965 Suzuki 80
Nice job. Note that the Freeway Blasters are also sold with the NAPA label in your local NAPA auto parts stores.
---
"Older people who are reasonable, good-tempered, and gracious will bear aging well. Those who are mean-spirited and irritable will be unhappy at every period of their lives.

"Let each of use properly whatever strengths he has and strive to use them well. If he does this, he will never find himself lacking."

Marcus Tullius Cicero
44 B.C.
Sound awesome!
This will be added to my farkle list.
---
2006 DL650
Growing farkle list: Aux LED's on SW Motech Light Bar, Bark Busters, OEM Touring Screen, Bestem LED Top Case, Charging Port, DL1000 Seat, Madstad Bracket w/MP Cycles Windscreen, Pat Walsh Design Radar Shelf, Neslon Rigg CL-855 Luggage, Givi Engine Guards, Sargent seat.
Iron Butt Association Member - Qualified with 1,118 mile Saddlesore
Your camera is adding 500 pounds to your bike!
Join Date: May 2012
Location: Avondale Az
Posts: 491
Quote:
Your camera is adding 500 pounds to your bike!
Haha! Yeah I know, somehow when I posted the video links the picture got squinched!