Stromthusiast!
Join Date: Sep 2008
Location: Thurmont, MD
Posts: 124
Show me your town
---
Im looking for some adventure riding and seeing new sites, ride different roads and trying a new place for lunch. If anyone wants to show me your town or favorite adventure rides let me know. I live in Thurmont MD so Id like to find someone something with about 150 miles or so to make it a day trip and get back home in the evening. Hope to hear from someone.
Stromthusiast!
Join Date: Jun 2007
Location: Sykesville, MD
Posts: 332
Will get ya out with my other strom friends sometime soon. this past week and weekend has been rather busy as their was a passing in our family. When the temps warm up a bit come this spring I've got another ride going thru pa. all gravel and dirt, then I'm heading out to Greenridge (dirt and gravel) and out to Dolly Sods in wv. as well as some other spots. most of this stuff isn't really feasible with the temps and weather we've had of late, along with day light savings time if you want to make the trip a day trip. Come spring / summer it's really not too bad.
---
[CENTER]Member 0017 of the Official Flat Black Club - 08 Matte Black Strom RIP 3/08 - valentines day 09
3/09-Current - Drk Silver 07 weeStrom Loaded
[/CENTER]
Stromthusiast!
Join Date: Aug 2006
Location: Chambersburg, Pennsylvania, U.S.A.
Posts: 83
This time of year I look for days where the temps are at least above freezing and the more sunshine the better, plus I prefer to head south into MD and VA and hopefully warmer weather, rather than riding in southcentral PA. Once March usually arrives the weather will be better up this way and I know a "few" places to ride that you all may find interesting. That said the weather forecast for this Thursday the 22nd and Friday the 23rd is to be in the upper 30's to lower 40's with party cloudy skies on the 22nd and sunny skies on the 23rd, plus the further south you ride the temps warm up even more. I'm self employed and work from home so I can schedule rides to hook up with anyone at just about anytime, I'm planning on leaving Chambersburg on my wee sometime before noon on one or both days and heading south on a paved road ride, I have no route picked out as of yet, but it's nothing I haven't done a thousand times before, either pick a destination or just ride and see where you end up! If the dates suit you, shoot me an e-mail or PM and will set up a place to meet, if they don't let me know the next decent weather riding day that comes up and will set something up then.

Later,

Jeff (SoPaRider)

2007 wee strom w/abs
1996 DR350S
well this is my town. not a whole lot of adventure right here but the surounding county is choc-full of the best roads in the state!
Sussex Boro NJ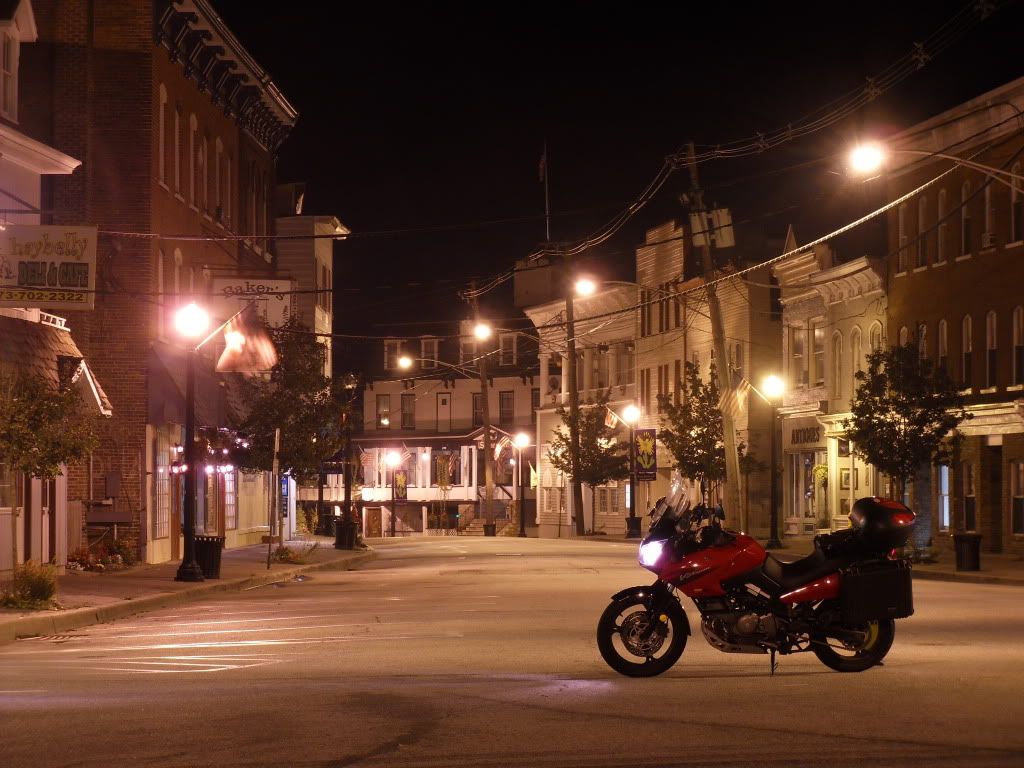 Cool pic, looks like you own the place...
---
Lead, Follow or get the hell out of the way.....