Stromthusiast!
Join Date: Feb 2016
Location: Spearfish, SD, USA
Posts: 97
2014 Wee Windshield Question
---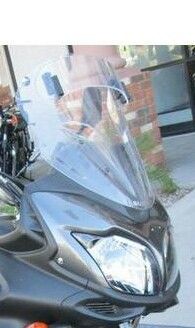 Is this the stock windscreen for my '14 Adventure model?
If not, can anyone identify the windscreen?
I went out to check the one I removed from mine and that looks to be a match. I don't believe there is any difference between the 2012 and yours.
---
Dennis

'12 650 Adventure

Madstad 22inch Adventure windscreen & bracket
Adventuretech fork brace & mirror extenders
Enduro Guardian skid plate and radiator guard
Grab-on grips
Suzuki top box
Stromthusiast!
Join Date: Feb 2016
Location: Spearfish, SD, USA
Posts: 97
thanks, thats what i thought from looking at pictures, appreciate your confirmation