Stromthusiast!
Join Date: Jul 2012
Location: Virginia Beach, VA
Posts: 229
How To Make Lock Cylinders TRAX (suzuki adv) cases BETTER!!!
---
The Why
: Had my Wee a week, been doing lots and lots of prep work to it so when I finish my vacation I can just ride and ride and ride. I got the idea from someone else on the forum who mentioned he wanted the ability to
put his lock cylinders in permanently open position and remove the key for quick open/closing
, and I incorporated some safety stuff from the thread about
"fixing" the lock cylinders to prevent them from vibrating loose/off while riding
. I also included a fix so they
rotate VERY smoothly into lock and unlock
. No need to graphite, wear it in, etc. etc.
Tools Needed
-Needlenose pliers to remove the C-clips.
-Key to hold in the pins (so they don't all fly around when you remove the lock barrel.
-Two flat nose pliers to
SLIGHTLY
bend the latch (explained later)
-Dremel with a thin grinding type attachment (it's soft metal...nothing fancy needed.
-Safety Goggles
-Hot Glue Gun
-Patience
-And of course, beer.
Should take about a hour or two, take your time. It's a lot of closeup work with a small cylinder, take some breaks and have fun.
The How
Here's some pics showing stock Cylinder.
1) Here are three pictures. The locks we're fixing, the 90 degree "stop" that it comes with from the factory, and the inside showing the C-clip in the 90 degree position. You can only turn the lock cylinder in one direction, and only 90 degrees.
2) Remove the C-clip with needlenose pliers
AMATEUR TIP!
- Put the key in the lock and LEAVE IT IN! It'll prevent the little pins from falling out of it and springing all over the place. The key should stay in till you're DONE with that lock!
3) It's a little hard to see, but in this general area (note direction of key), is a small protrusion that we're going to file away with the dremel. You'll see the filed away part later and it's a better picture of where it is.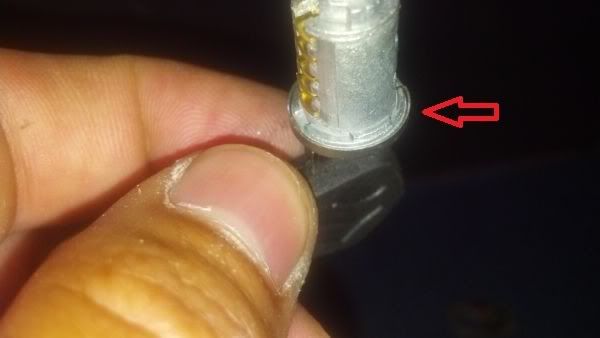 4) Here's the tool I used on the dremel. I held it perpendicular to the lock cylinder and filed it down till it looked like I was "buffing" the round part of the lock cylinder. Worked for me.
5) Here are two pictures showing the filed down part. Easier to see the location in these pictures of where it WAS.
6) Here's the end result. A picture showing the key in and turned to the "LOCK" position. Followed immediately by a picture with the key in and turned 180 degrees (at which point it is unlocked, and you can pull the key out and leave it unlocked). In addition, you can turn the key EITHER direction to unlock/lock it, and the key will NOT pull out unless it's in the locked, or 180 degrees to the locked position.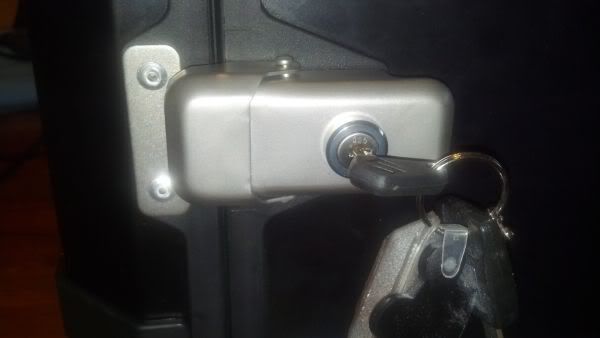 7) BEFORE putting the tab back on it, we're going to do some bending. Take one of the flat nose pliers and grasp it, past the star hole (great descriptions, huh?!). The other flat nose plier should only have about 1/3 of the tab to grasp (the solid side). Take it, and bend it VERY VERY slightly towards the flat side (one side is flatter than the other). We're looking for a VERY slight bend here. 10 degrees is probably way too much. Here's a pic of what worked for me.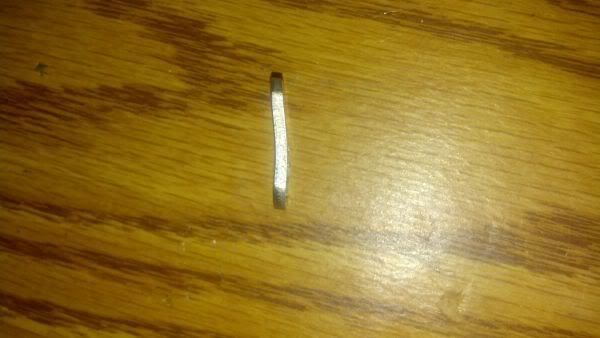 What this does is keep the tab from scraping any part of the slot it locks into and allows for the key to turn freely. My key will turn 360 degrees VERY smoothly in either direction. It may take some trial and error to find that right bend. But only a little is needed.
8) Now to throw some hot glue in the mix just as a little insurance to keep things from vibrating loose. I chose hot glue cause it's easier to use than crazy glue, cheaper (if you have a gun already), and VERY easy to remove or clean up any spots that got extra glue on it.
I glued the little tab that holds the whole cylinder on, and threw some glue overlapping the C-clip and the tab to keep that one on.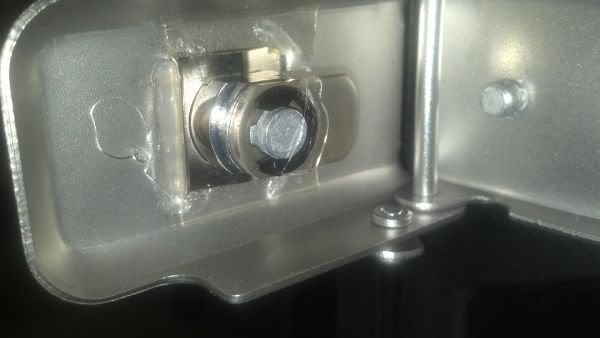 That's it. Finishing up tonight, and I'll feel a whole lot better about riding around, and now have the ability to leave a box unlocked if I know I'm just gonna run to the store with it empty and bring something back home.
Alexi
Well done!!

I have been missing the fact that I couldn't leave the lid unlocked like I could on my Happy Trails.
Great writeup! This is definitely on my to-do list!
I've got my locks working smoothly and removed any vibrations with the included plastic stickers/spacers.

Is it just me, or is the C-clip the weakest link? Is it the only thing holding the locking tab to the cylinder?

If so, it seems like you could pop a locked box open by simply pulling hard on the latch (causing the c-clip to pop off). I don't even think tools would be necessary to breach the locks.

Oh well, I guess locks are for keeping the honest people out.
---
2014 BMW R1200GS "Heidi"
2016 KTM 500 EXC Six Days "Kate"
Stromthusiast!
Join Date: Jul 2012
Location: Virginia Beach, VA
Posts: 229
Quote:
Oh well, I guess locks are for keeping the honest people out.
Precisely. You'll have the people will peek into a case if they see it's unlatched. You have the people that will give the case a gentle "tug" to see if it's unlocked. And you have the people that will jam a screwdriver/drill bit in there and get inside no matter what.
If someone REALLY wants something, they will have it. And there's not much you can do about it. That's where insurance comes in and a semi-aloof attitude of, "Sometimes, ____ will happen." I bought locks, i put it in a garage or put a lock through the back wheel and frame if keeping it in a parking lot for a while, but I accept that life has risks.
Alexi
Stromthusiast!
Join Date: Dec 2012
Location: Mid-America
Posts: 0
Thank you ! This has been one of my biggest irritants on the Glee.

Getting mine fixed tonight!
John
Stromthusiast!
Join Date: Dec 2005
Location: Gold Coast, Australia
Posts: 3,643
I'd recommend silicone, not holt melt glue.

Two reasons, in cold weather hot melt will harden like glass and crack from vibration, and in very hot weather it'll melt and flow (black cases sitting in hot sun can get the lock area hot enough to burn skin).

I had to do something simillar with the lock on my Bestem top box.

Pete
Stromthusiast!
Join Date: Apr 2012
Location: lake havasu city, az
Posts: 44
Nicly done, thanks for sharing this great tip.
Stromthusiast!
Junior Trooper
Join Date: Oct 2013
Location: Texas
Posts: 9
"Is it just me, or is the C-clip the weakest link? Is it the only thing holding the locking tab to the cylinder?"

I lost a C clip and purchased a replacement from a local auto parts house. The replacement clip is slightly larger outside but it snapped on much tighter.

I went back and bought enough to replace them all when I do the rest of the lock modifications.