Macquarie Pass - Australia
---
Well I'm finally getting around to cutting a few of the video's I've taken over the past 5 months and thought I might share some with you. This was taken when I was almost home on the way from Perth to Sydney via Adelaide and Melbourne (7122 km over 2 1/2 weeks). Mac Pass is a favourite of Sydney bikers though it is somewhat dangerous - there's a lot of bike accident's on the pass. This is now being addressed with the addition of things like linemarkings as you can see in some area's. Apparently they help keep people on their own side of the road - who knew?
Hope you enjoy!
Dean
http://www.youtube.com/watch?v=Wyy_wjRj1Qk
---
"Paint chips, dirt and scratches are like miles on the odo. All serve as proof you've been out there riding it - not in the shed polishing it..." - Me, Now.
DL650K6
You know, you guys ride on the wrong side of the road down there. It took me a long time after moving back up here to re-adjust.

A fantastic road. It's just not the same in a Falcon.
---
DL1000K6 Two wheels good; four wheels bad.
DRZ400SK17
Boy oh boy, talk about hurting a guy. Haven't ridden since Oct 22 and you send me this twisty road and warm weather. But I'm not jealous, really I'm not jealous, really, believe me. ARRRRGH !!! Really I'm not jealous, no I'm not ARRRRGH........................ Good for you. Ride on.
---
05 / 650 in blue
88 / KDX 200 in green
81/82 DT 175 Yamahussies
79/SP 370 Suzuki-bad bike-no keep
78/ GT 750 water pumper
75/Suzuki 125 RV
Great video oodeano, tks for sharing it with us.
---
It's more fun to ride a slow bike fast than to ride a fast bike slow.
K7abs
Quote:
You know, you guys ride on the wrong side of the road down there
I was going to say the same thing. I think that's the reason for all the bike accidents there, everyone is on the wrong side of the road
I'd be a hood ornament inside the first hour trying to ride or drive over there, but I'd sure love to give it a try some time.
Great video. Thanks for posting it.
---
Scott Craig - Nashville, TN
Red '06 Suzuki DL650 - Red '07 Honda VFR800 -
My Bike Page
Bonzer, mate! Good on ya!

I see you were a little hot into that one hairpin. Ah, well, we all do it sometimes.

What type of storage media does your camera use? Hard drive, card, disk? I don't do video yet, but the thought has crossed my mind more than once, and your setup seems pretty good. --Gene
---
It's not the destination that matters...

'04 ST1300
'07 Wee
Stromthusiast!
Join Date: May 2006
Location: Naperville, IL
Posts: 77
Great video!
My wife and I rode a rented Harley Ultra Classic with useless tires through the pass back in 2004. We took much longer than you did - thanks for brining back some great memories.
---
2006 Suzuki Vstrom DL1000 (Red)
More Pain
---
Sorry WW - got nothing but more pain for you. I have about 6 hours of video that I'm trying to pick the eyes out of - including almost 2 hours of 'the great ocean road' - probably the premier bike road in the country and a couple of other favourites. It gets worse still - some shift working friends are going for a ride tomorrow so I've taken a day off to go - back up the pass tomorrow - sorry . . .
Gene - I took another look - I dont think I was too hot into any of those hairpins. You are correct though - most people do it at some time and I have one coming up in a couple of video's time . . whoops
I bought the cheapest camera I could find at the time - a JVC mini-DV. I figured it would have a tough time on the bars so why lash out on something expensive? Oddly enough, between the manufacturers bonus and the store warranty - it came with 5 years warranty?
The mount is a ram mount - "mount anything to anything" is their slogun - seems to be ok and was by far the cheapest at $70 AU and it's modular. It's only $20 for another bar mount and is screws between them in seconds. I looked at a few tank mounts - I think they give you a better perspective of the speed but I didnt want to trust a $500 camera to suction cups and anything better just didnt seem to be worth it? If the Tom Tom wasnt on there I could probably move the mount around for a tank mount view?
Here's a pic of the cockpit when loaded - I dont have the smaller GPS I sometimes carry ont he left - for when the Tom Tom runs out of maps?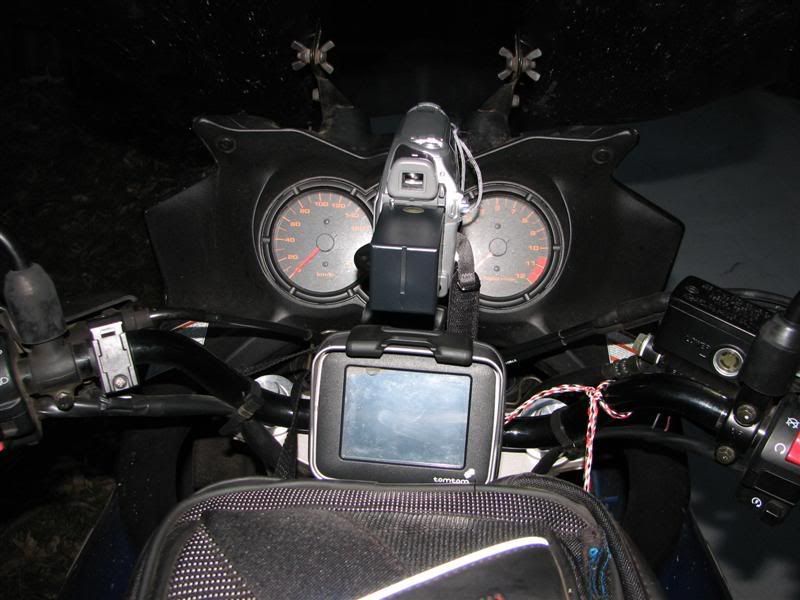 I went out and took this earlier so you can get a good look.
While I think of it loaded up - it looked like this on the way down the pass.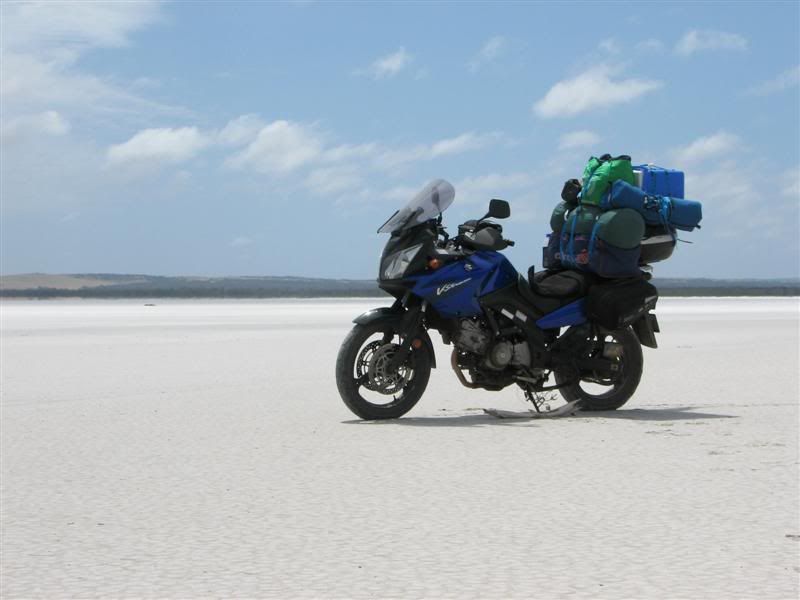 ---
"Paint chips, dirt and scratches are like miles on the odo. All serve as proof you've been out there riding it - not in the shed polishing it..." - Me, Now.
DL650K6
Jesus Christ! Look's like the Clampett's truck. That's a bunch of stuff you have on there, LOL. What's that blue thing up on the back?
Thanks for the info on the camera. I'm quite familiar with RAM mounts, as I have them all over my ST, and they seem to have proliferated to the Wee as well. It looks like your load on the pass beats how my ST was loaded on my last cross-country trip. --Gene
---
It's not the destination that matters...

'04 ST1300
'07 Wee