Join Date: Oct 2006
Posts: 21
Santa brought me....
---
- A battery tender jr.
- tank cover
- Hepco & Becker crash bars
- Powerlet outlet
- Givi windshield (guess he lost the url for Madstad I sent him)
- And of course the obligatory tie (which I did need)

Woohooo, I cleaned up! Now I know what I'll be doing today, might even get in a Christmas day ride.

What was in your stocking?
---
Last edited by MiKeller; 12-25-2006 at

02:42 PM

.
I received a picture of a givi topcase that was ordered on 12/5/06. Not delivered as of Christmas. Hope it comes soon. I was a very good boy this year and I can't promise that I can be good much longer.
---
'05 GL1800A-The Banana Hammock

Target fixator extraordinaire.

Never underestimate the power of stupid people in large groups." ― George Carlin

Make the world safe for stupid people and you will end up with a world full of stupid people.
Santa brought 2 gifts for the Wee and I. Zook handguards and 2" mirror extensions. Can't wait for the Bat Cave to warm up come spring so I can farkle on.
---
05 / 650 in blue
88 / KDX 200 in green
81/82 DT 175 Yamahussies
79/SP 370 Suzuki-bad bike-no keep
78/ GT 750 water pumper
75/Suzuki 125 RV
Stromthusiast!
Join Date: Jul 2006
Location: SE PA
Posts: 73
Santa, (aka, my baby) brought me:

madstad
Givi shield w/ no black trim

Yeah, baby! Can't wait to try them out. Wouldn't you know, the 2 days before Christmas have been warm (for December in PA, that is) and I didn't get to ride. Now, I have off work until Jan. 2nd, and the weather will be $hit!
---
2006 V-Strom 650 (red)
2006 WR250F
Santa ,
The wonderful son that he is brought me these for the VEE: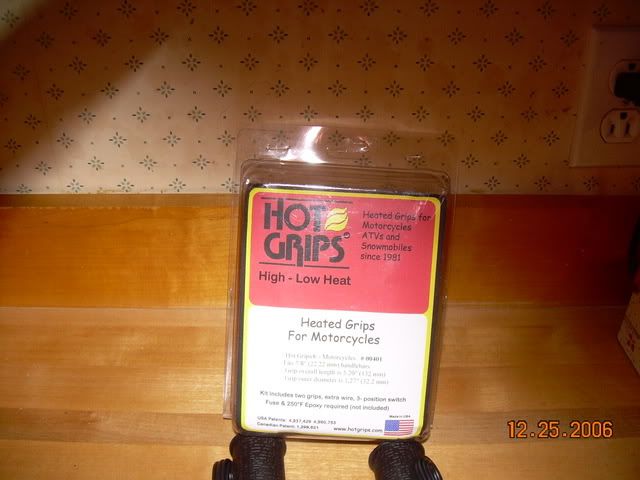 I'll be installing them tomorrow & will post my installation photo's and My impressions later on.
Now I have to wait for Radidio Shack to open so I can get the solder & Shrinktube to do this right..Don't want water to get in to cause corrosion :rolleyes:
---
2014 V2 DL 1000 25 miles and Onward
IF I only Rode in Good weather..
I WOULDN'T get to Ride in Vermont.at ALL!
we have 2 types of roads in Vermont, Unpaved roads and decaying back to .............Unpaved roads..
2005 DL1000 98,547 miles and continuing in the hands of it's new owner
Join Date: Oct 2006
Posts: 120
Gel Seat and Centerstand!!
Where do I start?

I got a bike brush for getting all the crap off when I offroad,
I got a fantastic pump and tire repair kit!
I got a volt meter/temperature gauge!
I got that fancy rear light get your attention so you don't rear end me thing!
and the mother of all farkles, a Starcom Advanced communication system!
There is a Zumo in the mail and I still have my heated grips to install.
Yikes! I have a lot of work to do... oh, and a tank bra...

Anyone know where to get a push to talk button that will work with the Starcom without ordering from GB?

I am pretty excited but a bit aprehensive about putting all of these things on.
---
Live to ride,
ride to live

Bunch of TOOLS Fan Club member
Oxford Hot Hands Handgrips, Zuk handguards, horn lead for installing grips to heated grip connector, and Splinter Cell Double Agent for Xbox. Fun for outside and in.
Merry Christmas all!!
---
Stromless...
I was lucky to receive:

Garmin 60CSX GPS for the bike
Aerostich darien pants

My gift to myself will be a Darien Jacket


Looking forward for winter to end.
---
Blue DL650 K5 with many farkles
For Sale...Honda CX 500 1980
Join Date: Oct 2006
Posts: 58
I got a Joe Rocket sonic leather jacket ,tank bra,pair of wiley x sun glasses.