2012 NE Strom Adventure Photos, Post 'em!
---
Great weekend!!!! Huge thanks to Rich, Randy and everyone who made it possible. The pillion and I had a blast.
I don't have many photos but if others would care to post, please share! Here's a few:
Rich explaining things before the ride.
Heading out to dinner @ Shiloh's Friday night.
Our campsite.
John's bike had so many DIY farkles, the wires looked like a spiders web.
Oh, wait -- there was a spider!
Heading out into the White Mountain National Forest!
We were in the "scenic" group, so we got to stop and take pictures. Nice!
Got more? Post em up!
Philip & Nanyee
Stromthusiast!
Join Date: Jun 2009
Location: Saratoga, NY
Posts: 488
This is all I have, from Shiloh's Saturday morning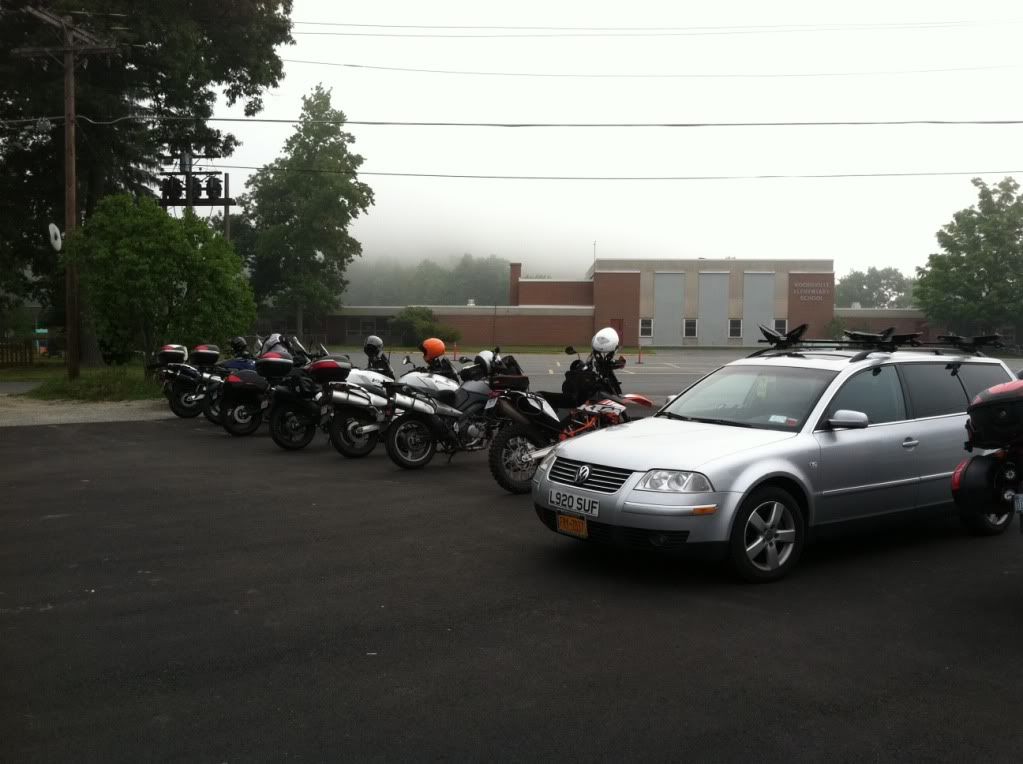 ---
63 BMW R69S sidecar project, 69 BMW R60US, 00 SV650, 02 SV650S, 05 Wee, 02 Vee "R", 07 Tuono, 05 ZX10R track bike, 13 BMW S1000RR track bike

Boycott SV Racing Parts
the group beginning to form up about 8:00am
a photo op for one of the Urals
Pearl Lake Road
pit stop on the ride home
my first day on a bike in a while, began at 5:20 am 100 miles to Woodsville, 245 miles on the loop, while everyone was relaxing in the pool, I rode to St. J., Vt had dinner, chatted with a friend, another 75 miles, I stoped at campground on way back, waited a bit for guys to get back from Happy Hour but wanted to make it home before midnight, another 100 miles, total about 520 miles
Never pay again for live sex! | Hot girls doing naughty stuff for free! | Chat for free!
---
RandyO
IBA# 9560
07 Strom 1k (8x,xxx miles)
99 SV650 (135,006 miles)
82 XV920R
A man with a gun is a citizen
A man without a gun is a subject
www.gbhsurvey.com
Stromthusiast!
Join Date: Feb 2011
Location: Fair Lawn, NJ
Posts: 2,485
I have many more, but not sure people would like their photos posted publicly..
---
2015 Triumph Tiger 800 XCx
2011 DL-650A, Now owned by another stromtrooper
-----------------------------------------------------
Stromputer - https://www.stromtrooper.com/dl650-2004-2011/73806-stromputer-alive.html
Stromtrooper Wiki - http://stromtrooper.wikispaces.com/
Stromthusiast!
Join Date: Apr 2011
Location: Sub-Arctic, New Hampshire
Posts: 98
Avoided the storm front? Hope so.
---
Nice pix of the nearby-neighborhood. I was chauffeuring the daughter from Chambersburg, PA on Sunday, so my 1,000+ mile-weekend was in a four-wheeler (adolescent females' idea of travelling light is four bags' full -- but she was away for while). Saw only one V-Strom and lots 'n' lots of Hardlys, a few two-wheeled cars (Gold Wings). Did see a couple Hardly riders wearing full-face helmets, which was a surprise. Most were "in uniform."

Hope all made it home without the torrential downpour we ran into after crossing the NH line. Lots of soggy pyrates on the side of the road. One detour because a tree took down a telephone pole, closing the road.

Monday and Tuesday, magnificent. Cooler, drier, bright skies. Maybe next time, schedule permitting.
Quote:
I have many more, but not sure people would like their photos posted publicly..
You were the only one with a decent camera, so post away! Inquiring minds want to see 'em!
I had unbelievably intense rain from near Albany all the way home, to the point that there was water several inches deep on the Taconic, and on I84 folks were going about 20 mph with hazard lights on. I've never been in that kind of weather on a bike before, I could make a fist and see water pouring off the glove that had been squeezed out.

Through NH and VT was great, and most of my way through NY was good as well, but from (I think) about 2 until about 3:30 I was well drenched. Given that my left boot had a hole in it, at least one of my feet was soaked almost immediately, and the other one followed a short while later. Lack of a windscreen probably didn't help, but wouldn't have made all that much difference, probably.
---
[SIGPIC][/SIGPIC]
"Never run out of real estate, traction and ideas at the same time." - Mario Andretti
---
Last edited by superslomo; 08-07-2012 at

01:52 PM

.
Stromthusiast!
Join Date: Mar 2008
Location: Mechanic Falls, Maine
Posts: 1,195
Here's a link to my facebook page. Mostly parking lot shots...lol. Gini and I had a blast meeting and riding with everyone. A special thanks to the event organizers!!! An Adirondacks Gathering next year sounds awesome.
NEStromGathering
---
13 Wee
09 Yamaha WR250R (Sold)
08 Stealth Wee (Sold)
04 Savage (Sold)
---
Last edited by Tnkrplt; 08-07-2012 at

02:09 PM

.
Stromthusiast!
Join Date: May 2012
Location: Dracut, MA
Posts: 22
A few pics
---
A few pics taken during the ride Saturday
Wow! Look at ALL the V-Stroms! I'll bet you guys had one helluva blast! I'm jealous! Wicked wicked jealous! You might know that I'd rented a beach house for the same damn weekend way back last fall.

Have plans been made for the 2013 Gathering as in "dates"? I do NOT want to make the same mistake for NEXT summer!