DL650 price check
---
I've been lurking on here for well over a year. I've been keeping an eye out for a DL650 for a little longer than that.
Anyone feel free to chime in on what you think of the pricing and equipment of this bike in particular and Wees in general.
This is what is listed in the ad:
2004 Suzuki V-Strom 650, Black,
Mileage 18100.
Givi Engine Guard
Givi Panier Rack Givi e36 side cases
Givi V-46 topcase
Heated Grips
Center Stand
Hyde Racing Skid Plate
Madstad windshield w/ adj bracket
Suzuki original hand guards and a second set of after market hand guards.
Fog lights bracket
New battery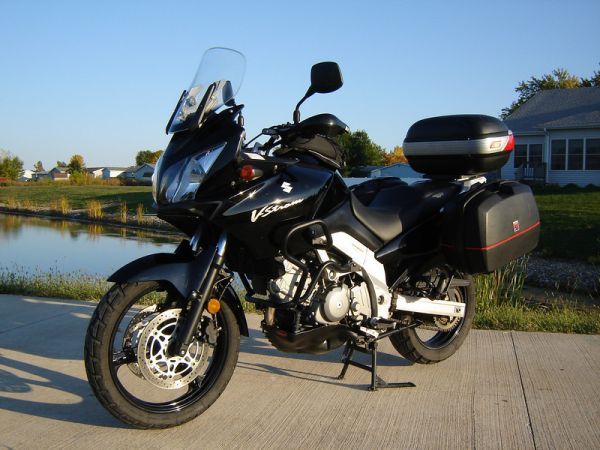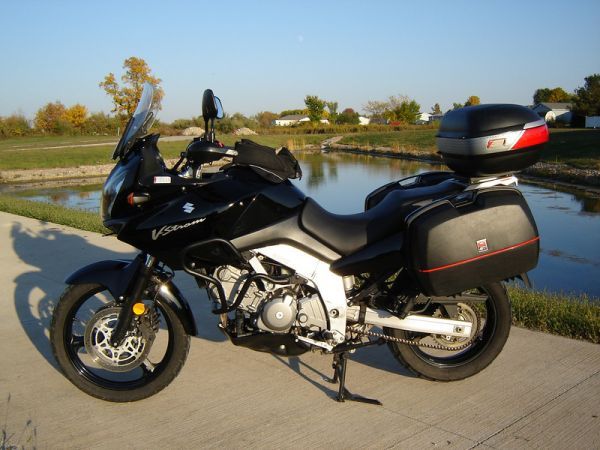 I looked on NADA and it says average retail of $2590
KBB says Trade In $2135
KBB says Excellent Condition Retail $3145
These numbers sound low to me.
Anyone that has bought or sold recently, please help me out.
Thanks
Stromthusiast!
Join Date: Feb 2011
Location: NC
Posts: 14
With all that I'm thinking $4500
I would say about $4K
---
DL650K7
XL1200N (Sold)
I would agree with the two above me in the 4000 to 4500 range. Plus primo riding season prices go up. Also check craigslist and cycle trader to see what others are asking for

Sent from my DROID RAZR using Motorcycle.com Free App
---
'07 Yamaha Vstar 650 (sold)
'09 Honda CBR600RR (sold)
'12 WEEEEEEEstrom :biggrinjester:
'13 Yamaha FZ8
price
---
4-4500 seems right. Anything below 4000 would be a great deal. I got mine in Feb. (2007 dl650 with 14000 miles and givi crash bars,brand new shinko 705 tires) for 3500.
---
2007 DL650
Thanks for input. A few more details I've learned :
Tires have 5k miles on them.
Has not had the 15k valve check.

Asking price is 4200
Stromthusiast!
Join Date: Jun 2012
Location: Reno, NV
Posts: 28
Make an offer! I bet you can get it for 4k or slightly less. Assuming the bike looks and runs as good as the pictures, then you are paying about 3k for the bike and 1k for the upgrades. Then ride it like you stole it CUZ you made a great deal.
Don't wait too long or you will miss out.
Just checked the NADA website for used motorcycle values, and it shows an average retail value of $2590 for a stock '04 DL650. Of course the accessories will add a little more to that value, but I'd say +/- $4000 would be fair. The market can very widely depending on the region. Values and prices seem to be lower on the east coast and higher in the west for some reason.
---
'09 DL650
I offered him $3800 via email. Negotiating is a little tough since the bike is about 4 hours away. I didn't want to show up and then try to negotiate. After making the trip, going home empty-handed would be an option only if the bike had a serious problem not disclosed beforehand.

He had indicated in an earlier email that the price was negotiable, so I'm really hopeful that I'm finally going to be a Strom rider. Even with the cost of the trip and the need for valve check/adjustment, I think it's a reasonably good deal. Hopefully it'll be a good deal for him too. He mentioned that he'd bought a BMW and it sounded like the missus might be pushing to send the wee down the road. Makes me realize how lucky I am to have a wife that rides and doesn't mind me having a stable of bikes, although she does tend to frown on more than 5 or so.
---
2004 DL650
1990 Suzuki VX800
2003 Kawasaki Ninja 500R
2007 Honda Shadow Spirit C2
Thanks everyone, I really appreciate all the input. I picked up the bike yesterday for $3800. It sure is a beauty.
---
2004 DL650
1990 Suzuki VX800
2003 Kawasaki Ninja 500R
2007 Honda Shadow Spirit C2