Join Date: Aug 2006
Posts: 107
Will GIVI E360 cases hold full face helmets?
---
Went to Biketoberfest and tried all the GIVI luggage on my bike. I seem to have settled on the E360 bags. After spending 2 hours at their booth....I forgot to see if it would hold my full face helmet.

Appreciate the help if you know.
I'm not sure how big your melon protector is but here is my XXL brain bucket inside a E360 case.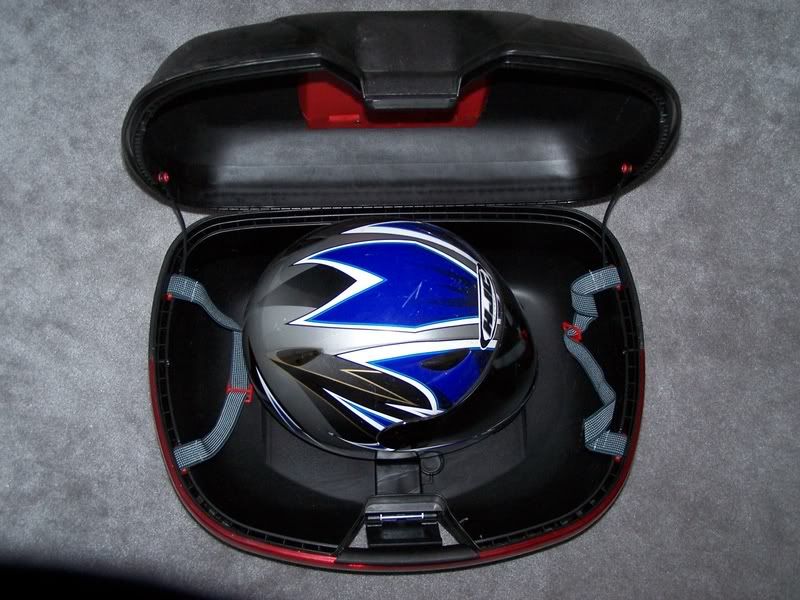 And here with the lid down, I tried the helmet on its side and the lid will not close that way either.
---
Ian

'07 KLX250S - Road
'00 CBR600F4 - Track

"The World is a book, and those who do not travel read only a page" - St. Augustine

Tampa Tom, I think you're going to have to go with one of the 46ers. Givi says they will hold two helmets. I have a V46 but I have a brain bucket like The Shepard and it's all I can do to shoehorn that in with my boots.

In fact ,by the time you buy the brake light with it, you can afford the 52.


Rod
Join Date: Aug 2006
Posts: 107
Thanks.....Really appreciate the help.

Looks like helmets will either be going in a larger top box or locked to the bike.
FWIW,,,,,I have a pair of E360's mounted as side bags. My helmet is 2XL HJC Symax and it goes in snug but ok; with room for my gloves, CD player, and a 12 CD case. :twisted:
---
Iron Mike - Semper Fidelis
Jack of all trades, Master of none
'04 DL1000 (20,000+ miles)
'11 HD Road Glide Ultra (20,000 miles)
My suggestion is go bigger. The V46 will fit 2 smaller helmets or 1 larger helmet. I have a V46 and wish I got the E52. If you get the smaller box you'll always need a bigger one.
Join Date: Aug 2006
Posts: 107
I ordered E360's for the side and will be getting a V46 for the top. Just bought the bike and the wife isn't real happy :shock: about the UPS man showing up at our door so often.

Need to be strategic.....Maybe a V46 after Thanksgiving....early X-Mas gift to myself.

Thanks again for the input.
My large li fits in my E360 sidecase as long as the document holder has been removed :shock:
---
Type @ Ya'll Later
Night_Wolf
2007 DL650abs Wee Strom
VSRI 1083/MIG 2625
A Newfie & Damm Proud Of It
My .02 ......I have an E45 on the back that easily holds 2 full face helmets. Will mount 2x E36 to the side when I find suitable racks. Thank you, come again!
---
L4 DL1000 Black Strom No3