Stromthusiast!
Join Date: Jul 2010
Location: Vermont, USA
Posts: 219
Handlebar Vibration solution?
---
I have read about (and experienced) handlebar vibration.
My off-season motorcycle-fix is to ride a snowmobile. I saw this product advertized in a snowmobile magazine and immediately thought it may apply to Srommmers too. ==>
Bar Buzz Kill
Stromthusiast!
Join Date: Jan 2010
Location: Baltic, Ct
Posts: 6,637
You have or have not personal experience with this?
Stromthusiast!
Join Date: Jul 2010
Location: Vermont, USA
Posts: 219
Quote:
You have or have not personal experience with this?
No personal experience with this. By reading thru the 'reviews', it seems to incorporate elements of BOTH the most widely-suggested anti-vibe suggestions.
*) steel -or- lead shot inside the handlebar.
*) some kind of gel, silicone or caulk inside the handlebar.
I am merely putting this on the table for others to see as they consider how to reduce their handlebar vibe issues.
I've never had vibration issues on any of my three Vstroms -- at least nothing that bothered me.

Rte 630 in New Brunswick is an issue, broke a shock on that road, but the bars were always okay.
---
-Tom (DL650AL2) (KA1TOX) (E-I-E-I-O)
This message and images are licensed under the Creative Commons Attribution-NonCommercial-ShareAlike 3.0 Unported License.
http://creativecommons.org
Stromthusiast!
Join Date: Nov 2010
Location: So Cal
Posts: 15
Handlebar vibration
---
I experience this same thing on my wee when riding for several hours. So far all I have done is replace the stock grips with some foam ones. Helped a little but not much. I've also seen, but not tried, the "Bar Snake". This is what looks to be some kind of solid round rubber that slides inside the bars to absorb the vibration. The only negative thing I might say about the caulking type stuff is that if it doesn't work you'll play hell getting it out so you can try something else. Lead shot could be messy if you need to remove the bar end weight. I'm thinking of trying this bar snake gizmo. If I do, I'll post back as to my thoughts on it.
Stromthusiast!
Join Date: Apr 2010
Location: Kind of live in bc, but back to Nomad. No home.
Posts: 123
My strom has vibration... lemme know if it works. Trying the grip puppies to see if it cures it.
I added Marvel Mystery Oil to my gas a few weeks back because of a statement that it could help preserve a steel tank during storage. On the very first ride I noticed my right hand mirror, which has been blurred at highway speeds since new (now 20k miles), is as clear as can be. Totally unexpected.
Mysterious indeed.
Bill
---
64 Hon cub 50, 67 Hon trail 90, 68 Yam 180 twin, 66 Hon 305 dream, 71 Yam 175 enduro, 73 Yam tx500, 70 Hon sl100, 75 Hon xl250, 79 Yam sr500 , 95 Kaw en500, 98 Hon cb750, 02 Yam fz1, 06 Suz dl650, 07 Hon ST1300
Avatar:
https://www.stromtrooper.com/forums/a...4&d=1170279743
I try to mount everything on / in a rubber mount of some sort. I often use fuel hose, first find hose that matches the bolt size. make it a "tad" longer for compression, then slip a larger hose over that until it fits the space / hole / mount or whatever is shaking. Tighten it all down so most of the fuel hose is smashed near flat. You might need a longer bolt. It helps, in most cases the problem is gone. I started doing this on my G/F's HD when her driving lights were shaking like crazy, then the handle bars, then anything else that shook like crazy. Gotta love those HD's, always something to work on. She's since traded it on another HD, go figure.
The handlebar vibration in my K5 Wee used to bother me. It led to numbness in my hands if I rode for any length of time over an hour. I did two things that really improved the vibrations that I felt, and the ensuing numbness in my hand.
I ordered two items, the first being the Grip Puppies. This just gave me a more natural feel to the grip. Reduced the felt vibration a little, but greatly increased the confort of the grip. Fairly inexpensive fix too and dead simple to install.
The second item I added was the Vibranator bar ends. This was the most significant reduction in felt vibration. I would say it cut it in half. From their site it states "Using Tuned Mass Damper technology, VIBRANATORs interfere and disrupt the rhythm of vibration in handlebars, reducing the serious affects of involuntary muscle contractions in the body." Worked for me anyways, YMMV.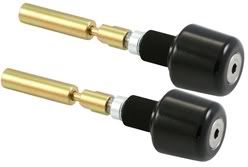 ---
Steve

Posted by ozart "Yep, there can be adventure with a bike without even riding it."
Stromthusiast!
Join Date: Jan 2007
Location: Redmond, WA
Posts: 765
In theory this product may work fine. It deadens the harmonics of the vibration in the bars. I don't really have a complaint with the bars I have but solid mounted bars like on the Wee v rubber mounted on the Vee does make a difference in the frequency through the bars. I have Spider Grips
GRIP DESIGN — Spider Grips
and just don't have vibration in the hands. Good stuff.
---
2003 V - ASV C5 Levers, Univ. Solex bars, grip heaters, ktm mirrors, c.stand, SW Mo Engine grds,Two Bros, PC3, Garmin, Givi 460, tank bag, F. Extenda, BackOff, Super Brace, Elka Shock, Race Tech Gold. AWD/Mr.Ed's Moto seat mod. Dumonde Tech Racing Oil, Spider grips, Contour.

2001 KTM LC4 farkled (sold)