Join Date: Sep 2006
Posts: 19
Trailering V-Strom
---
I have read many of the post' regarding this issue but nothing I have tried seems to be working . I have a 5' X 8' utility trailer with 5/8" marine plywood on the deck. I do have 3/8" eye bolts at the four corners but tying to the bars rubs the fairing, tying to the lower triple tree rubs/bends the plastic, tying to the grips?, canyon dancer sucked ruining grips and almost switchs. Do not have crash guards, so maybe to engine mounts (kind of low) on bike/ Help :roll:
Join Date: Jun 2006
Posts: 852
Why not go from the handlebars, down through the fairing and tie it down that way?
I use this method when strapping my Strom down on my motorcycle lift and it works quite well. No bending of anything and the bike does not move.
Just a thought. Just like this: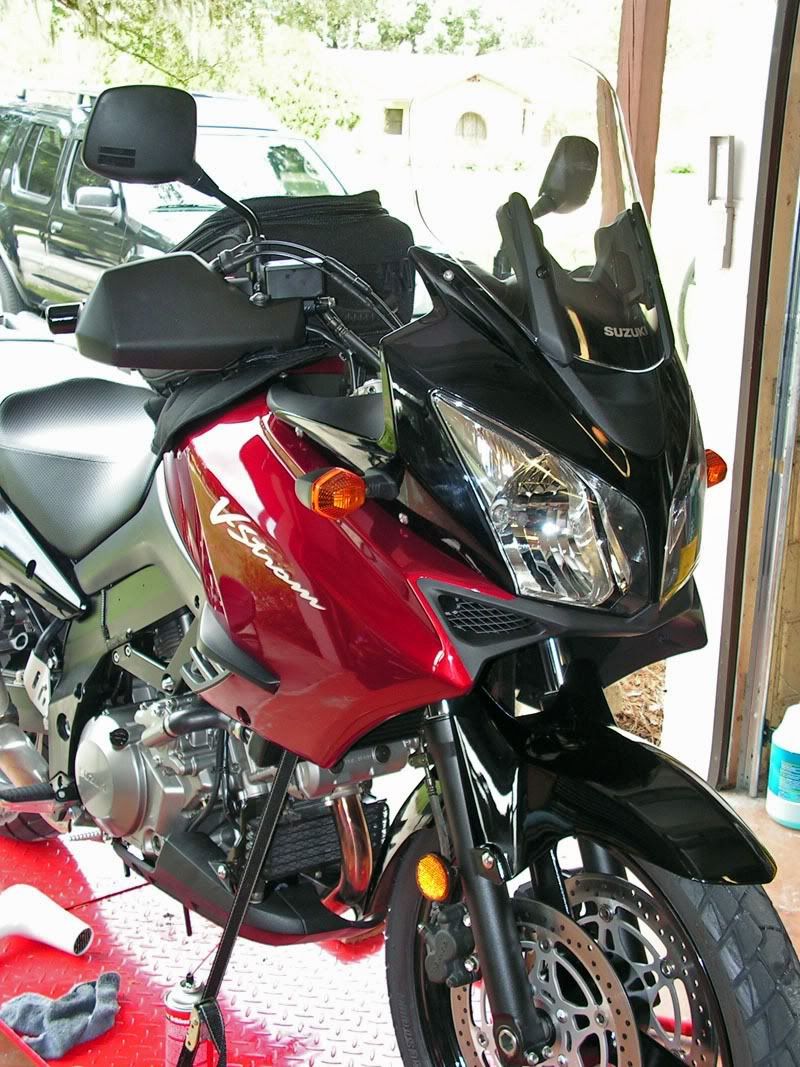 Join Date: Sep 2006
Posts: 19
See now thats a new idea, but my rings are about 5' apart. I will see if I can add more rings.
Stromthusiast!
Join Date: Sep 2006
Location: DeWitt, Arkansas
Posts: 78
Blasphemy!! Trailering a Strom!!!! Just kidding, I may trailer mine to east Tennessee to see my folks, hard to haul 3 people on it.. I like FL_Strom's idea, I think I'll put some hookups on my trailer just that way!! Thanks!!!
---
05 DL1000
74 Yamaha 650
70 Honda CL450
67 Sears 106SS
01 Kawasaki KLR250
I tie mine down with the crash bars in front and Touratech mounts in rear, very solid and no way to scratch paint.
Stromthusiast!
Join Date: Jun 2006
Location: Texas
Posts: 112
---
========================
Sarcasm Sensei
Bondage, NOW your talking... oops wrong forum...

Anyway, I have been wondering about the wheel chocks. I would rather do that than put eye bolts in my truck bed... wife would KILL me for drill her new truck...

Anyone else use chocks?
---
Rodentinaz
Arvada, CO

Don't make them wear helmets, thin out the gene pool.

DL1000K2 - Run over 7/2015 by a drunk