Join Date: Aug 2006
Posts: 39
It's not a seat problem but anbutt problem...
---
While riding for hours on the stock seat, well lets just say my butt hurt. It hurt all over. So, i went and purchased a Suzuki Gel seat. It's a definite improvement. However, now my butt only hurts in one specific area, my tailbone. Anyone else have this problem? No matter what I do it seems that after 1.5 to 2 hours and I have to stop to ease the pain, but the pain is only in my tailbone area. Any suggestions?
G'day,
On my Strom I bought a sheep skin set cover & its great keeps ya bum warm in winter, buy a fitted one its more expensive but worth it.

I always have a break after 1 or 2 hours of riding stretch my legs etc.

With you tailbone problem maybe change your handlebar position or even purchase a new seat but try the sheepskin seat cove first, a fitted one.

You did not say how tall you are ?.
I can't speak for the gel seat. I replaced my stock seat with a Corbin Canyon seat, and all those monkey butt issues went away. I found that the stock seat would crush down quickly, and start to create pressure points that caused pain and discomfort. The Corbin seat is, IMO, a better seat. The seating area is wider, offering more area to offset weight, and the foam in the seat is much firmer. This helps prevent crushing. I took my strom on a 5200 mile trip this summer, and not once did I have a really painful ride.

Hope this helps.
Super Moderator
Join Date: May 2005
Location: Central OHIO "Go Buckeyes"
Posts: 16,655
The gel seat is fantastic! Put an Alaskan leather buttpad on as well...... and you will more than likely be impressed with the improvement. I rode more than 600 miles this weekend with this combo, and my butt is very happy! :lol: They are both very cheap compared to "expensive" custom seats, which may not end up working for you. You could always sell the gel seat if you didn't like it, there are plenty of people on the waiting list.
---
BRIAN "GO Buckeyes, GO Wildcats"!
2015 DL650 XT "Hector"
1997 Honda Valkyrie 1500
custom
"Dolores"
Join Date: Jun 2006
Posts: 852
Replacement seats, gel seats, sheepsking are all good things to make the seat feel just a bit better.
However, conditioning is something that will make the pain go away. Squats are a great way to put some tone in your gluteous maximus and make you more comfortable for long periods of time in the saddle.
How much is correct?
When you look like this when you stand on the pegs, stop!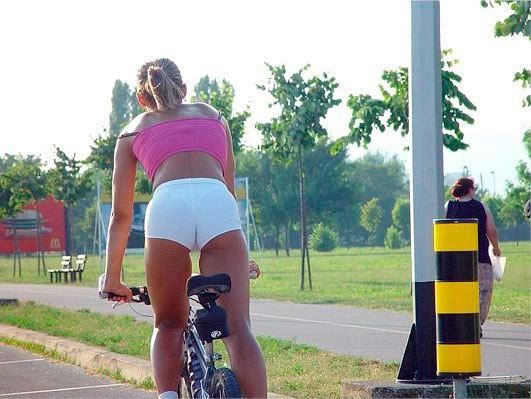 Is there a bike in that picture?
---
-RMRR
'05 DL1000 - Dead at 66K miles.
Nerding it up at Wheelnerds.com
I just put 1,100 miles on my new Gel seat and It was a huge improvement over the stocker. But, I did notice that I had to get some miles on it before it set in and felt good. I rode almost all day on the Gel and felt comfortable where I could go about 150-200 miles on the stock seat before I felt as if my butt was on fire.
---
Darin
___________________________
'05 BMW R1200RT
'03 Honda XR400 (Dual Sported)
'71 AJS 370 Stormer
For only $30.00 - $50.00 you can get a pair of bike shorts that have the gel or chamois seats built into them. Heck of allot cheaper than a new seat and they work wonders!! Not knocking anyone that bought a new seat but the bike short thing worked for me. I already had a few pairs since I also enjoy doing the pedal pedal thing. I haven't seen that particular person out while riding but may have met some of her riding friends.... oo la la mon cheri indeed! Here is a URL for some bike gear. There are of course a bunch of other sites out there. This one always has good gear at a good price.
http://tinyurl.com/ftyd5
---
Shiny side up, Rubber side down!
DL650K5/Red
Semper Fi!
Moving around the country is an art not a science. If you're traveling on a bike or in a cage , It's a good idea to stop every couple of hours to stretch and check out your machine.