Need help deciding - new DL1000 or 2004 R1150RT?
---
I rented a DL1000 for a day and liked most everthing about it except cruising the highway at 80 mph. Too much buffeting, wind, etc. (I have read about the Madstad, but the rental had the factory windshield).

Then after riding a ST1300 (too top heavy, boring) and Ducati ST3 (fantastic bike/motor, but to much weight on the wrists, and too much buffeting at 80mph), I finally tried a 2004 BMW R1150RT. It has the most fantastic fairing/windsheild I have ever experienced. In the full up positon, I was in a calm pocket at 80 to 90 mph, still looking over the windscreen. In the full down position, very clean, refreshing air hitting me on the chest and up. Good way to cool off here in Arizona.

I have read pretty negative things about the newer, BMW's reliability, especially rear drive failues and servo assisted brake failures ... each can involve a $2500 repair.

My question is this. Is it feasible to get the DL1000 wind protection anywere close to the R1150RT? (Madstad, different windscreens, etc.)
The MadStad has a realy good range of adjustment; I'm running one on my 650 with the stock windshield.

Only bad thing is that my mileage has gone down,,,



because it's just as easy to cruise at 90 now as it was at 70 before :lol:
---
JonnyLotto
DL-650K5
"Honor does not need to defend itself nor does Valor need to fly a pennant to say 'I am brave'.
This is Pride mistaking itself for Virtue."
I have the Madstad mount & a California Scientific screen and havevery little buffetting up to about 85. There's a company that make lowers for the Strom (can't think of who right now) that would shield your legs better (which may not be a great idea in Phoenix!).
Stromthusiast!
Join Date: Jul 2006
Location: Sydney AUSTRALIA
Posts: 1,446
I am riding dl 650 with a cee bailey tall screen that you look threw ( I'm 5'9'' ) I love being out of the wind and ride with my visor up ( I wear glasses ). I do not think you can make it like the BMW but it can be better than stock even BMW riders get different screens.

BMW rear end problem is not as complicated as it made out to be from what I gather. The rear bearing is what failes and is generally the 19 ball bearing not the newer 17 ball bearing. You can do it yourself if you have a bit of ability and look on BMW boards ,parts are about $120 ,it only takes a few hours.
---
Graham Downunder
I have a MP touring shield with saeng micro edging almost as quiet as my ST1300 with no buffeting except at high speeds following large trucks.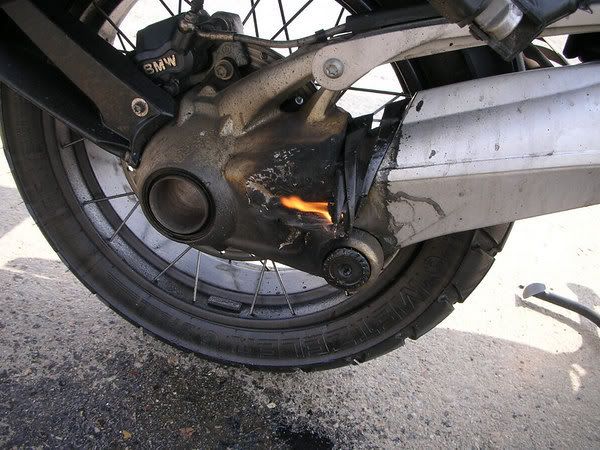 :shock: :P
---
"Build a man a fire and he'll be warm for the night. Set a man on fire and he'll be warm for the rest of his life." - Confuseus