Janice Clanfield Sighting
---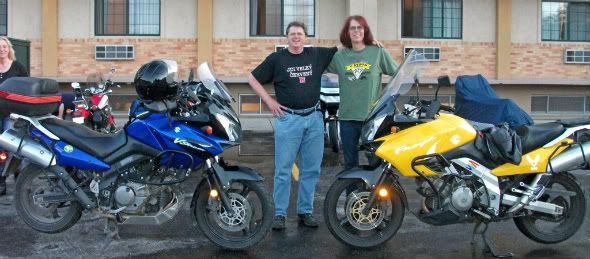 So I'm riding home after work tonite in Rapid City and head to the Safeway and I spot a yellow V-Strom parked at a hotel. Turns out it belongs to our one and only Stromtrooper, Janice Clanfield! We had a great visit tonite! Great looking yellow Vee! She is on tour with her Amazon Club from Toronto. They've been touring western South Dakota the past few days. Tomorrow they head in to Nebraska to visit Carhenge, then east thru the Sandhills on their way back to Toronto.
---
2005 V-Strom 650 Blue
Stromthusiast!
Join Date: Sep 2010
Location: South Oz
Posts: 1,391
.
Excellent. You score two points.
Janice is indeed a Celeb-Stromer.
Best of luck to her & the rest of the Amazon "Clan".
.
Hiya! Was nice to run into TheBlade here in South Dakota. Some of the roads here are a real treat. Wish we could stay another week to discover more of them.

Thanks to TheBlade for the cool South Dakota V-Strom t-shirt. It's actually long enough!

Anyway, like he said, we're heading to Nebraska in a few minutes, and hope to avoid the worst of the rain, thunderstorms, wet roads, and demented corn huskers...
Quote: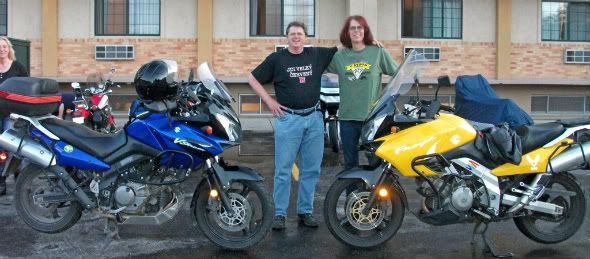 Dude, you must be pretty tall!
---
Sent from my Hewlett-Packard 75C, using the Flying Merkel motorcycle app.

Stromin'Nroman NC28729, USA

DL650A K7 (Greywolf Moto Lab's R&D test mule) June 1, 2012 - present
DL650A K7 April 23, 2007 - January 6, 2012, RIP

"Look here brother, who you jivin' with that cosmik debris?" Frank Zappa, 1975
Janice, come on down to the southeast next time. We have lots of good riding down here.
---
2012 DL650 Adventure
Quote:
Originally Posted by
janiceclanfield
View Post
. . . . . and demented corn huskers...
HEY! . . . . LOL
What route are you taking in Nebraska?
---
Jim Hungate
MSF #27339
--
2006 DL650 Red
I am 6'1" and felt vertically challenged standing next to Janice. The Amazons were heading south to Carhenge near Alliance, Nebraska, then heading east on Hwy 2 through the Sandhills. If you've never ridden thru the Nebraska Sandhills, add it to your Bucket List.
Janice: Beware of the Children of the Corn.
---
2005 V-Strom 650 Blue
Janice, are you headed 2 east through the UP of MI then south through MI?
---
Flat Black 08' DL650. Lots 0' goodies
Its hard to hide when you're ridin around on a big yellow Vee. Have a great trip!
---
09 DL650 ABS
MadStad + stock shield, JCW large topbox, Tuturo chain oiler, Heaterz grips, Suzuki hand guards, GIVI side guards, Aprilia Tuono mirrors, 36l Givi panniers, Richland Rick fork brace, Pipercross Air Filter
http://www.aldntn.bravejournal.com/
We made it to Spring Valley, Il. Iowa was really pretty, rolling hills and small towns, all with the same town square...

We'll be travelling through Chicago on the south side to try to avoid most of the freeway traffic, but I have a feeling that it's gonna be busy, especially after all these days riding through the countryside.

One of the things we noticed about Iowa was the lack of zillions of american flags everywhere. It was refreshing after going through places with flags, bunting, and 'merkin slogans plastered all over the place.

People seem to be nice to us wherever we go though...

Pics later.