Evapo-Rust Rust Remover
---
Anyone here have any experience with Evapo-Rust Rust Remover?

I have some tools that are in need of rust removal
---
Formerly clovett but changed to my gaming name

2004 DL650 1998 DR650 1994 CB1000 1992 DR350
2004 Z400 1965 Norton 650 1984 Honda XL200
1975 Suzuki RM125 1972 Yamaha 100 enduro
1971 Honda CT90 1968 Honda Z50A
Stromthusiast!
Join Date: Aug 2009
Location: Albuquerque
Posts: 108
I have used it on some badly rusted mc parts. It works very good. I bought it at Harbor Freight and will buy it again. I do not think it is reusable as it turns black with use and did not seem to work as well once it turned black.
Stromthusiast!
Join Date: Oct 2009
Location: Evergreen, CO
Posts: 598
FWIW, I have always used Naval Jelly with good results. It's this pink gel stuff. You can find it in auto supply stores. The last time I bought some it was available in a pump spray (actually it streams) bottle in addition to the traditional brush cap bottle.
---
07 DL1000, all farkled up
I've used Evapo-rust on tanks, tools, and various parts, and been VERY happy with it. It doesn't stink, it's safe on your hands, and won't harm paint, rubber, or the base metal. When it's used up (turns black) it's not a hazardous substance -- you can dump it down the drain or put it on your flowers if you happen to have iron-poor soil.

Naval jelly and most other rust removers are based on acids (usually phosphoric acid) -- they'll damage the metal as well as removing the rust, and they are hazardous substances.

Evapo-rust is not acid-based (dunno how it works, actually) and it's safe to leave parts in it for months -- it only eats rust, not anything else.

The only downside is cost -- at around $25/gallon, the stuff ain't cheap.
---
2002 Suzuki DL1000 V-Strom, Dark Metallic Space Blue
1983 Suzuki GS850G, Cosmic Blue
2005 KLR685, Aztec Red - Turd II.2, the ReReTurdening
Thanks guys. appreciate it. I'm going to give Evapo-Rust a try.

And special thanks for the tip that Harbor Freight handles it. Getting it shipped was almost doubling the cost. We have a Harbor Freight in town.
---
Formerly clovett but changed to my gaming name

2004 DL650 1998 DR650 1994 CB1000 1992 DR350
2004 Z400 1965 Norton 650 1984 Honda XL200
1975 Suzuki RM125 1972 Yamaha 100 enduro
1971 Honda CT90 1968 Honda Z50A
+1 for evapo rust. it will remove pretty heavy rust easily.. and you can basically wipe surface rusty off with a rag damp with it!
---
It's a funny thing about comin' home. Looks the same, smells the same, feels the same. You'll realize what's changed is you.
Looks like interesting stuff...what makes it work? The MSDS says that it contains no hazardous components, so there is nothing there to tell us what's in it. No health hazard except if you drink it you'll get nauseous.

I've used lots of phosphoric acid products over the years. They leave an iron phosphate (black) surface on iron & steel that is especially good to paint over. I haven't heard of it causing any damage to the steel when used according to the label instructions.
---
"Older people who are reasonable, good-tempered, and gracious will bear aging well. Those who are mean-spirited and irritable will be unhappy at every period of their lives.

"Let each of use properly whatever strengths he has and strive to use them well. If he does this, he will never find himself lacking."

Marcus Tullius Cicero
44 B.C.
There's some mumbo-jumbo about "selective chelation" on the web site:
Evapo-Rust Rust Remover Home
I don't really care how it works -- the stuff works as advertised, and it doesn't harm other substances. You can wander away and leave it soaking, and it won't hurt anything.
Part of following the directions with acid-based products is limiting exposure time by rinsing thoroughly and/or neutralizing, and not allowing the acid to contact other materials -- not always easy to do.
I remember one guy who was crowing about the results he got by using an acid-based rust remover on an old motorcycle. A couple of days later, he was crying about severe damage to the aluminum engine...
---
2002 Suzuki DL1000 V-Strom, Dark Metallic Space Blue
1983 Suzuki GS850G, Cosmic Blue
2005 KLR685, Aztec Red - Turd II.2, the ReReTurdening
Molasses and water.
See my webpage:
Getting Rid of Rust
Here's my 4WD aux fuel tank after half had been treated. Guess which is the rusty bit.
The clean bit was just washed and you can see brown staining from fresh rust appearing - it was so clean.
I did the inside as well.
Some more pics, this time a battery tray:
Before:
After (again that staining is from rust appearing after being washed):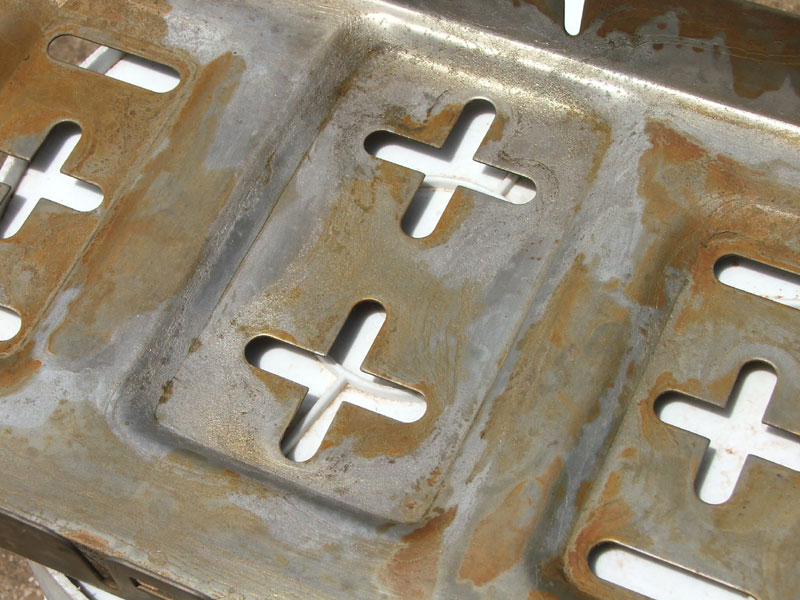 ---
Ron B. VK2OTC
2007 Yamaha XJR1300

RIP Bucko
1979-2008 - Riding on forever
---
Last edited by p38arover; 06-20-2011 at

03:27 AM

.
I like how the battery tray has a "positive and negative" motif... :mrgreen:


But seriously... good info!

Hopefully not something a lot of V-Stroms will need, but lots of us have older bikes and such.
---
2002 Suzuki DL1000 V-Strom, Dark Metallic Space Blue
1983 Suzuki GS850G, Cosmic Blue
2005 KLR685, Aztec Red - Turd II.2, the ReReTurdening