Gotta stay off craigslist...bought another bike
---
When this bike came across craigslist I just had to go check it out, and when I saw it in person I bought it on the spot as the guy was fielding call after call on the same bike. $3300 for a 1989 Goldwing with 36,000 miles, in perfect condition, not a scratch on it and everything working including cruise control, air suspension with on-board air compressor, and 2 matching communication helmets. That's 1,500 miles/year!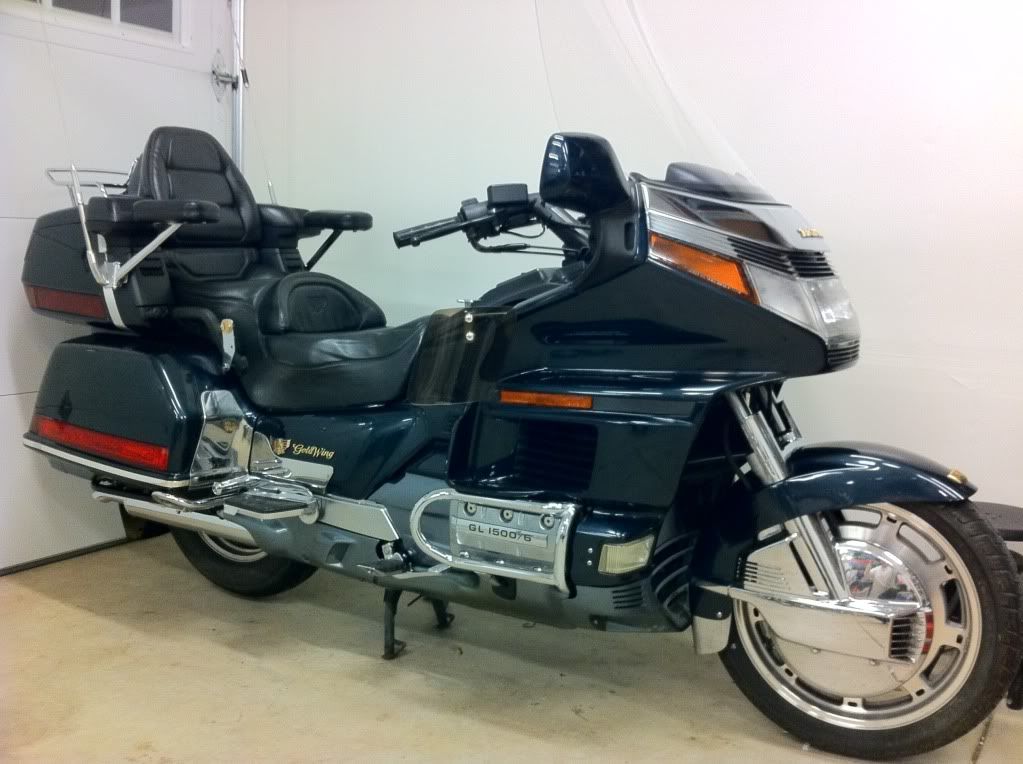 I've always been kind of a closet fan of the older goldwings, and despite having made my share of old-man-just-buy-a-convertible-already goldwing jokes they are amazing two-up tourers. This one has no sporting pretentions whatsoever but it floats down the road like a cloud. I have two young sons that love to ride with me, and the best road trip I ever took was with my 11 year old on an overnighter last year through Yosemite and the Sierra passes. We have plans for the same trip in a couple weeks and with him having grown a foot since last year things were going to be a little cramped on the wee for a guy that likes his space.
At this money I'm sure I can use it for a season or two, probably a dozen trips or so, and then sell it on for no loss or even make some money. I'll still be riding my Wee 95% of the time.
---
'09 Wee (sold)
2012 Ducati Multistrada 1200 S Touring
2006 BMW K1200LT
Nice. Looks like you got a great deal. A buddy of mine sold his '95 wing for a roadking. I didn't understand it, but he wanted the harley. I took his wing out a couple of times and was amazed at what such a big bike could do handling wise. It was a barcolounger, but that's what is was designed for.

Enjoy the new toy.
---
2007 HD XL883R
2009 Suzuki V-Strom DL650
2009 Suzuki TU250X

If the answer is government, then it must have been a really stupid question.
Congratulations. looks like a nice one. some times you never know what you want to ride today.
sold the green one and now added the 2011 white Wee
Craigslist can be very addictive indeed. Nice bike and a great deal. The 07 KLR that I bought last fall went back on Craigslist a month ago. I had 12 calls total and had it sold within an hour of listing and for a few hundred more than I bought it for.........the best part being I kept the Jesse II boxes that it came with.
That will be a great, inexpensive ride for you no matter how long you keep it.
---
09 Wee with stuff
09 DR 650
Join Date: Nov 2010
Location: Hollister,CA
Posts: 51
Did your son have only one foot last year?
Sorry had to ask...
-Kevin
LOL. nope he's had 2 feet all along.
---
'09 Wee (sold)
2012 Ducati Multistrada 1200 S Touring
2006 BMW K1200LT
Stromthusiast!
Join Date: Jan 2007
Location: Tucson, Arizona
Posts: 508
nice find!
....
---
06 DL1000 Red -
"shifts smoother with those mirror extenders!"

00 xr650l -

01 TW200 - resort cruiser
Heck of a deal! I like the older Wings, may buy myself one next year.
---
Never met a dog I didn't like, a machine I couldn't break, or a woman I couldn't tick off.