Luggage Rack Question
---
Hi All -
So I'm trying to plan ahead for when I start commuting to work on my Strom. I'll more than likely have my fiance' on the back, but the bigger question is how to get my dog in its carrier on the luggage rack. I have a small french bulldog and right now I take her on the bus in a Sherpa with the following dimensions: 12" W x 19" L x 11" H.
This is the carrier:
http://www.amazon.com/Orginal-Deluxe-Sherpa-Carrier-Large/dp/B002A5XXWU/ref=sr_1_26?s=home-garden&ie=UTF8&qid=1305489731&sr=1-26 '
What I'm thinking is getting the luggage rack extender that Touratech offers:
Luggage-Rack-Extension-Suzuki-V-Strom-DL650-1000 - Touratech-USA
I think what I'll have to do is have a sew shop in town add some straps and buckles to the sides and possibly the front/rear of the carrier. Then have other straps/buckles on the Touratech that would lock the carrier down.
Has anyone tried this, or mind offering some criticism or guidance? There may be a much better way to do this that I'm just not thinking about. I thought I'd also put a bungie net over the whole thing once it was buckled down for added security. My drive to work is only 10 - 15 minutes so I think the dog would be just fine for that amount of time.
Thanks - as always,
Midrover
---
"Wherever there is, be all there."
[SIZE="2"][SIZE="1"]2009 WeeStrom ABS[/SIZE][/SIZE]
Stromthusiast!
Join Date: Nov 2007
Location: Corinth, Maine
Posts: 269
---
DL1000K7
better deal here
Adventure MotoStuff V-Strom Luggage Rack V2.0 - Black
i forget what they're called, but the little "clip" at the top of this pic goes on a strap and then slips through the slot on the luggage racks for easy on/off attachment of luggage. straps are far more secure that bungee chords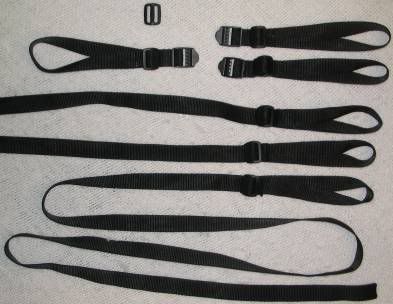 ---
Somtimes it sucks not being in the loop. HUH??[FONT="Comic Sans MS"][SIZE="2"][COLOR="Olive"][/COLOR][/SIZE][/FONT]
---
Last edited by Dorzok; 05-15-2011 at

10:49 PM

.
I bought an airline approved pet carrier (like a heavy-duty, vented duffel bag) and stiffened it by making a sort of roll cage out of 2" wide plastic strips that fit inside it. I set it on the passenger seat and use 2 bungee cords cris-crossed over the top and thru the carrying handle. Holds my 5.5 LB mutt just fine.
---
'07 WEE-HAAAA! Blue, loaded & sweet

I'll know where I'm supposed to be when I get there.