Totaled the Wee today - Bruised but not broken
---
First, Dirt Mom is home and dodged a bullet on serious injuries. Has a nasty ankle sprain, and a sore rib area but she was wearing all her gear and has very little abrasions. X-ray showed no broken bones.
As the pictures show it was an overcast day and while we weren't riding in rain, the roads were wet from earlier rain. The road tightened into a decreasing radius turn which proved too much for the remaining traction and she felt the bike slip out from under her. She thinks her slide started about where you see the car in picture 2 above. The slide ended here where she is sitting up after the crash.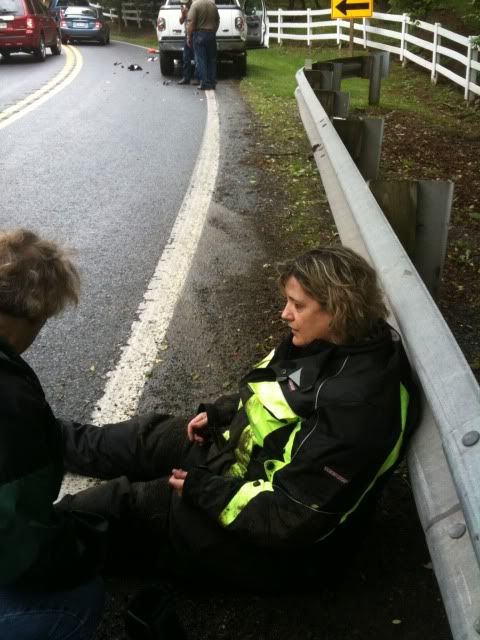 My guess is she slid down the road over 150'. The bike is in front of the white truck. After walking the road and feeling how slick it was I understood how that was possible.
The bike slid across the road and was hit by an F150 pickup. That truck deployed the airbags and had to be towed away. My wife thought the truck may have run over her ankle, or maybe it just trapped her foot, either way her short motocross style book was ripped off her foot, which is not easy to do in a Thor 50/50 boot.
The MD State Trooper on scene was also a rider and I think that helped. He made out the report, told me he would enter that the road was overly slippery into the report. He was strictly professional and I don't feel he could have done a better job understanding our perspective. There were no tickets issued.
We were using the Sena SMH20 bike to bike communicators. They are always on and you hear everything from the other person at all times. That was pretty unnerving to come out of a tough corner, hear your wife scream, hear an impact, then not see her behind you any longer. By the time I turned around I could see airbag smoke pouring out of the pickup windows. It looked bad. The communicators did come in handy when she was laying face down next to the guard rail and I was able to hear her moaning. I knew she wasn't knocked out and we were able to talk without yelling before she started to move.
The tow truck driver found me and wanted to let me know he was just going to drag it onto the bed. He was positive the bike was a total loss. I suspect I will never see that bike again.
Wife is sore, but undeterred. She's already telling me she wants her next bike to be the Super Tenere. We'll see. Let's get her walking without crutches first. But she shows no interest in giving up riding.
Scary day, but all is well.
$tromtrooper
Join Date: Feb 2006
Location: The gateway to Cottage Country, Ontario, Canada
Posts: 4,406
Wow Jon, scary stuff.

Glad it's just the bike you lost.
---
DL1000K6

Proud to be a Road Toad...Member #5
Quote:
Wow Jon, scary stuff.

Glad it's just the bike you lost.
no kidding! plastic and steel are completely replaceable, i'm glad no one was seriously injured!
---
It's a funny thing about comin' home. Looks the same, smells the same, feels the same. You'll realize what's changed is you.
Stromthusiast!
Join Date: Jan 2010
Location: Baltic, Ct
Posts: 6,637
Sorry to here

roads get slippery

I once watched 24 bikes go down on a wet spot. When the cops got there they told us that a pick up had flipped the night before and dumped its engine oil all over the road.

Be extra nice she will feel worse tomorrow. Get her some therapeutic massages next week. My wife is spending tonight in the hospital with an infected throat that almost swelled shut.
FORUM GODFATHER.....R.I.P. PAT
Join Date: Jan 2006
Location: Evanston IL USA
Posts: 38,049
At the end of reading the post I realized I was holding my breath. Wow! Is that a Tourance EXP on the back or what? That she wants a new bike is a sure sign she's fine. My last drop a couple of years ago was a low side on a cold, wet road too. The 2012 Super Tenere features traction control I wonder if that would have made a difference.
Glad your wife didn't suffer more injury than she did and hope for a full recovery. Any wipeout involves some luck regarding the outcome, especially right handers (in the U.S). She shows unusual metal to be undeterred - a jewel indeed.

My initial kneejerk thoughts - what tires were on the bike? Could the slide have started on the paint?
Quote:
My wife is spending tonight in the hospital with an infected throat that almost swelled shut.
All the best to your wife. Sounds very unpleasant.
As far as the spot where she crashed, the locals that stopped told us there are about two crashes there a week. Told us the guard rail was new because people kept ending up in the woods. In fact within 3 minutes of my wife's crash someone came around that corner in a full skid and nearly hit the wee again. I got the flairs out of my bike after that. It is a bad spot, not sure how I got through it.
I am glad your wife is alright.
---
2007 DL650 ABS ( she thinks it's hers, but it's MINE )
2006 GL1800 ABS ( ours )
2001 VLX600 ( spare )
2000 4X4 Rancher ( his )
2000 4X4 Rancher ( hers )
1991 XL250R ( hers )
1983 XR250L ( his )
1974 CB360 ( retired )
All from the same people who
brought to you "PEARL HARBOR"


Patriot Guard Rider
AMA Member
U.S. Navy Veteran
Stromthusiast!
Join Date: Jul 2009
Location: Halifax, Nova Scotia
Posts: 703
I'll say she dodged a bullit. All the best to her, sounds like she's a trooper.
---
[FONT="Book Antiqua"]The Power of accurate observation is commonly called cynicism by those who haven't got it.
-George Bernard Shaw
[/FONT]

[SIGPIC][/SIGPIC]
09 Wee ABS Silver (the other colour)
Lots o other bikes over the years
Regarding the tires the rear had an Anakee II and the front a Tourance (original). The front has 11K and I had ordered a replacement Anakee II. It was not down to the wear bars yet but close enough that I was ready to replace. Don't recall the mileage on the rear, but it has good life left. We had ridden a lot of wet roads today and traction had been normal and unremarkable in any of the twisties we rode.

I don't believe she would have been in the paint. She is an advanced rider and very unusual for her get close, but it was a decreasing radius, so I can't say it's impossible. She's not sure, but she believes it was her rear that let loose first.