Short Passenger problems
---
Dammitall...

So I got some luggage that works great for the passenger and doesn't interfere with her legs or anything. Swell.

Now I have a new problem. My girlfriend gets on the back of the strom and she can't see over me, or even over my shoulder (yes, she's short). I'm frankly completely at a loss as to what to do. I'm considering some sort of booster seat arrangement, but I'm not sure what that'll do to the bike's handling and such.

Anybody else ever had this problem (Passenger is too short to see over rider?) What did you do about it? This is killing me because I love the strom but I don't want to end up with a bike I can only ride solo.
---
-RMRR
'05 DL1000 - Dead at 66K miles.
Nerding it up at Wheelnerds.com
---
- Gary

Be Ashamed to Die Until You Have Won Some Victory for Humanity. ~Horace Mann

Red DL650K6
Stromthusiast!
Join Date: Aug 2006
Location: Mesa, AZ
Posts: 70
Quote:
Originally Posted by GRS1959
BWAHAHAAAA-snort!
:shock:
---
Warped
Mesa - hot as hell - Arizona
How about a New York City phonebook?

Seriously, I met a couple that rode from Indiana to New Hampshire on a Wee, and the wife used a pillow to get up a little higher and for more comfort. She seemed to like it just fine.
---
"Build a man a fire and he'll be warm for the night. Set a man on fire and he'll be warm for the rest of his life." - Confuseus
You mean this short?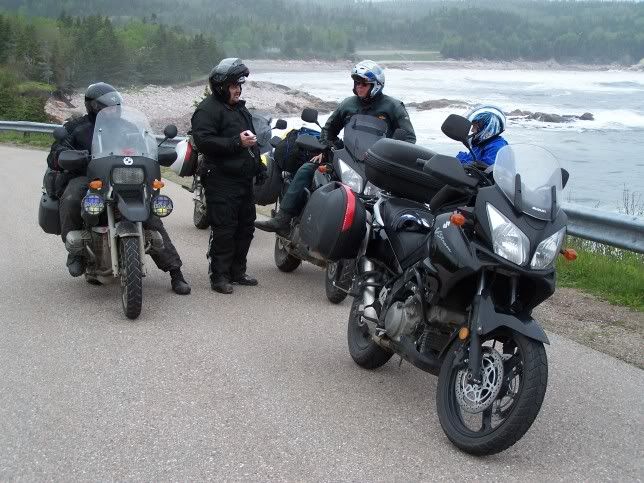 As you can see my girlfriend is 4'11" and she can't see over me at all I don't think. She looks around me somehow because she is able to see the speedo and gives me hell for going too fast. I have a Corbin which has the pillion up a few inches higher than my seat, maybe that gives her enough with me leaning foreward a bit so she can peek over the corner of my shoulder.
---
Ian

'07 KLX250S - Road
'00 CBR600F4 - Track

"The World is a book, and those who do not travel read only a page" - St. Augustine

One of my friends with a short wife, has a clear map pocket that fastens to his back, so she is the navigator. They use and autocom unit for communications.
Quote:
Originally Posted by GRS1959
:lol: :lol: oh my God, you have almost killed me... :lol: :lol:
RockyMtnRoadRash
I cannot give you serious advice and I don't want to hurt you more, so I rather shut up. :wink:
---
Balázs
DL650 K6 matt black
DL 650 info
EX-President
VSCH