Stromthusiast!
Junior Trooper
Join Date: Aug 2006
Posts: 4
Anchorage-McCarthy-Denali-Manley-Prudhoe-Seattle
---
I just returned from this trip on my Wee-Strom. Because of the zig-zag route, 1200 of the 5000 miles were gravel/dirt road. I camped 8 of 16 days so the bike was loaded with a lot of gear. I prepared for the trip for several months. This forum was the source for most my research so I wanted to give you some feedback as a way of saying thanks. This is just my experience so if it's too commercial, feel free to strip out any content.

Pat Walsh Engine Guard/Skid Plate was outstanding. I bottomed out at 50 mph in huge pot holes just south of the Arctic Circle. The bike also took a real pounding on the McCarthy road where we ran hard and fast due to schedule. This is a bad road and the rocks sounded like a machine gun at times as they hit the skid plate and oil cooler guard. No problems at all. I also added some cheap $9 passenger pegs in the holes provided and it was a big relief to be able to put my legs in a foward position once in a while.

Electrical - I used standard electrical and added a Powerlet outlet to charge various devices. On several cold nights near Skagway and Bear Lake BC, where we put in 800 mile and 600 mile days, I would run with the following gear on full blast 1) Gerbing jack liner; 2) Gerbing heated gloves; 3) OEM heated grips; 4) charging through Powerlet of camcorder and other gear. I added a Electrical Connection green/amber/red idiot light and it glowed green the entire trip. Every start was quick and crisp throughout the trip on the standard battery.

Tires - I went with Michelin Anakee tires. They were good for the pavement and excellent on the gravel/dirt. They really took some abuse on the McCarthy road. When the Dalton Highway turned to slime due to rain, however, it was white knuckle time as I slipped around for 150 miles. My buddy's Metzeler's were more aggressive and he did better but I did a lot better on the other 4850 miles of the trip.

Headlight Guards - used Ventura guards. It's amazing those 4 tiny velco attach points were able to hold up under the stress. I took several direct shots from large commercial trucks on the haul road (Dalton) with no damage.

Bags - I used Givi E360's and Givi mounting system for capacity. They held up very well with no problems. The finish is scarred from the mud/blasting but I tried some Armor All and that will do the trick to restore. I was skeptical the mounting system would hold up under all the pounding and shaking but it wasn't an issue.

Video - I wanted to record the trip so used a Luggage Locker camera mount and bought a current generation camcorder that featured image stabiliation. The result was suprisingly good, even on the bad roads. I used the Luggage Locker because the mounting monopid has a 5" height and this cleared my dash nicely.

One big non-event is the DL650 machine itself. My bike took abuse with dirt, gravel, pot holes, frost heaves, all sorts of weather, and a heavy load of gear. I didn't have a single mechanical or electrical problem the whole trip. Nothing. My only mentionable damage was the weld holding the chain guard to the rocker arm. The pounding was so great at times, the weld broke on the rocker arm where the chain guard attaches. I just discarded the chain guard and don't miss it. My bike and I commute 70 miles to work daily and we are back to our normal routine.

Hope you find this helpful and thank you again for the good info that is found on this forum.

Kleptoe
Join Date: Jul 2006
Posts: 53
Re: Anchorage-McCarthy-Denali-Manley-Prudhoe-Seattle
---
Quote:
Originally Posted by Kleptoe
Hope you find this helpful
I do, except you don't expound enough: sounds like a helluva trip and you appear to be a man of few words.
Please say more.
Kleptoe, Please post pics and a link to the video when it's avail..
You have completed my dream trip..I am envious to the n'th power :wink:
---
2014 V2 DL 1000 25 miles and Onward
IF I only Rode in Good weather..
I WOULDN'T get to Ride in Vermont.at ALL!
we have 2 types of roads in Vermont, Unpaved roads and decaying back to .............Unpaved roads..
2005 DL1000 98,547 miles and continuing in the hands of it's new owner
HEAR HEAR, pics and a video would be great. Sounds like the Wee is one tough bike. Thanks for the report.
---
05 / 650 in blue
88 / KDX 200 in green
81/82 DT 175 Yamahussies
79/SP 370 Suzuki-bad bike-no keep
78/ GT 750 water pumper
75/Suzuki 125 RV
Stromthusiast!
Junior Trooper
Join Date: Aug 2006
Posts: 4
More Detail on Anch-McCarthy-Denali-Prudhoe-Seattle trip
---
Sure thing. I'm digging out from Honey-Do's at home and my work but I'd be happy to post some pics. I looked at the FAQ and it looks like I need to post pics to a site somewhere and add the links here. Advice on best way to post pics is welcome as I haven't posted prior to this.

Re more details of the trip, it was amazing. In summary:
Day 0 - Barged my bike and buddy's 1989 R100 BMW from Seattle to Anchorage. Cost of shipping was about $450. We only had 16 days or we would have ridden up rather than barge.
Day .5 - Flew up and reassembled the bikes at Carlisle Shipping in Anchorage.
Day 1 of riding - Anchorage to Valdez on Glennallen Highway, Richardson Highway. Camped in Blueberry Lake Campground about 20 miles north of Valdez.
Day 2 - rode back into Valdez and spent day sea kayaking in brash and bergettes of Columbia Glacier. Camped back at Blueberry Lake. A float plane made emergency landing on lake because could get into Valdez due to low clouds/fog. We also went back into Valdez a couple times to try and solve an electrical problem my buddy was having on his R100.
Day 3 - Valdez to Chitina on pavement and then on to McCarthy on gravel/dirt, crossing the Copper River and lots of sights along the way. Road was tough with combinations of soft gravel, hard surface, more gravel, washboard, trucks, cars, railroad spikes....you name it. I suffered a drop at the very end of the ride when I turned off to congratulate myself and ended up in very deep sandy soil. More embarassing than anything. Camped on glacial moraine near McCarthy with beautiful sunsets at midnight.
Day 4 - morning took flightseeing tour of St. Elias/Wrangell glaciers and mountains. Unbelievable views with miles and miles of flowing glaciers. I learned a lot about geology! Afternoon of Day 4 we broke camp, went back over the McCarthy road (both of us went down at 5mph while trying to push through 6"-10" deep dirt pushed all over the road by a road crew) to Chitina then back on pavement to the Richarson Highway North to Paxon. At Paxon, we turned west onto the Denali highway to cross over to the Park Highway and Denali park 130 miles away. Most of the Denali Highway is gravel. Views were spectacular. Stayed overnight in Tangle Lakes in a funky little motel/inn.
Day 5 - completed the ride on gravel Denali Highway to Cantwell, where it joins the Park Highway. Went up the Park Highway to Denali Park and camped in Savage River campground 13 miles in the park. We obtained a permit very early for this camp. It was good. Wolves, grizzly, horned owls had been seen just before we arrived.
Day 6 - full day touring Denali Park on park system bus (they don't allow vehicles beyond certain point) and day hiking. 12 grizzlies, 7 member wolf family complete with Alpha female, 4 pups, and 2 grown babysitters. Also various other animals. Just an excellent experience. Camped again in Savage River campground.
Day 7 - objective was to ride from Denali to Coldfoot, north of Arctic Circle via Fairbanks. The Dalton Highway (gravel/dirt Haul Road) begins 73 miles north of Fairbanks and Coldfoot is about 170 miles north of that point. Unfortunately, 20 miles south of Fairbanks, my buddy suffered a nail in his rear Gripster. Tried a new fangled mushroom shaped tire plug but it wouldn't hold air more than 20 pounds. Tried a more classic plug/glue/plus Slime. It held until Fairbanks and then completely blew out. Spent 5 hours in Fairbanks dismounting his tire, locating a local BMW guy named George, replacing the tire with the only thing George had in stock (Metzeler), and reloading everything. We left for Coldfoot late in the afternoon with full tanks. When we hit the Dalton Highway the sun was shining directly in our eyes even though we were traveling north. There were huge clouds of dust billowing from commercial trucks blasting down the road. Visibility was zero. I was pretty discouraged. Things got better as we progressed and I got used to the conditions. About 11:00PM we crossed the Yukon River, expecting to get gas on the other side. The gas place closed at 9:00PM so we were out of luck. I did some quick calculations and figured I'd have about .5 gallon to spare so pressed on. We crossed the Arctic Circle at 2:00AM. Took the obligatory pics (it was still light even though the sun went down). Pulled into Coldfoot at 3:15AM dead tired. Slept in the crews' quarters at the Inn which is really a bunch of modulars. Remaining gas was .4 gallon. I had been on reserve for past 30 miles or so. Whew.
Day 8 - slept late and departed Coldfoot about noon for Prudhoe Bay/Deadhorse. For about 100 miles terrain was usual skinny trees etc. Then everything changed just south of Atigun Pass. Beautiful mountain pass which to me represented the break between forested areas and the coastal plain/tundra. On the other side of Atigun the mountains turned to plains with beautiful scenes of kettle lakes, thousands of caribou (and many caribou hunters). Riding conditions were as usual. Dusty but not stressful. A few sections of the road were paved which was a nice break. There are some sections between Artic Circle and Coldfoot that were paved as well. It was here I hit unexpected pot holes in the pavement and drove my spine into my seat/skidplate. Arrived at Deadhorse in late evening, took obligatory pics in front of Arctic Caribou Inn. Set up camp about 9 miles south of town next to a stream and went to sleep in the daylight.
Day 9 - toured oil fields in AM, stood in Arctic Ocean. Departed for Coldfoot then everything went bad. It rained and rained. The dust/dirt/gravel on the Dalton turned to slime because of some calcium coating they use to hold down the dust. I can't count the times I nearly went down. It was stressful. A pipeline company ambulance went by carrying a R1200GS riding who slid off a 15' embankment and busted up his bike and helmet. I believe I heard he ended up ok but not his bike. After a stressful ride we landed back in Coldfoot in late evening again. Stayed the night.
Day 10 - where Dalton Highway turns back to pavement, north of Fairbanks, there is another dirt road (Elliott) that goes to Manley Hot Springs. We took that road 80+ miles and camped at Manley camp ground near the Roadhouse. Moose were romping in the slough outside our tents at 4:00AM but I was too tired to leave the tent.
Day 11 - spent day in Fairbanks at Georges' to see if we could rescue the Gripster. No luck. We UPS'ed it home. Put in a lot of mile in and around Fairbanks trying to see what we could do. Spent night in Fairbanks.
Day 12 - rode Alaska Highway to Tok then Haines Junction where we departed and headed to Haines. Nice little town. Saw lots of brown bears. Caught Alaska State Ferry to Skagway at 9:45 and arrived near 11:15. Rode to campground on more dirt roads to camp near Chilkoot Trail. This was the first night we camped in the dark and we wandered around at midnight looking for bear cans for our food etc. It was strange being in a dark tent.
Day 13 - Day hike up the Chilkoot Trail a couple miles because it is so historical. Lots of bear sign/scat on trail due to the abundant amount of Soap Berries and salmon but there were plenty of other people around who didn't seem too concerned so we weren't either.
Day 14 - Skagway to Watson Lake, Yukon Territory. Saw a ton of wildlife. All kinds. Caribou, sheep, bear, moose along the road. In front of the attraction in the town of Watson Lake where there are thousands of roadsigns mounted, we looked at the schedule and decided to end sightseeing and put in some serious miles. Slept in a neat motel run like a German hotel. It was named Air Force something. Every guest removed their boots/shoes at the door before entering. Nice.
Day 15 - Watson Lake to Bear Lake BC. Appx 830 miles. Breaks for gas and Corn Nuts only. Pulled into Bear Lake which has a pop of about 15 people well after dark.
Day 16 - rode Bear Lake through Prince George, Williams Lake, took Lillooet route through backcountry to Whister area, down through Vancouver, crossed the border in Blaine, down to Edmonds Washington and across Puget Sound to home via ferry. 600+ miles on this day.

All is good. My bike is my hero. It was a great adventure. It's great to be back. When I figure out how to post pics, I'll be sure and post right away.
Stromthusiast!
Join Date: Aug 2006
Location: Seattle
Posts: 64
damn glad to read this... this trip is the very reason I bought my Wee last Saturday!
---
Riding 365 in Seattle
2007 650DL, Full Trax luggage suite, Rotopax H2O & Petrol, Leo Vince full system, Givi crash guards with Pelican 1300 cases, Gel Seat, Powerlet, Heated Grips, Heattroller, Madstad, mini-screen, SW-Motech Center Stand.... always more to come
2005 Triumph 1050 Speed Triple

[SIGPIC][/SIGPIC]
Stromthusiast!
Junior Trooper
Join Date: Aug 2006
Posts: 4
Updated with Pics - Will Add Video Next Week
---
Here are some pics of the run.
Breaking Camp Near McCarthy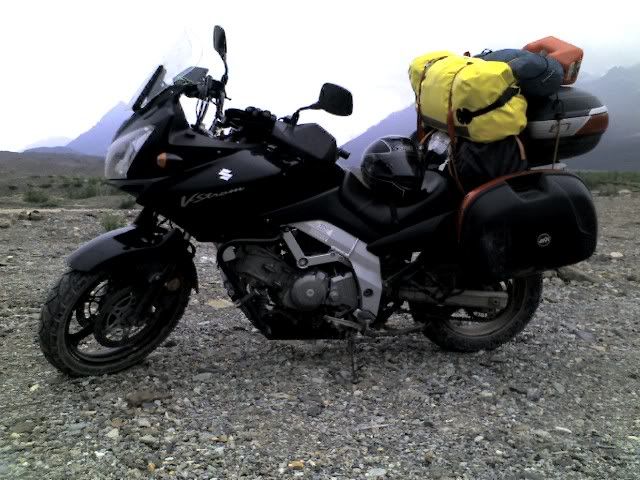 Heading North onto Coastal Plain After Atigun Pass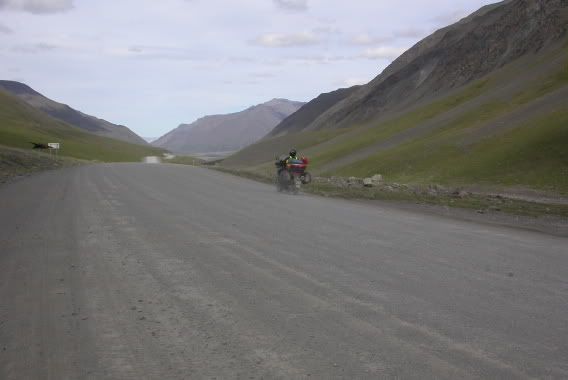 Prudhoe Bay/Deadhorse - Success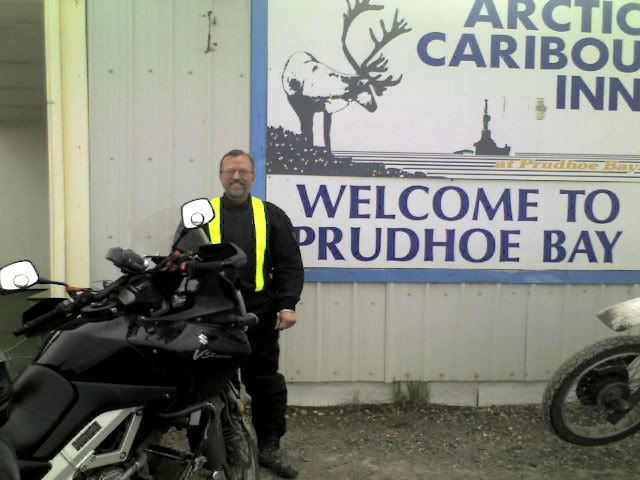 Camping at Prudhoe
Heading Home on Prior to Atigun Pass - Rains Start
Overnight Break in Coldfoot Heading Home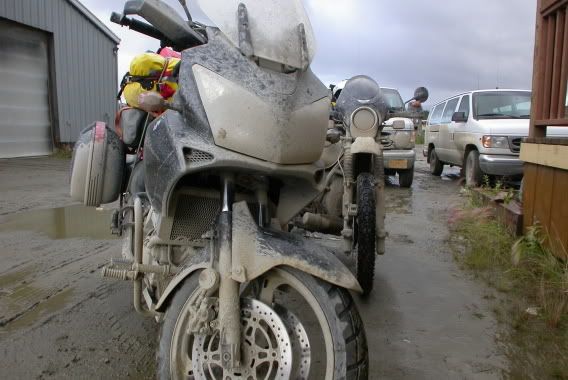 Departing Coldfoot for Home
Lots of Gunk on the Dalton Coming Home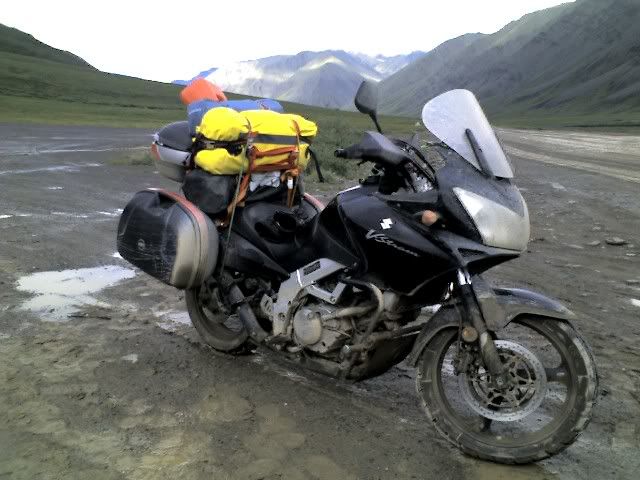 Break in the Action - Killing Time at Haines Glacier Waiting for Haines Ferry
Arctic Circle South of Coldfoot on Return Leg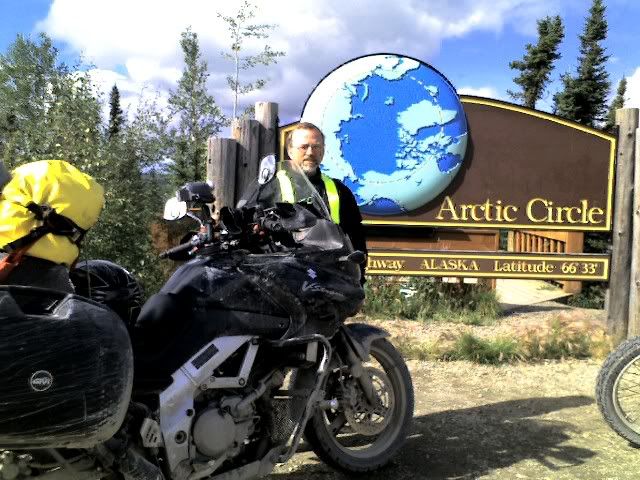 Hope you enjoy as much as I did.
Kleptoe
Stromthusiast!
Join Date: Aug 2006
Location: Seattle
Posts: 64
Hopefully next year I'm going to do a similar trip... Seattle to Anchorage, with a detour to the AC then to Juneau to catch the ferry back to Bellingham.... sooooo glad to hear I picked the right bike for this kind of thing!
---
Riding 365 in Seattle
2007 650DL, Full Trax luggage suite, Rotopax H2O & Petrol, Leo Vince full system, Givi crash guards with Pelican 1300 cases, Gel Seat, Powerlet, Heated Grips, Heattroller, Madstad, mini-screen, SW-Motech Center Stand.... always more to come
2005 Triumph 1050 Speed Triple

[SIGPIC][/SIGPIC]
Stromthusiast!
Junior Trooper
Join Date: Aug 2006
Posts: 4
Indeed, you did pick the right bike Lono. What is the land route to Juneau? Have a great trip.