DL650 / 1000 Seat Photos
---
For those who would like to compare the DL650 and DL1000 seats here are three photos that Stromette took Saturday.
1000 seat on the left, 650 seat on the right. In this photo the 1000 seat looks wider, but if you look at the next one it really doesn't (at least to me!).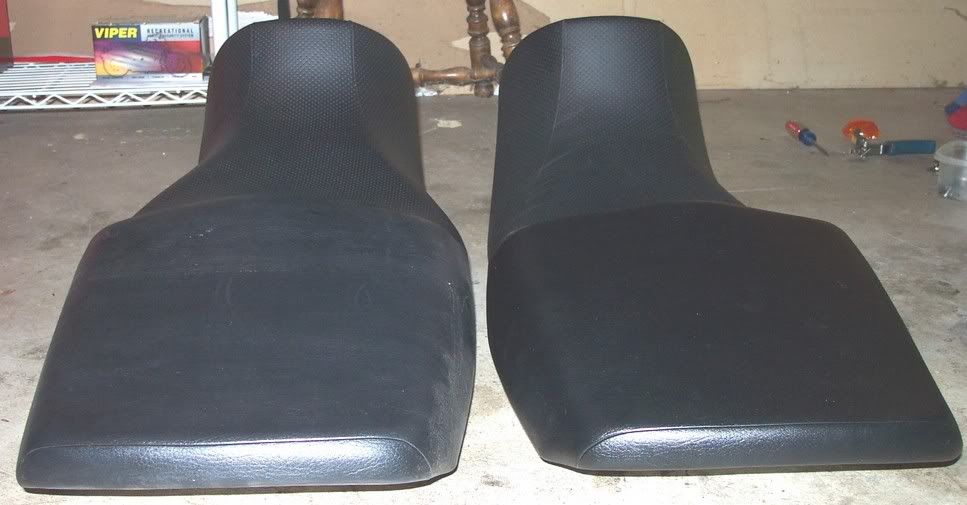 1000 seat on the top, 650 seat on the bottom
1000 seat in the background, 650 seat in the foreground
I tried her seat on my 650 and honestly couldn't tell much difference.
---
Scott Craig - Nashville, TN
Red '06 Suzuki DL650 - Red '07 Honda VFR800 -
My Bike Page
Join Date: Jun 2005
Posts: 1,065
+1 for not being able to tell much difference in the 2 seats though I only "tested" them on SCraig's Wee (my 1K was in pieces in his garage). The 1k seat seemed a bit wider if anything and I really couldn't tell a significant height difference. We both wondered what the big deal was for Strom owners swapping seats. :roll:

Glad I took the pics and glad I finally took the opportunity to test this seat deal.

Stromette
FORUM GODFATHER.....R.I.P. PAT
Join Date: Jan 2006
Location: Evanston IL USA
Posts: 38,049
My 650 seat started to bother me after an hour. I put a seat from the 1000 on and could do 4 hours before needing to squirm.
You're right, they don't look much different, but I can flat foot my Wee with the stock seat and am on my toes with the 1000 seat. I could also feel a little more of the seat in my legs, taking some of the strain off my rear. Still not enough to warrant switching out, which is why I resold the 1000 seat.
Stromthusiast!
Join Date: May 2006
Location: Jax. Beach, Florida
Posts: 223
The DL650 seat has a deeper pocket vee and puts you about 20mm or 3/4" closer to the ground. For me anyway the DL1000 seat definitely takes more pressure off big Johnson and the twins.
The DL1000 lets you move up and back about an 1'' on the seat. Where the DL650 seat just keeps you a prisoner in the seat pocket vee.
I'm still searching for seat Shangri La, but I can travel twice the distance with the DL1000 seat verses the DL650 seat.

Cheers!
---
Richard #3125
Blue 05 DL650
Yellow 04 SV650N Scantily Clad