Stromthusiast!
Join Date: Mar 2008
Location: Philadelphia, PA
Posts: 131
Can I ask you about your clutch lever?
---
Before I put 200 miles on my Wee, I managed to drop it, breaking my clutch lever.

I replaced it with a spare SV clutch lever and have been using it ever since. I just got another lever from eBay. The seller claimed it was a DL one, not a SV one. However, I remember being able to fit my entire hand on the lever without touching the ball with my pinky finger.

If any of you have a stock, unmolested lever, could you let me know the size of the grip area (between the ball and where it angles up to the pivot point)?

Thanks!
I measured 6 & 3/4 inches from the end of the ball to the end of the flat part of the handle, right were it hinges on the black metal.
---
2007 DL650 ABS ( she thinks it's hers, but it's MINE )
2006 GL1800 ABS ( ours )
2001 VLX600 ( spare )
2000 4X4 Rancher ( his )
2000 4X4 Rancher ( hers )
1991 XL250R ( hers )
1983 XR250L ( his )
1974 CB360 ( retired )
All from the same people who
brought to you "PEARL HARBOR"


Patriot Guard Rider
AMA Member
U.S. Navy Veteran
Here, I took a pic.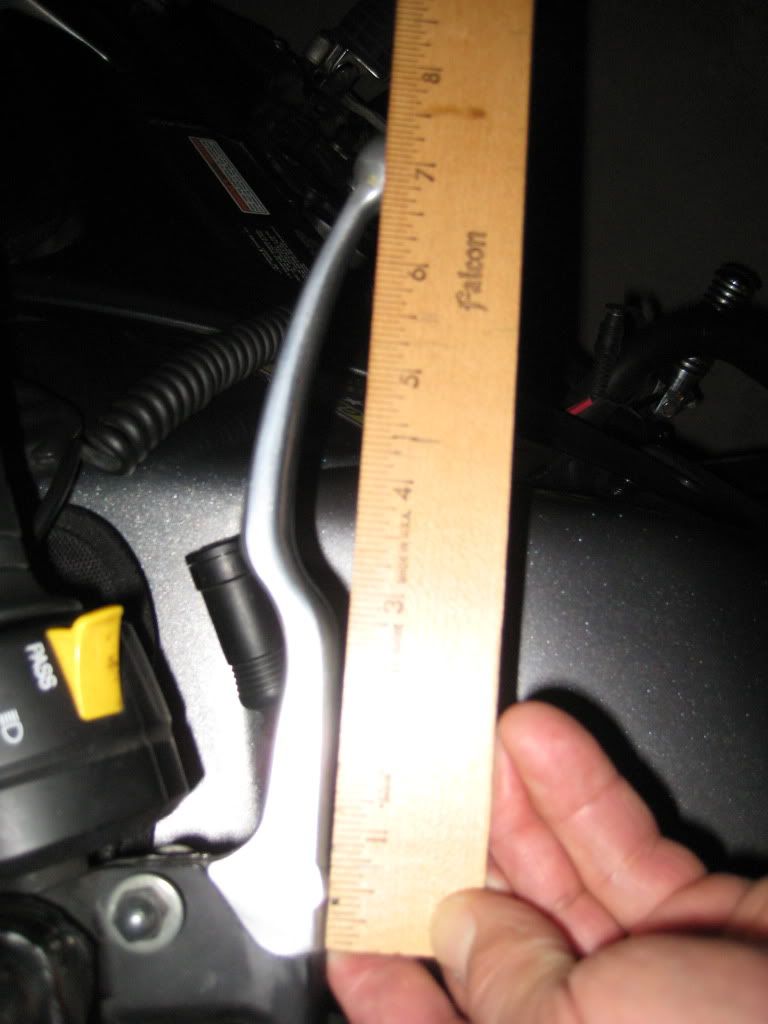 ---
2007 DL650 ABS ( she thinks it's hers, but it's MINE )
2006 GL1800 ABS ( ours )
2001 VLX600 ( spare )
2000 4X4 Rancher ( his )
2000 4X4 Rancher ( hers )
1991 XL250R ( hers )
1983 XR250L ( his )
1974 CB360 ( retired )
All from the same people who
brought to you "PEARL HARBOR"


Patriot Guard Rider
AMA Member
U.S. Navy Veteran