Stromthusiast!
Join Date: May 2010
Location: Long Island, New York
Posts: 245
Gear indicator
---
I am tired of not knowing what gear I'm in ( except 1st and 6th of course), is there an economical gear indicator out there? Less than a hundred bucks? Way less?
I wear earplugs all the time riding, so without good sound feedback I have a problem "feeling" the gear I'm in. Like you, I also can't see spending $150 on a gear indicator. I find that "counting down" helps me. At 45 mph or more, I know that I'm typically in 6th gear - when judging a turn, I'll know what gear I want to be in so I'll simply count down from 6th. It takes a little practice but may help.

I would be interested in other techniques people have out there as well.
---
04 Wee
71 BMW R75/5 (sold but not forgotten)
I have music in my ears all the time so I don't hear the engine well. My rule of thumb is, if the speedo gauge is beyond the tach I have another gear left.

Ken
---
2007 DL650 Gray
Stromthusiast!
Join Date: Jul 2008
Location: Utah, USA
Posts: 33
When I first got my bike I read about a gear indicator and thought it sounded silly and useless. After a few months on the bike now I think I'd like one. A few times I've shifted all the way to first when I wanted second in a very slow turn. I've been watching for that blink of the nuetral when shifting from 2 to 1 to tell me if I went too far but an indicator would be helpful I think.
Banned
Join Date: Mar 2008
Location: Vancouver, BC
Posts: 4,051
My 5 previous bikes have been old suzuki gs, and they had gear indicators.

My comment after testing a dl650 was "I hate it, I can't tell what gear it's in" followed by "but it doesn't seem to care".

After 2 years on the wee, I don't miss the gear indicator at all. I usually go up the gears until I'm in 6th and gear down twice or thrice when I need to accelerate.

There's not really a need to know; I'm either in top gear or heading there.

The gears are really close together on the wee (feels like a 500rpm drop, maybe someone has actual numbers), and they're pretty much there only to compensate for the engine's lack of torque. I find it really easy to figure out what to do with the shifter when I want to do it, and don't think knowing what gear I'm in would add anything to my motorcycling pleasure.

I have riding habits that are pretty set though, and that makesa it easy:
- When I take off, I shift until I'm in top gear.
- If top gear doesn't give me the oomph I need for the job, I go down one (or two), and shift back up when I pick up speed.
- I usually go down 2 gears before a corner, three for a sharp corner.
- I often find out I geared down too much and go up a gear (or two) mid-corner; that's ok, I'd rather approach in too low a gear than too high.
- After the corner, I shift back up to top gear.
I have thought about adding the GLPro gear indicator as another farkle. You can never have too many farkles.:-)

Mike
Stromthusiast!
Join Date: Sep 2009
Location: north carolina
Posts: 30
The GI Pro is in the top five of my favorite farkles.
Stromthusiast!
Join Date: Jul 2009
Location: Cambridge, Ontario, Canada
Posts: 530
Are gear indicators a big deal to install? What do the connect to?
Quote:
Are gear indicators a big deal to install? What do the connect to?
The HealTech GIPro simply plugs into the Diagnostic System connector.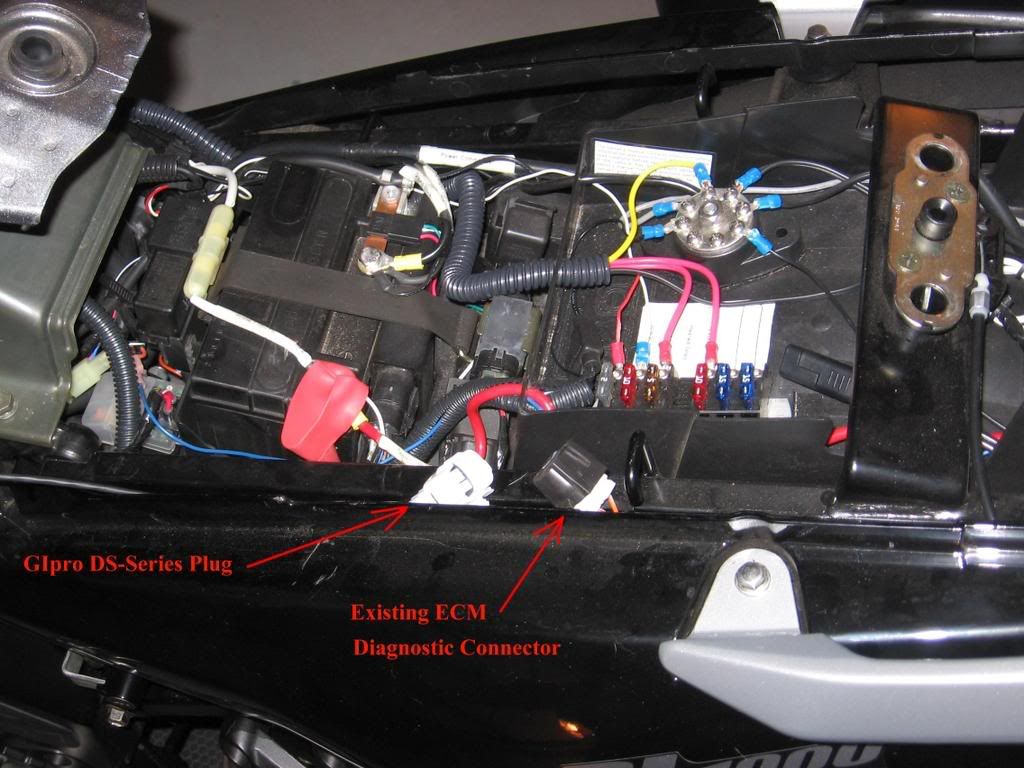 ---
[LEFT][/LEFT][FONT="Arial"][/FONT][FONT="Arial Black"][SIZE="4"]2012 Yamaha Super Tenere[/SIZE][/FONT]
Stromthusiast!
Join Date: May 2010
Location: Long Island, New York
Posts: 245
Around town, in traffic is my nemesis. That occasional snick into 1st, when I thought I was going into 2nd and the bike practically comes to an instant standstill is what generates most of my frustration.

I can't believe the "speedo healer" is the only gear indicator available.

Maybe we need a group buy?