Join Date: Jul 2006
Posts: 81
The air up here
---
Ok, so my wife and I went up Mt Washington here in beautifull northern New Hampshire. On the Wee of course. Boy what a view. Of course it pails in comparison to the mountains of the western US. Still impressive by northeast standards. I'll throw some pics in when I get that figured out. I saw one Strom on our way back down, blue, 1k I think. And another at the Attitash ski area. Didn't know if anyone from this forum was in the area or not. I would encourage anyone to travel the 7+ mile ride to the top of that 6288 foot hill. Not neccissarily for the faint at heart however. There are some sheer drops from the roads edge and oh ya, no guard rails. Did I mention some of the road is dirt?
. The toll to get to the top is about twenty bucks, that includes a passenger. A wonderfull ride on a historic mountain road. Ride safe. Pink.
Pink, definately throw some pics at us. I am planning a visit up that way next year on my wee. I am gonna base out of my dads in Leominster, MA. And try to do Maine, New Hampshire and Vermont.
---
'05 Blue V-Strom 650
GO VOLS!!!
Hey Pink, I'm originally from northern NH. I grew up in Groveton. Just moved down to the Portsmouth area last year. Where do you live? I miss the north country for all the beautiful riding. I went up last weekend and made a few of my favorite loops, like 145 from Colebrook to Pittsburg, Dixville Notch, 13 mile woods, and so on. Great riding up there! Most of my family lives in the Groveton area so I go up quite a bit.
Pink,
Not taking andything away from your ride, and I would love to see the pics but...
You need to make a trip out here and ride to the top of Pike's Peak.
19 miles, 10 paved, 9 dirt. 200 some odd turns, no guard rails, 200 ft cliffs, and an elveation gain of over 7k feet to just over 14k at the summit.
I have too much fun to stop and take pics on the way up but I'll try next time.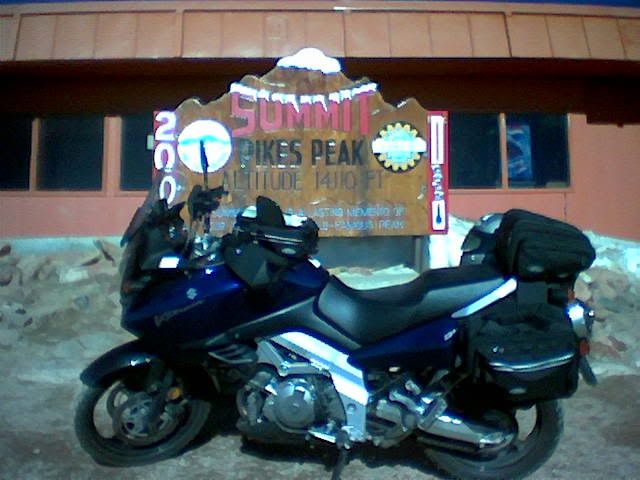 ---
Peace carries a big gun!
www.k-diggityrides.blogspot.com
'04 1k Blue
Stromthusiast!
Join Date: Mar 2004
Location: new jersey - northern
Posts: 285
Re: The air up here
---
Quote:
Originally Posted by Pink
Ok, so my wife and I went up Mt Washington here in beautifull northern New Hampshire.
top of that 6288 foot hill.
Last week I took my KLR250 to the top of Whiteface Mountain in NY State.
It's about 2,000 feet shorter but I had 400 less cc. :lol:
---
2004 V-Strom 650
2002 GS500
2004 KLR250
2014 DRZ400
Join Date: Sep 2005
Posts: 21
Isn't that the home of "The Worlds Worst Weather"?
Supposed to be so extreme that they study the weather there?
Think I remeber something about real bad winds and even snow storms in the summer up there?

Was on my list of places to visit when I get back to the northeast.
Join Date: Jul 2006
Posts: 81
Hey Action. Thats funny, I was actually born in Brentwood, not too far from Portsmouth and moved up north to North Haverhill in 86. I just took a ride up through Colebrook and into Errol the other day. I was pokin along 16n before I knew it I was in Rangley. I went down through 13 mile woods and onto 110a to 110 through Stark and home. Nice ride. We'll have to get together and ride sometime. Ride safe, Pink.
Join Date: Jul 2006
Posts: 81
Hey, Vstromper. I'd love to take a trip out west sometime. I'm up for a ride up Pikes peak, can't say the wife would be though :? , She damn near had a heart attack going up New Hampshires biggest hill :roll: . She was real glad we did it after we got there though
. Still trying to figure these pics out. As soon as I do I'll get some posted. Ride safe, Pink.
Join Date: Jul 2006
Posts: 81
Mt Washington is home of the worlds worst weather. A record wind of over 200mph. And yes, there is a weather station up there, and it's manned all year. What an interesting place. I'll be sure to go back
. Ride safe. Pink.