Ex- moderator
Join Date: Jan 2010
Location: Manitoba
Posts: 1,131
Pelican top box?
---
Is anyone using a Pelican or similar brand case for a top box?..I'm looking for suggestions for the best model - nothing too large/tall/wide...How did you mount it?
---
Why Motorcycles? Because Golf, Soccer, Football and Baseball only require One Ball
Here's a picture of my 1550 pelican's.I removed the rubber on top of the rack
and used the holes that the rubber piece stick through to bolt my 1/4 aluimum plate to.I also connectmy helmet lock to it too.Hope this help.
Bob
Wee Strom Power 009.jpg
---
[B]2007 ABS Wee Strom
Happiness Is Riding My Two Wheel Prozac
Iron Butt #24837
1000 Sore Saddle
1500 extreme
50cc
#1 distance rider to Moonshine Run in Ill in 2010 on a Wee Strom
[/B]
WEE Rule
I mounted a Storm 2100 to my former Wee.
I took a slightly different approach than BluByU06. Here is what I did. I bolted the Storm case directly to the rack, thusly: :beatnik:
1. Remove rack from bike.
2. Remove rubber from rack.
3. Lay case (Pelican, Storm) on floor, bottom side up and place rack on top of the case. Use the rack as a template* to:
a) mark where the five mounting holes should be drilled.
b) mark where the two 3/4 inch holes will need to be cut so that once the case is mounted you can access the two bolts that hold the rack onto the tail.
To mount the case to the rack: Insert the five (button-head work well) bolts downward through a fender washer, the case, the rack and finally a lock nut. Tighten everything up and make sure the case is centered and square.
To mount the rack to the bike: Use the stock bolts. Two at the front, just as before. And two through the two 3/4 inch holes you cut in the case.
Drilling and cutting the holes is really simple. I used masking tape to easily mark and was very careful that the marks aligned. But, the holes can easily be elongated to accomodate any small mistakes.
Template* Be certain that the case is positioned far enough to the rear to allow the seat to clear for removal, and/or for a passenger to sit comfortably.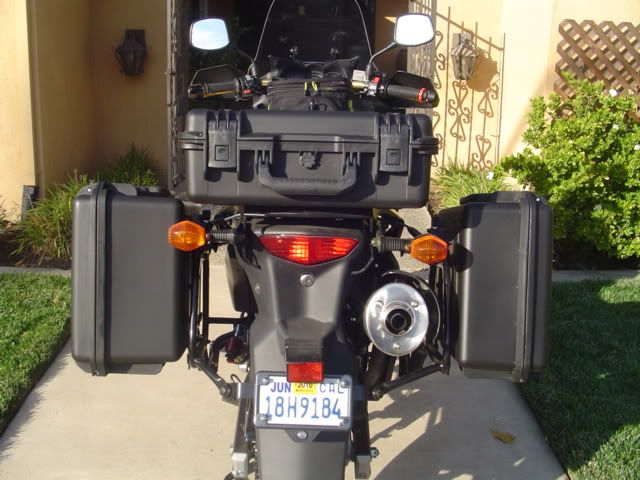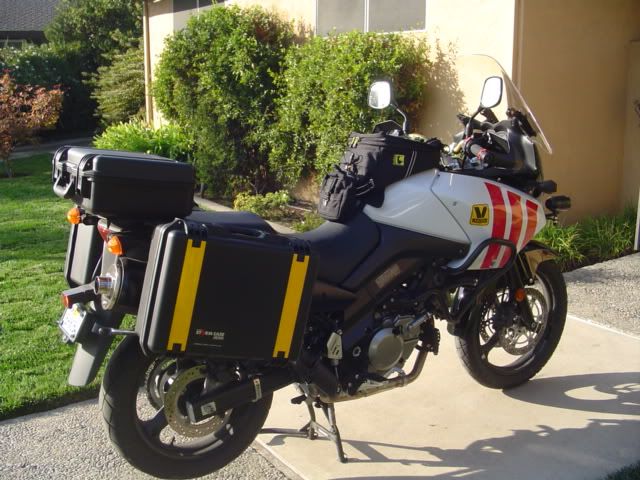 ---
"I never trust my inner feelings...
Inner feelings come and go".
Leonard Cohen