Farkle photos, first 3 weeks...
---
Picked up my K9 650 about 3 weeks ago and thanks to lots of good information here, I'm slowly getting it set up the way I want for sport touring. The bike had 500 miles on it and came with Givi Bars, front fork stabilizers, Madstad, and Givi bags (E21x2 and V46).
First thing I did was an even swap of the 650 seat for a DL1000 seat with a forum member. Cost to me was one way shipping, about $20. That seat will last me until I get a custom seat built. Still deciding on that. May try a gel seat first.
Second change, Kaoko throttle lock. I chose it because it looks integrated. Also notice the grip puppies.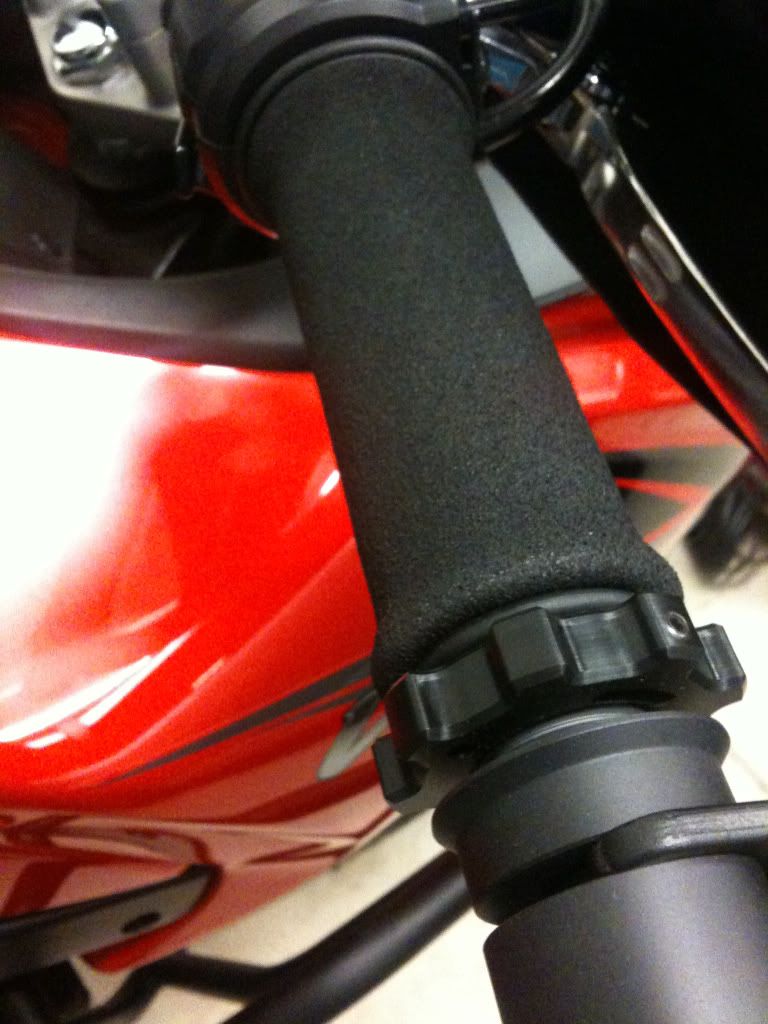 Formotion oil-filled thermometer. A ruggedized scientific instrument that will last longer than the bike.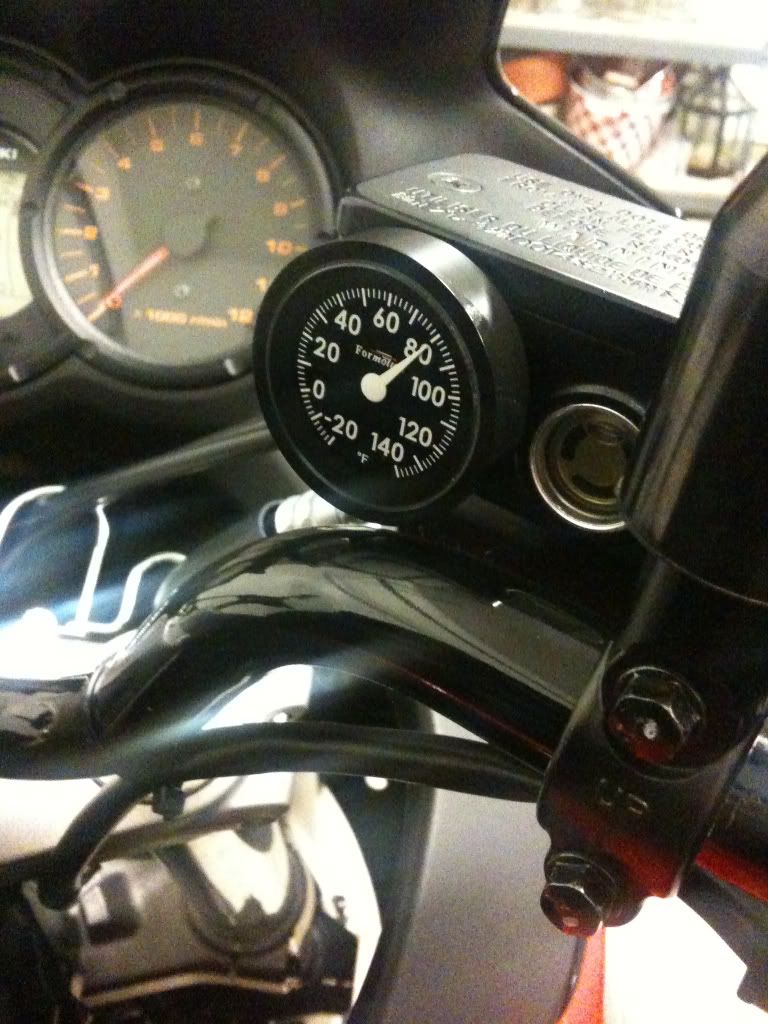 Bags-Connection Engage tank bag, mounted on SW gas cap mount. Nice.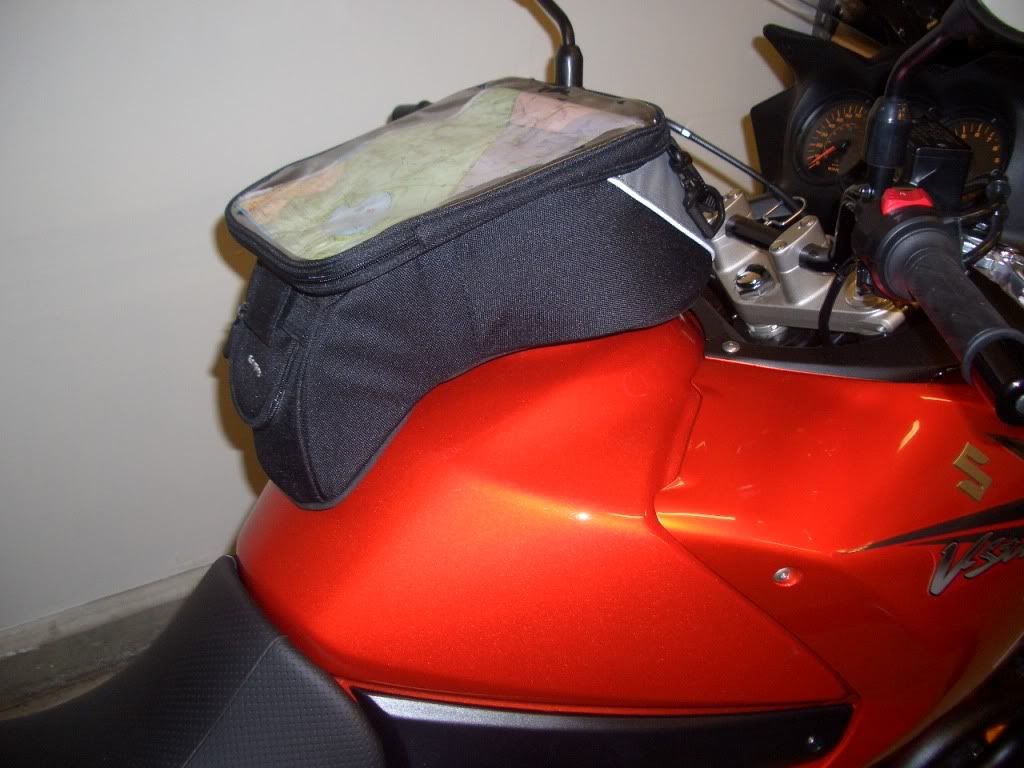 Factory handguards. Again, looks integrated, provides cold weather riding protection. Not looking for tip-over protection from these.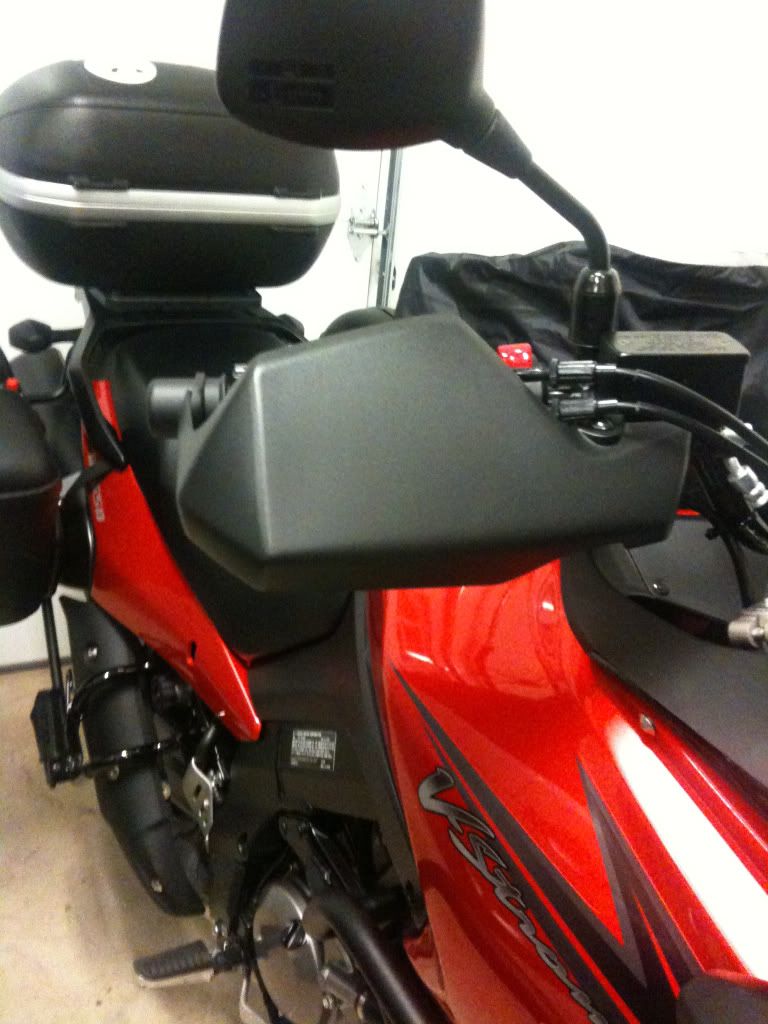 Powerlet rearset kit. Looks integrated, perfect location for heated gear.
De-badged the chrome "s" off the tank. Just didn't look coherent with the rest of the tank decals. Looked like it should be on a sport bike not an adventure bike. Also notice the Suzuki center stand. Easy install except the springs, but doable thanks to tips on the forum.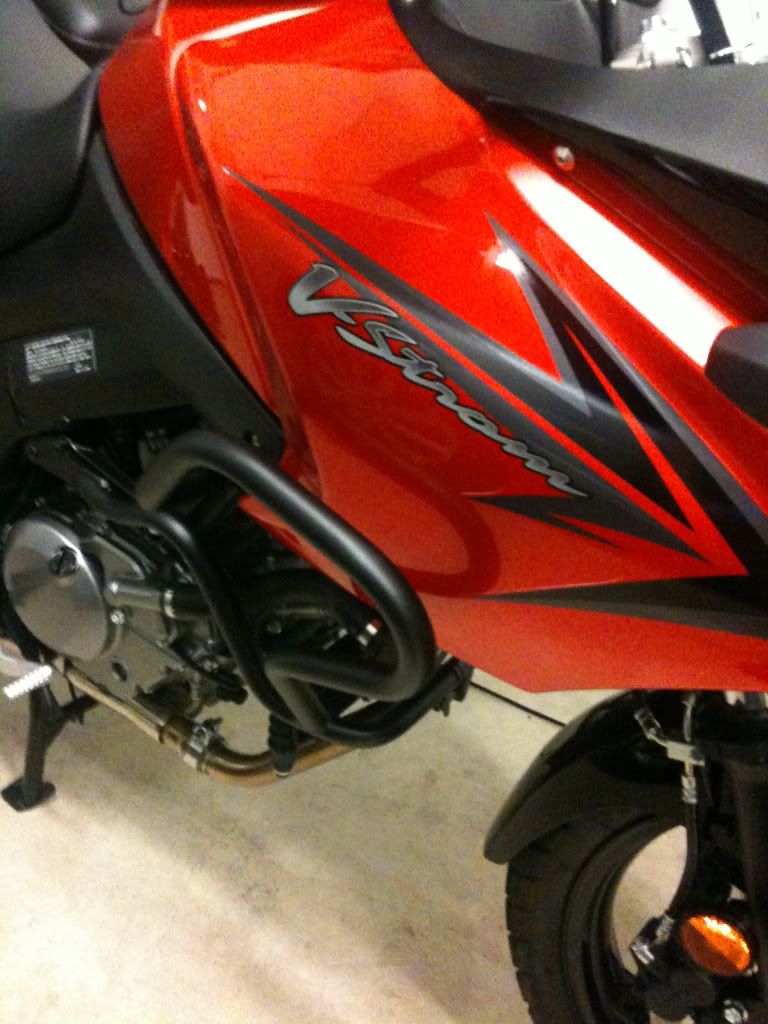 Still to come, possibly a MRA VarioTouring screen (short) although I've been pleasantly surprised at the stock screen on a Madstad. Done 400 mile days on it with relative comfort. Possibly daylong or gel seat. That's about it.
Total cost of farkles so far about $650. Since selling my BMW I've sold about $500 in BMW farkles so I'm only down about $150 at this point. One of the reasons I switched from BMW was to save money and as part of that I am not going to go hog-wild on farkles, just the basics here so my total investment including used bike (if you call 500 miles used) which came partially farkled at $5900 and other farkles at a few hundred, I'm under $7000 for a like-new and very competent and entertaining sport touring/adventure bike. I already did the first service myself which saved me about $400 off what servicing my last bike would have cost.
---
'09 Wee (sold)
2012 Ducati Multistrada 1200 S Touring
2006 BMW K1200LT
---
Last edited by eye.surgeon; 05-21-2010 at

12:52 PM

.
Hummmmm... where have I heard that before?
---
[LEFT][/LEFT][FONT="Arial"][/FONT][FONT="Arial Black"][SIZE="4"]2012 Yamaha Super Tenere[/SIZE][/FONT]
Looks good, I like the look of that tank bag. Like you I am from the BMW world as well. I just picked up my new to me strom. although I came to it for reliability reasons as well the great reputaion of the bike combined with my own eagerness to try it. I only have about 300 miles on the bike as I just got the bike last week. However the stock seat was awfull so it was shipped out yesterday to Russell Day long for a new seat. Somehow or another I placed my order for the seat Tuesday and I got a build date of this monday! Yahoo..... its normal to have a 2 month plus wait for them this time of year. However my farkle journey is only started. I am about to order up all new goodies for the suspension then I will save for some Jesse cases. My bike came with a few farkles like the Suzuki handguards, heated grips, centerstand and powerlet. I used the heated grips the other night and they worked great. I really like the infinite adjustment dial. My BMW heated grips only had a high and low. I tried to buy a set of Aprilla Touno mirrors today but the dealer wanted 60 bucks plus 10 in shipping and sales tax. Not sure they are worth that, and I may be able to get a better deal.
---
2004 BMW R1150RT
That's the same bag I was thinking of getting!

Any chance of unzipping it and getting me a photo of the interior with say a Dollar bill to show scale?

I'm stuck overseas for a little longer and have been dying to see that bag - I'm thinking of going with the electrified one - did you?

Also, how inconvenient is it to fill the tank with the bag on there?

Thanks

Demented Dave in Dusty Doha, Qatar
Deployed Gov't Contractor
Here's a review of the bag with more detailed pictures that I posted a few days ago...
https://www.stromtrooper.com/forums/s...ad.php?t=52635
And as for filling up...you remove the bag and place it to the side to fill up. It detaches from the gascap-ring attachment point.
---
'09 Wee (sold)
2012 Ducati Multistrada 1200 S Touring
2006 BMW K1200LT