Opinions on de-badging the "S" on the tank...
---
Thinking about debadging the chrome "S" on my tank...it just doesn't seem to fit, it looks like a sportbike logo on an adventure bike. I think the K9 V-strom decal looks good on it's own and I don't want to take that off. Just the S. Opinions?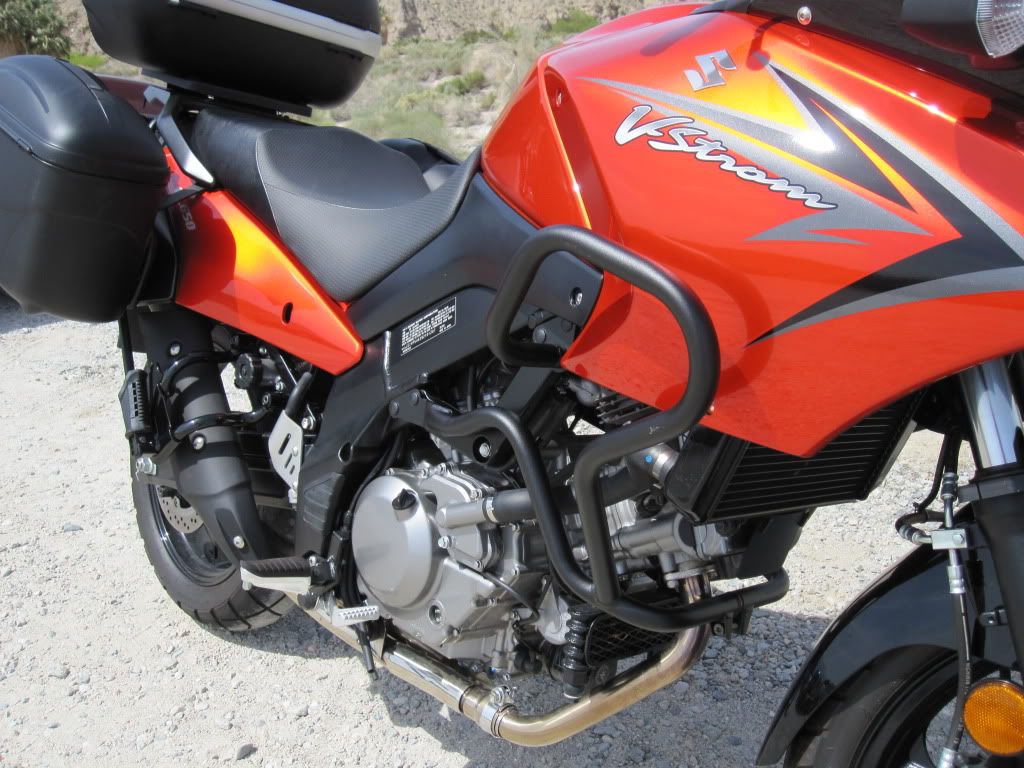 ---
'09 Wee (sold)
2012 Ducati Multistrada 1200 S Touring
2006 BMW K1200LT
Stromthusiast!
Join Date: Jun 2009
Location: Colby, Washington
Posts: 375
I agree. I removed the S, which came off quite easily with a little heat from my daughter's hair dryer. I then got into trouble trying to remove the VStrom decal. I started with the left side, with some reservation, but it just did not want to come off. It took me about 20 minutes with hair dryer, fingernail scraping it in little pieces etc. I now have some stubborn sticky residue glue that I cannot remove. I've tried Goo B Gone, tar and bug remover, gasoline, WD-40 and paint thinner. It will just not come off.
I wonder if I should try a power grinder.
You're right, it doesn't fit - junk it like I did. If you take it off carefully you can always just put it back on - that backing tape stays very sticky.
If/when you decide to sell it you'll have people asking questions about spills, crashes etc. Some will believe you, others won't. I de-stickered my Wee and had to deal with that. Just something to consider.
---
2011 Wee
Stromthusiast!
Join Date: Oct 2008
Location: SW Washington State
Posts: 163
If anyone is having trouble getting adhesive off of paint an excellent product is
SEM Solve
. About 15 years ago my dad decided to desticker our conversion van, this left a 2 inch strip of the worst sticky I have ever seen. We had to go to an automotive paint store to find something to take it off. A quart of this in the garage is always handy.
I have no opinion on the subject, just trying to keep my post count up.
---
Sent from my Hewlett-Packard 75C, using the Flying Merkel motorcycle app.

Stromin'Nroman NC28729, USA

DL650A K7 (Greywolf Moto Lab's R&D test mule) June 1, 2012 - present
DL650A K7 April 23, 2007 - January 6, 2012, RIP

"Look here brother, who you jivin' with that cosmik debris?" Frank Zappa, 1975
Stromthusiast!
Join Date: Feb 2009
Location: Wyoming
Posts: 251
hmmmm?
---
The thing I have used and had work well is the bore cleaner that you use to clean yer shootin irons. It has desolved everything I have ever tried to remove including lead deposits.
Flint
---
IBA # 25074
07' DL 1000
06' Burgman 650
08' Goldwing
The S on the left side of my '09 just fell off... made it easy to decide pull the Right side (which was stuck on very well).
---
Truax

[SIZE="2"]DL 1000K9[/SIZE]

Former Bikes:
2008 Concours 14
2007 Triumph Bonneville
1982 Kawasaki 440 LTD
1977 Yamaha 750 XS
[SIGPIC][/SIGPIC]
I put BMW "Roundels" on my Vee. Fools everybody. Chicks dig it too.
---
Go hakafugu yourself.
Quote:
I put BMW "Roundels" on my Vee. Fools everybody. Chicks dig it too.
I put "Vespa" stickers on mine, really pisses off the BMW guys when I pass them.
---
Sent from my Hewlett-Packard 75C, using the Flying Merkel motorcycle app.

Stromin'Nroman NC28729, USA

DL650A K7 (Greywolf Moto Lab's R&D test mule) June 1, 2012 - present
DL650A K7 April 23, 2007 - January 6, 2012, RIP

"Look here brother, who you jivin' with that cosmik debris?" Frank Zappa, 1975