Picked up my Wee today, first impressions coming off a BMW GT
---
A few days ago I posted about switching from an 06 BMW GT to a Strom 650. I ended up buying a K9 with 500 miles on it from a forum member here and I just picked it up today and rode for a couple hours, a mixture of twisties, long straights, and goat trails. First impressions- two thumbs up . Amazing fun. I still can't get over how such a modest displacement engine can be so capable. Coming off a 150+ HP BMW, I felt no lack of power except passing cars where it lacked the 2-second passing ability of the bigger bike. Not a big deal.
Impressed with the great lightweight flickability, the twin is smooth and torquey with a nice low-key growl, and the suspension really soaks up the bumps. I hit a goat trail that I always passed by on the GT and it was an absolute riot blasting up the mountain on rough broken-up asphalt, the wee just eats it up. It's not stressed at all at 80 MPH either. Totally impressed with it. It's not built to a particularly high standard of materials, with lots of inexpensive plastic bits and very basic switches and gauges, but I can forgive that at this price point. It's not poor quality, just basic.
It came with Givi bags (tail case not on in this picture), a fork brace, and the Madstad windscreen mount which works great and I was happy to see that little stock screen on the madstad is all I will need to keep the wind off with only minor buffeting over 70 mph. The stock seat is rubbish, not uncomfortable but built at about a $10 price point from the looks of it. So that will go soon.
(edit, just did my first long ride on the bike, 350 miles over about 8 hrs in the saddle, it's actually not that bad. Had to stand up periodically but I've had much worse)
Center stand coming, heated grips and handguards, a few other things, and with that giant gas tank I'll be ready to hit the California Sierra passes when they open in the next few weeks. I'm not going to put GPS or radar on it, unlike my BMW. It's going to be a more back to basics machine.
Took this less-than-great pic with my iphone. This is the kind of road that is out of the mission statement of my last bike, but is right up the wee's alley .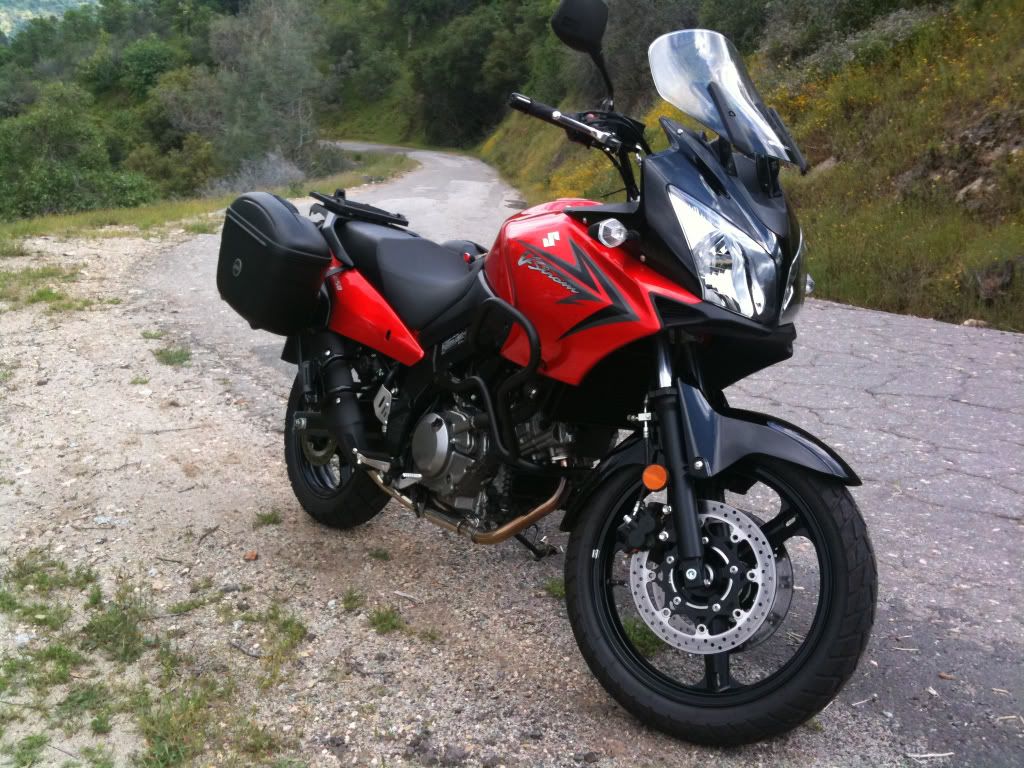 ---
Last edited by eye.surgeon; 05-02-2010 at

09:17 PM

.
I love my wee, too. Having been a wing guy for quite awhile, its different. Both are great machines, but dollar for dollar, pound for pound, the wee wins...

Glad you are likin' it!
---
Proud Member of the Patriot Guard Riders-Id: 79170
Major Joseph Y. Echanis, USAF Laos 11-5-69 Is not Forgotten...
Stromthusiast!
Join Date: Mar 2010
Location: Hanford, CA
Posts: 329
Is that the Yokhul Valley road to Springville, Doc? Glad you like your new Wee.
Stromthusiast!
Join Date: Jul 2008
Location: Poland
Posts: 50
GPS
---
Garmin Zumo 500/550 mounted on the left hand size of the handlebar works great on Wee. The best farkle ever.
---
V-Strom 650K4, Givi windscreen, Givi hard bags (E460 & E360), Zumo 500, Daytona heated grips
2003 Piaggio Beverly 200
2001 Yamaha Diversion 600 (gone)
Stromthusiast!
Join Date: Dec 2008
Location: Nashua, NH
Posts: 1,069
Yup - Most people under estimate the wee....until they ride it. It's the perfect David in "David and Goliath"
---
2009 Wee Strom ABS (current)
1987 Harley Low Rider Sport (current - with 205K miles)
2009 Aprilia Mana 850, 2006 SV650, 1984 Yamaha Virago 1000 (all sold)
Silver Strom Club Member #11

Wee Farkles: Russell Day Long Seat, Madstad with Moose Adventure Shield +4'', SWMotech Centerstand, 1'' up & back bar risers, Givi XS308 Tankbag, Aprilia mirrors, Framesliders, Fenda Extenda, Elka Shock.
Welcome to the Wee insane.Now just try and I mean try to keep the smile off your face.I think being a recent owner myself this little jewel is one of the best kept secrets in the two wheel sport.I just got back from the Moonshine Run 2132 miles for freindship & a Moonburger.58 mpg with the 17 tooth sprocket.I'm still smiling.See Ya on the road Doc.
Bob
---
[B]2007 ABS Wee Strom
Happiness Is Riding My Two Wheel Prozac
Iron Butt #24837
1000 Sore Saddle
1500 extreme
50cc
#1 distance rider to Moonshine Run in Ill in 2010 on a Wee Strom
[/B]
WEE Rule
1. Take a ride up to beautiful Shasta Lake and have Russell make a custom seat for you. (I know, the Mayers are closer, but are they...not their seats...reliable?) Or, for a really great trip, come north inland and south on the coast (or vice versa) to Seattle and have
Rich O'Connor
make a custom seat, but try to miss his busiest season.
2. Get to know our friend, Blair Layton, svracingparts.com, here on the forum. If you think the suspension is good now, talk to him about cartridge emulators and an Elka shock.
...he also has some frame sliders and other highly regarded parts that are either not available elsewhere or not as highly researched elsewhere. Well worth a phone call.
3. How about a skid plate if you're going off road?
---
"Older people who are reasonable, good-tempered, and gracious will bear aging well. Those who are mean-spirited and irritable will be unhappy at every period of their lives.

"Let each of use properly whatever strengths he has and strive to use them well. If he does this, he will never find himself lacking."

Marcus Tullius Cicero
44 B.C.
I have a Mr. Eds Moto seat on mine and couldn't be happier, traded a Corbin for it.
---
'05 Silver Wee, Givi crash bars, Scotts dampener, JC top box, Battlewings, Homemade fork brace, GSXR calipers with homemade brackets. TCI Outback luggage System, Mr. Eds Moto custom seat
http://s288.photobucket.com/albums/l...ty/56%20Chevy/
Life, repression, and the pursuit of tax money
For off-the-shelf seating, it's tough to beat the Sargent World Sport. Over 20,000 miles on mine.
---
Steve.
Twin Cities, MN, USA
'18 DL650XT, previously '07 DL650 and others
"With the rights of life, liberty, and the pursuit happiness comes responsibility, to yourself and others. With responsibility comes accountability. Without responsibility, without accountability, we cannot and will not be a free and civilized society."
-Me, Steve T.
Stromthusiast!
Join Date: Jan 2009
Location: Group W Bench, VA
Posts: 1,857
Congrats....you scored an excellent buy on a gorgeous example of the breed...I was drooling over the pics in the for-sale ad when it went up, love that metallic orange color. Many happy miles to the both of you.
---
"Ignorance is a powerful tool if applied at the right time, even usually surpassing knowledge." - E.J. Potter