What have I done - or what did the PO do?
---
My clutch slave push rod oil seal was leaking so I swapped it out tonight... or at least tried to.
In my zeal to get 'er done, I grabbed the torque wrench set to 23Nm while torquing down the bolts that hold the clutch slave cylinder on. Sure enough, I heard a mighty "pop!" and the bolt spun freely.
I backed it out and it looked like there was a spring threaded on it:
Here's what the threaded boss looks like:
... which looked drilled out and heli-coiled to me (bike had ~14k mi on it when I bought it, so who knows)
Then I found this image of a meticulous re-build on VSRI, which looks like mine - I figure the chances of us both having a previously-repaired threaded hole are slim, so maybe mine looks "normal."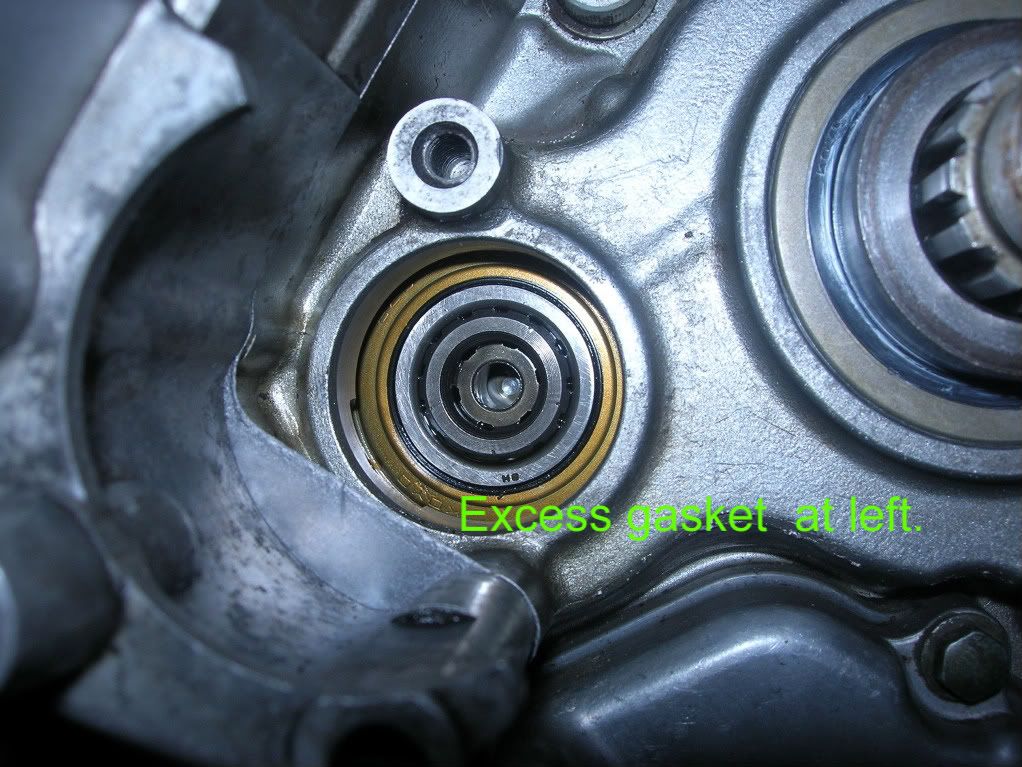 I WAS planning a trip this weekend (my first multi-day trip), but now I can't even put the @#$% thing back together.
I don't have a clue how to proceed, but a few options (none pleasant) come to mind:
1. chase the threads, get a new/ slightly longer bolt (the short one goes on top, right?) and hope for the best.
2. fill it with JB Weld, drill and tap.
3. drill it out and heli-coil it.
Any thoughts as to what I did/ how to fix this are extremely welcome!!!
You've permanently ruined the bike.
I'll take it off your hands for a hundred bucks (CDN).
What a friend, eh?
Janice, make it $100 US and we can talk...
Since I can't re-attach the slave cylinder and I don't know how to proceed, the bike HAS been ruined. I was hoping you could help with the "permanently" part of it.
Where's graywolf when you need him?
Here boy, here wolfie wolfie!
C'mon boy.
Oh, he'll be here in a minute...
I would heli-coil it, but if time is short there is a product by thread locker called make-a-thread that is really easy. Its a two part system that does not require a history of mechanical practice.
just a thought,
bill
Ok, a little Googling and noodle time has resulted me speculating:

The engine case is Al, so the threads are steel helicoils installed at the factory. The fact that I have a handful of thread means I sheared the helicoil across its width - instead of the coil having a diamond-shaped X-section, I sheared it off into two triangle-shaped X-sections - one of which is on my bench, so the other half of it should still be in hole.

If so, my hope is that I can pick out what's left with some dentil tools or something, and install a new helicoil of appropriate size without having to do any drilling or tapping.

Does that make ANY sense?... as in the "yeah, that's exactly what happened,"-sense, not the "WTF is this noob talking about - he's not making any sense"-sense.

What's YOUR 2 cents?
What is the bolt size needed for the slave? Looks around a 10mm in the pic. If you have access to a drill press and tap set you may be able to make your own repair insert. Tap your stripped hole to the next size, find yourself a bolt drill and tap to your required size. Cut the head off the bolt and thread your insert in.
FORUM GODFATHER.....R.I.P. PAT
Join Date: Jan 2006
Location: Evanston IL USA
Posts: 38,049
Quote:
Originally Posted by
janiceclanfield
View Post
Where's graywolf when you need him?
Here boy, here wolfie wolfie!
C'mon boy.
Oh, he'll be here in a minute...
Graywolf doesn't answer such questions often. There looks to be enough metal there to helicoil or timesert.
Thanks for all the input - especially that about drilling tapping it for a larger bolt, then drilling and tapping out the bolt itself. Never heard of that - clever.

Looks like I'll be getting a helicoil kit, tho - the alignment will be a big enough PITA without having to drill twice.

I still wonder about this failure, tho. I've stripped a few holes in my life from cross-threading, and I've broken a few bolts from over-torquing.... but I've never over-torqued and had the threads fail all at once like that, and come out in a continuous piece of "spring." I never wrenched a bike until a year ago, tho, and the last car I worked on myself was a 1985.
Stromthusiast!
Join Date: Jun 2008
Location: Southeast Michigun
Posts: 1,009
Ditto. Heli-coil or time-sert is the best way to go. I'd be surprised if it was a threaded insert to start with though.... It doesn't appear to be alternating bands of al/mg in what's left of the hole.

IMHO, there should also be more than three threads of engagement in that hole... I would expec tthe bolt to be longer. Is it possible that one of the bolts that holds the slave in place is longer than the other(s)?